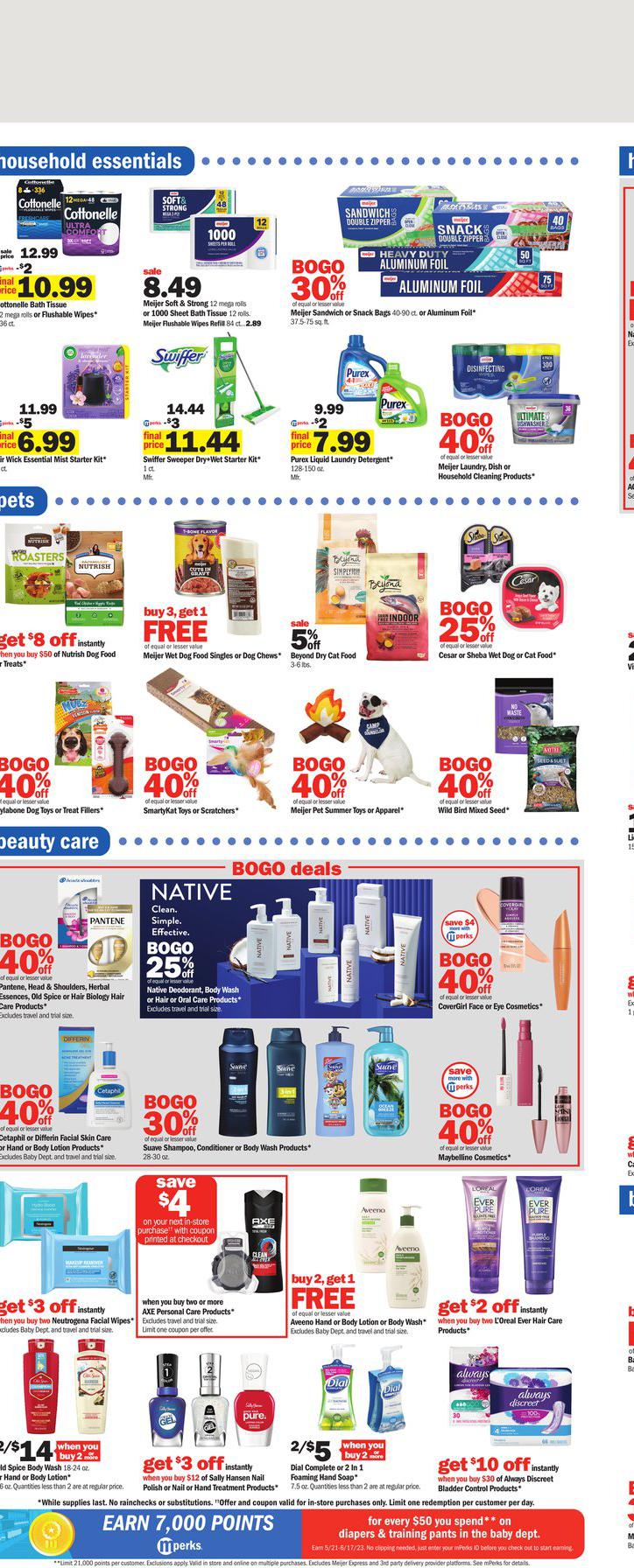 Weekly Ad
---
The Weekly Ad, which is valid in Meijer markets between 05/21/2023 - 05/28/2023, consists of 21 pages. The most expensive product of the brochure is Woodford Reserve Bourbon or Basil Hayden Bourbon* priced at $39.99, the cheapest product at $0.74 is Bubbles, Bunch O Balloons and Chalk.
You can use the page previews below to navigate the brochure pages.
---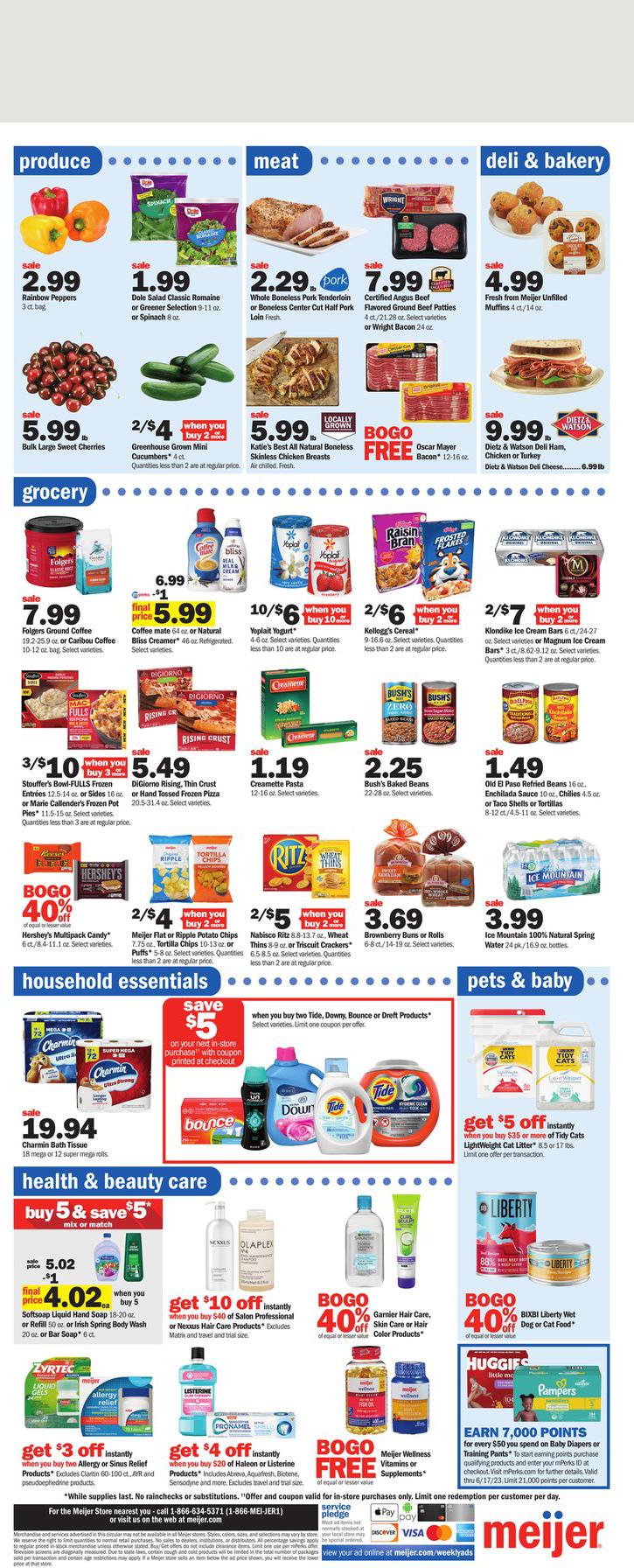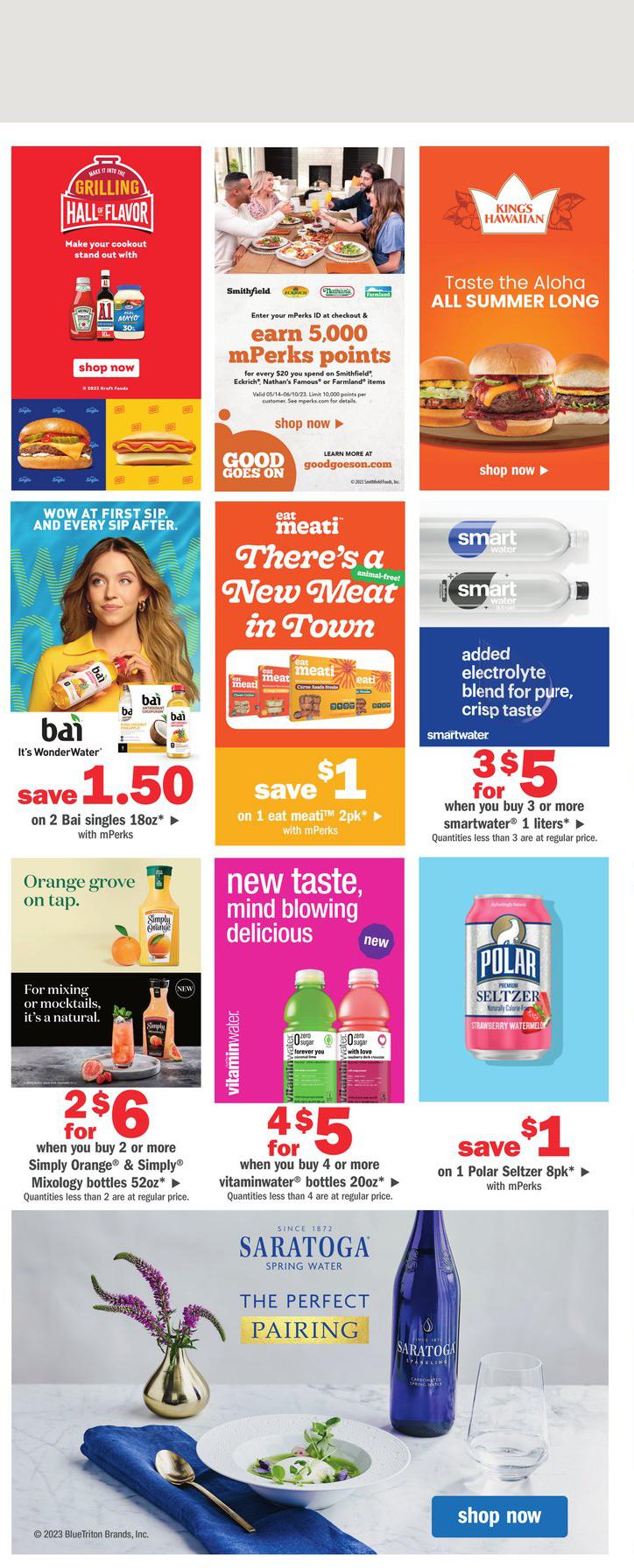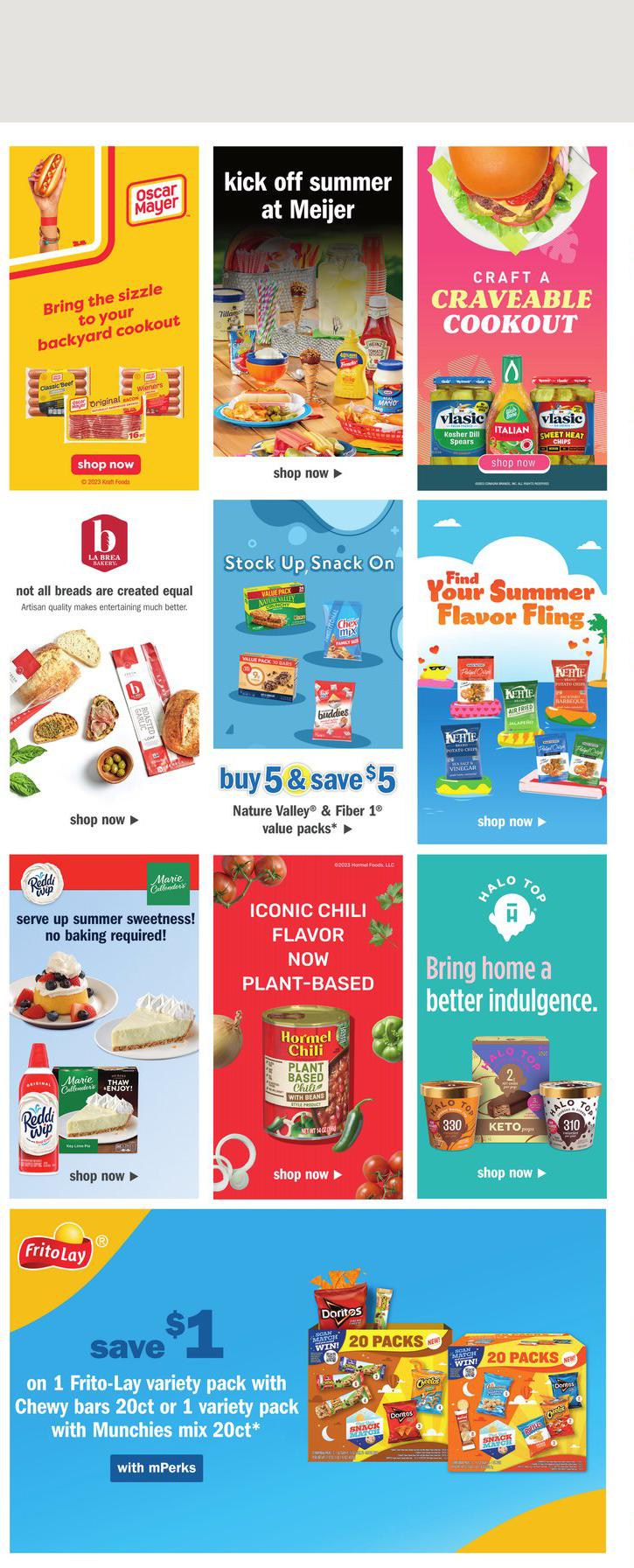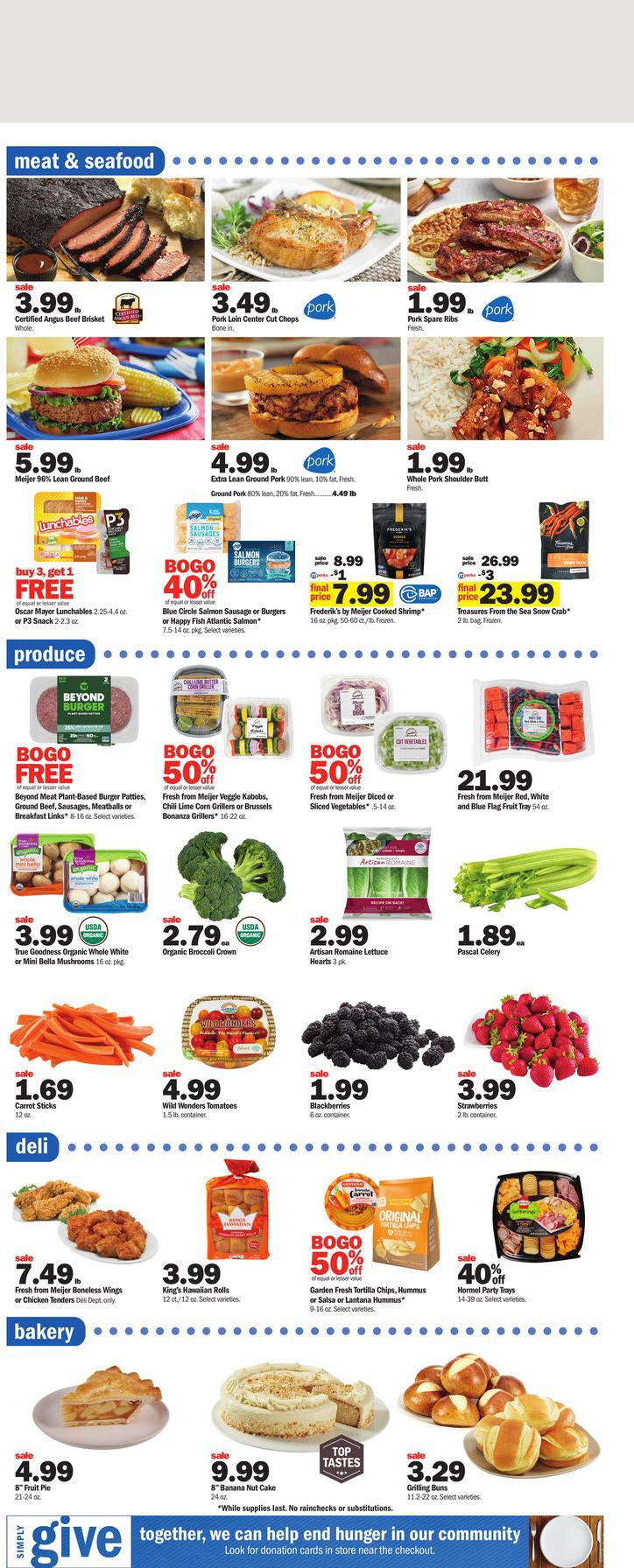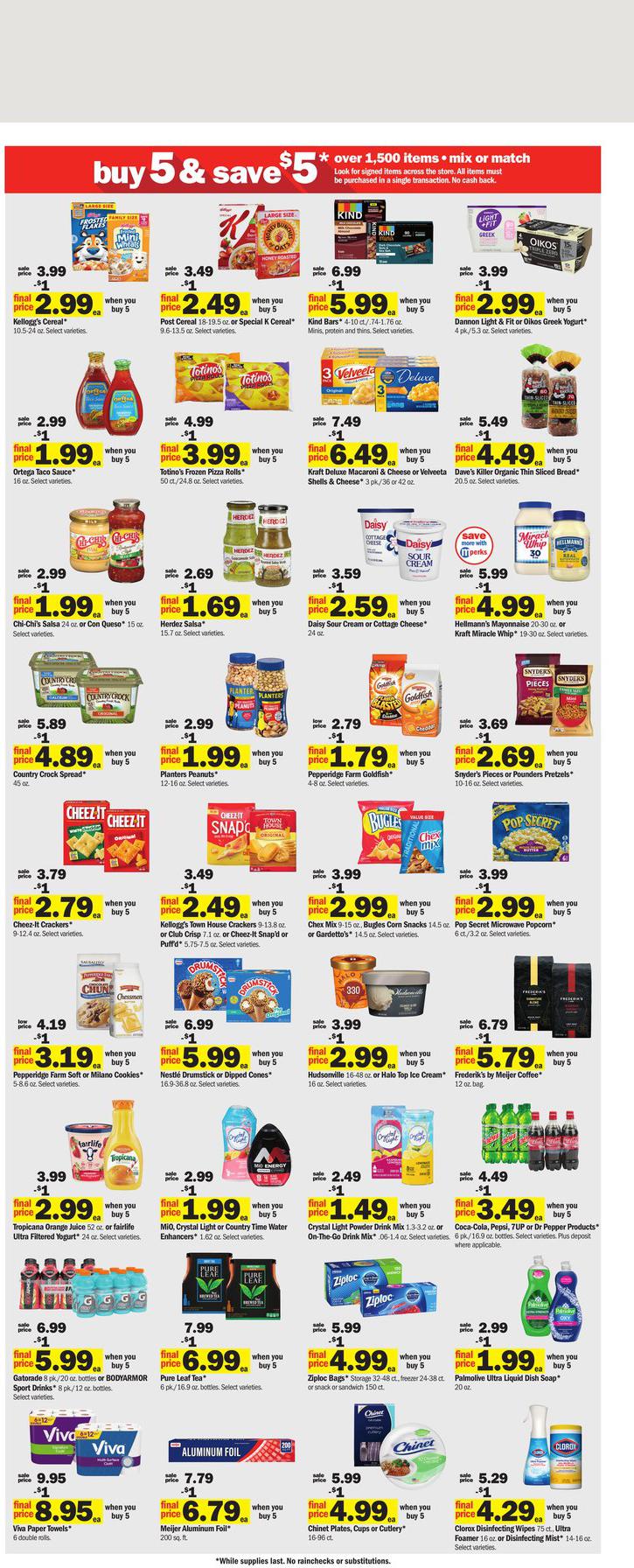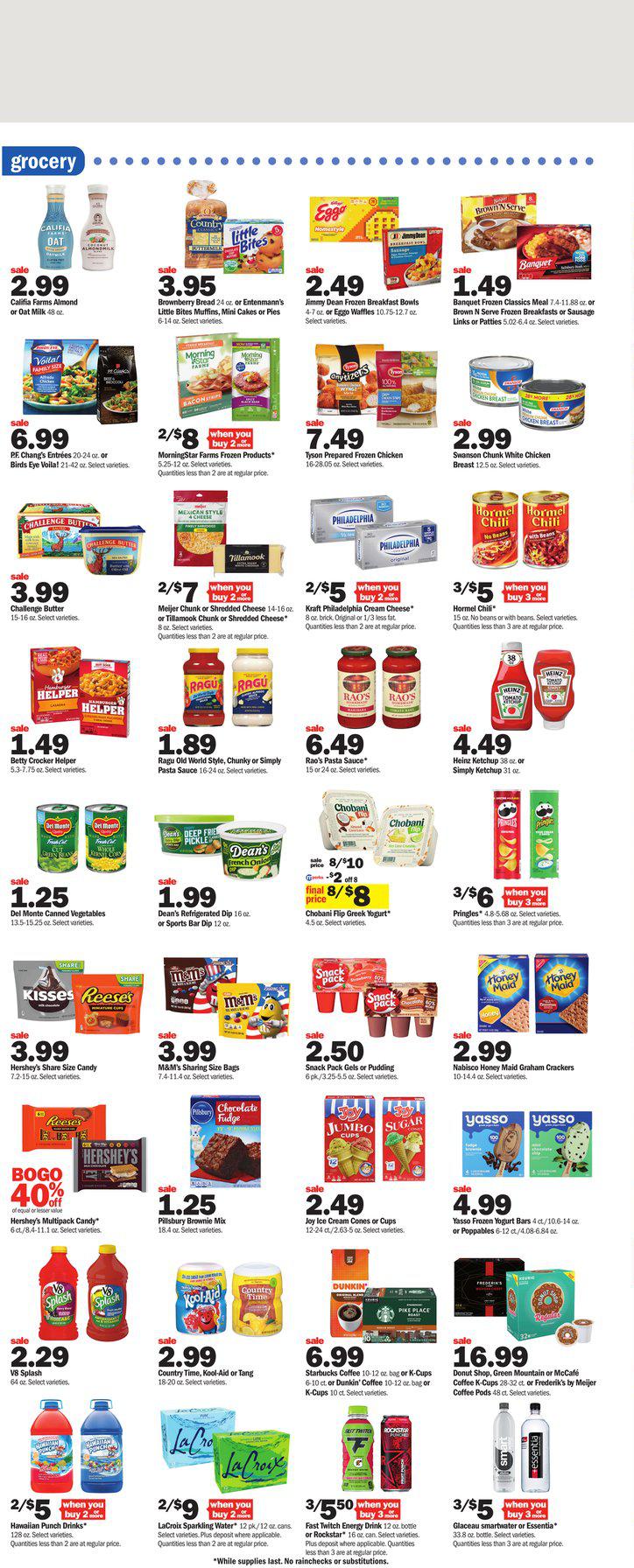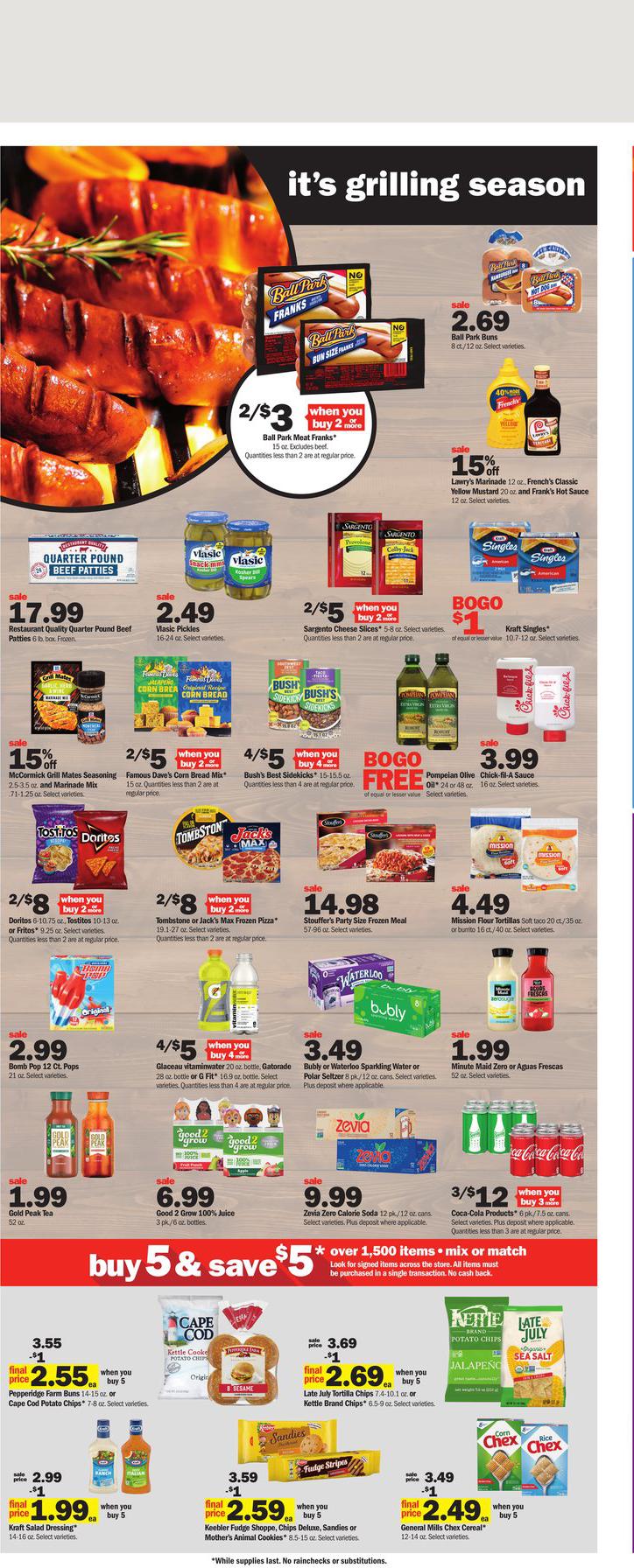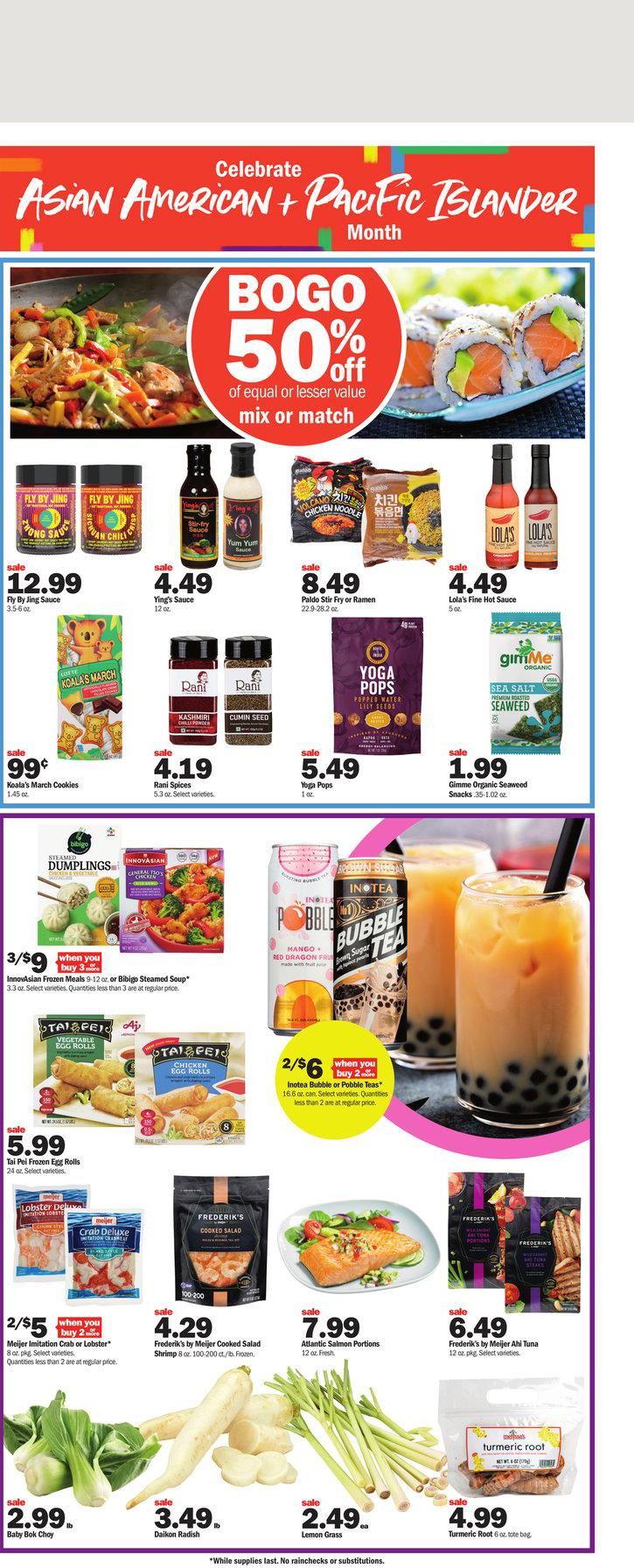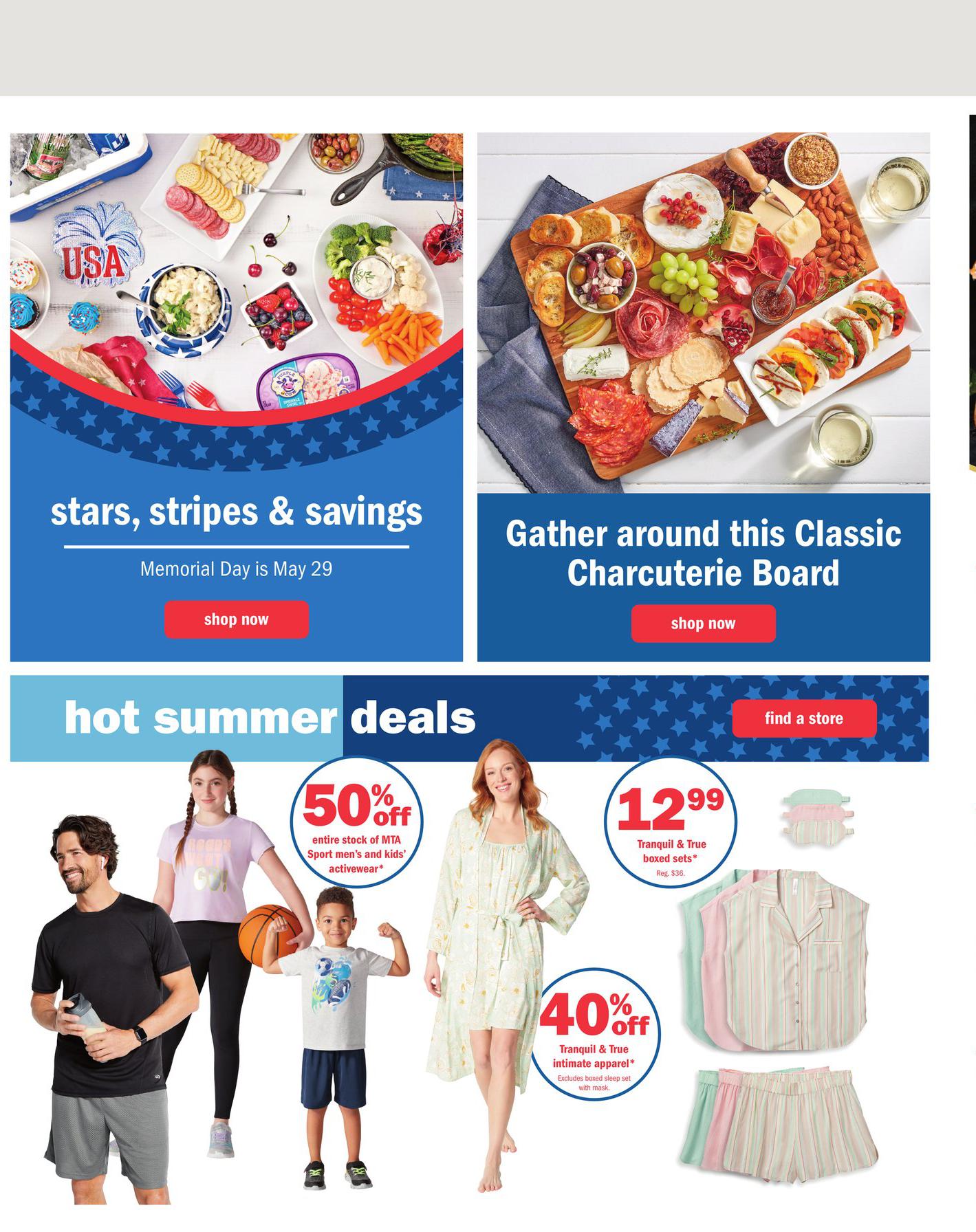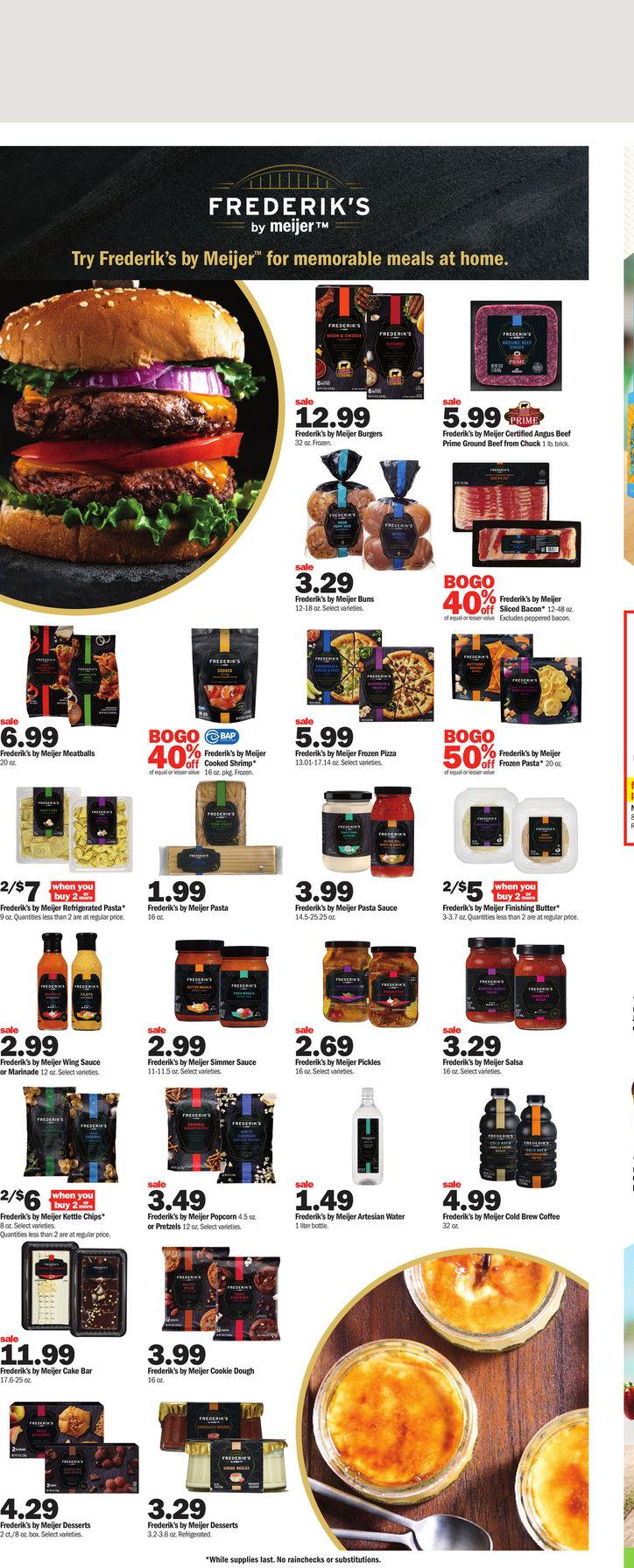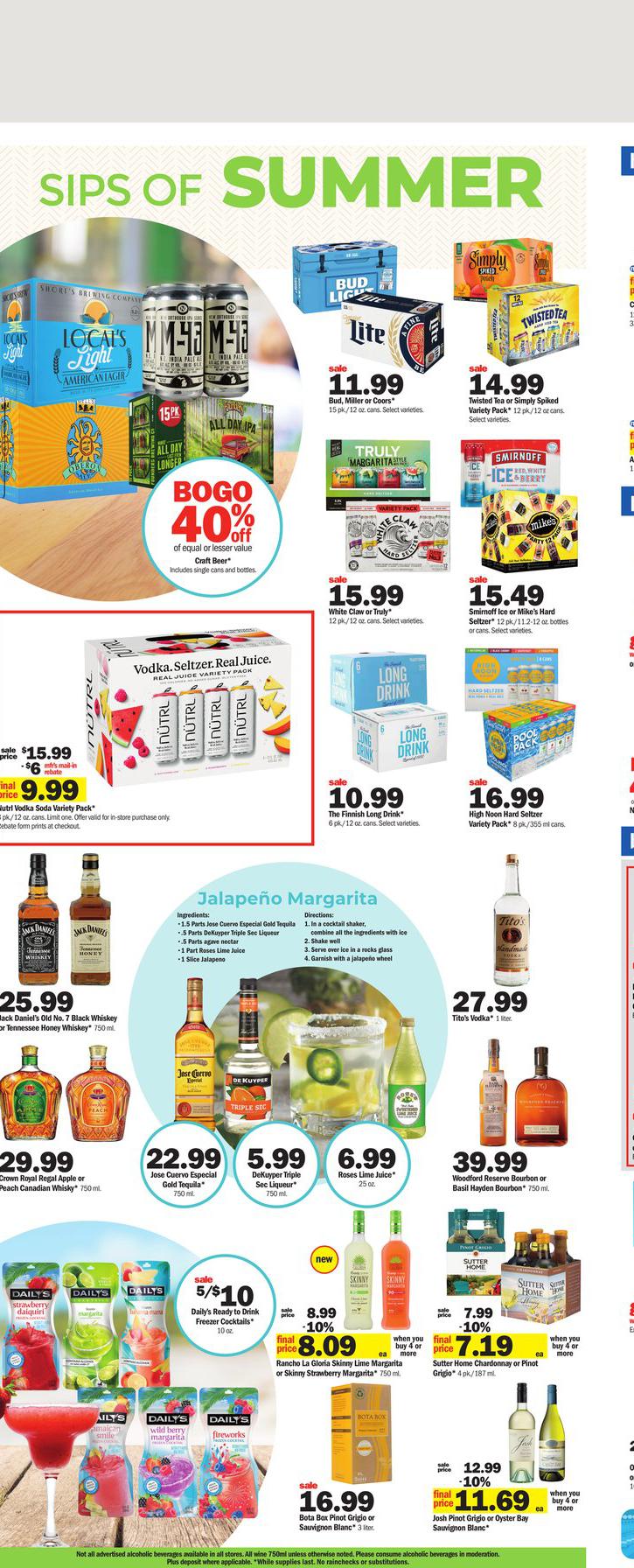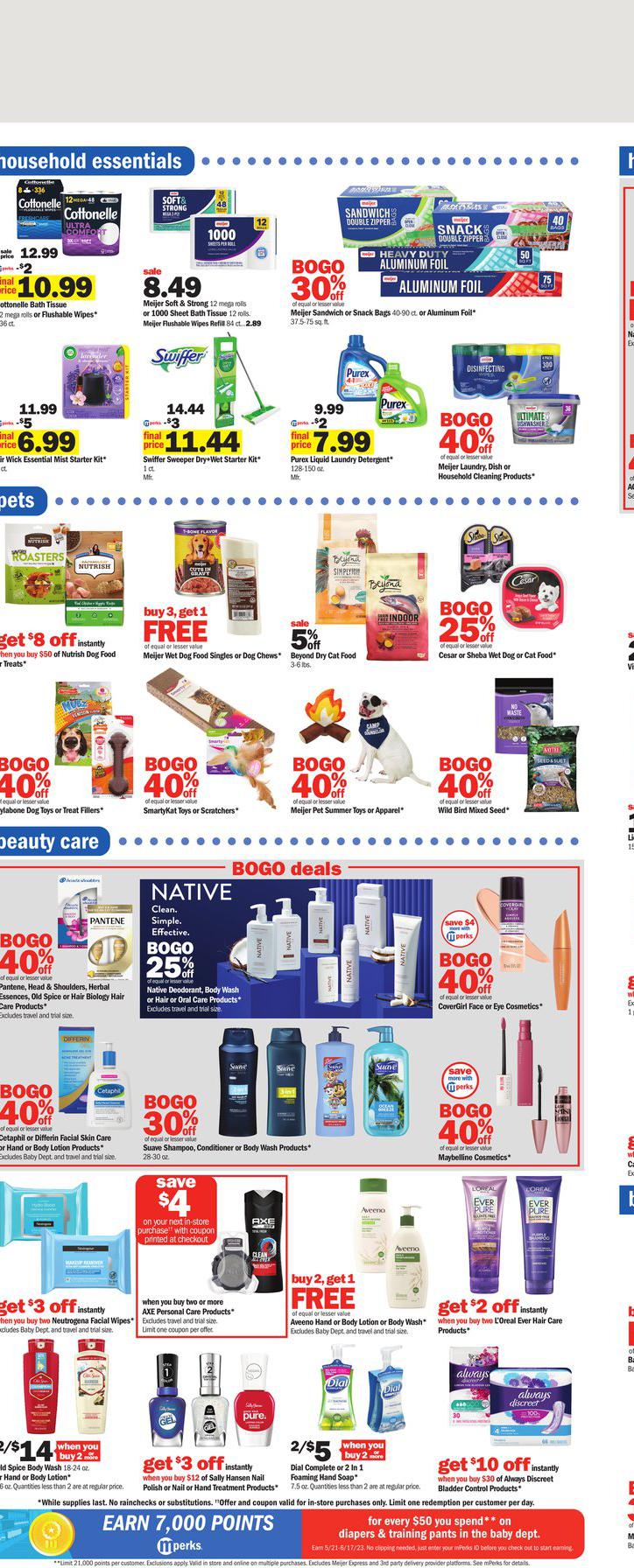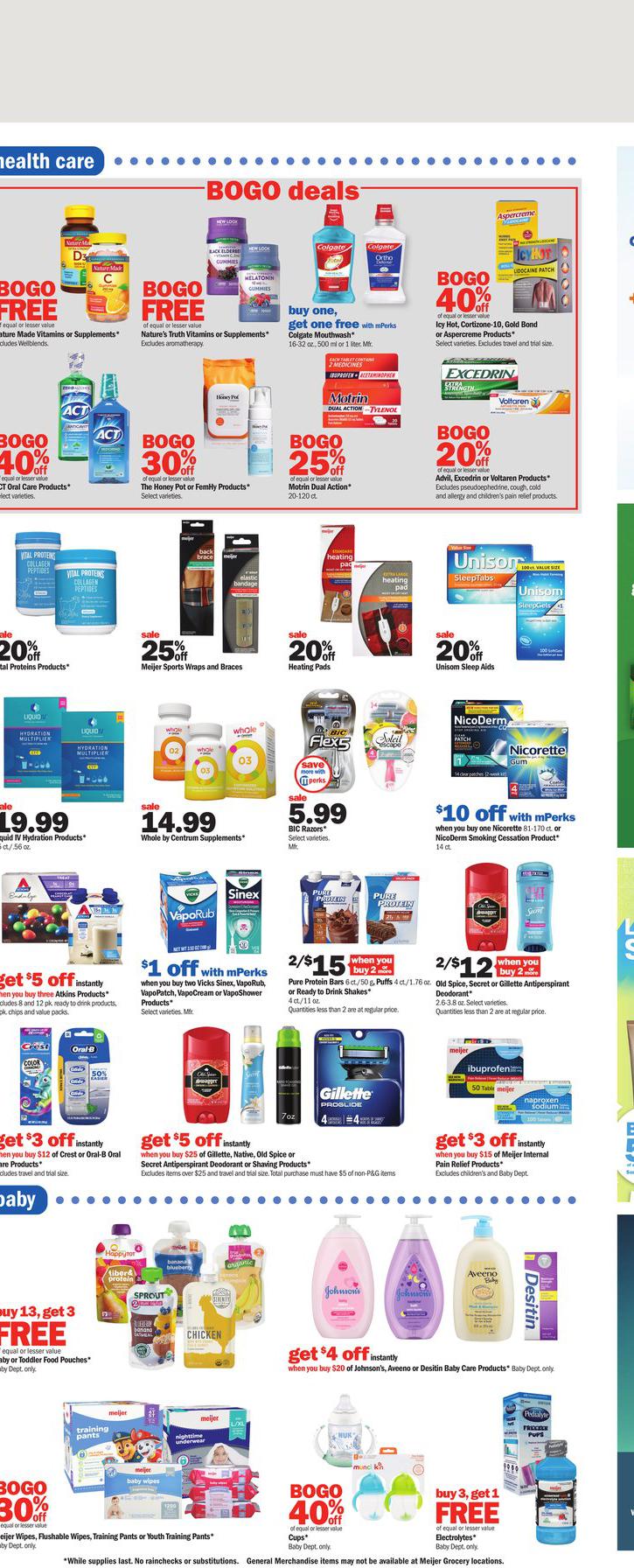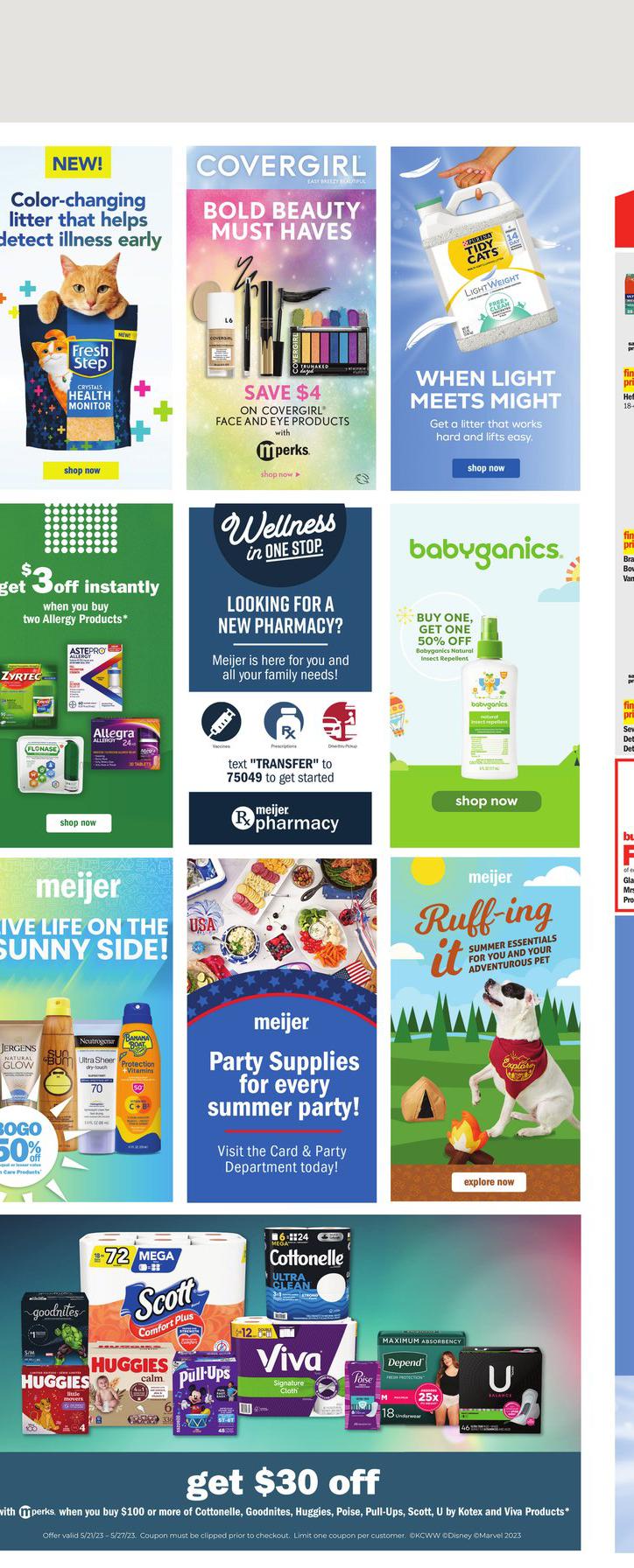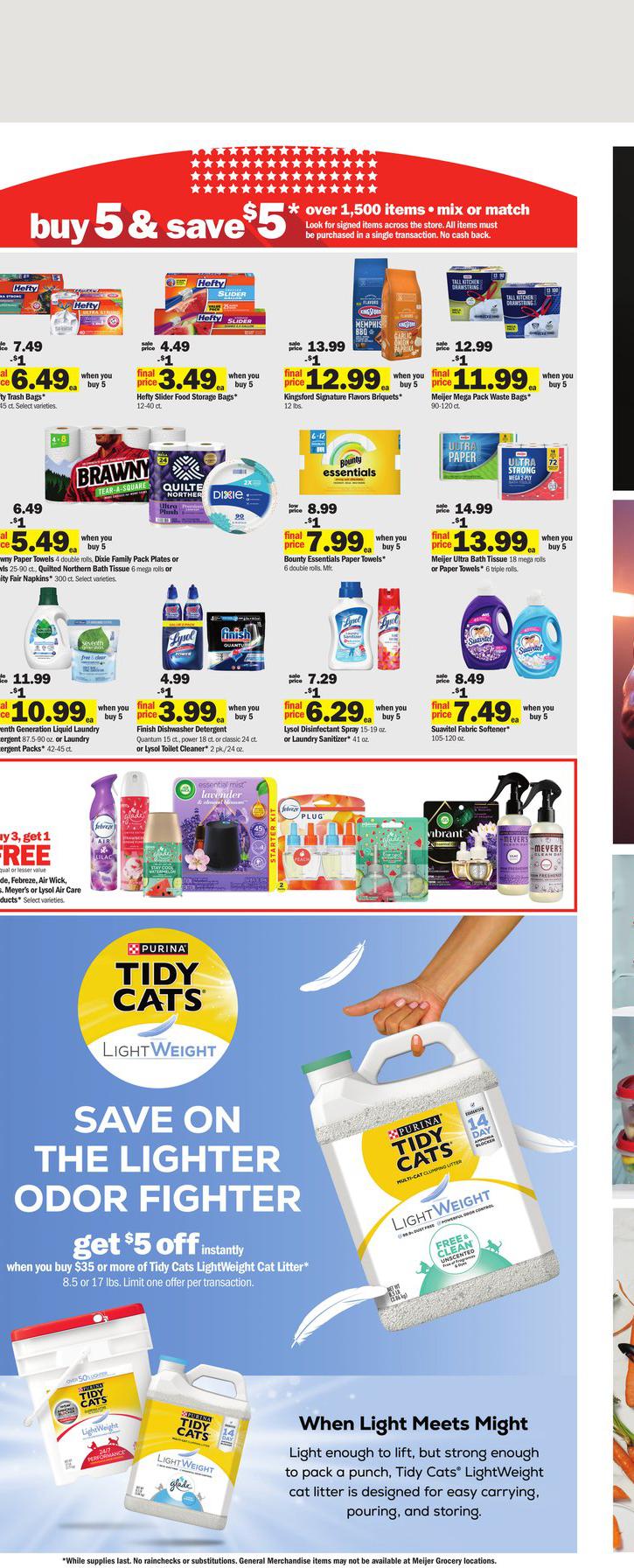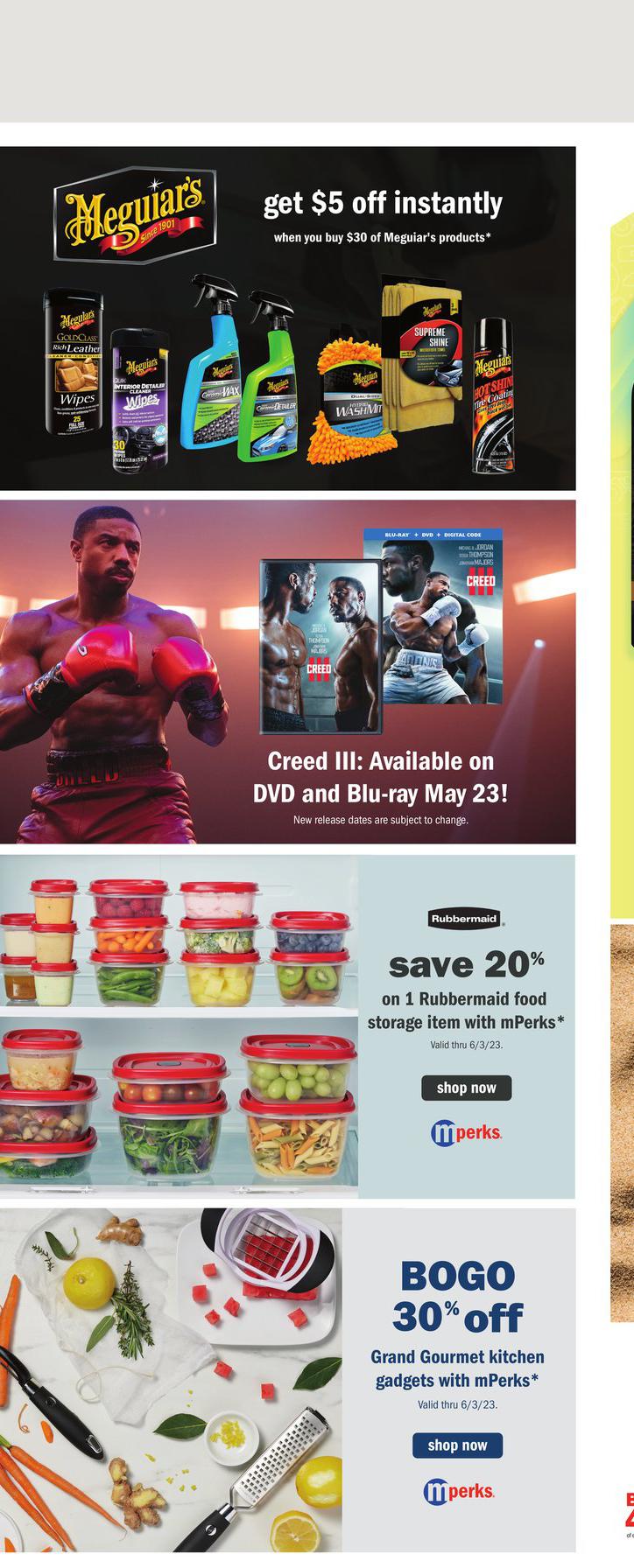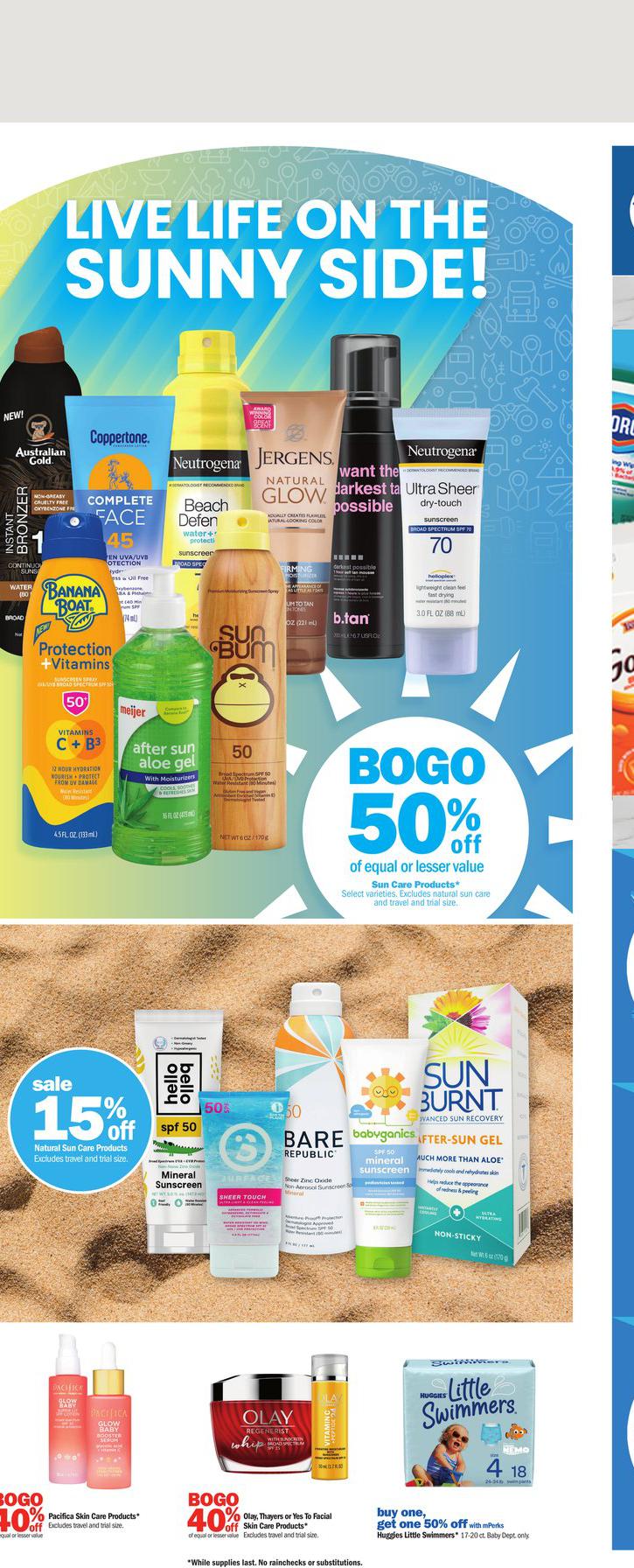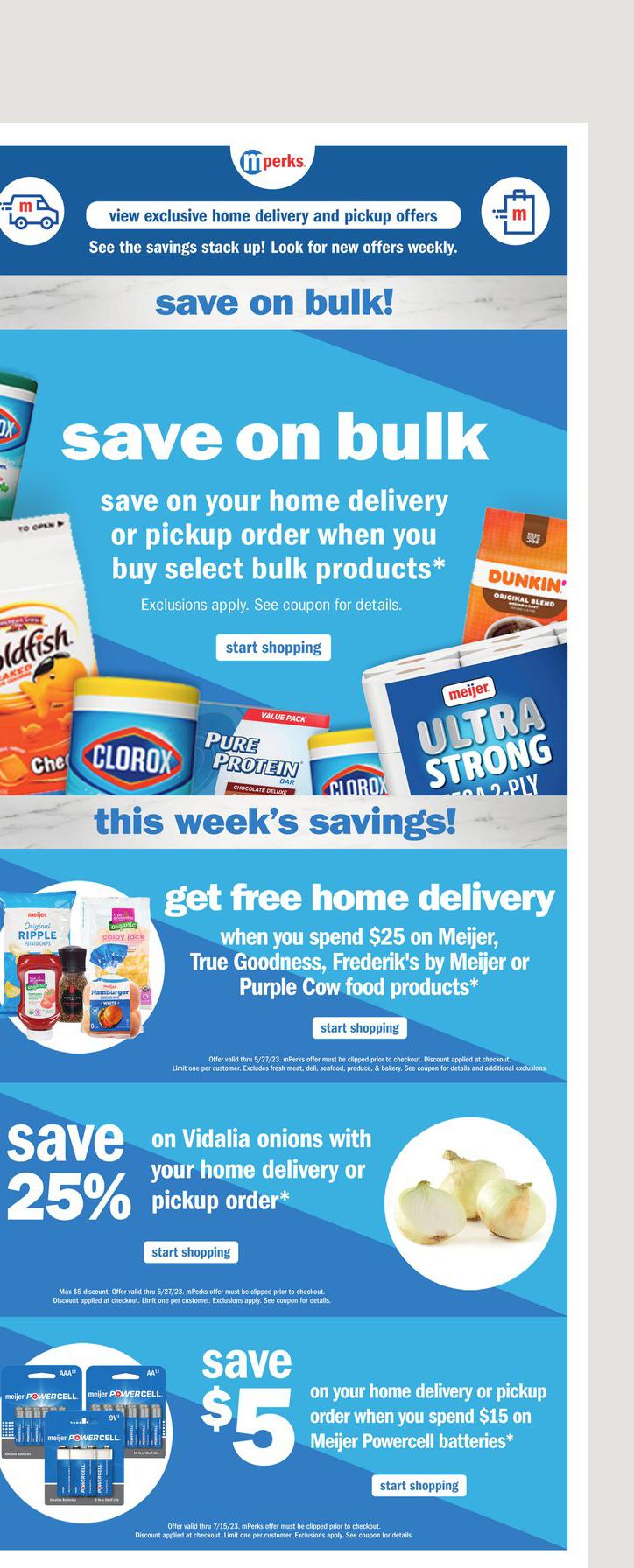 | Market | Flyer | Date |
| --- | --- | --- |
| | Black Friday Weeklong Ad | 11/19/2023 |
| | Black Friday 3-Day Sale | 11/23/2023 |
| | Weekly Ad | 11/19/2023 |
| | Hot Deals Ad | 11/19/2023 |
| | Fresh Turkey Ad | 11/19/2023 |
| | Flu & Covid Vaccines | 11/26/2023 |
| | Wine Case Sale | 11/26/2023 |
| | Holiday Ad | 11/26/2023 |
| | Hot Deals Ad | 11/26/2023 |
| | Weekly Ad | 11/26/2023 |
Products in the Flyer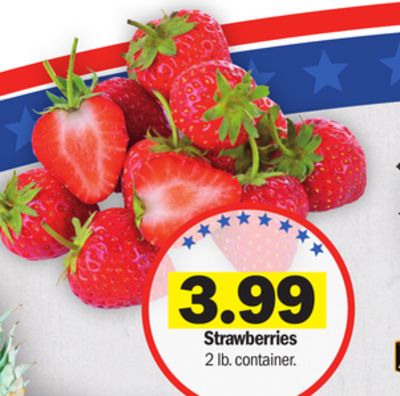 Strawberries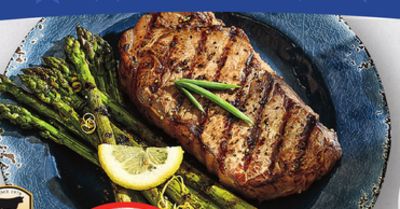 Certified Angus Beef Boneless Strip Steak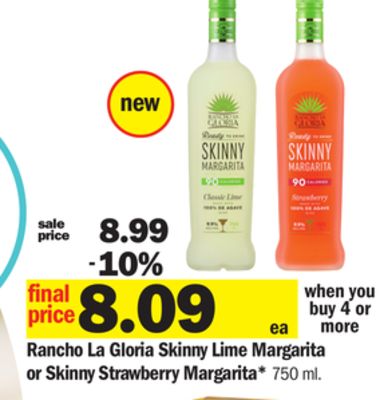 Rancho La Gloria Skinny Lime Margarita or Skinny Strawberry Margarita*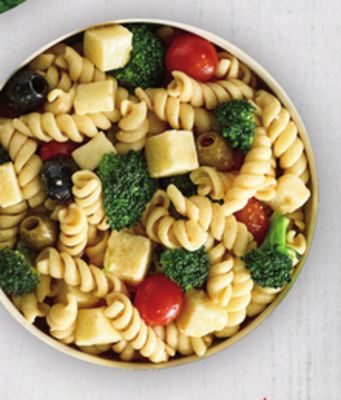 Fresh from Meijer 1 Lb. Prepacked Salad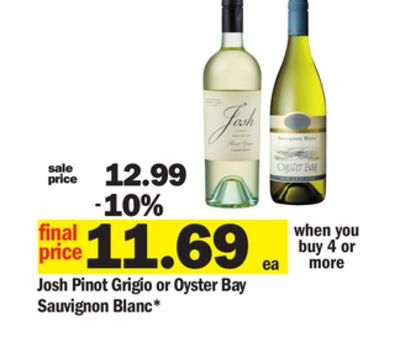 Josh Pinot Grigio or Oyster Bay Sauvignon Blanc*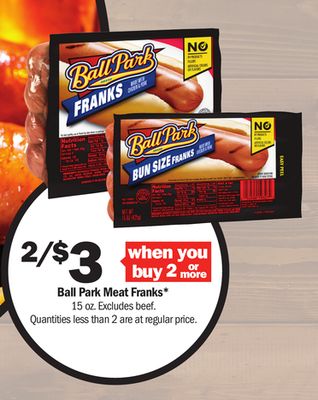 Ball Park Meat Franks*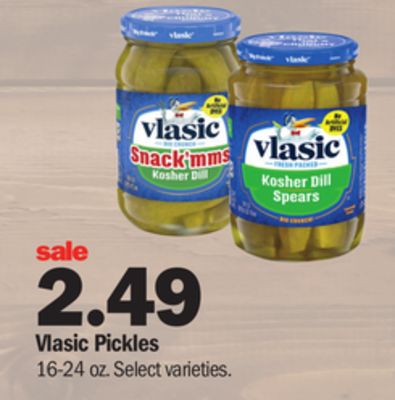 Vlasic Pickles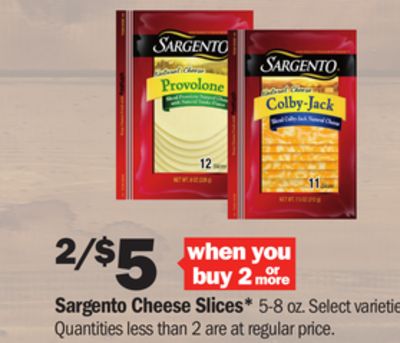 Sargento Cheese Slices*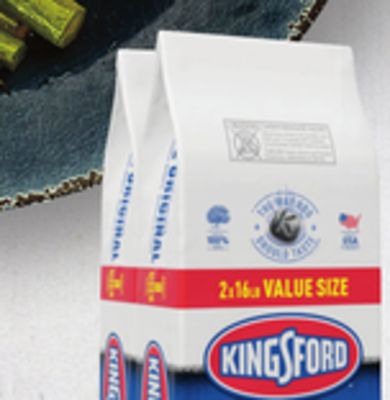 Kingsford Twin Pack Original Briquets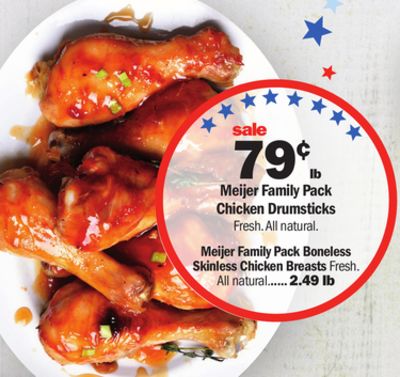 Meijer Family Pack Chicken Drumsticks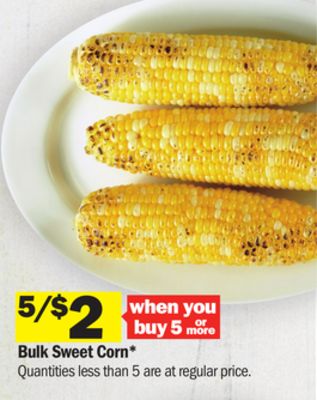 Bulk Sweet Corn*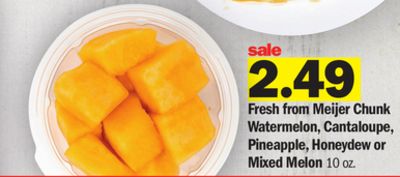 Fresh from Meijer Chunk Watermelon, Cantaloupe, Pineapple, Honeydew or Mixed Melon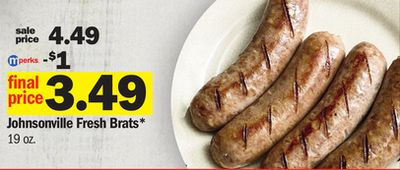 Johnsonville Fresh Brats*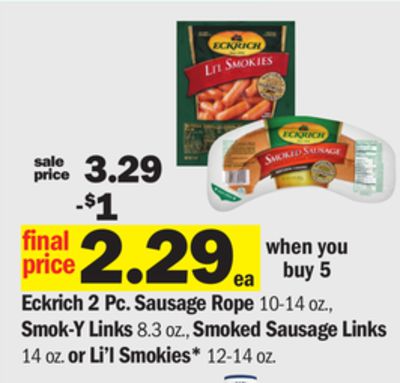 Eckrich 2 Pc. Sausage Rope 10-14 oz., Smok-Y- Links 8.3 oz., Smoked Sausage Links 14 oz or Li'l Smokies* 12-14 oz.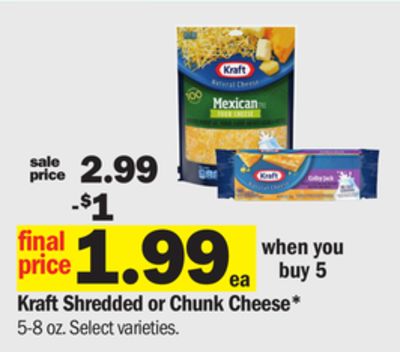 Kraft Shredded or Chunk Cheese*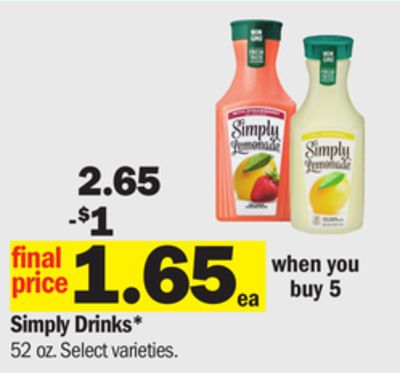 Simply Drinks*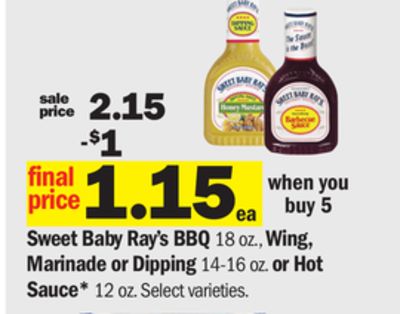 Sweet Baby Ray's BBQ 18 oz., Wing, Marinade or Dipping 14-16 oz., or Hot Sauce* 12 oz.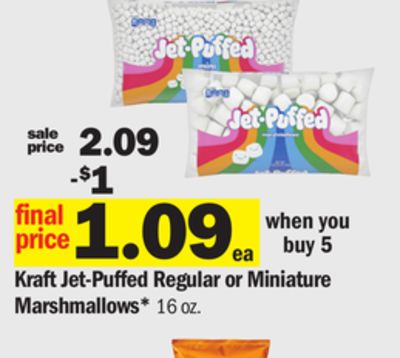 Kraft Jet-Puffed Regular and Miniature Marshmallows*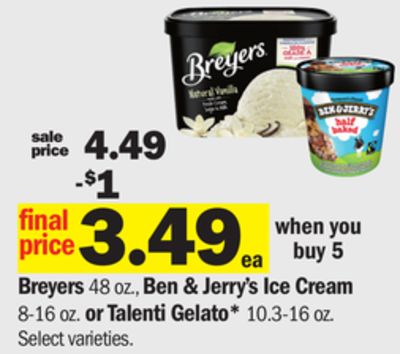 Breyers 48 oz., Ben and Jerry's Ice Cream 8-16 oz. or Talenti Gelato* 10.3-16 oz.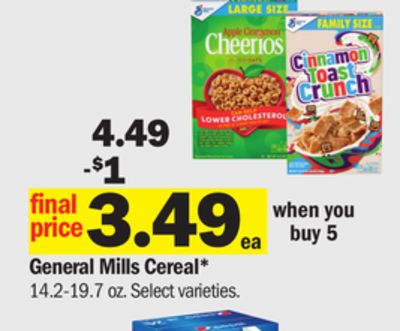 General Mills Cereal*
Aunt Millie's Stadium Buns*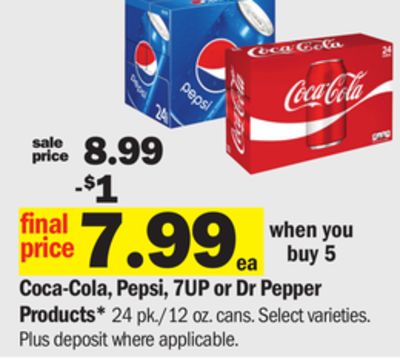 Coca-Cola, Pepsi, 7UP or Dr Pepper Products*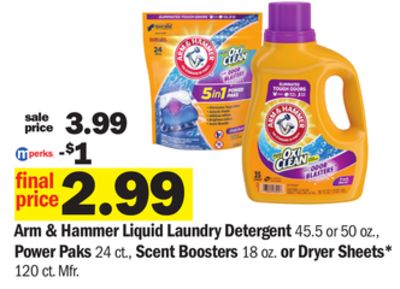 Arm & Hammer Liquid Laundry Detergent 45.5 or 50 oz., Power Paks 24 ct., Scent Boosters 18 oz. or Dryer Sheets*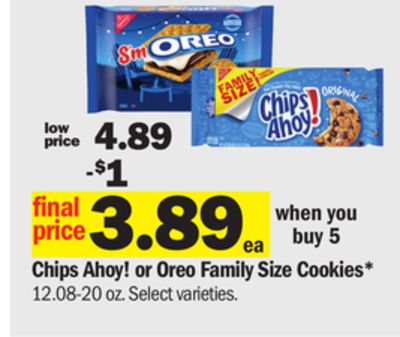 Chips Ahoy! or Oreo Family Size Cookies*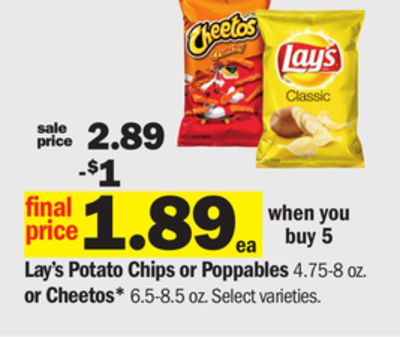 Lay's Potato Chips or Poppables 4.75-8 oz or Cheetos* 6.5-8.5 oz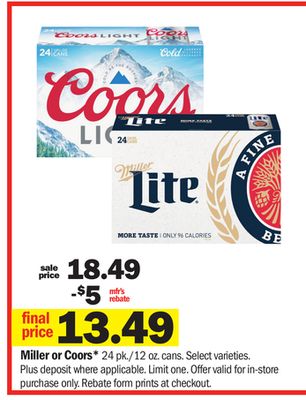 Miller or Coors*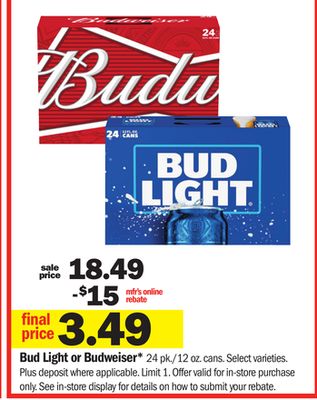 Bud Light or Budweiser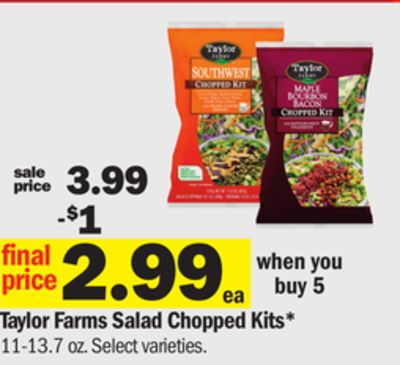 Taylor Farms Salad Chopped Kits*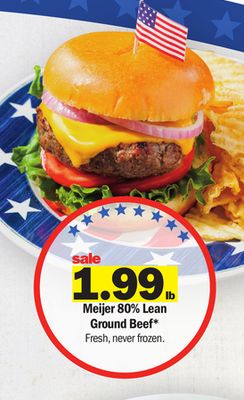 Meijer 80% Lean Ground Beef*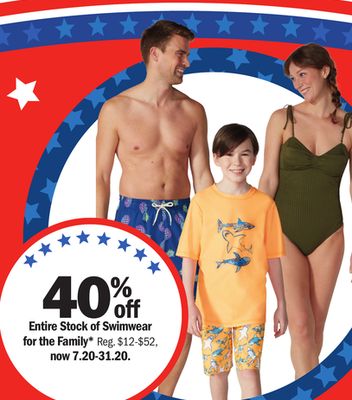 Entire Stock of Swimwear for the Family*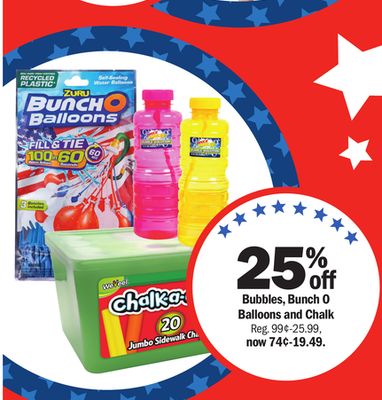 Bubbles, Bunch O Balloons and Chalk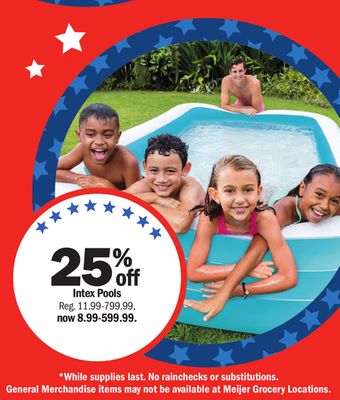 Intex Pools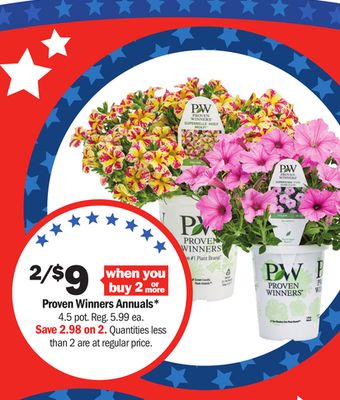 Proven Winners Annuals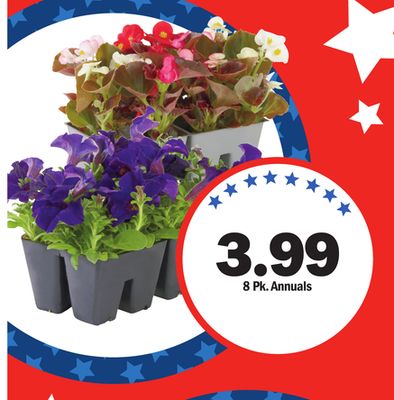 8 Pk. Annuals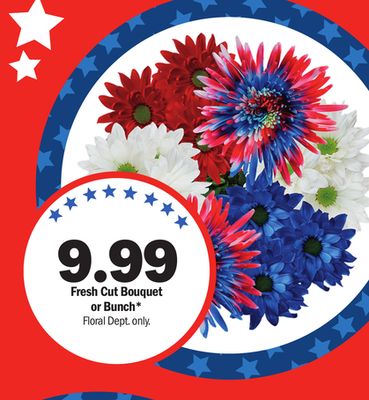 Fresh Cut Bouquet or Bunch*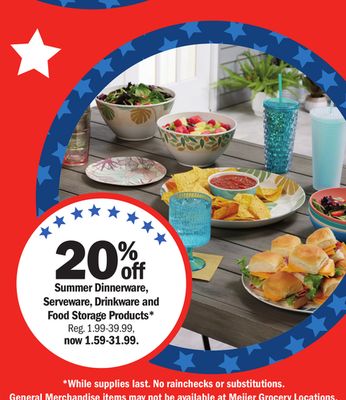 Summer Dinnerware, Serveware, Drinkware and Food Storage Products*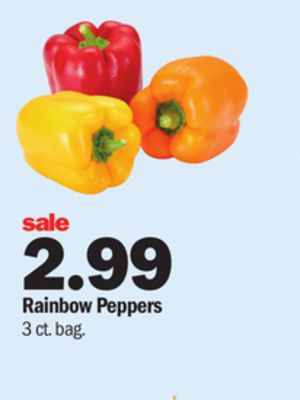 Rainbow Peppers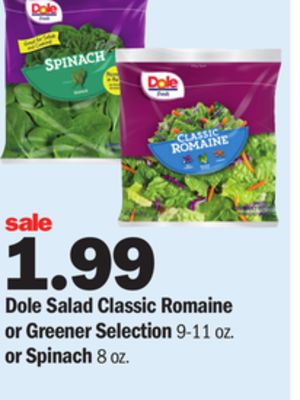 Dole Salad Classic Romaine or Greener Selection 9-11 oz. or Spinach 8 oz.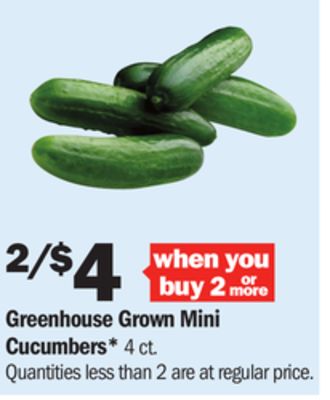 Greenhouse Grown Mini Cucumbers*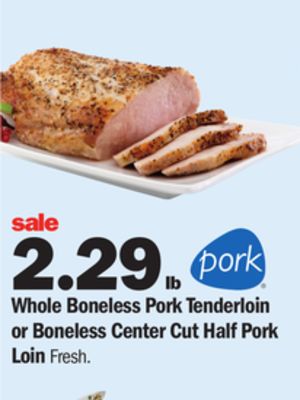 Whole Boneless Pork Tenderloin or Boneless Center Cut Half Pork Loin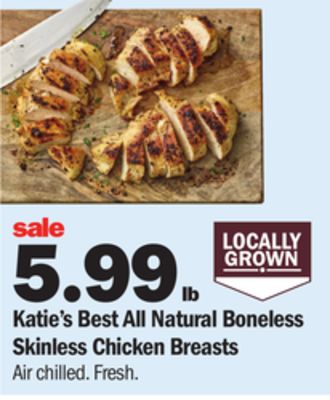 Katie's Best All Natural Boneless Skinless Chicken Breasts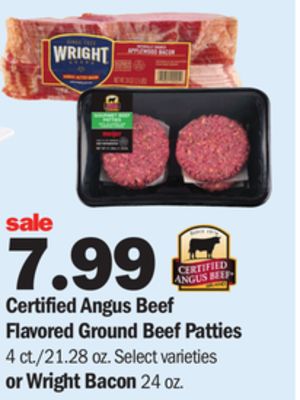 Certified Angus Beef Flavored Ground Beef Patties 4 ct./ 28 oz. Select varieties or Wright Bacon 24 oz.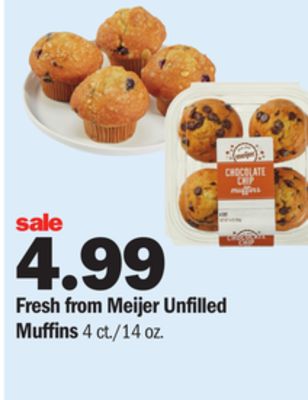 Fresh from Meijer Unfilled Muffins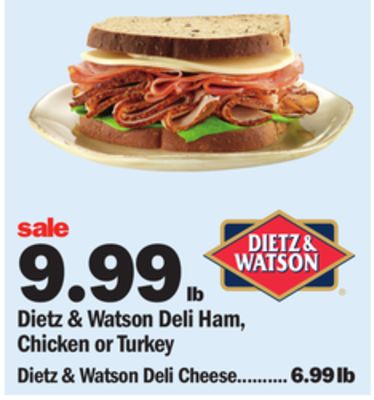 Deitz & Watsons Deli Ham, Chicken or Turkey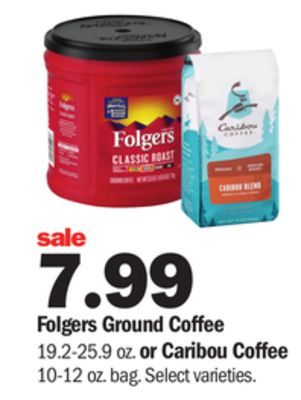 Folgers Ground Coffee 19.2-25.9 oz. or Caribou Coffee 10-12 oz bag.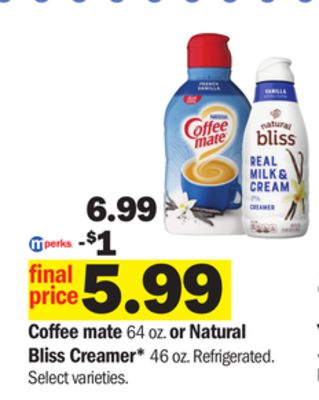 Coffee mate 64 oz. or Natural Bliss Creamer* 46 oz.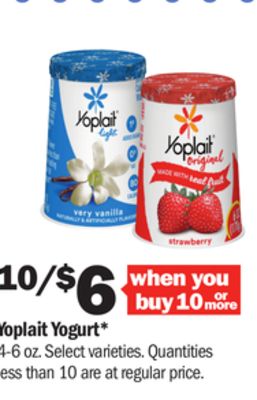 Yoplait Yogurt*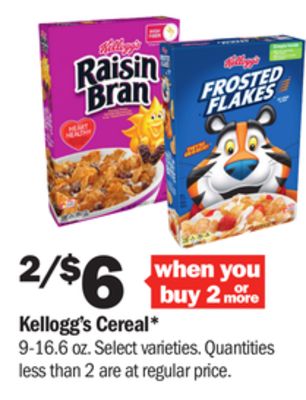 Kellogg's Cereal*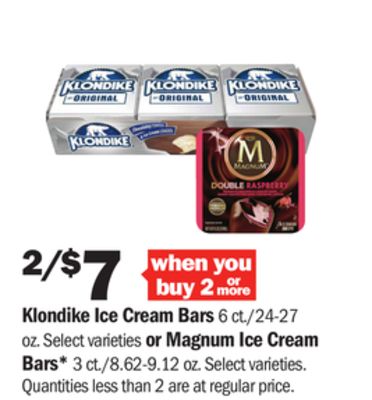 Klondlike Ice Cream Bars 6 ct./ 24-27 oz. Select varieties or Magnum Ice Cream Bars* 3 ct./8.62-9/12 oz.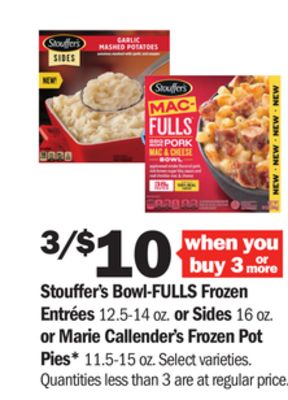 Stouffer's Bowl-FULLS Frozen Entrees 12.5-14 oz. or Sides 16 oz. or Marie Callender's Frozen Pot Pies* 11.5 oz.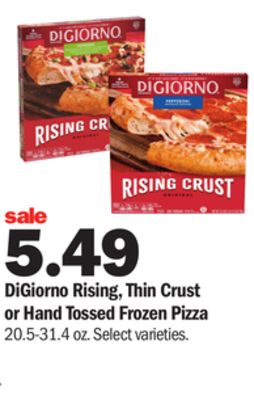 DiGiorno Rising, Thin Crust or Hand Tossed Frozen Pizza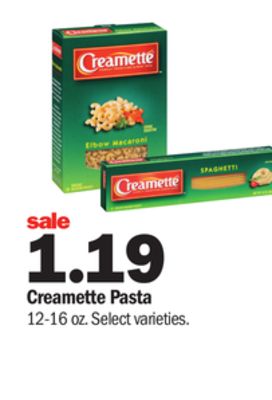 Creamette Pasta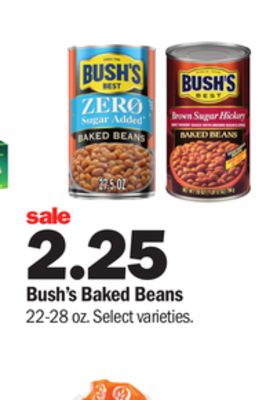 Bush's Baked Beans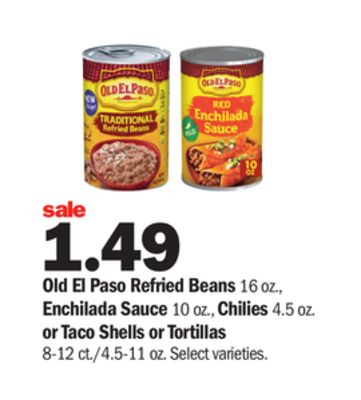 Old EL Paso Refied Beans 16 oz., Enchilada Sauce 10 oz., Chillies 4.5 oz. or Taco Shells or Tortillas 8-12 ct./ 4.5-11 oz.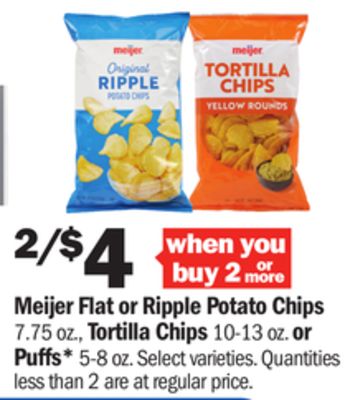 Meijer Flat or Ripple Potato Chips 7.75 oz., Tortilla Chips 10-13 oz. or Puffs* 5-8 oz.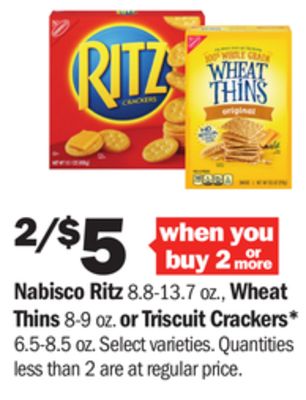 Nabisco Ritz 8.8-13.07 oz. Wheat Thins 8.9 oz. or Triscuit Crackers* 6.5-8.5 oz.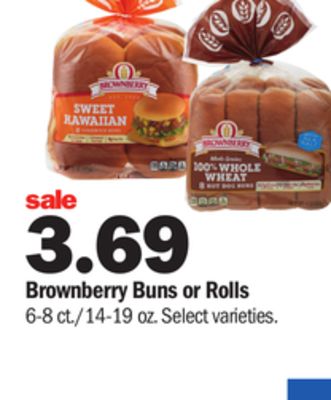 Brownberry Buns or Rolls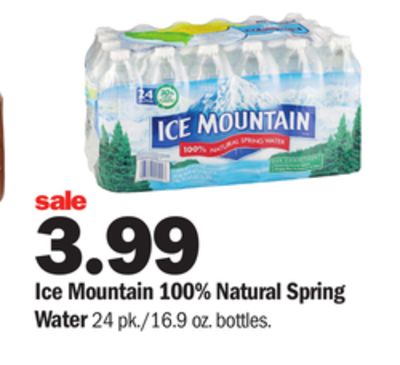 Ice Mountain 100% Natural Spring Water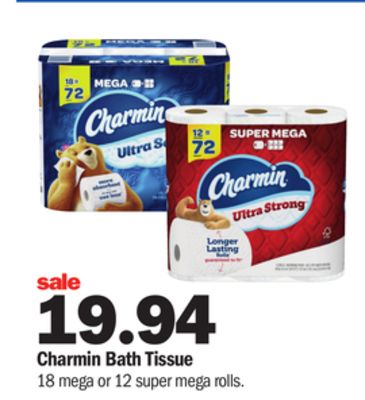 Charmin Bath Tissue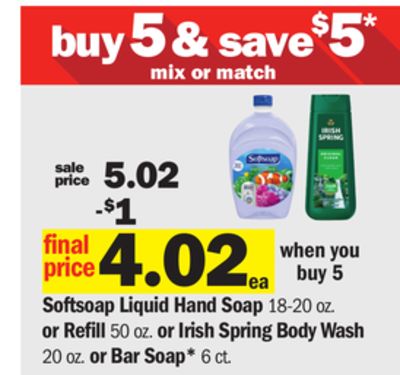 Softsoap Liquid Hand Soap 18-20 oz. or Refill 50 oz. or Irish Spring Body Wash 20 oz. or Bar Soap* 6 ct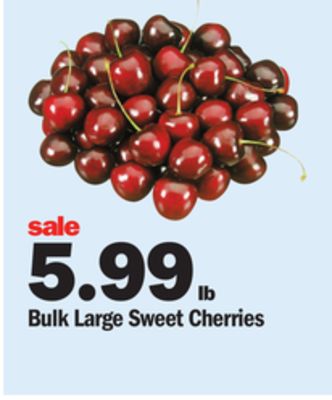 Bulk Large Sweet Cherries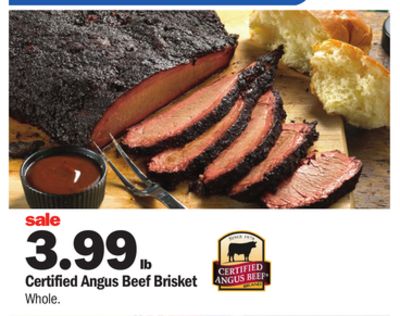 Certified Angus Beef Brisket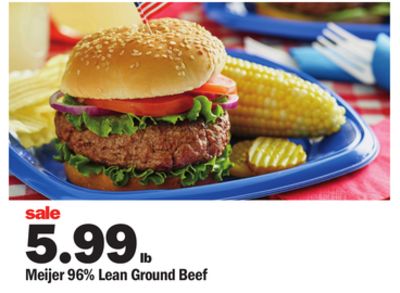 Meijer 96% Lean Ground Beef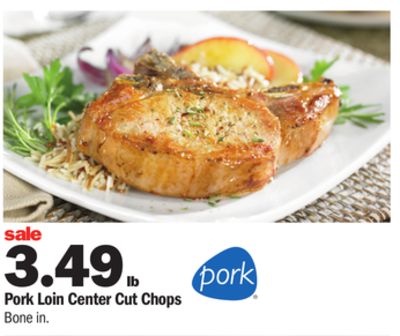 Pork Loin Center Cut Chops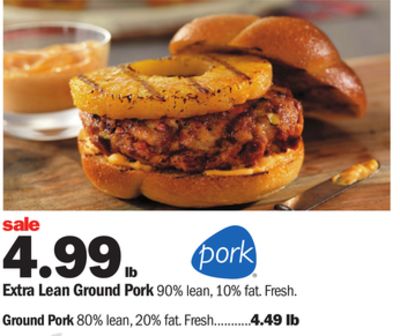 Extra Lean Ground Pork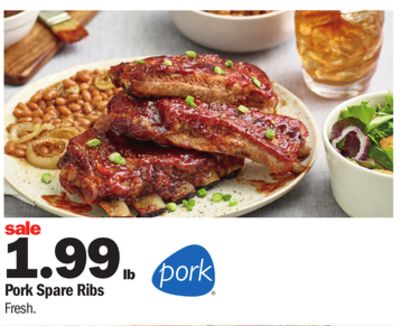 Pork Spare Ribs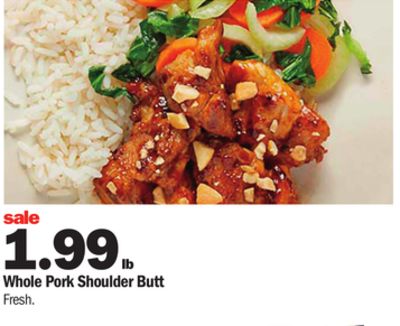 Whole Pork Shoulder Butt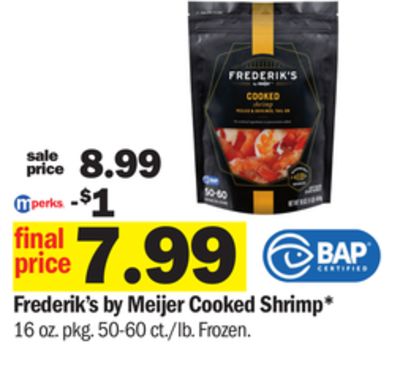 Frederik's By Meijer Cooked Shrimp*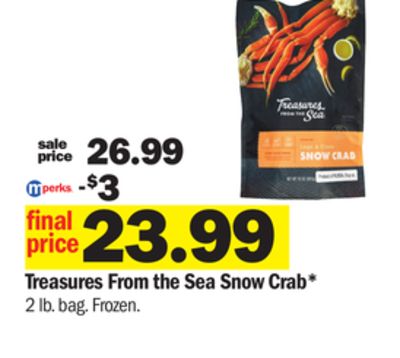 Treasures From the Sea Snow Crab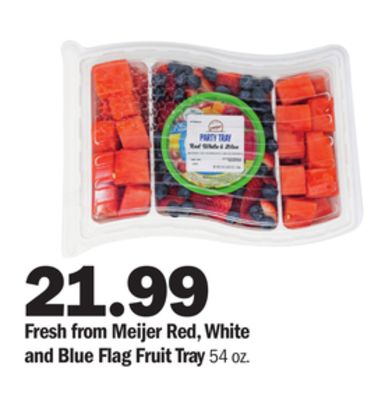 Fresh From Meijer Red, White and Blue Flag Fruit Tray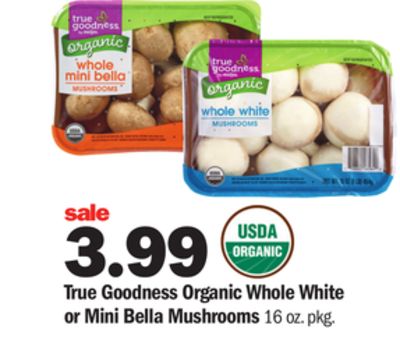 True Goodness Organic Whole White or Mini Bella Mushrooms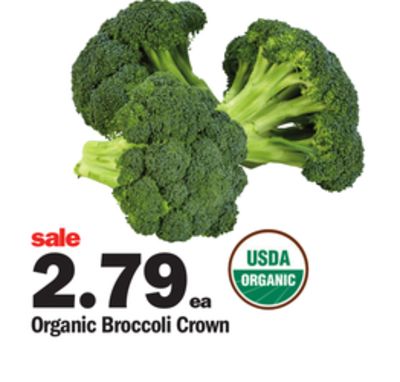 Organic Broccoli Crown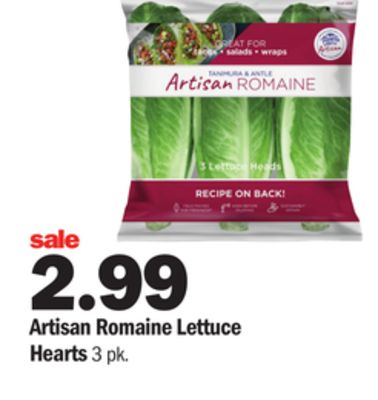 Artisan Romaine Lettuce Hearts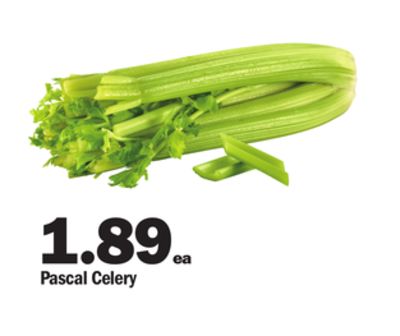 Pascal Celery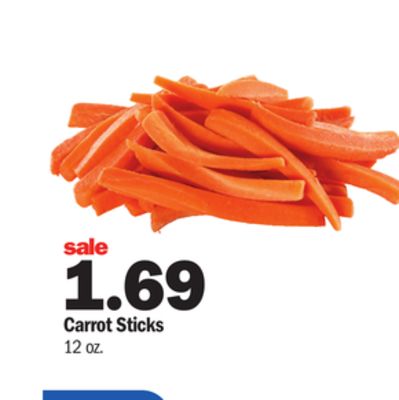 Carrot Sticks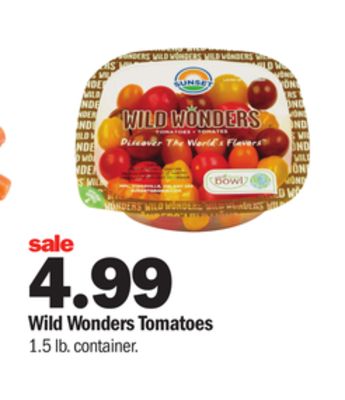 Wild Wonders Tomatoes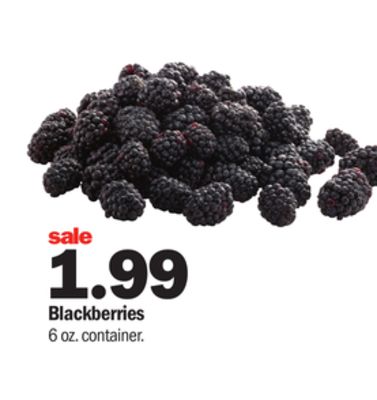 Blackberries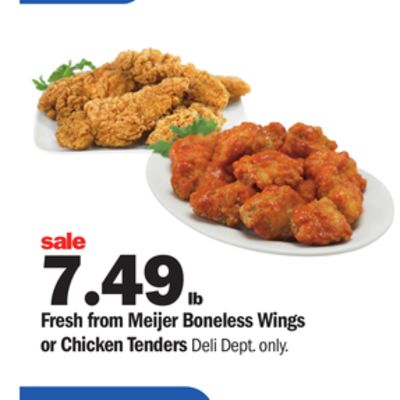 Fresh from Meijer Boneless Wings or Chicken Tenders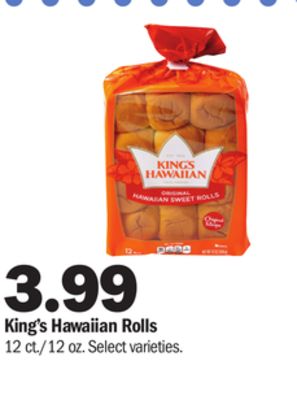 King's Hawiian Rolls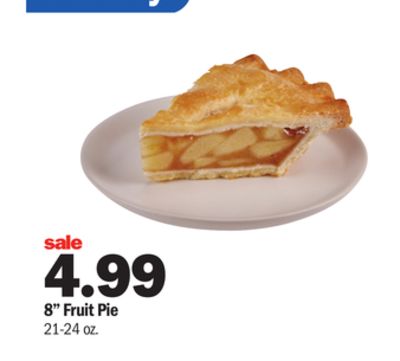 8" Fruit Pie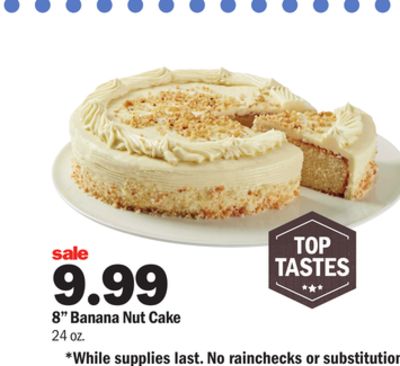 8" Banana Nut Cake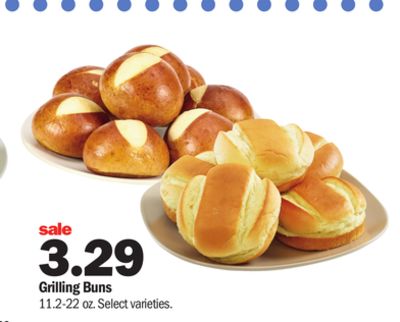 grilling Buns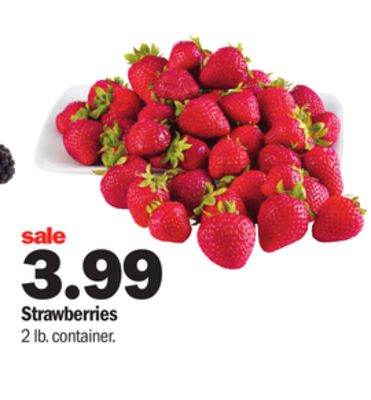 Strawberries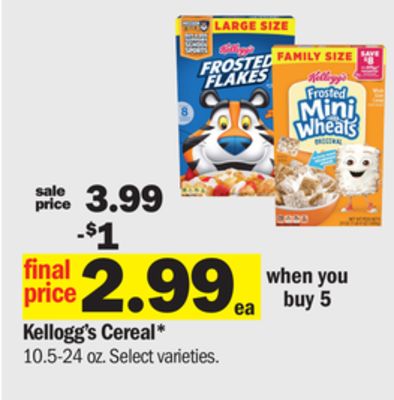 Kellogg's Cereal*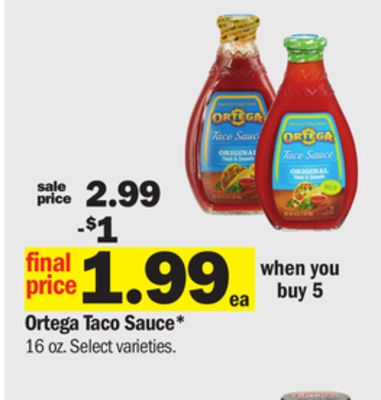 Ortega Taco Sauce*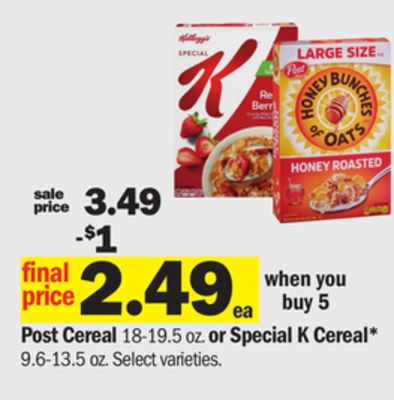 Post Cereal 18-19.5 oz. or Special K Cereal* 9.6-13.5 oz.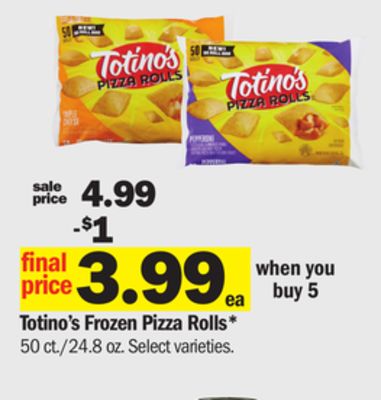 Totino's Frozen Pizza Rools*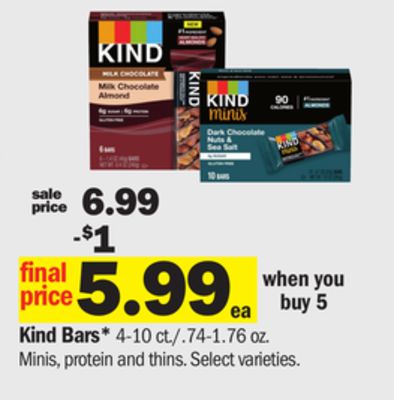 Kind Bars*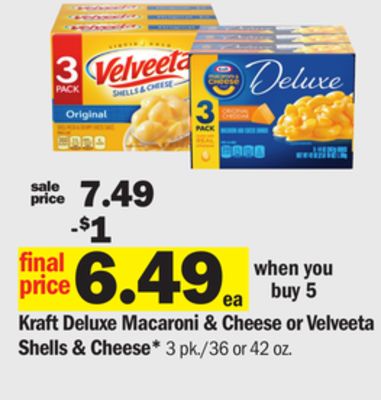 Kraft Deluxe Macaroni & Cheese or Velveeta Shells & Cheese*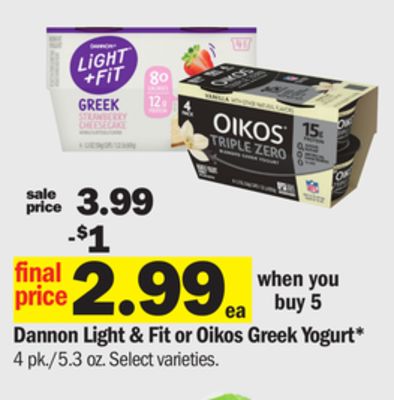 Dannon Light & Fit or Oikos Greek Yogurt*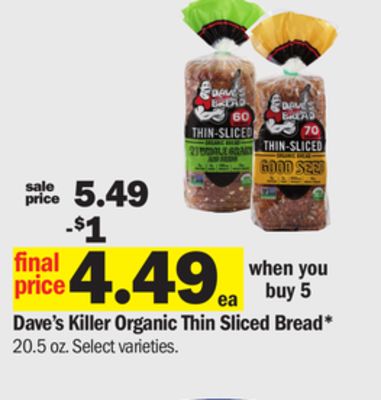 Dave's Killer Organic Thin Sliced Bread*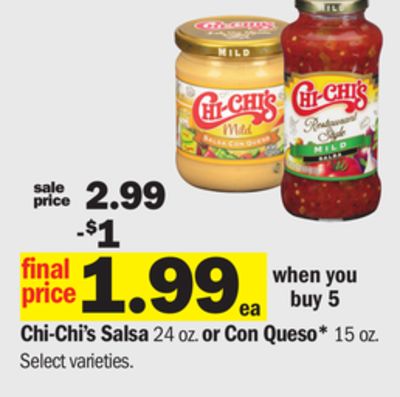 Chi-Chi's Salsa 24 oz. or Con Queso* 15 oz.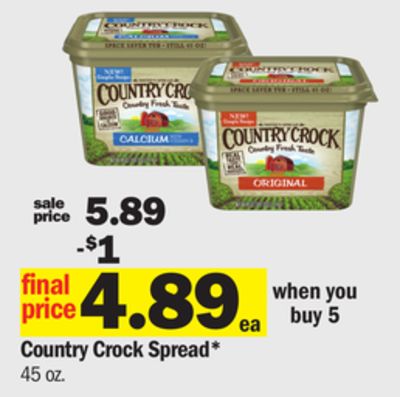 Country Crock Spread*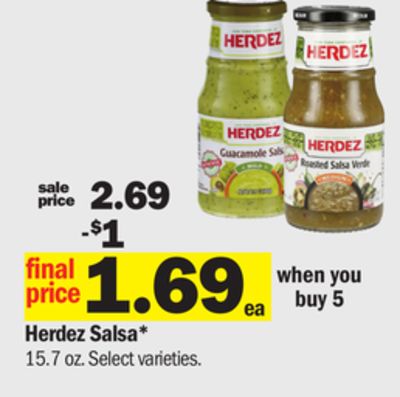 Herdez Salsa*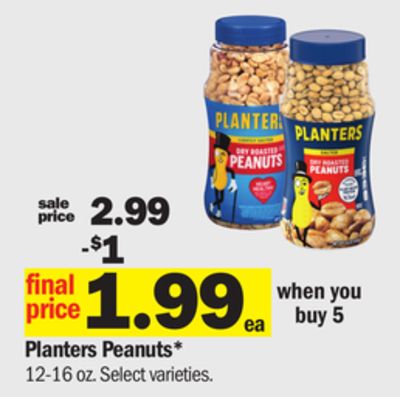 Planters Peanuts*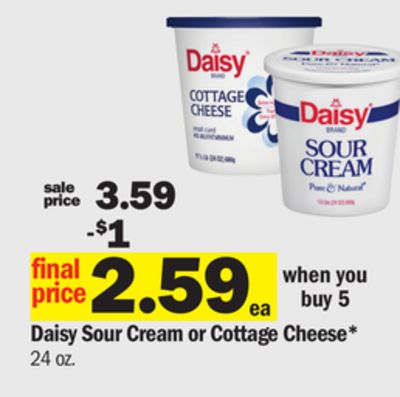 Daisy Sour Cream or Cottage Cheese*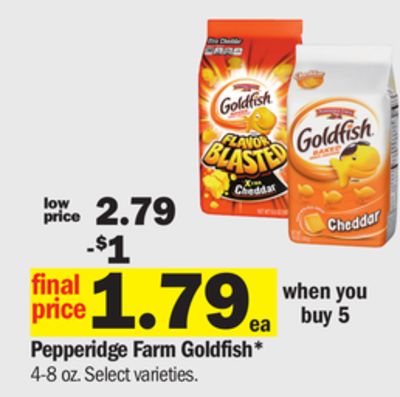 Pepperidge Farm Goldfish*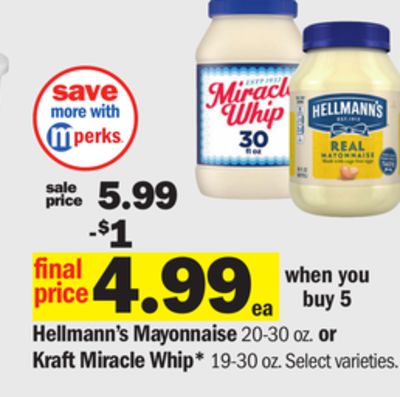 Hellmann's Mayonnaise 20-30 oz. or Kraft Miracle Whip* 19-30 oz.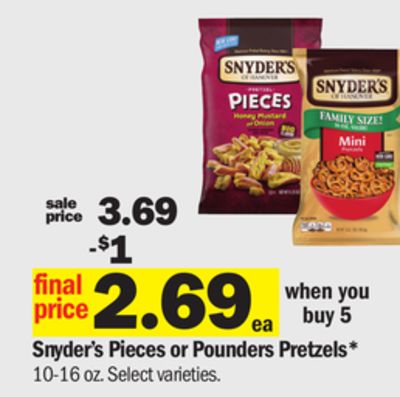 Snyder's Pieces or Pounders Pretzels*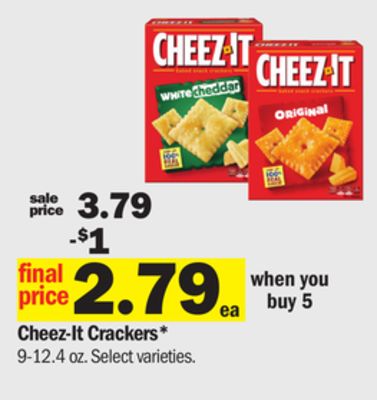 Cheez-it Crackers*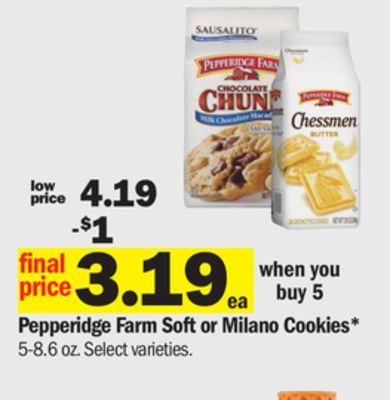 Pepperidge Farm Soft or Milano Cookies*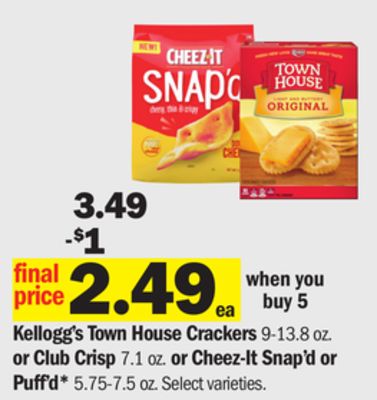 Kellogg's Town House Crackers 9-13.8 oz. or Club Crisp 7.1 oz. or Cheez-It Snap'd or Puff'd* 5.75-7.5 oz.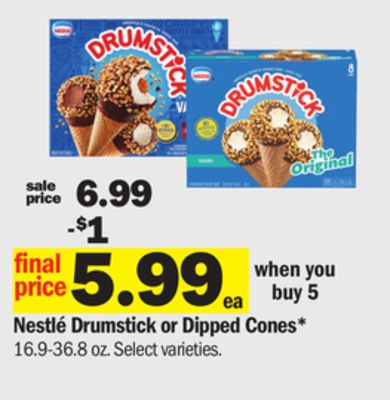 Nestle Drumstick or Dipped Cones*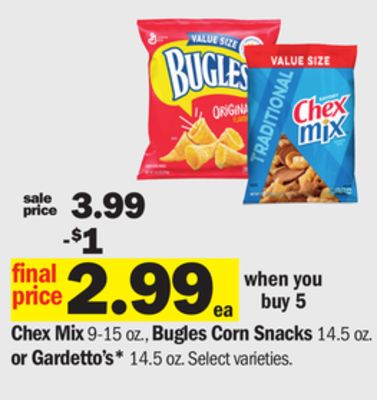 Chex mix 9-15 oz, Bugles Corn Snacks 14.5 oz. or Gardetto's* 14.5 oz.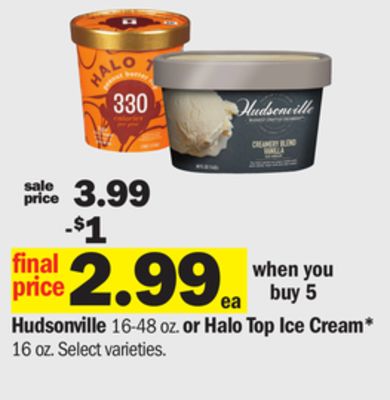 Hudsonville 16-48 oz. or Halo Top Ice Cream*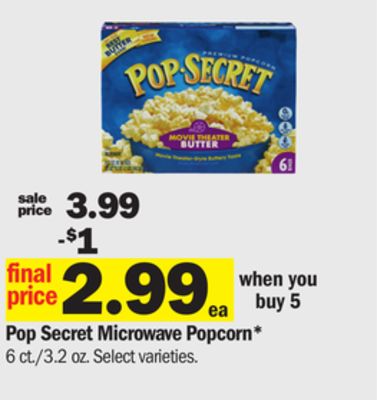 Pop Secret Microwave Popcorn*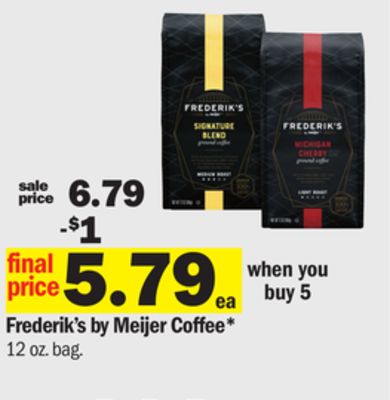 Frederik's by Meijer Coffee*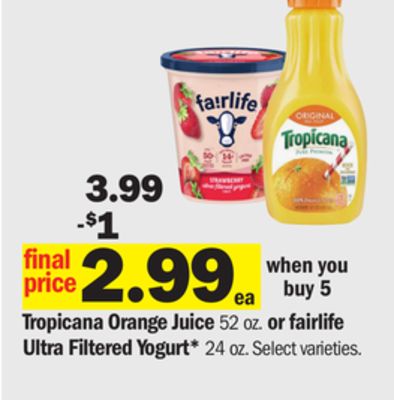 Tropicana Orange Juice 52 oz. or fairlife Ultra Filtered Yogurt* 24 oz.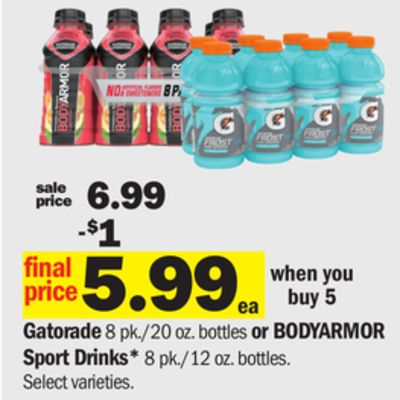 Gatorade 8 pk./20 oz. bottles or BODYARMOR Sport Drinks* 8 pk./12 oz. bottles.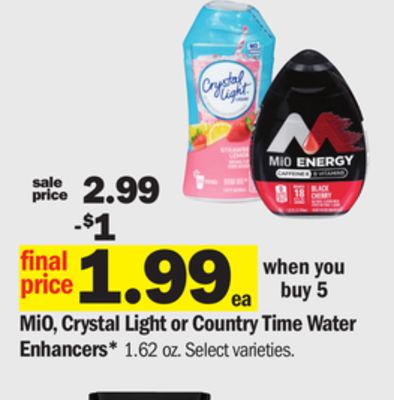 MiO, Crystal Light or Country Time Water Enhancers*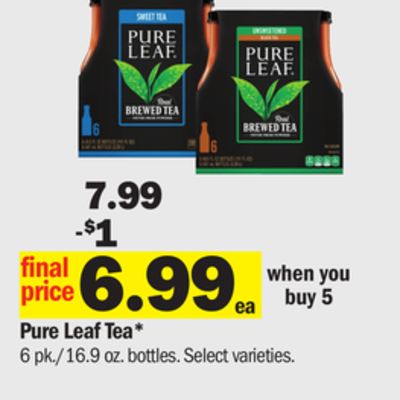 Pure Leaf Tea*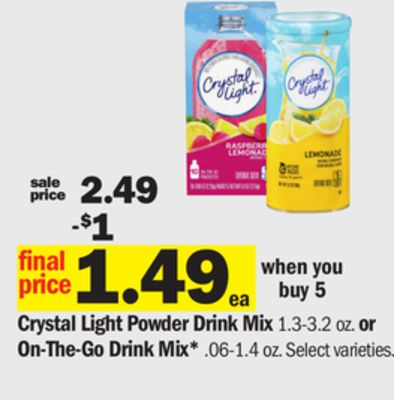 Crystal Light Powder Drink Mix 1.3-3.2 oz. or On-The-Go Drink Mix* 06-1.4 oz.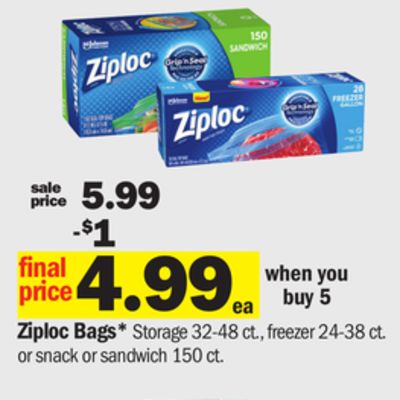 Ziploc Bags*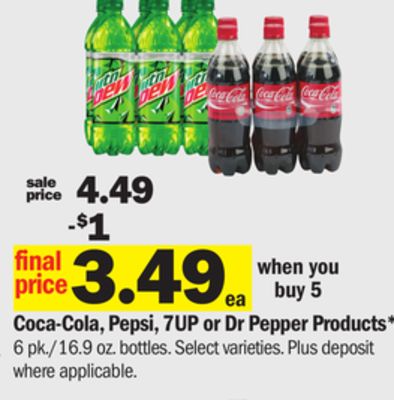 Coca-Cola, Pepsi, 7UP or Dr Pepper Products*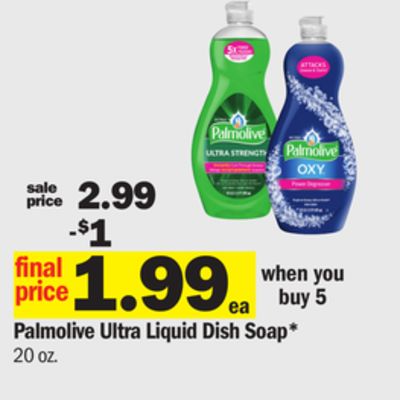 Palmolive Ultra Liquid Dish Soap*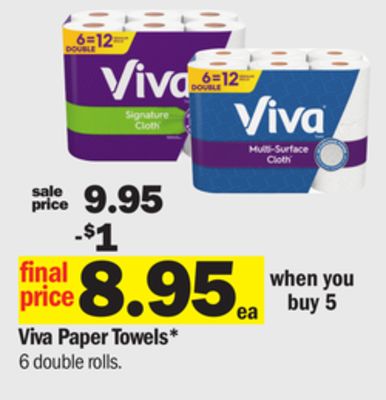 Viva Paper Towels*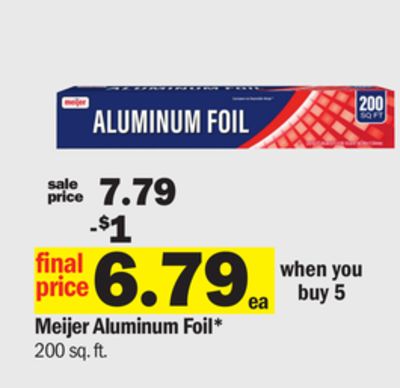 Meijer Aluminum Foil*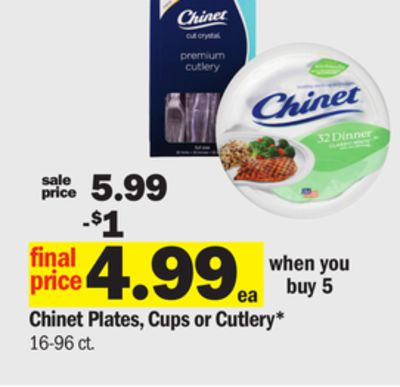 Chinet Plates, Cups or Cutlery*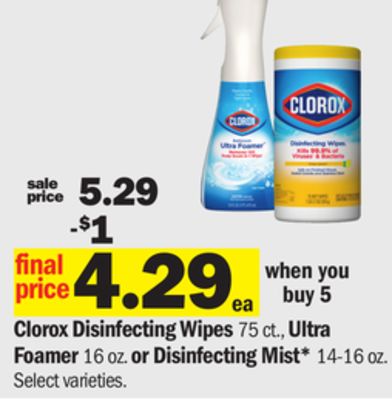 Clorox Disinfecting Wipes 75 ct., Ultra Foamer 16 oz. or Disinfecting Mist* 14-16 oz.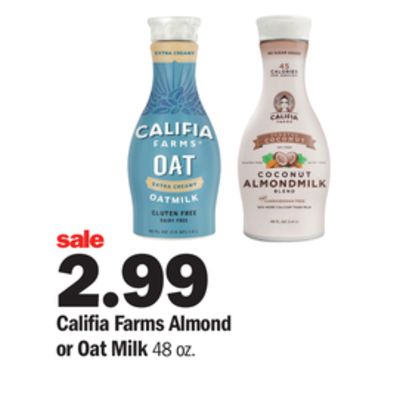 Califia Farms Almond or Oat Milk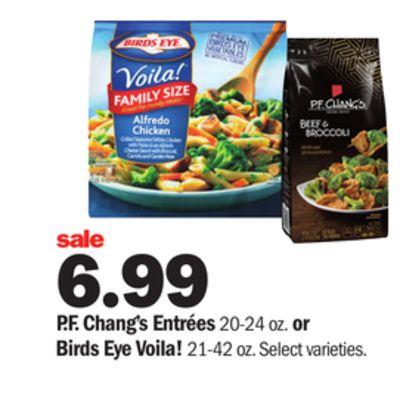 P.F. Chang's Entrées 20-24 oz. or Birds Eye Voila! 21-42 oz.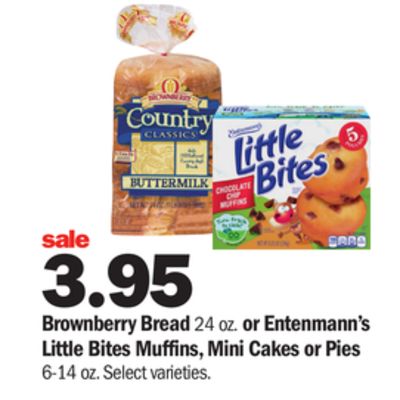 Brownberry Bread 24 oz. or Entenmann's Little Bites Muffins, Mini Cakes or Pies 6-14 oz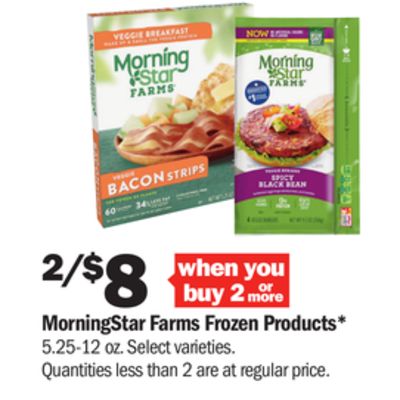 MorningStar Farms Frozen Products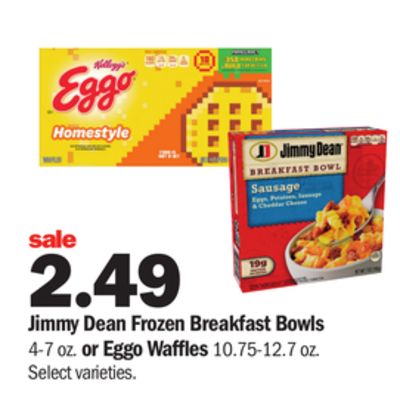 Jimmy Dean Frozen Breakfast Bowls 4-7 oz. or Eggo Waffles 10.75-12.7 oz.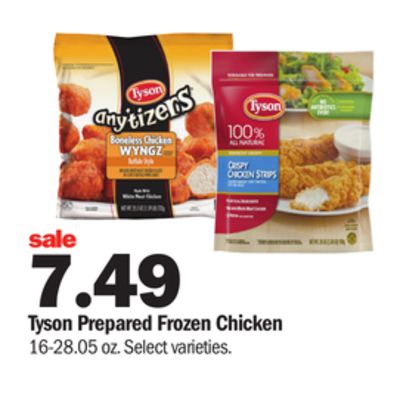 Tyson Prepared Frozen Chicken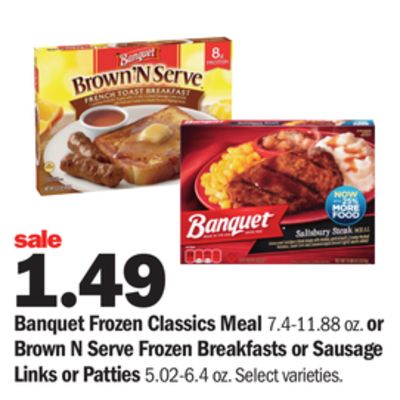 Banquet Frozen Classic Meal 7.4-11.88 oz. or Brown N Serve Frozen Breakfasts or Sausage Linkso or Patties 5.02-6.4 oz.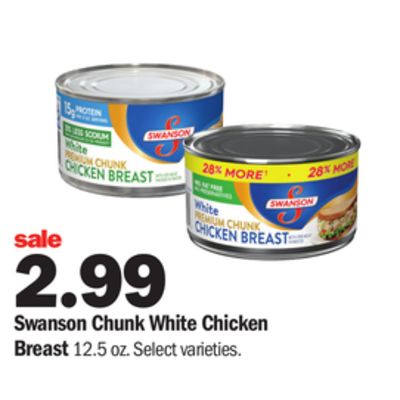 Swanson Chunk White Chicken Breast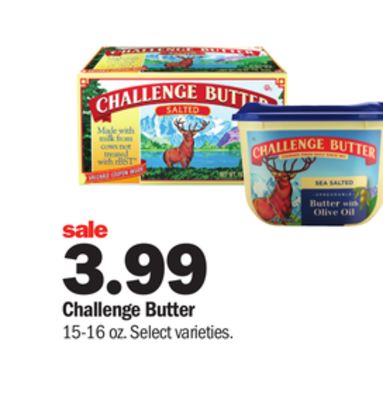 Challenge Butter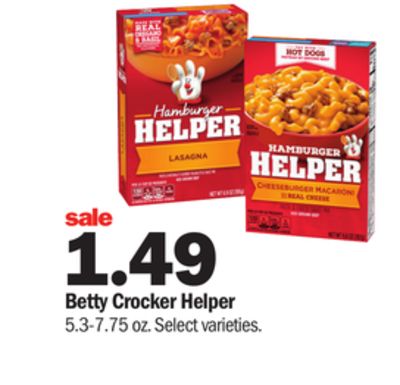 Betty Crocker Helper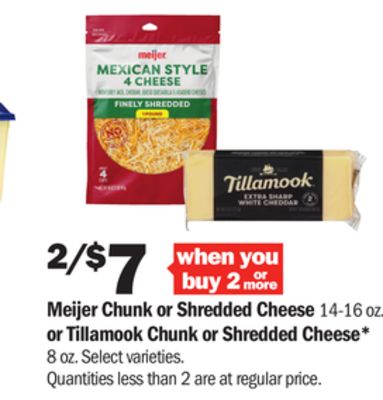 Meijer Chunk or Shredded Cheese 14-16 oz. or Tillamook Chunk or Shredded Cheese* 8 oz.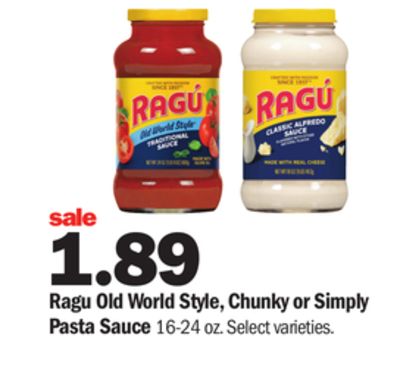 Ragu Old World Style, Chunky or Simply Pasta Sauce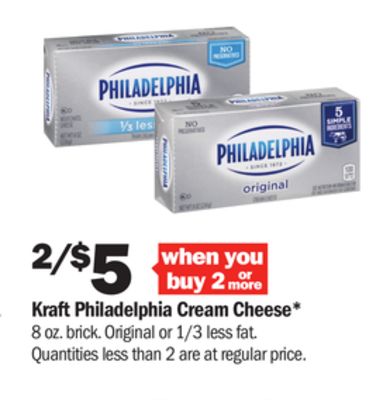 Kraft Philadelphia Cream Cheese*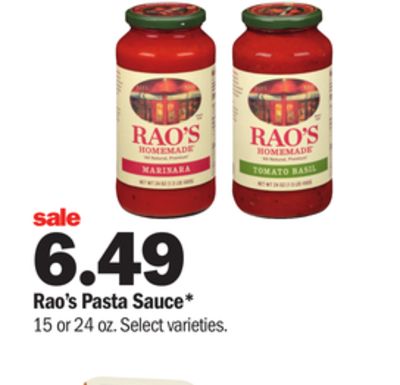 Rao's Pasta Sauce*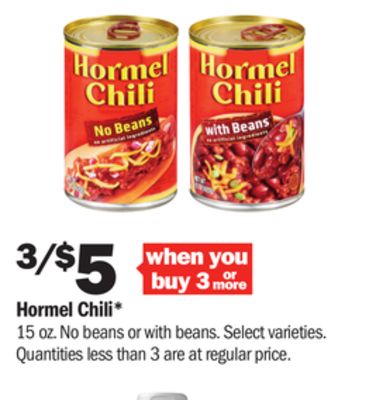 Hormel Chili*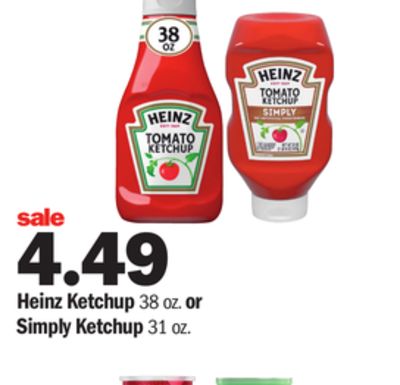 Heinz Ketchup 38 oz. or Simply Ketchup 31 oz.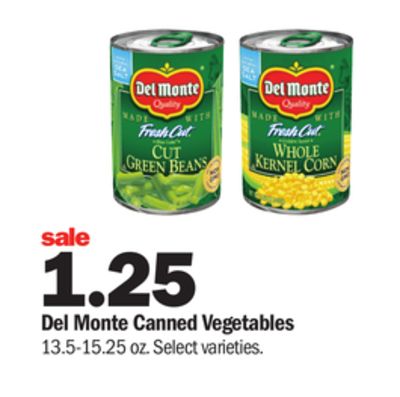 Del Monte Canned Vegetables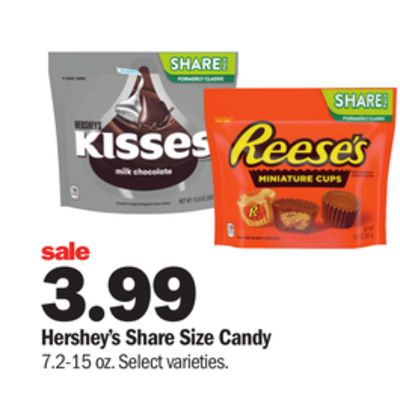 Hershey's Share Size Candy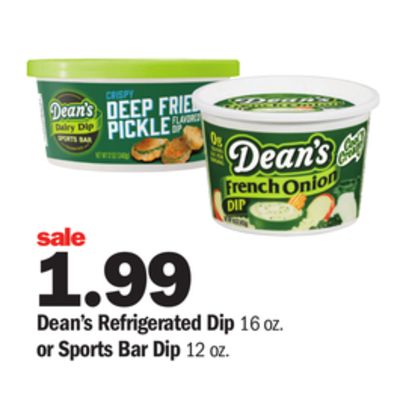 Dean's Refrigerated Dip 16 oz. or Sports Bar Dip 12 oz.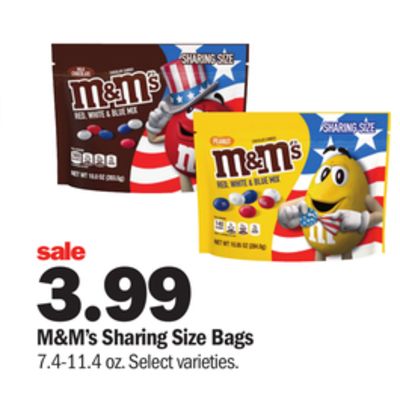 M&M's Sharing Size Bags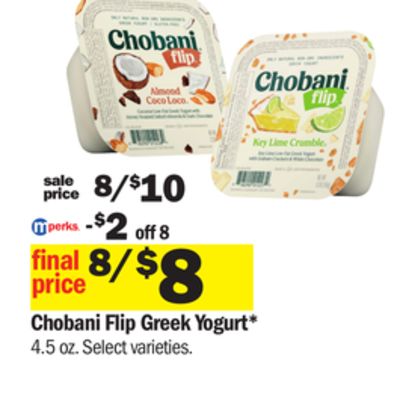 Chobani Flip Greek Yogurt*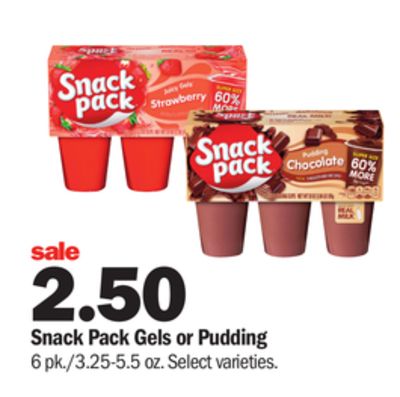 Snack Pack Gels or Pudding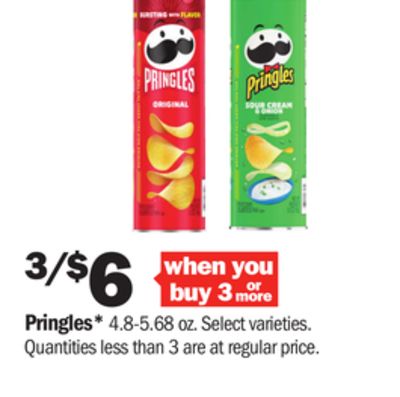 Pringles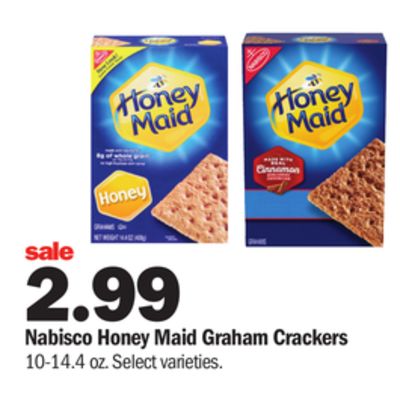 Nabisco Honey Maid Graham Crackers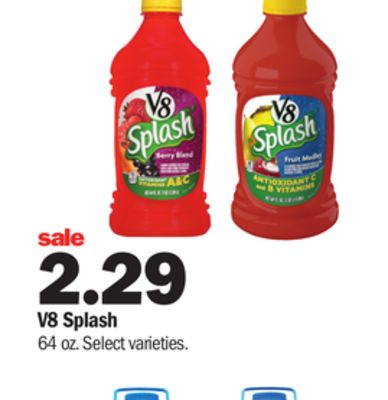 V8 Splash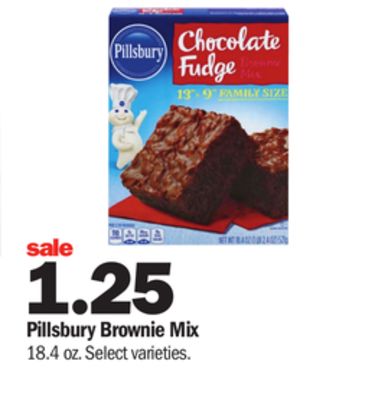 Pillsbury Brownie Mix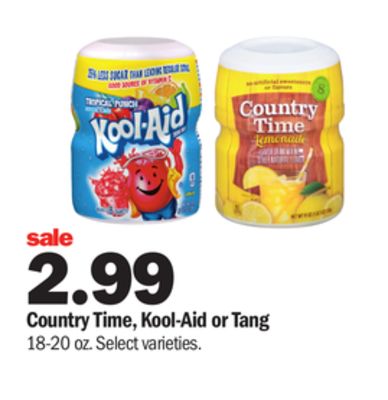 Country Time, Kool-Aid or Tang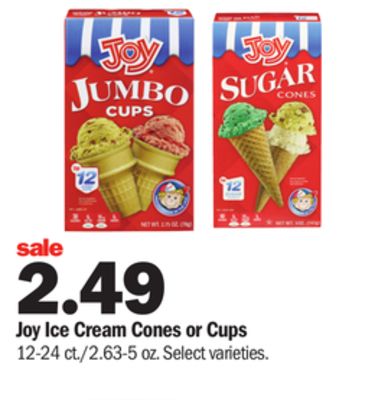 Joy Ice Cream Cones or Cups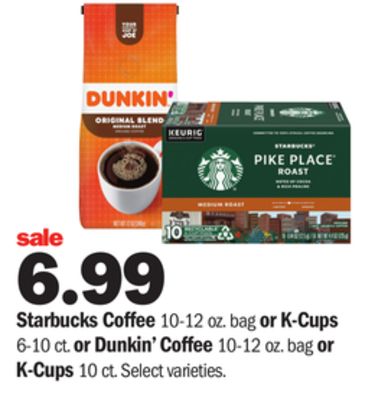 Starbucks Coffee 10-12 oz. bag or K-Cups 6-10 ct. or Dunkin' Coffee 10-12 oz. bag or K-Cups 10 ct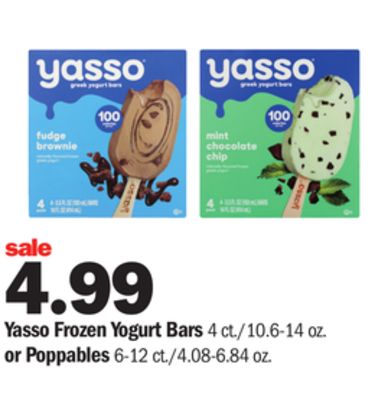 Yasso Frozen Yogurt Bars 4 ct./10.6 - 14 oz. or Poppables 6 - 12 ct./4.08 - 6.84 oz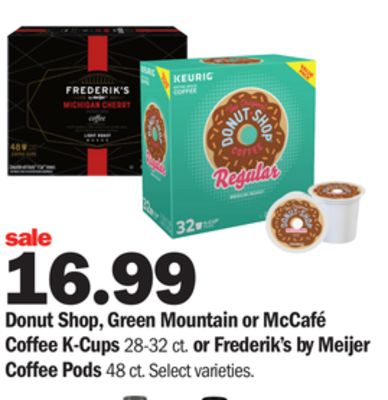 Donut Shop, Green Mountain and McCaf'e Coffee K-Cup 28 - 32 ct. or Fredriks By Meijer Coffee Pods 48 ct.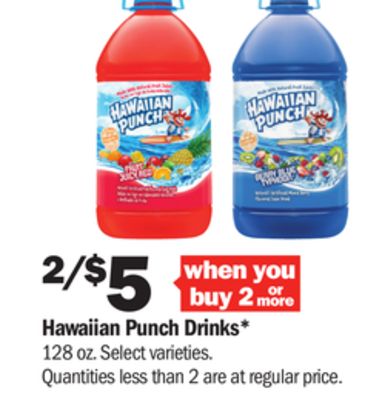 Hawaiian Punch Drinks*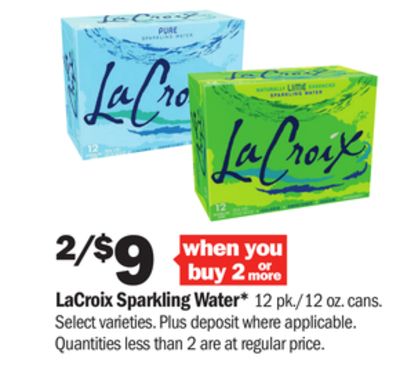 LaCroix Sparkling Water*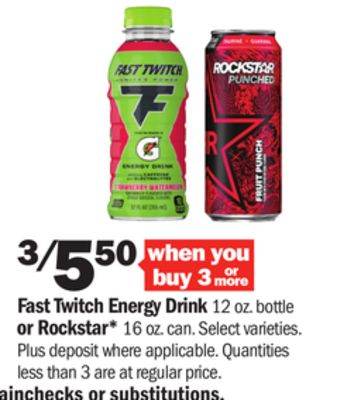 Fast Twitch Energy Drink 12 oz. bottle or Rockstar*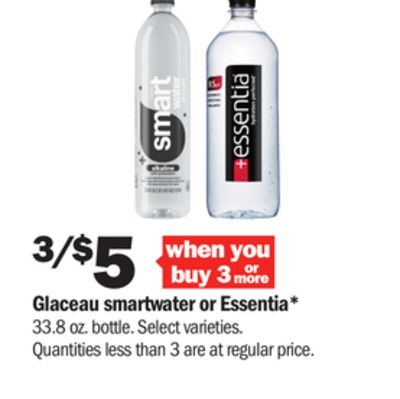 Glaceau smartwater or Essentia*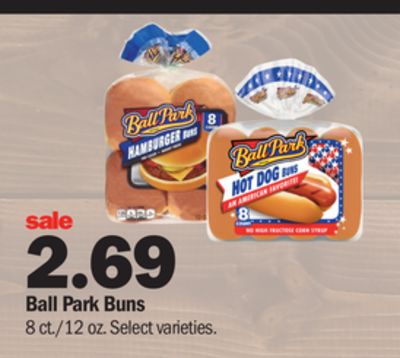 Ball Park Buns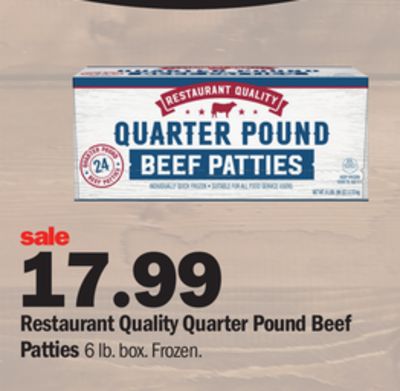 Restaurant Quality Quarter Pound Beef Patties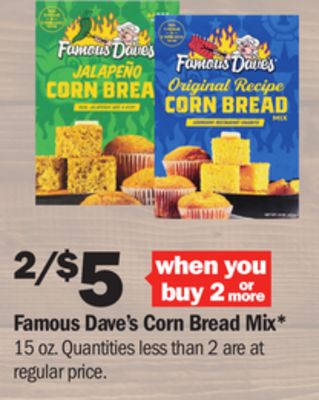 Famous Dave's Corn Bread Mix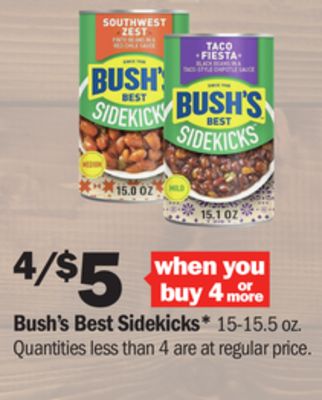 Bush Best Sidekicks*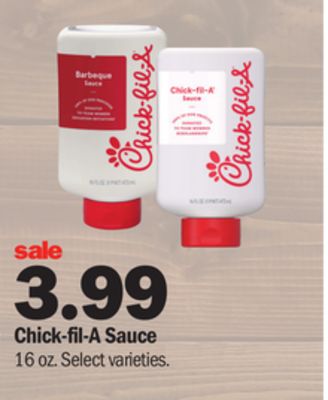 Chick-fill-A Sauce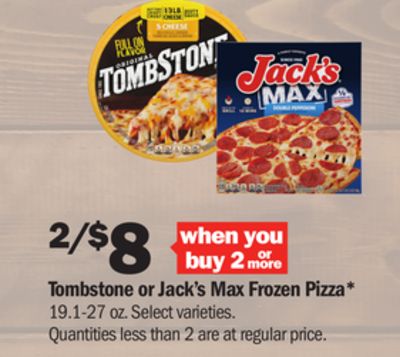 Tombstone or Jacks Max Frozen Pizza*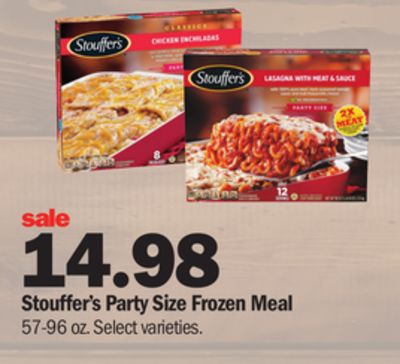 Stouffer's Party Size Frozen Meal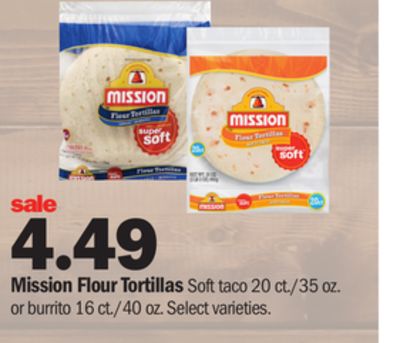 Mission Flour Tortillas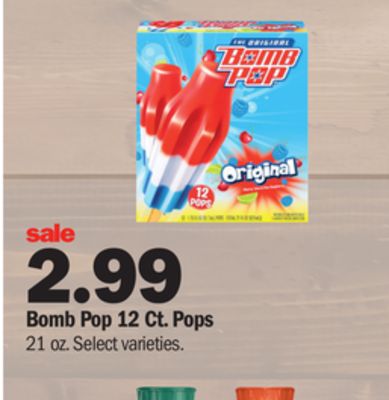 Bomb Pop 12 Ct. Pops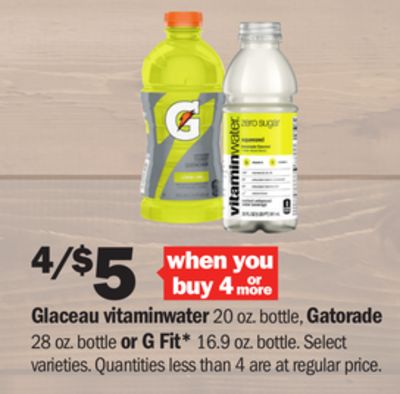 Glaceau vitaminwater 20 oz. bottle, Gatorade 28 oz. bottle or G Fit* 16.9 oz. bottle.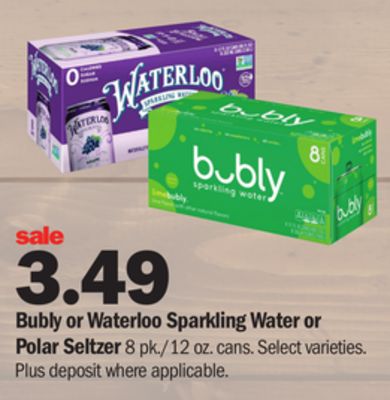 Bubly Sparkling Water, Waterloo Sparkling Water or Polar Seltzer 8 pk./12 oz. cans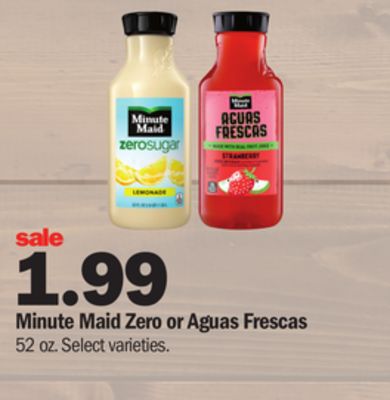 Minute Maid Zero or Aguas Frescas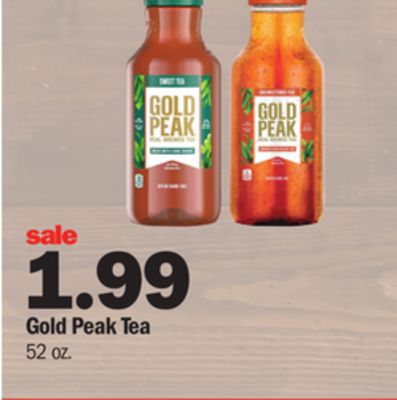 Gold Peak Tea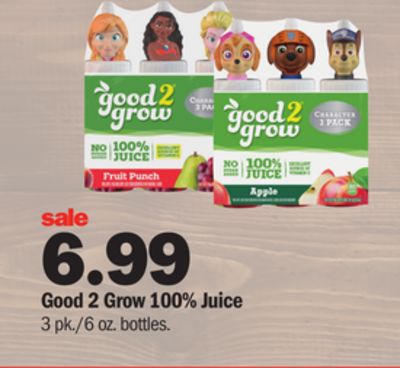 Good 2 Grow 100% Juice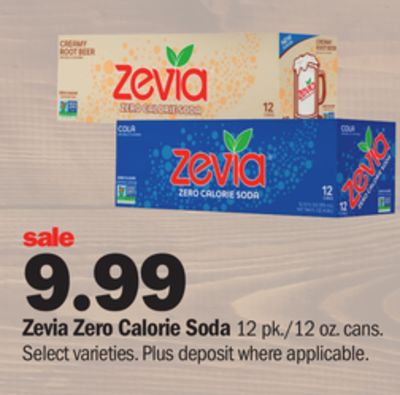 Zevia Zero Calorie Soda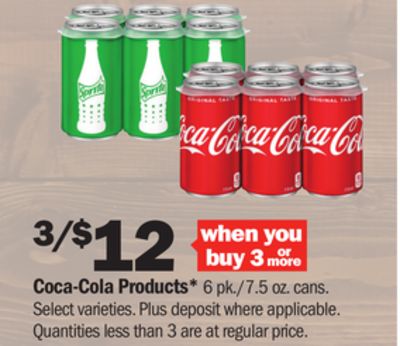 Coca-Cola Products*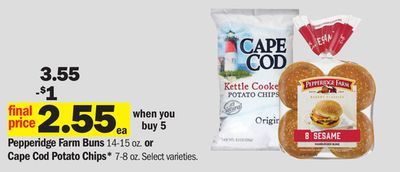 Pepperidge Farm Buns 14-15 oz. or Cape Cod Potato Chips* 7-8 oz.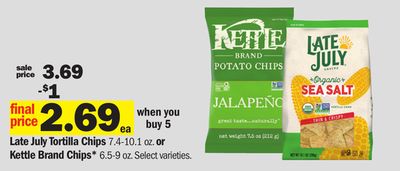 Late July Tortilla Chips 7.4 - 10.1 oz. or Kettle Brand chip* 6.5 - 9 oz.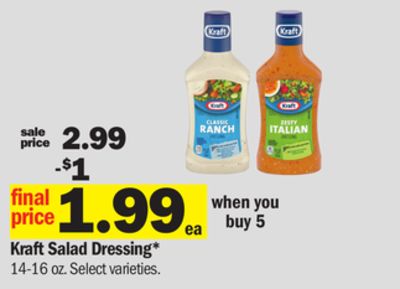 Kraft Salad Dressing*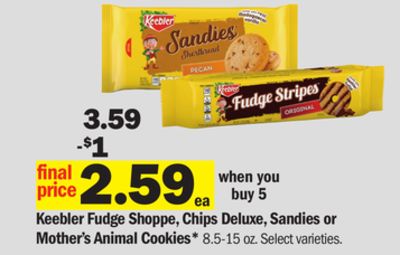 Keebler Fudge Shoppe, Chips Deluxe, Sandies or Mother's Animal Cookies*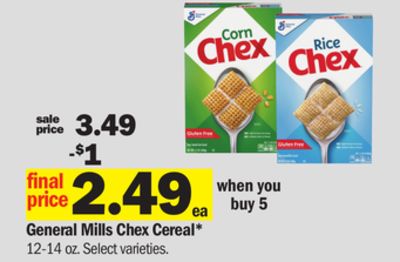 General Mills Chex Cereal*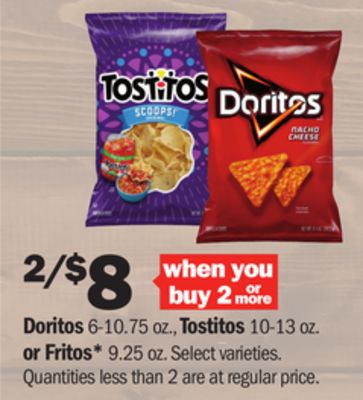 Doritos 6-10.75 oz., Tostitos 10-13 oz. or Fritos* 9.25 oz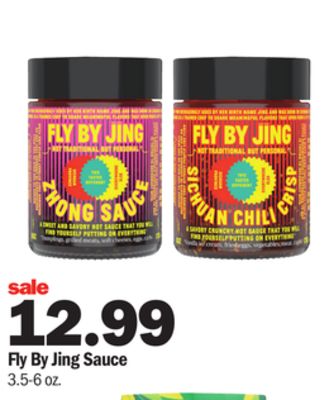 Fly By Jing Sauce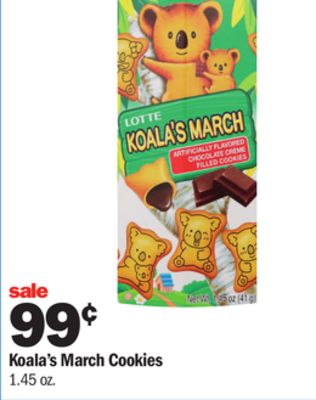 Koala's March Cookies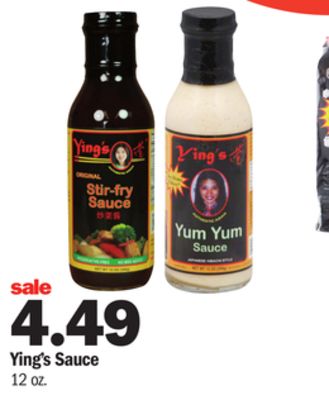 Ying's Sauce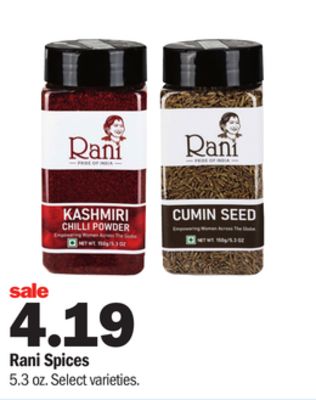 Rani Spices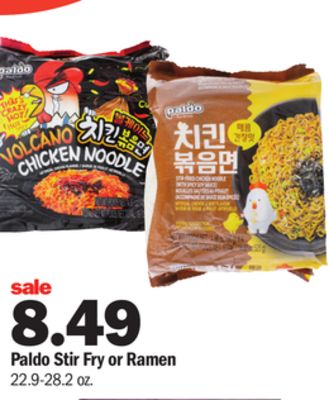 Paldo Stir Fry or Ramen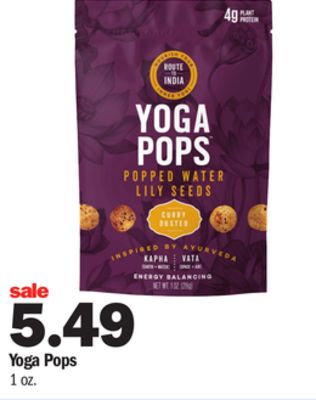 Yoga Pops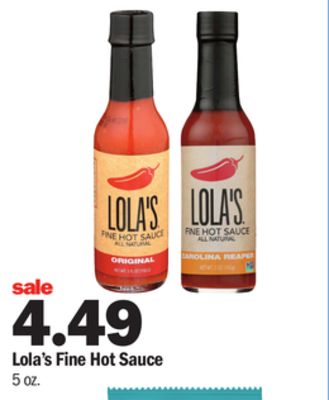 Lola's Fine Hot Sauce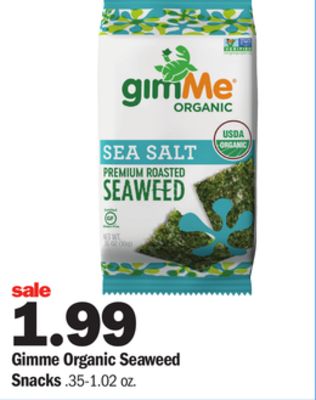 Gimme Organic Seaweed Snacks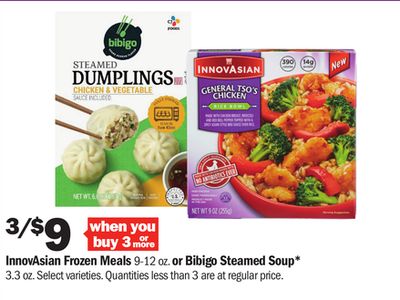 InnovAsian Frozen Meals 9-12 oz. or Bibigo Steamed Soup* 3.3 oz.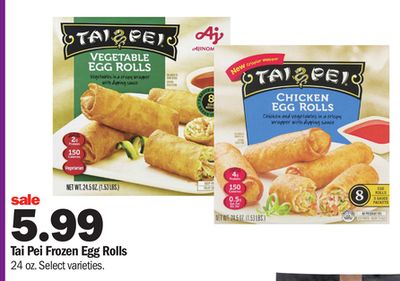 Tai Pei Frozen Egg Rolls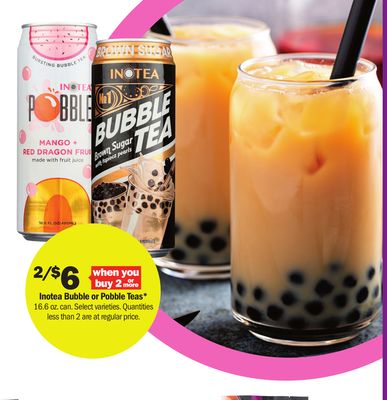 Inotea Bubble or Pobble Teas*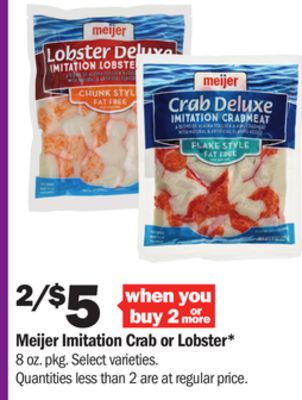 Meijer Imitation Crab or Lobster*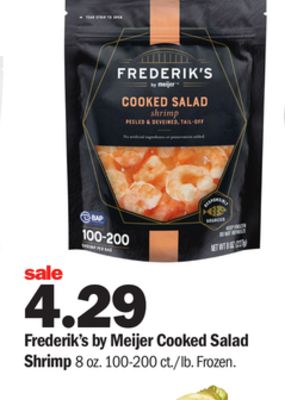 Frederik's by Meijer Cooked Salad Shrimp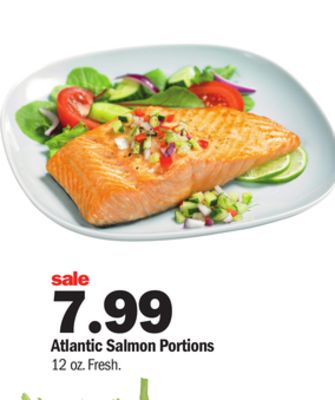 Atlantic Salmon Portions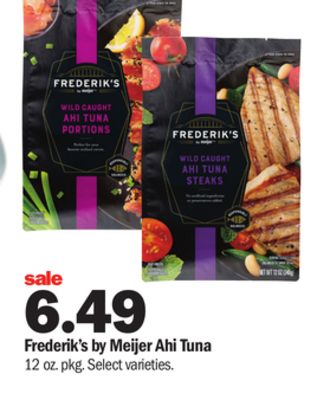 Frederik's by Meijer Ahi Tuna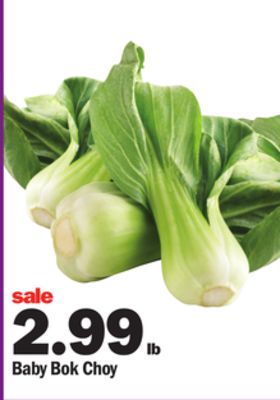 Baby Bok Choy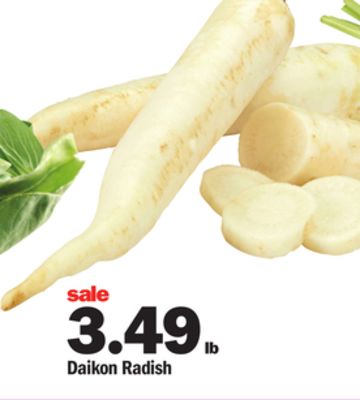 Daikon Radish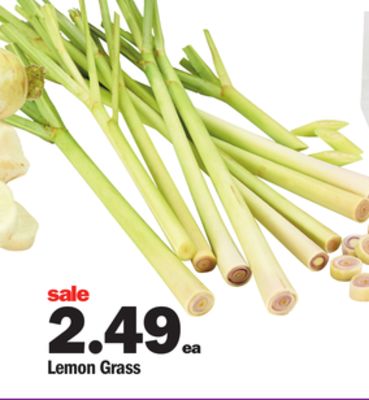 Lemon Grass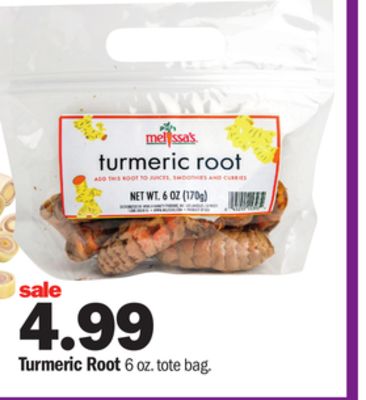 Turmeric Root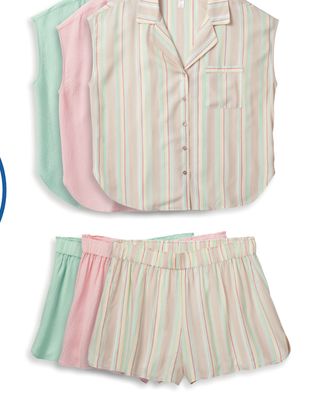 Tranquil & True Boxed Sets*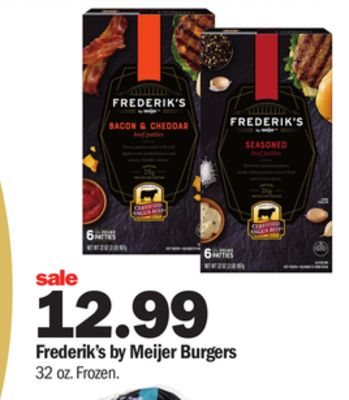 Frederik's by Meijer Burgers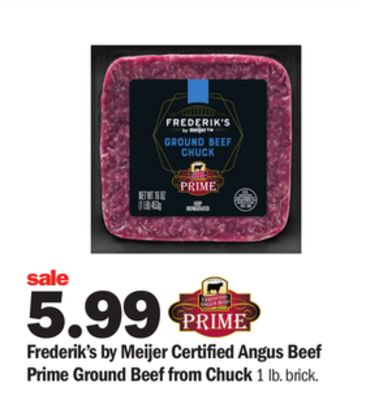 Frederik's by Meijer Certified Angus Beef Prime Ground Beef from Chuck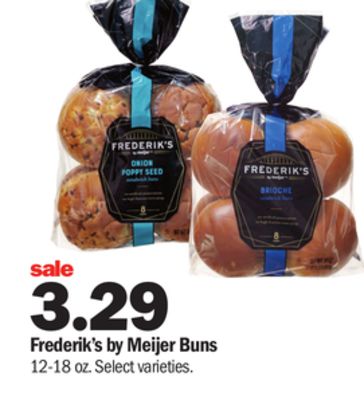 Frederik's by Meijer Buns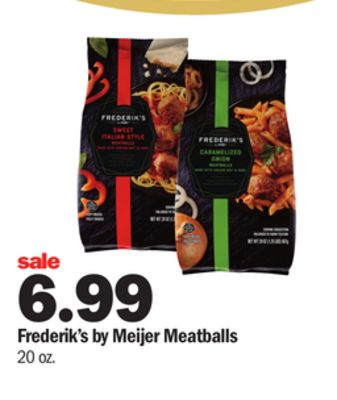 Frederik's by Meijer Meatballs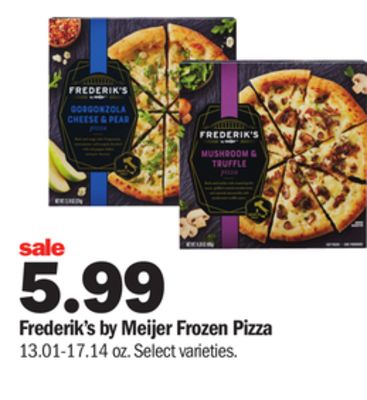 Frederik's by Meijer Frozen Pizza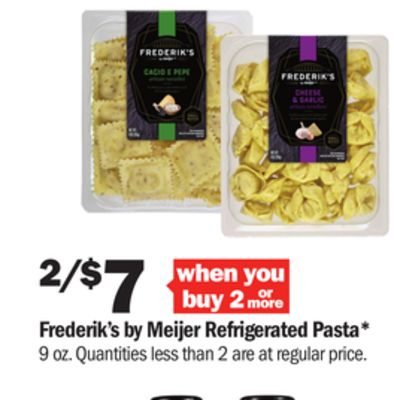 Frederik's by Meijer Refrigerated Pasta*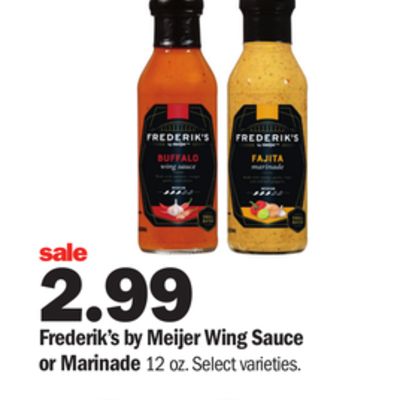 Frederik's by Meijer Wing Sauce or Marinade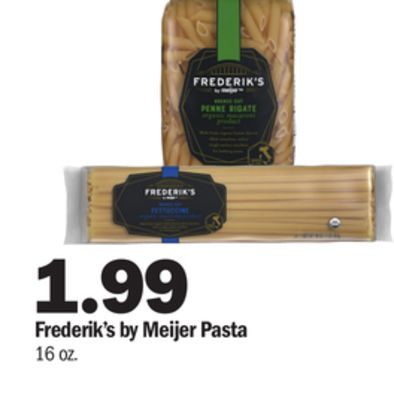 Frederik's by Meijer Pasta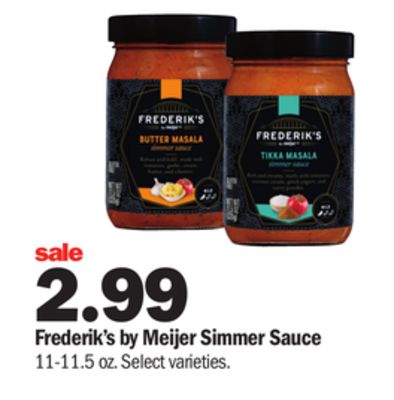 Frederik's by Meijer Simmer Sauce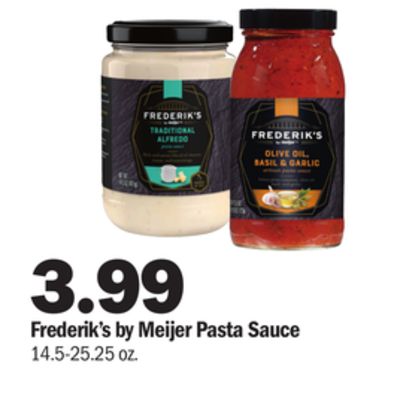 Frederik's by Meijer Pasta Sauce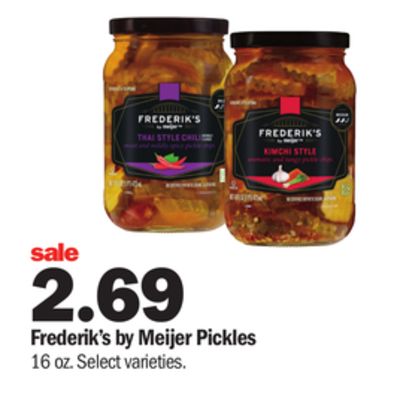 Frederik's by Meijer Pickles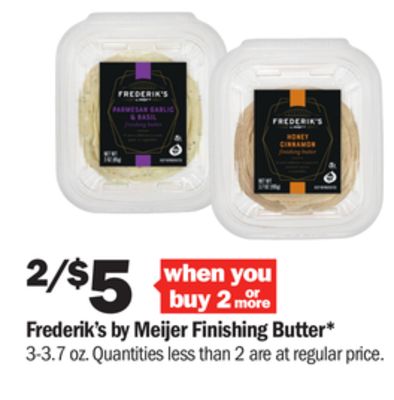 Frederik's by Meijer Finishing Butter*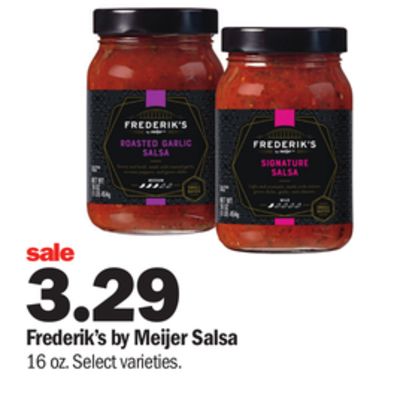 Frederik's by Meijer Salsa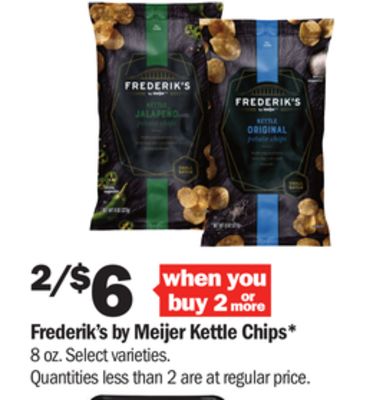 Frederik's by Meijer Kettle Chips*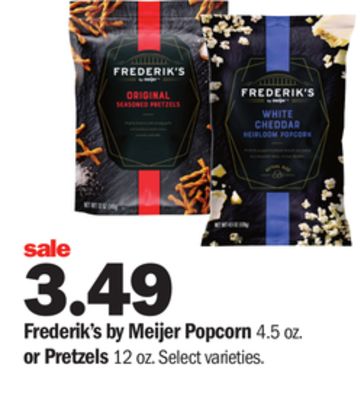 Frederik's by Meijer Popcorn 4.5 oz. or Pretzels 12 oz.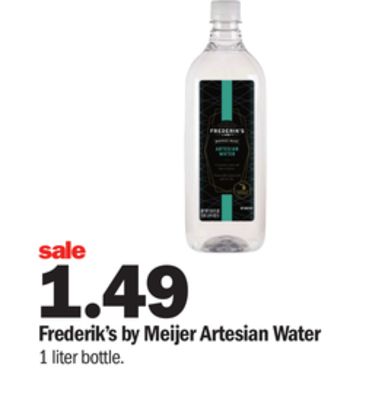 Frederik's by Meijer Artesian Water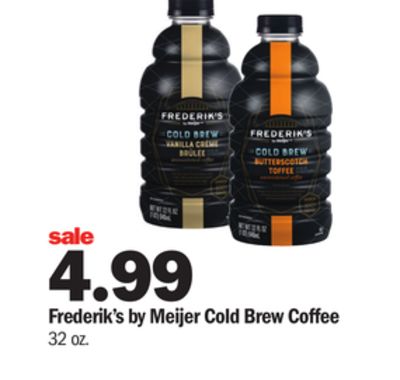 Frederik's by Meijer Cold Brew Coffee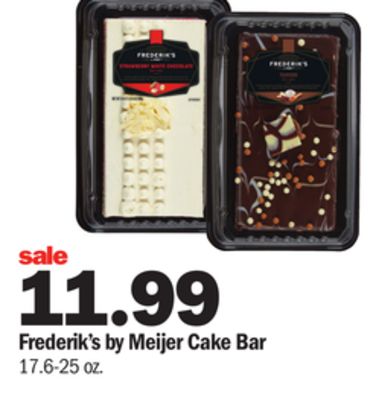 Frederik's by Meijer Cake Bar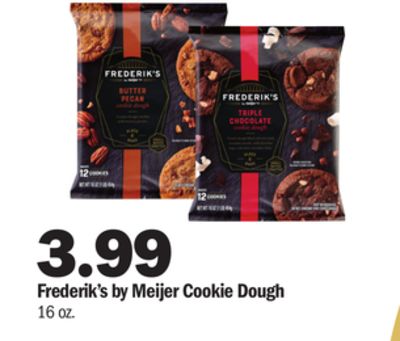 Frederik's by Meijer Cookie Dough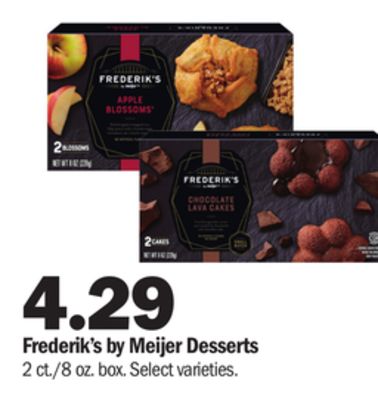 Frederik's by Meijer Desserts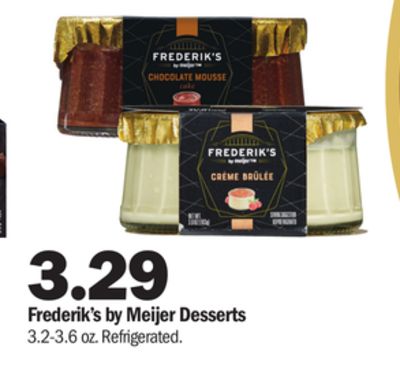 Frederik's by Meijer Desserts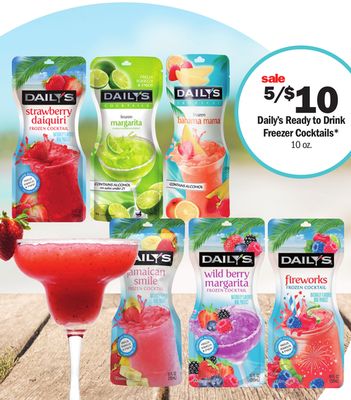 Daily's Ready to Drink Fteezer Cocktails*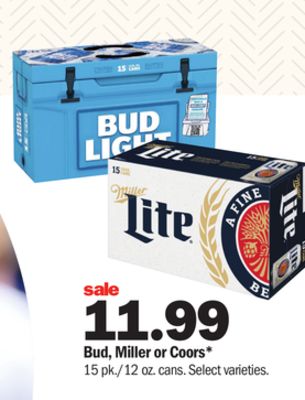 Bud, Miller or Coors*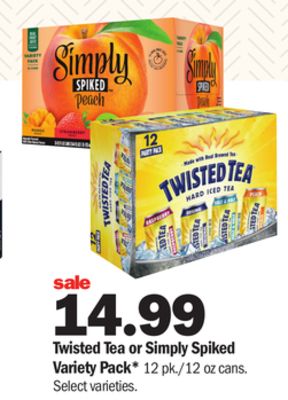 Twisted Tea or Simply Spiked Variety Pack*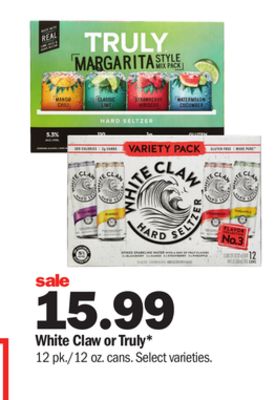 White Claw or Truly*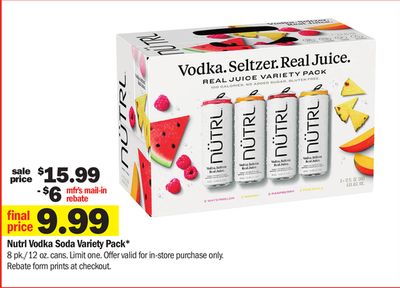 Nutrl Vodka Soda Variety Pack*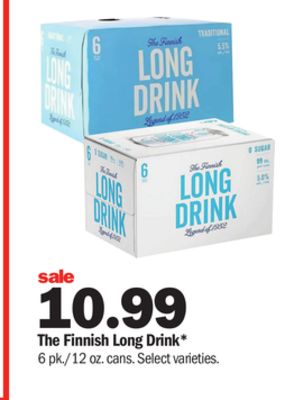 The Finnish Long Drink*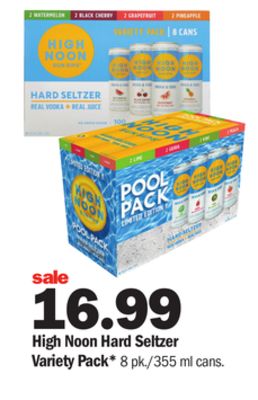 High Noon Hard Seltzer Variety Pack*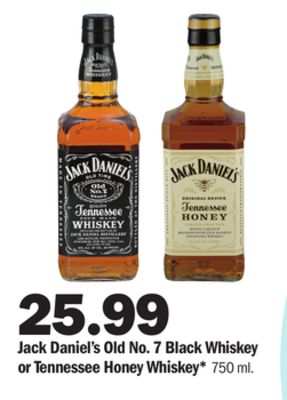 Jack Daniel's Old No. 7 Black Whiskey or Tennessee Honey Whiskey*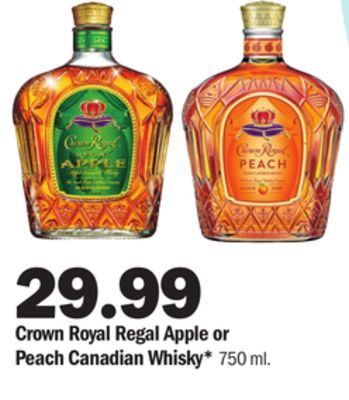 Crown Royal Regal Apple or Peach Canadian Whisky*

Jose Cuervo Especial Gold Tequila*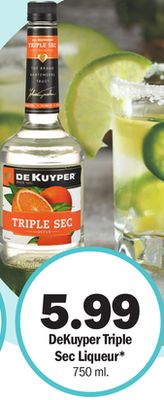 DeKuyper Triple Sec Liqueur*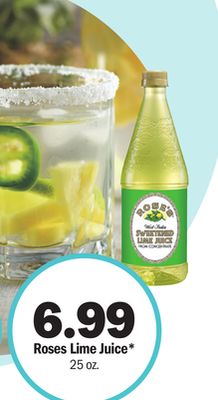 Roses Lime Juice*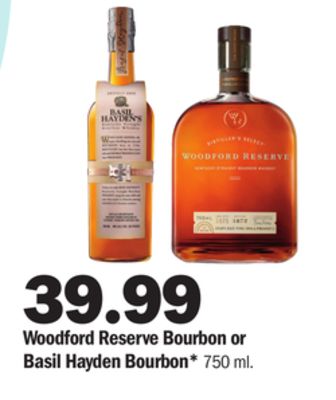 Woodford Reserve Bourbon or Basil Hayden Bourbon*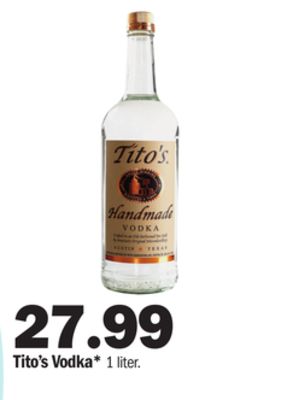 Tito's Vodka*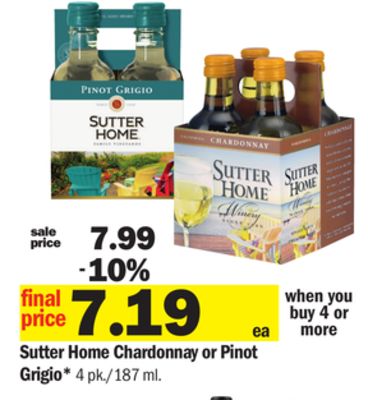 Sutter Home Chardonnay or Pinot Grigio*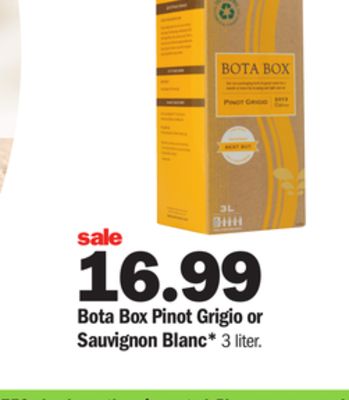 Bota Box Pinot Grigio or Sauvignon Blanc*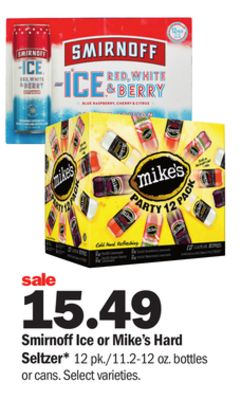 Smirnoff Ice or Mike's Hard Seltzers*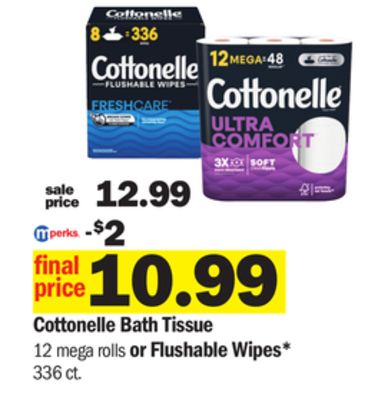 Cottonelle Bath Tissue 12 mega rolls or Flushable Wipes* 336 ct.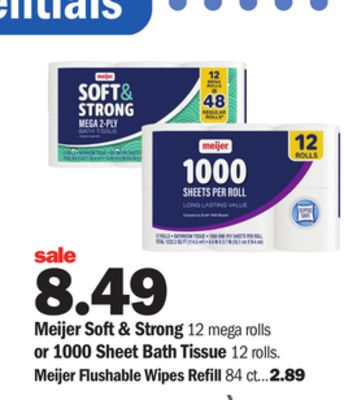 Meijer Soft & Strong 12 mega rolls or 1000 Sheet Bath Tissue 12 rolls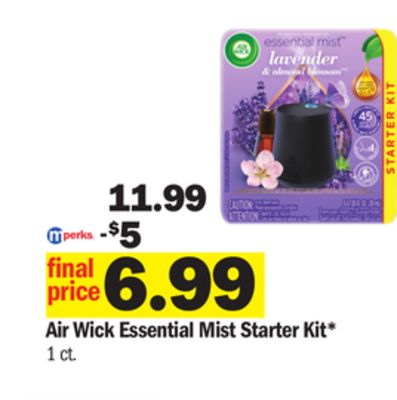 Air Wick Essential Mist Starter Kit*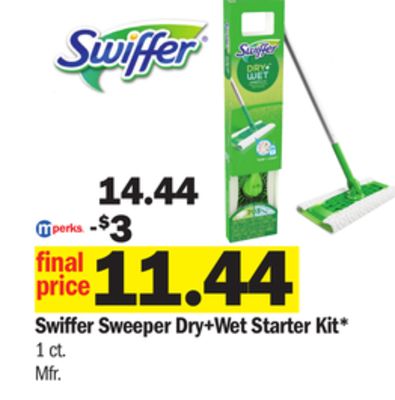 Swiffer Sweeper Dry+Wet Starter Kit*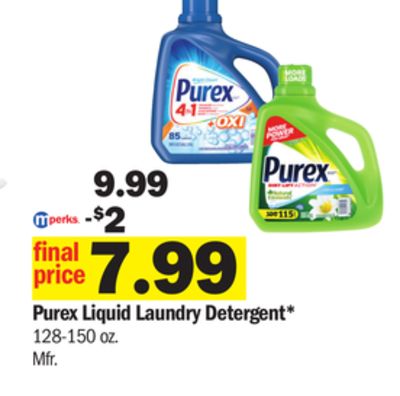 Purex Liquid Laundry Detergent*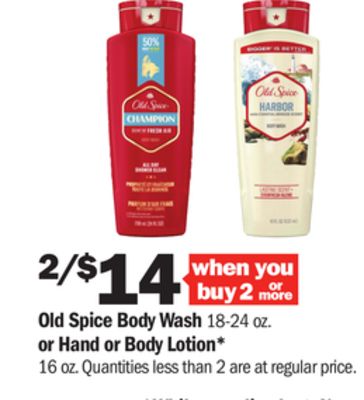 Old Spice Body Wash 18-24 oz. or Hand or Body Lotion* 16 oz.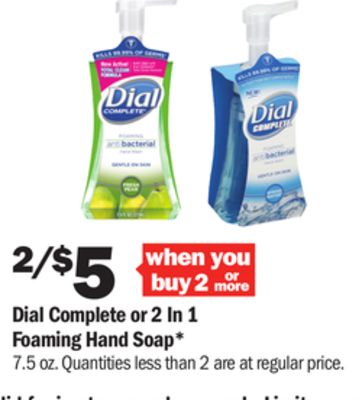 Dial Complete or 2 in 1 Foaming Hand Soap*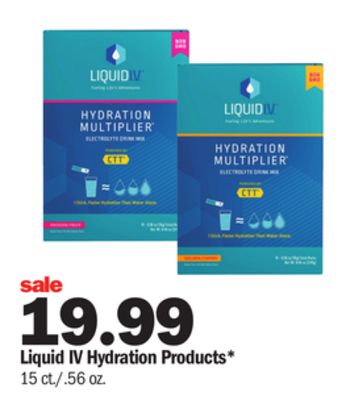 Liquid IV Hydration Products*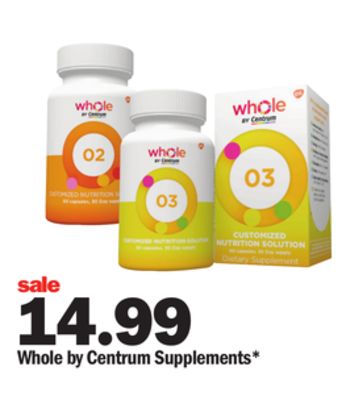 Whole by Centrum Supplements*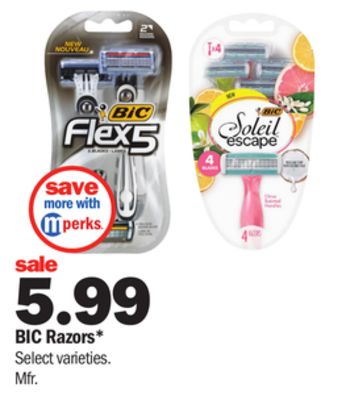 BIC Razors*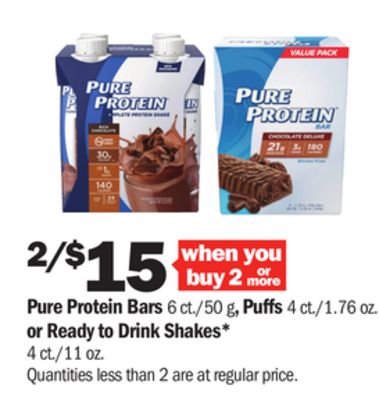 Pure Protein Bars 6 ct./50 g. Puffs 4 ct./1.76 oz. or Ready To Drink Shakes* 4 ct./11 oz.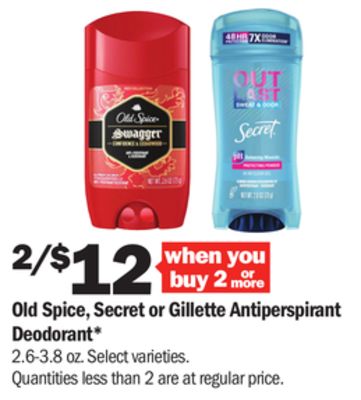 Old Spice, Secret or Gillette Antiperspirant Deodorant*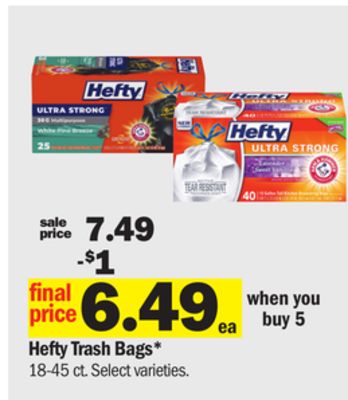 Hefty Trash Bags*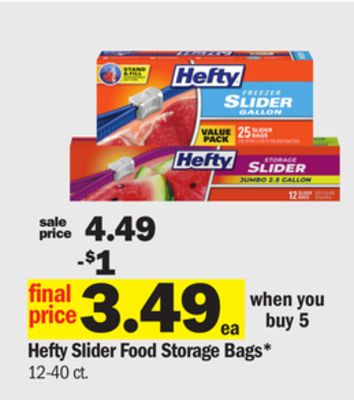 Hefty Slider Food Storage Bags*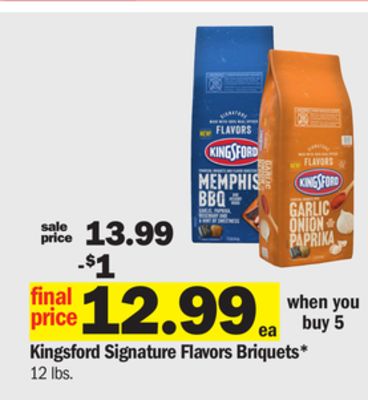 Kingsford Signature Flavors Briquets*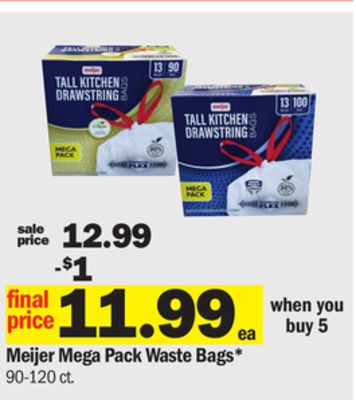 Meijer Mega Pack Waste Bags*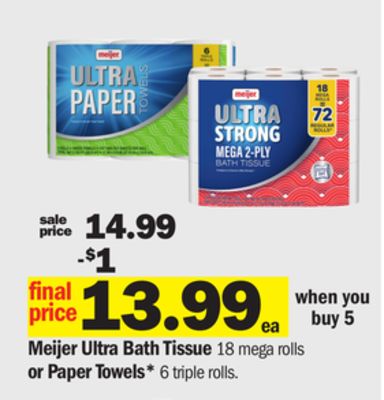 Meijer Ultra Bath Tissue 18 mega rolls or Paper Towels* 6 triple rolls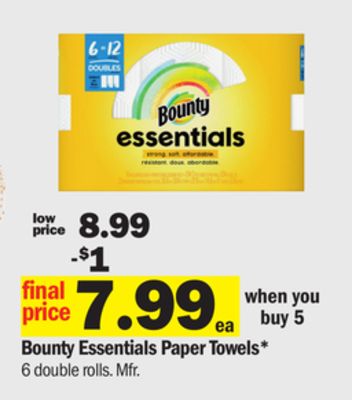 Bounty Essentials Paper Towels*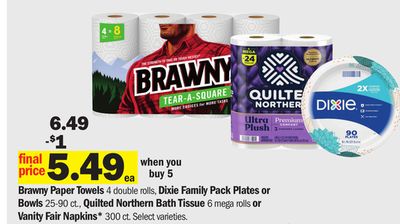 Brawny Paper Towels 4 double rolls, Dixie Family Pack Plates or Bowls 25-90 ct. Quilted Northern Bath Tissue 6 mega rolls or Vanity Fair Napkins* 300 ct.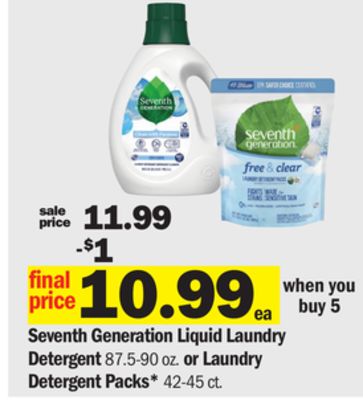 Seventh Generation Liquid Laundry Detergent 87.5-90 oz. or Laundry Detergent Packs* 42-45 ct.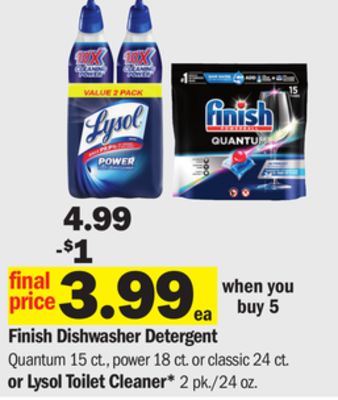 Finish Dishwasher Detergent Quantum 15 ct., power 18 ct. or Classic 24 ct., or Lysol Toilet Cleaner* 2 pk./24 oz.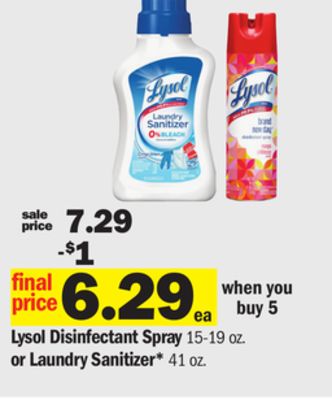 Lysol Disinfectant Spray 15-19 oz. or Laundry Sanitizer* 41 oz.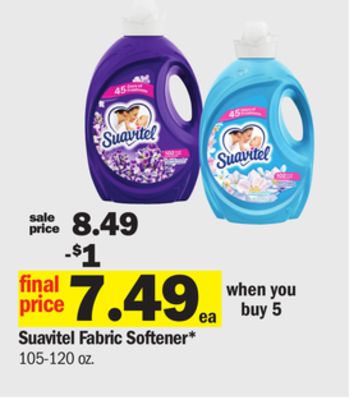 Suavitel Fabric Softener*