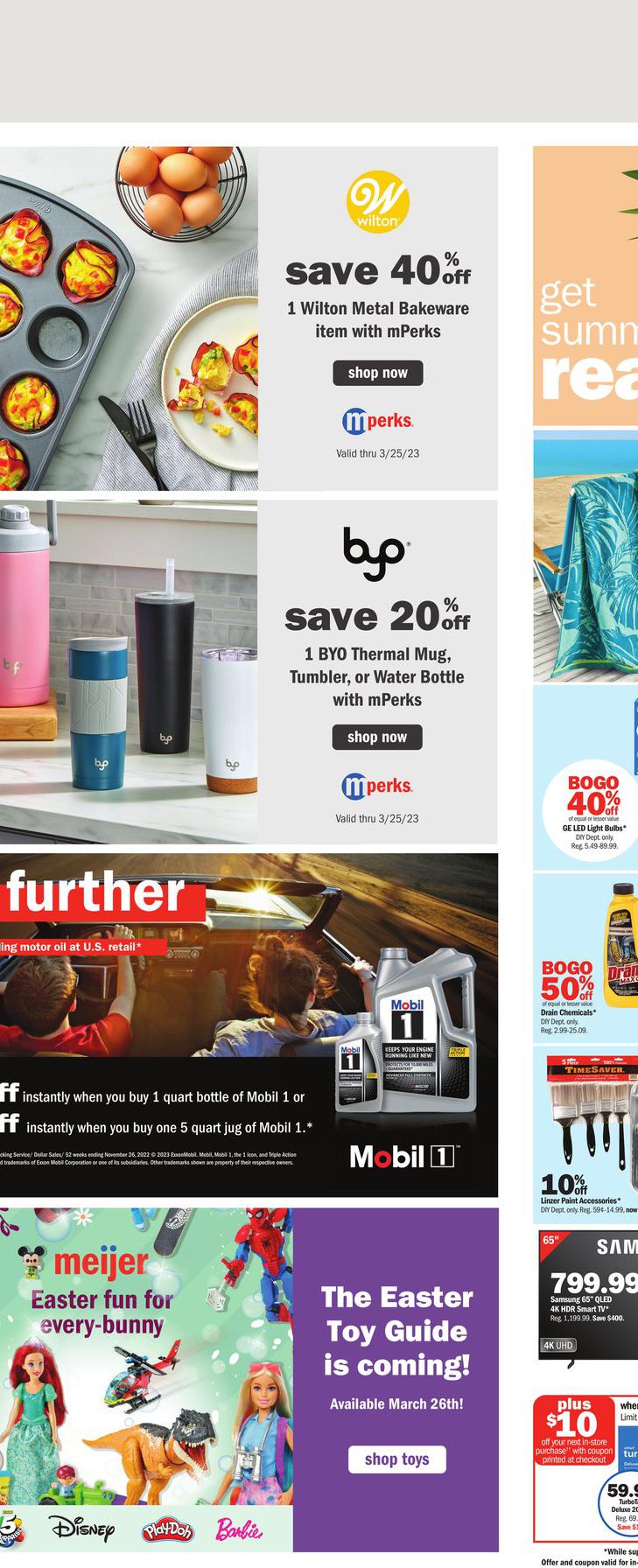 Weekly Ad
---
The Weekly Ad, which is valid in Meijer markets between 03/19/2023 - 03/26/2023, consists of 25 pages. The most expensive product of the brochure is Samsung 65" QLED 4K HDR Smart TV* priced at $799.99, the cheapest product at $0.53 is Linzer Paint Accessories*.
You can use the page previews below to navigate the brochure pages.
---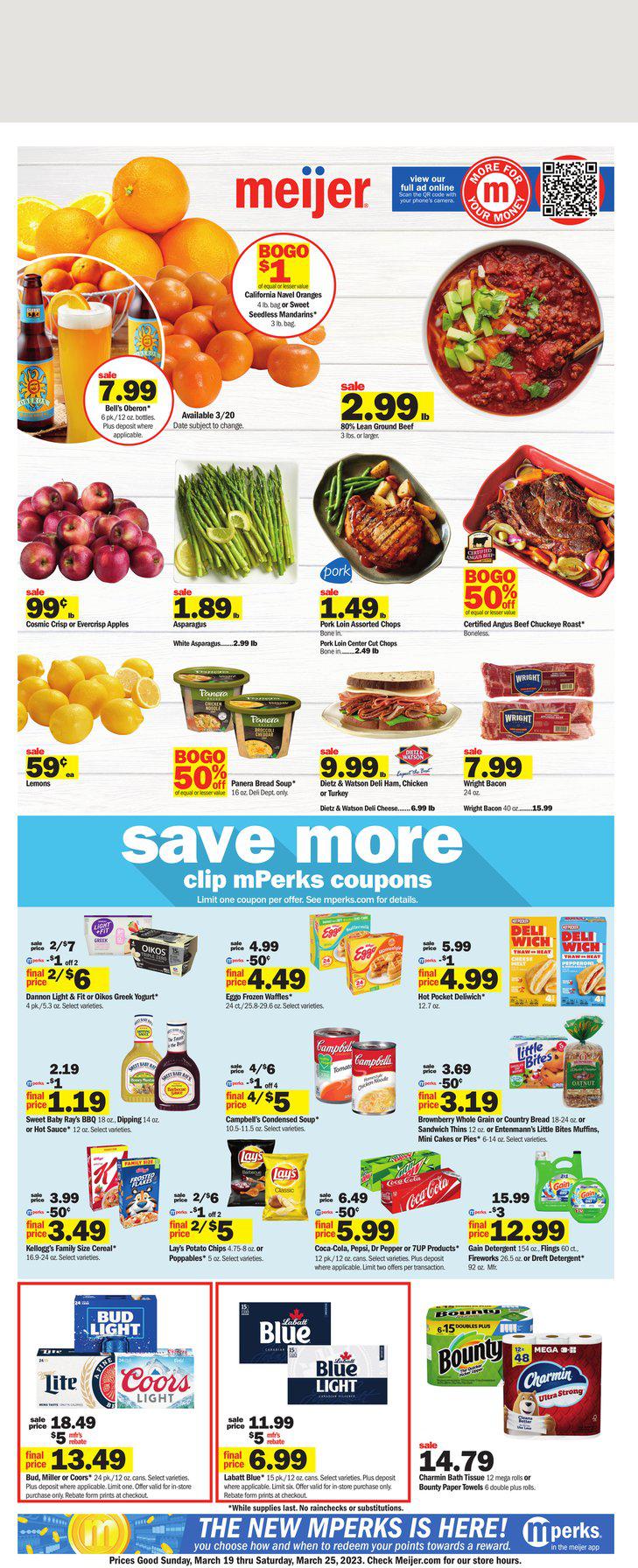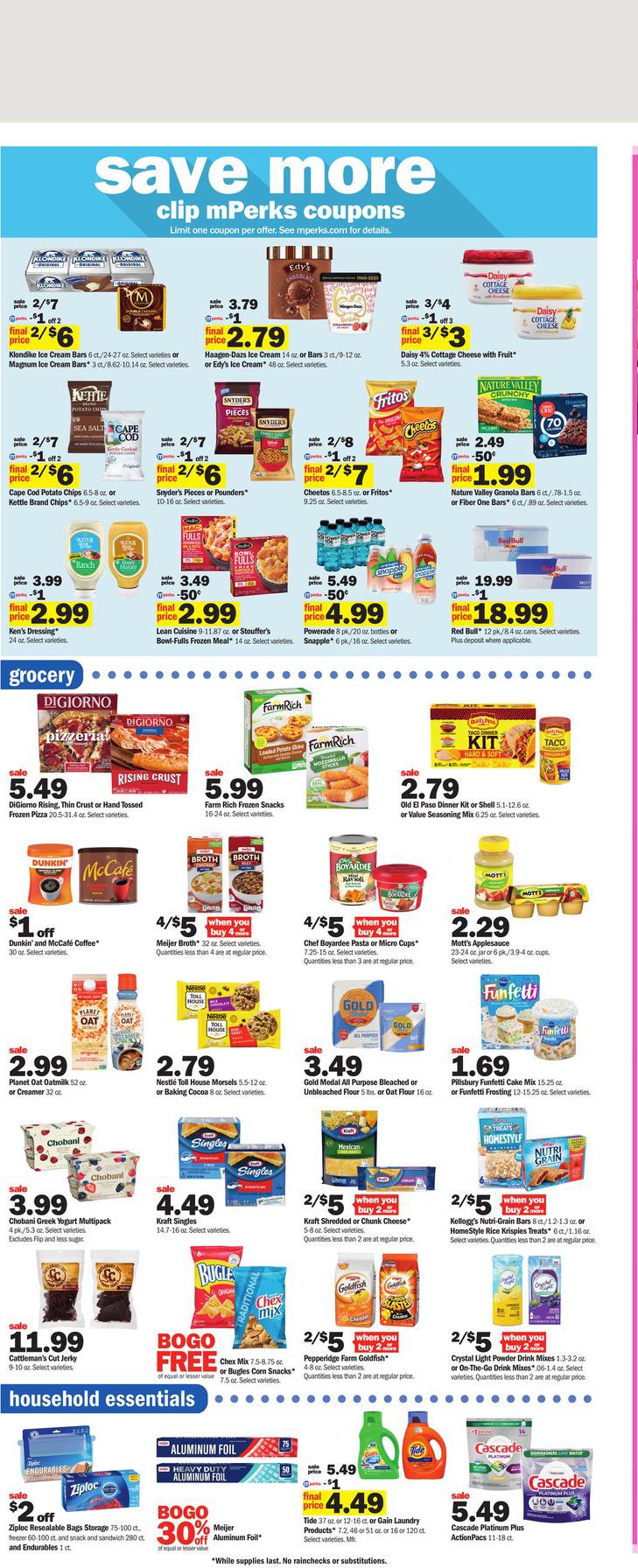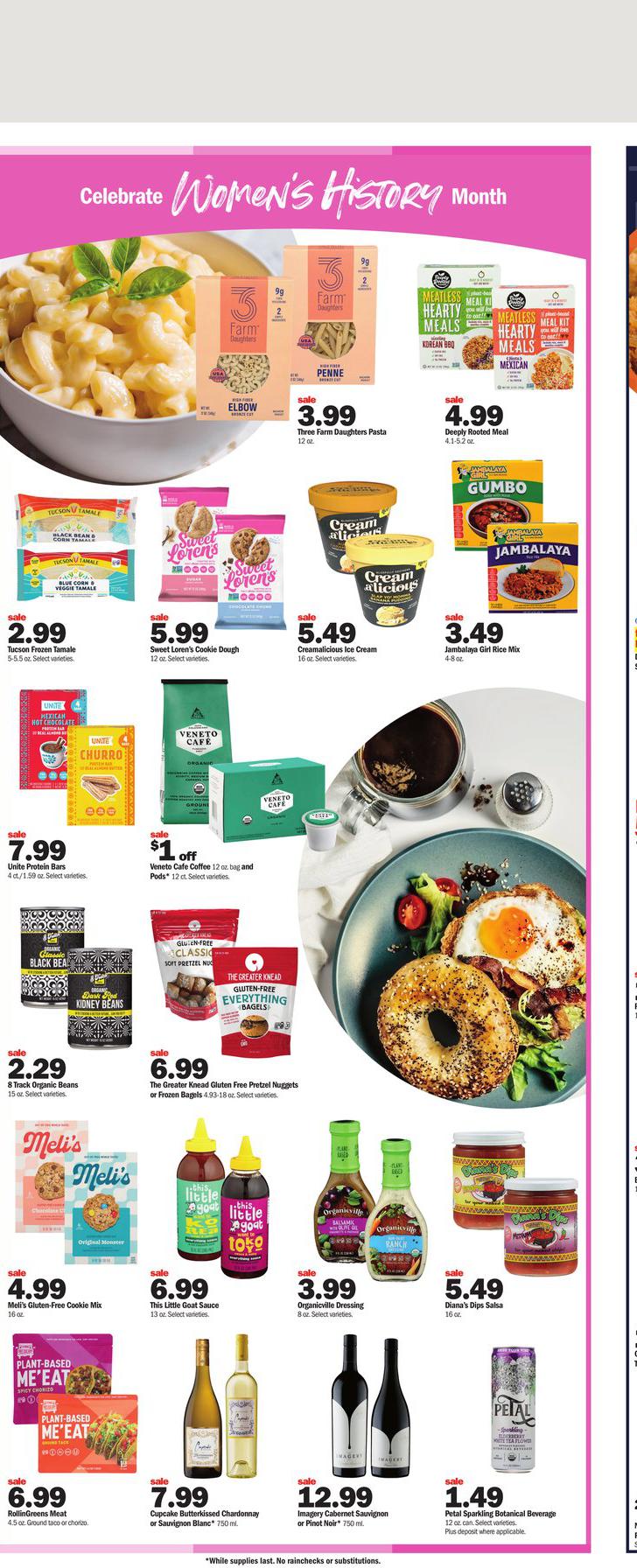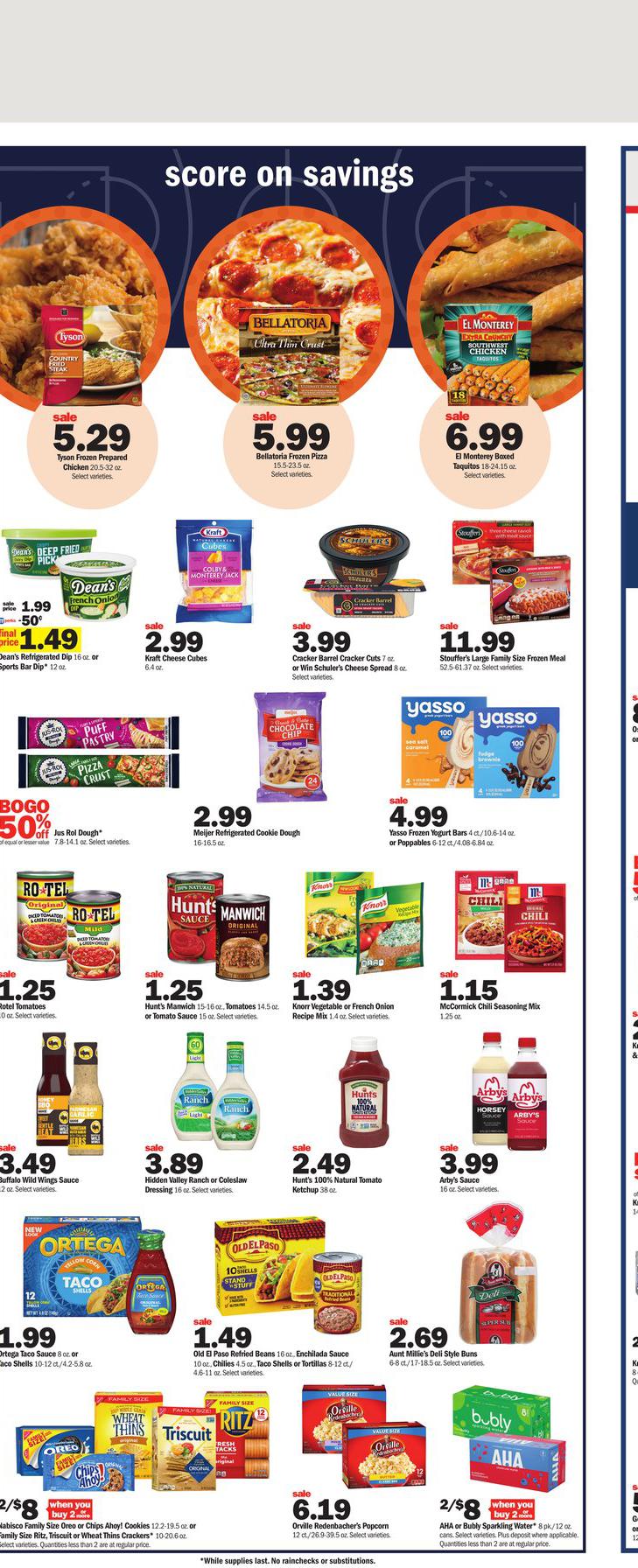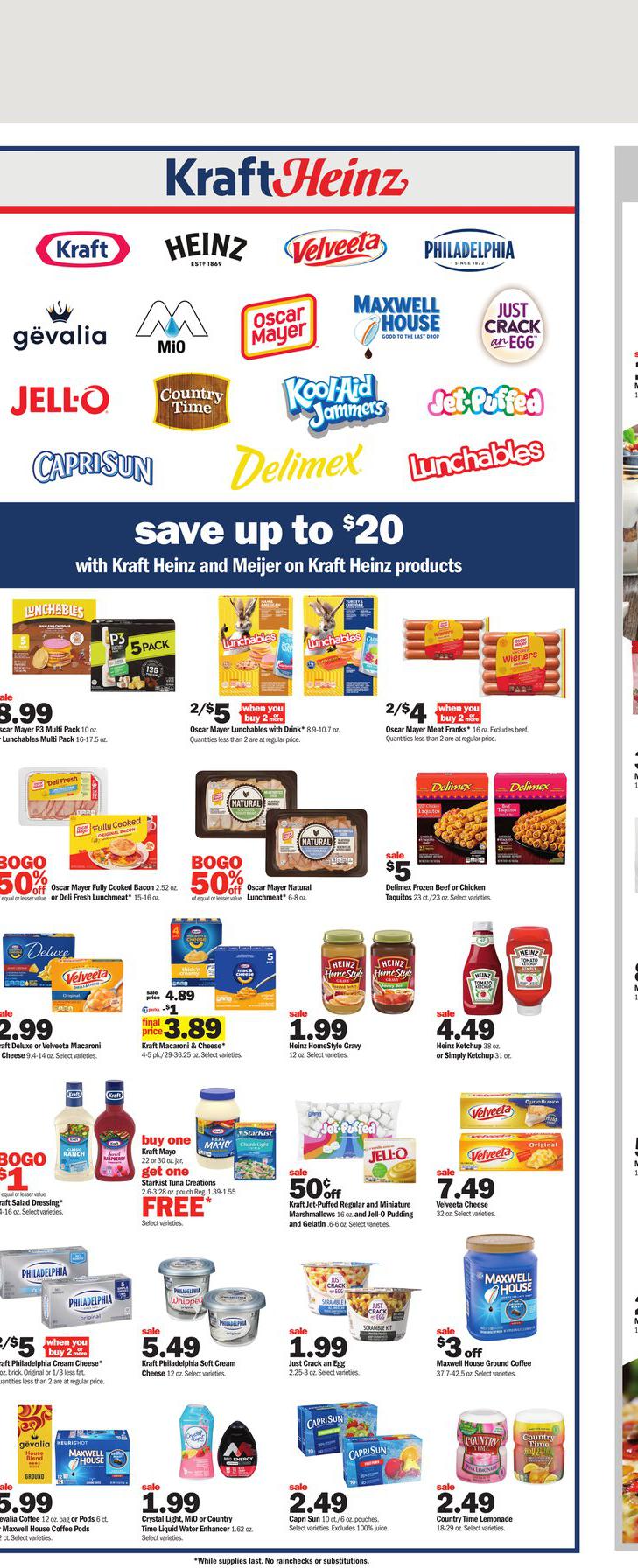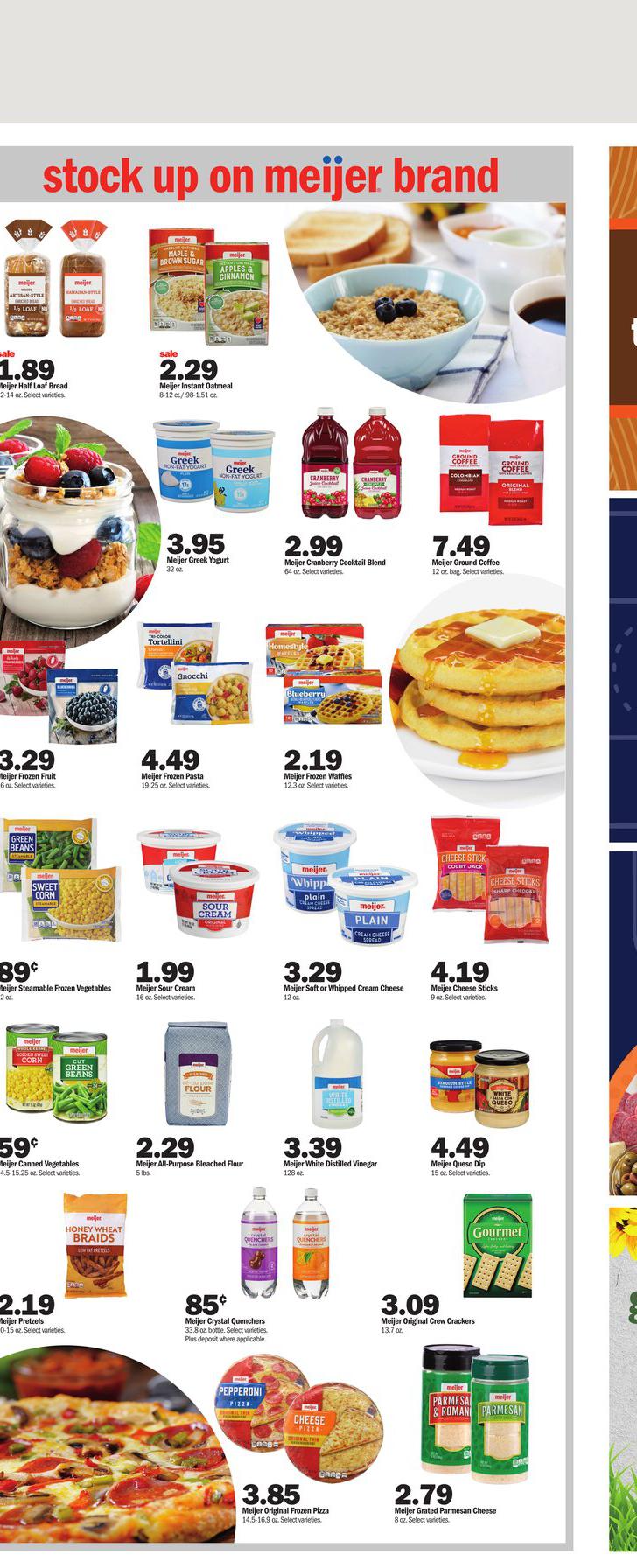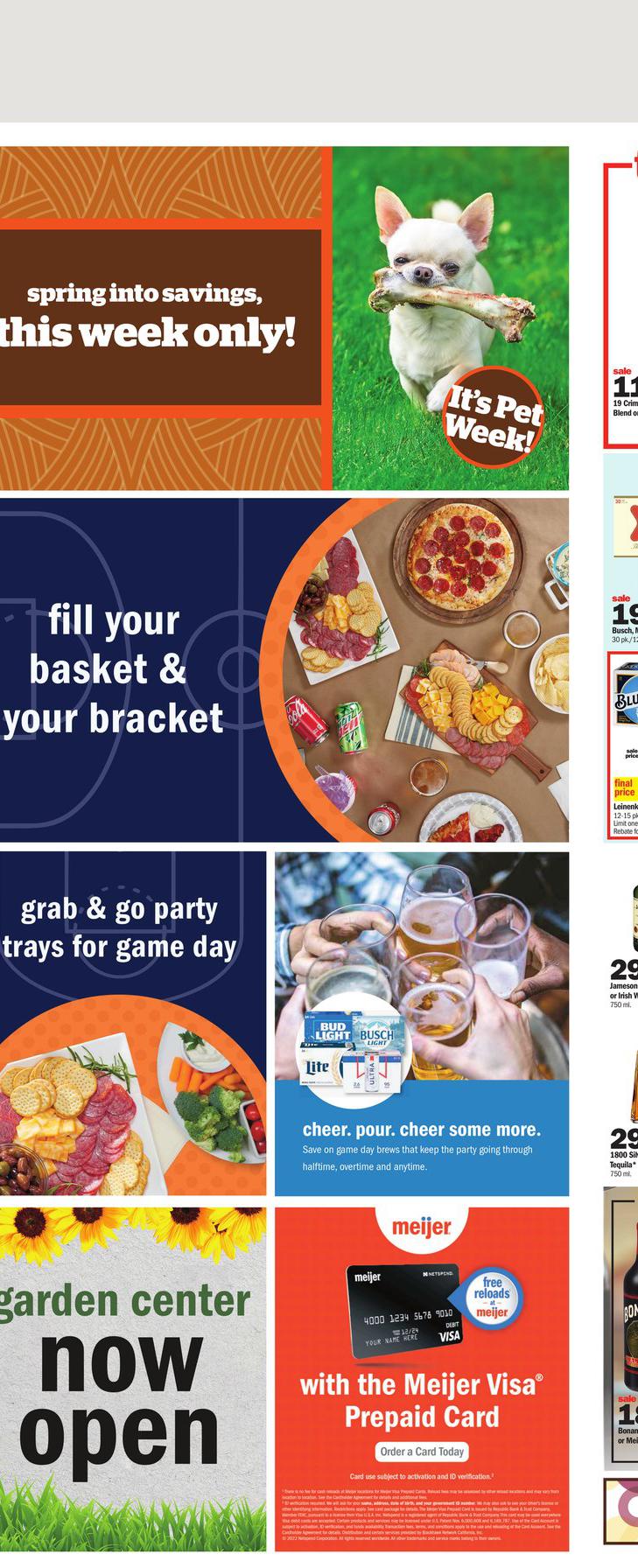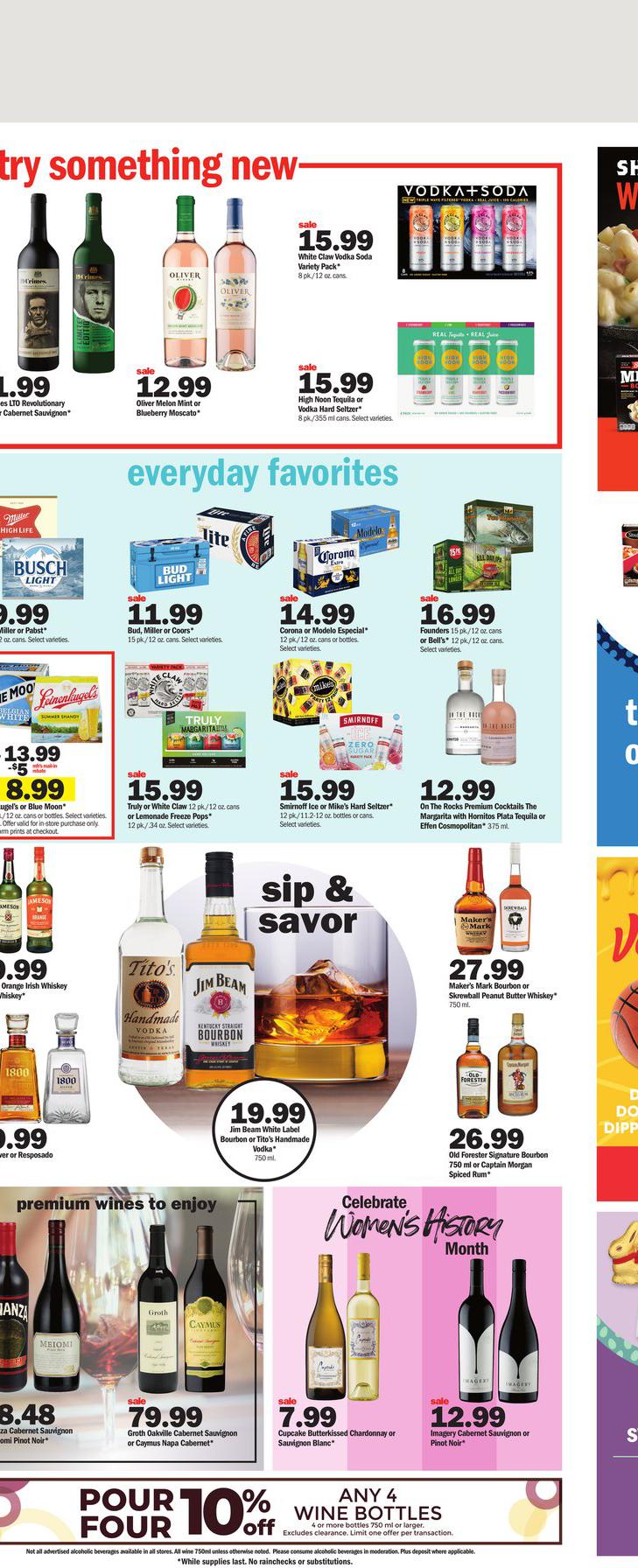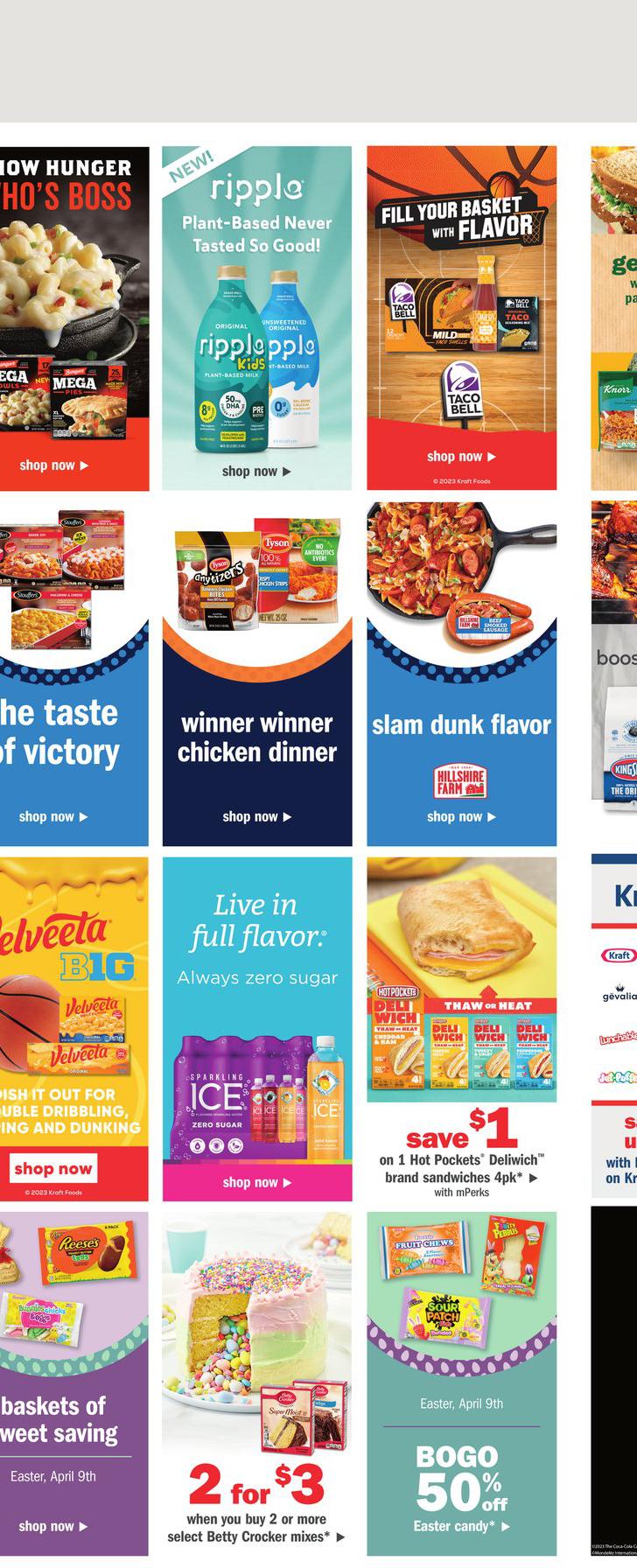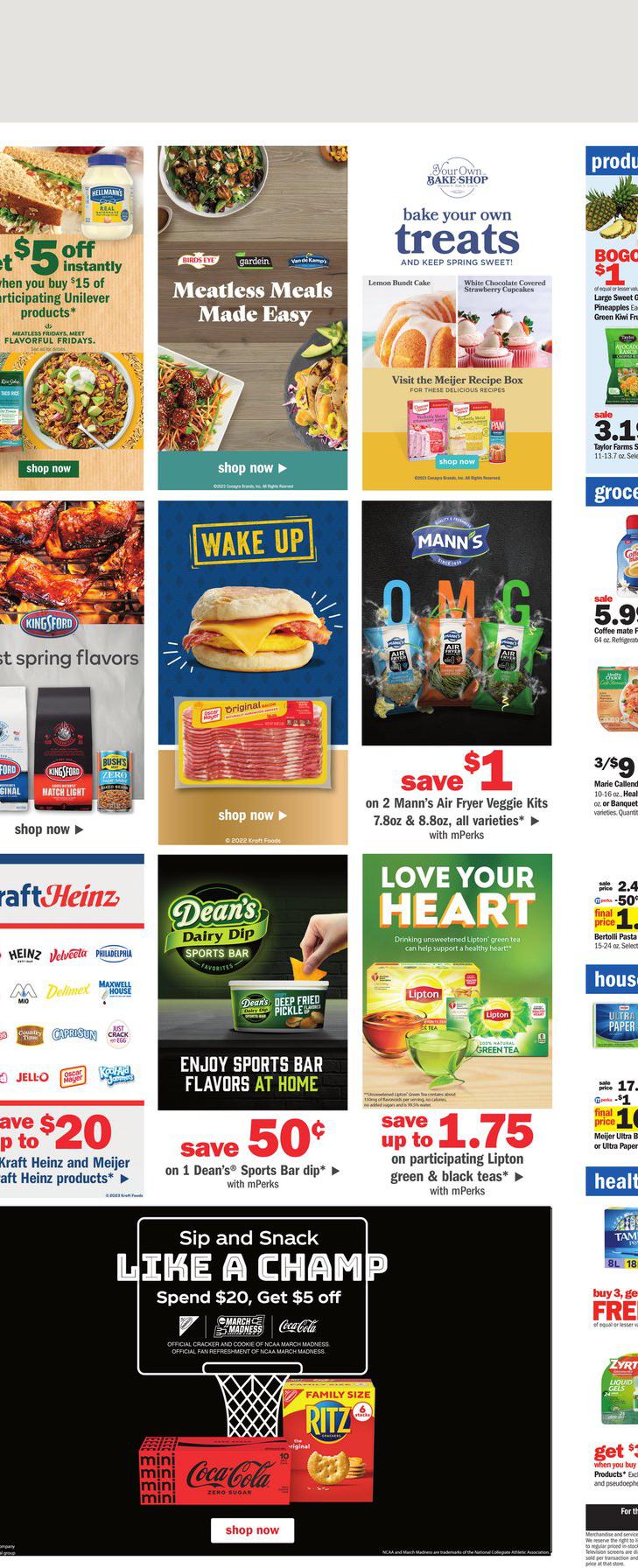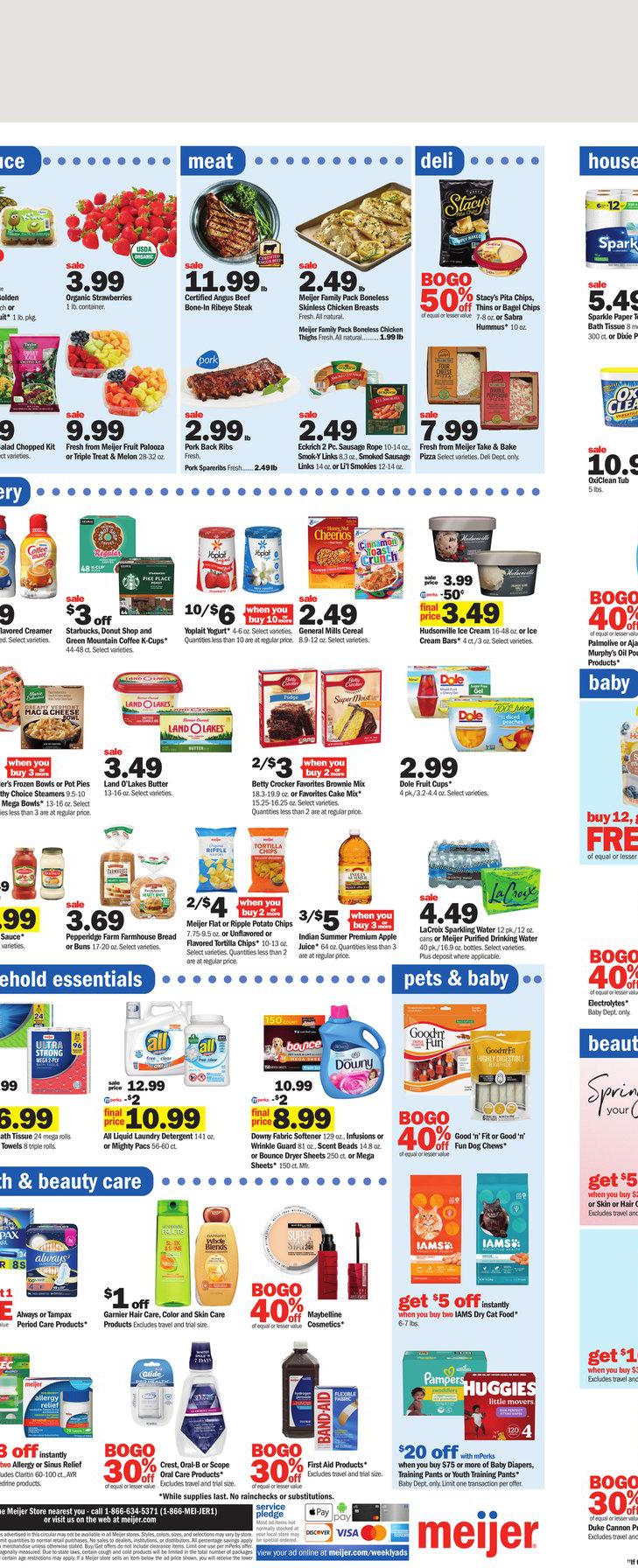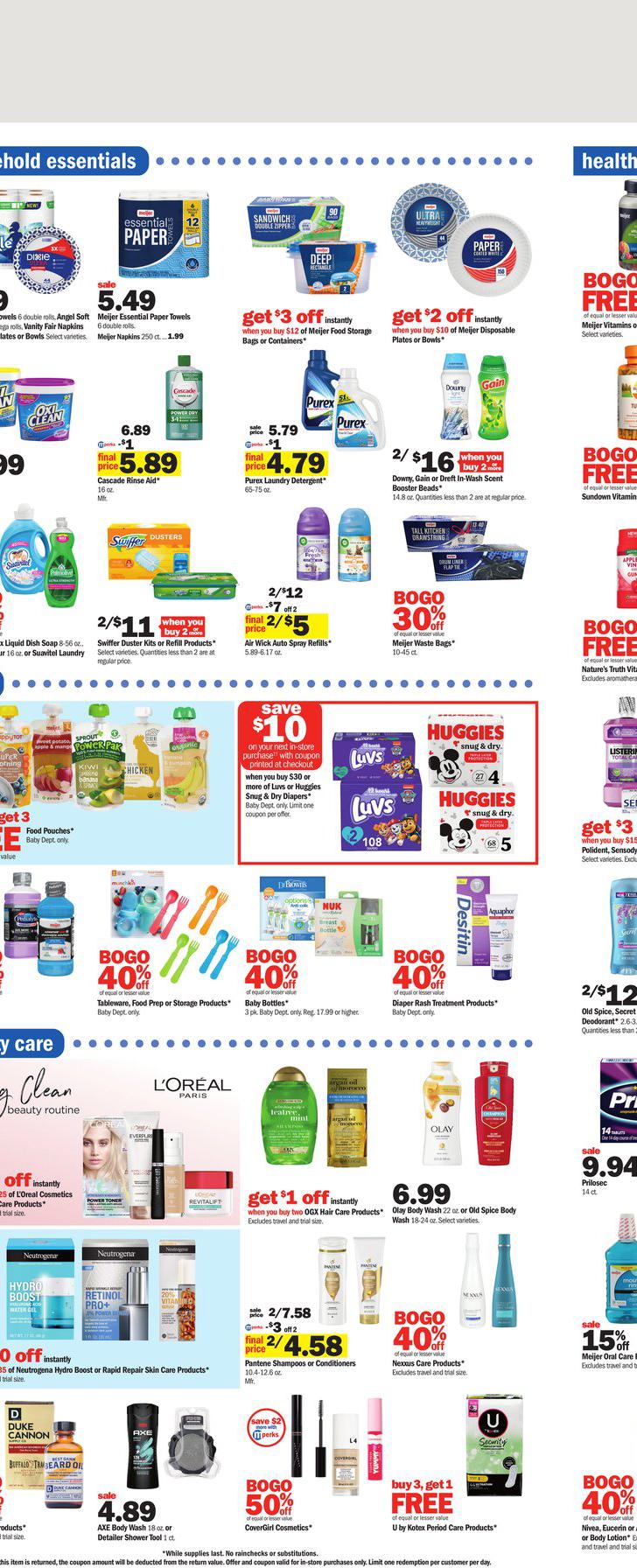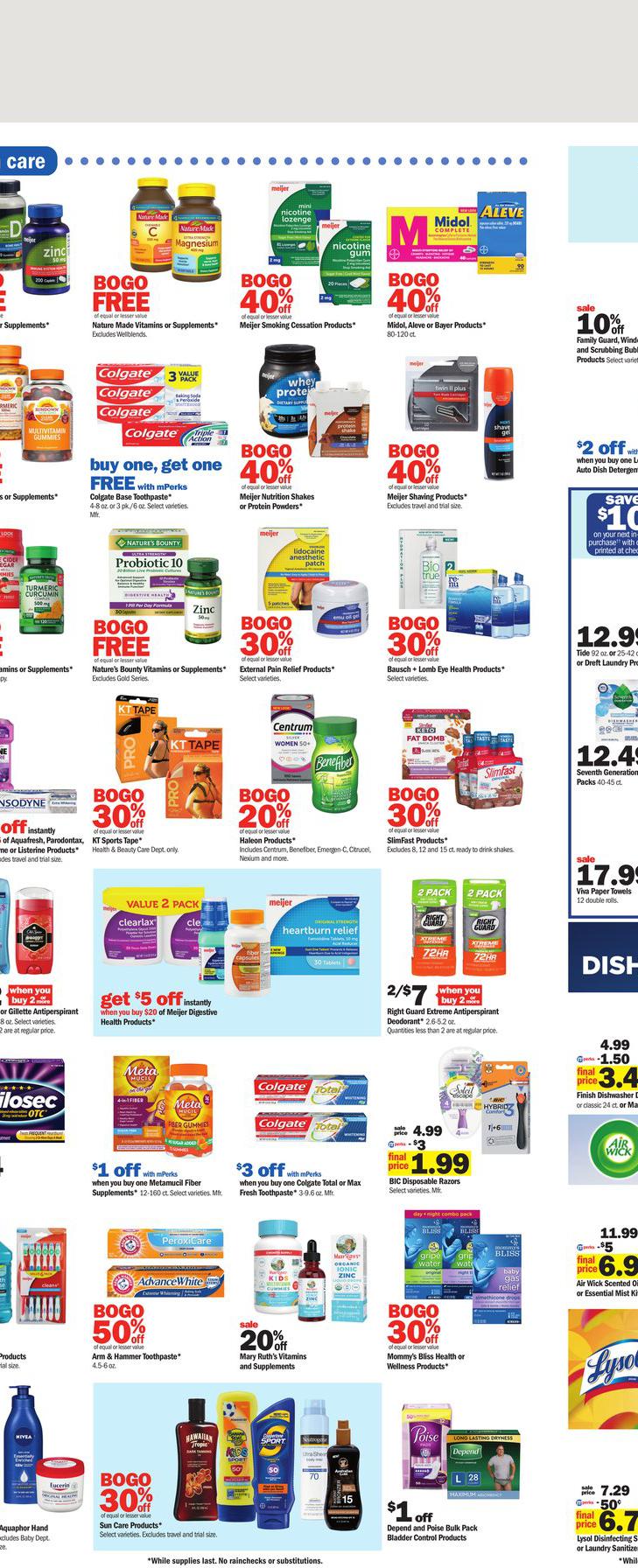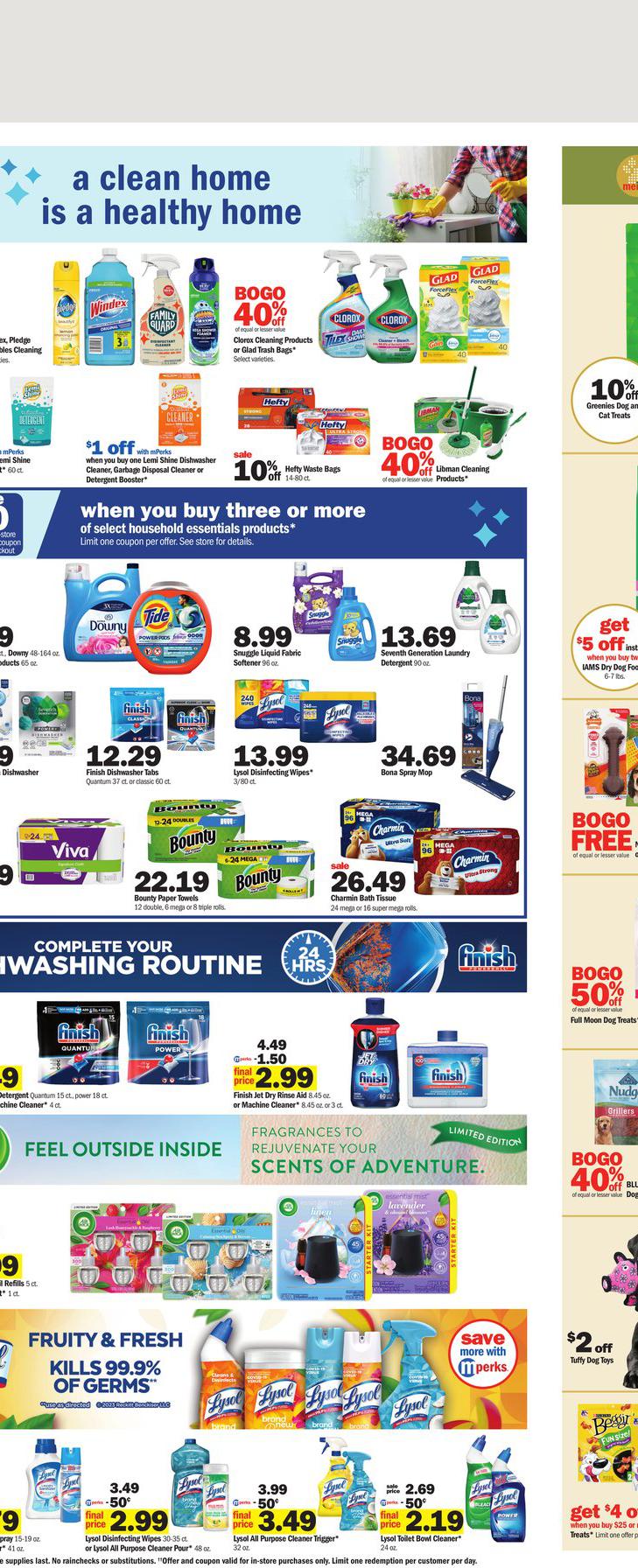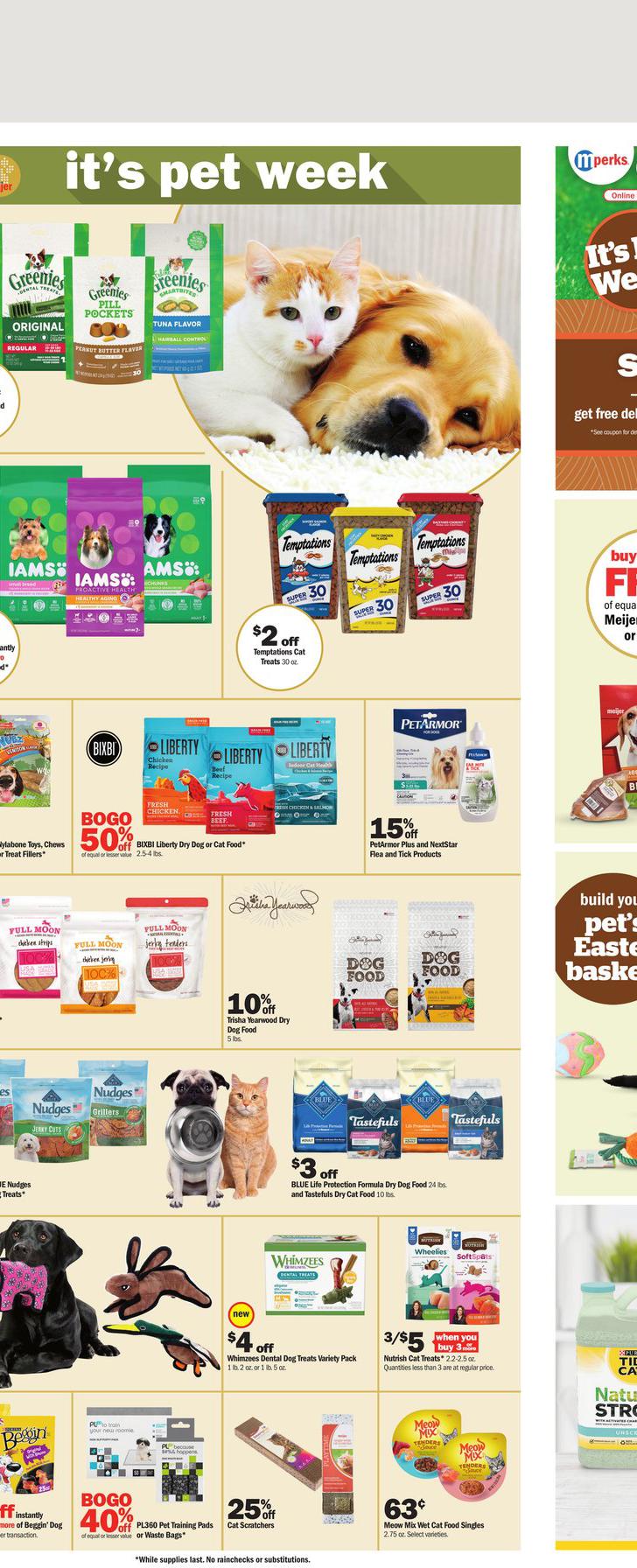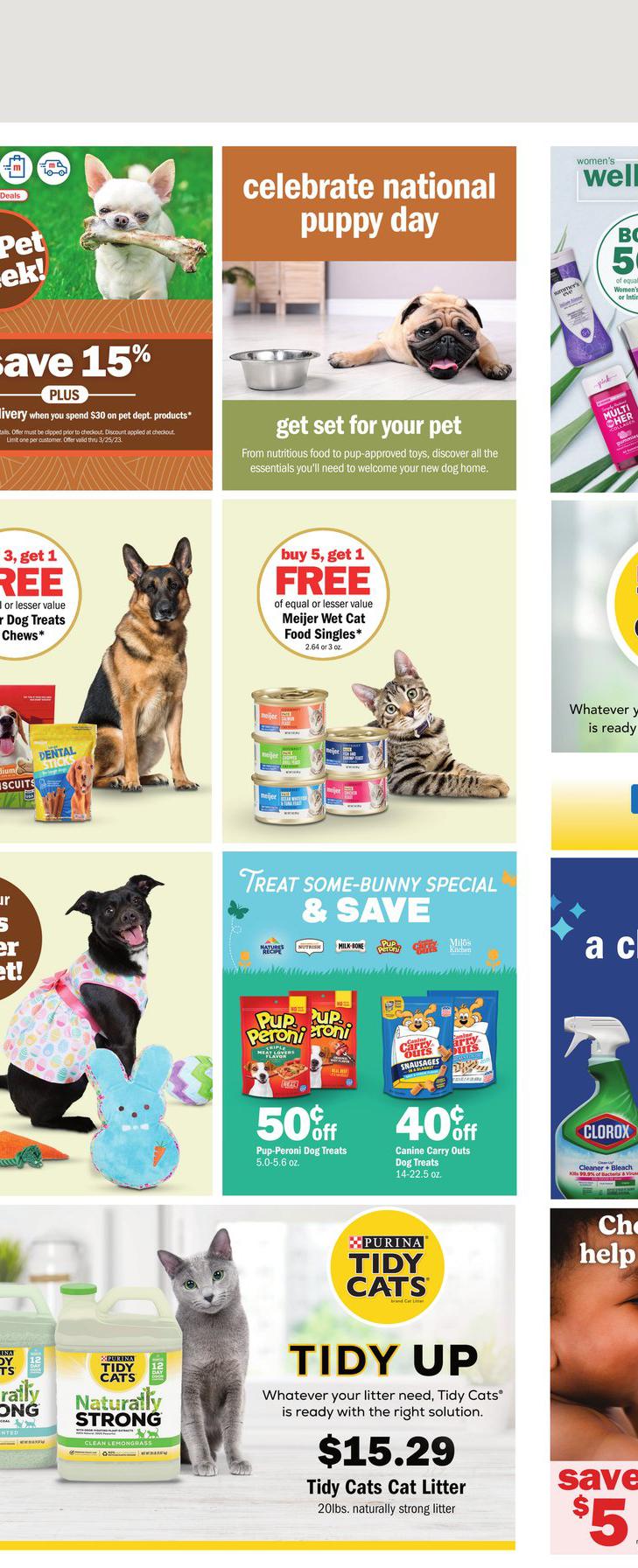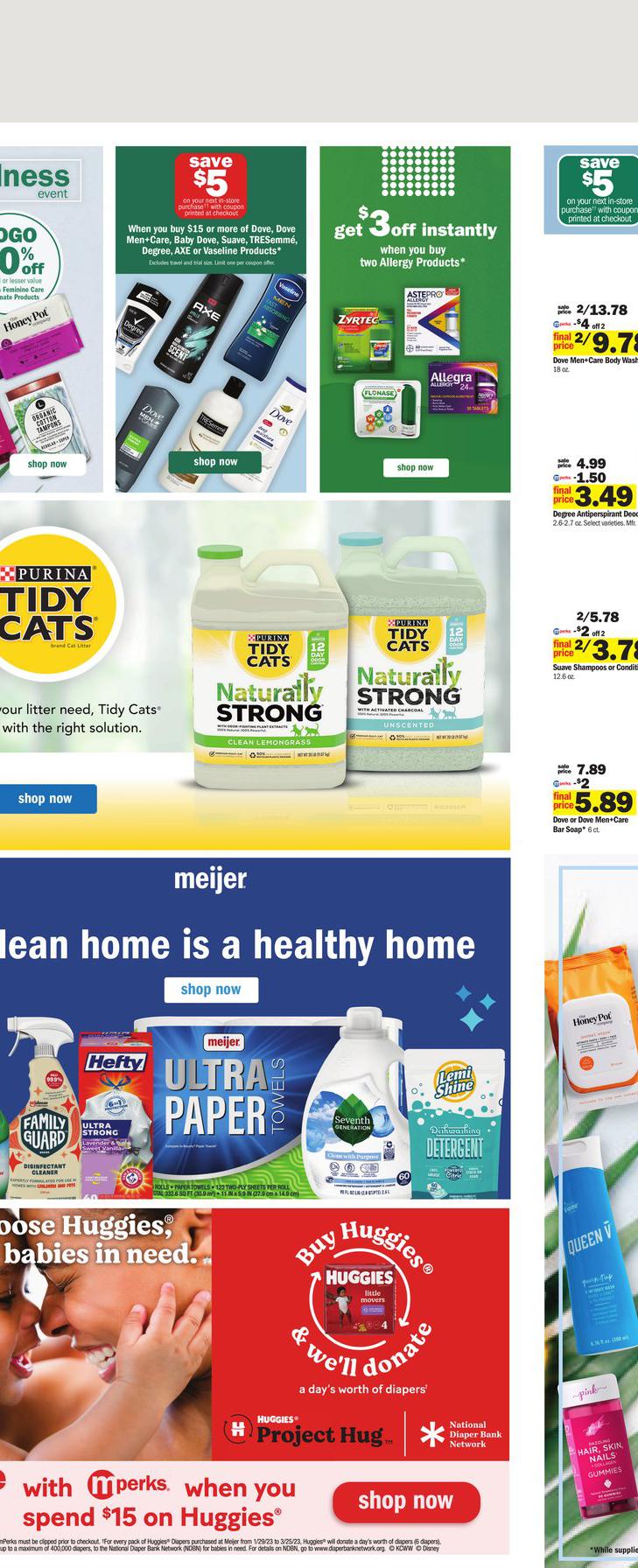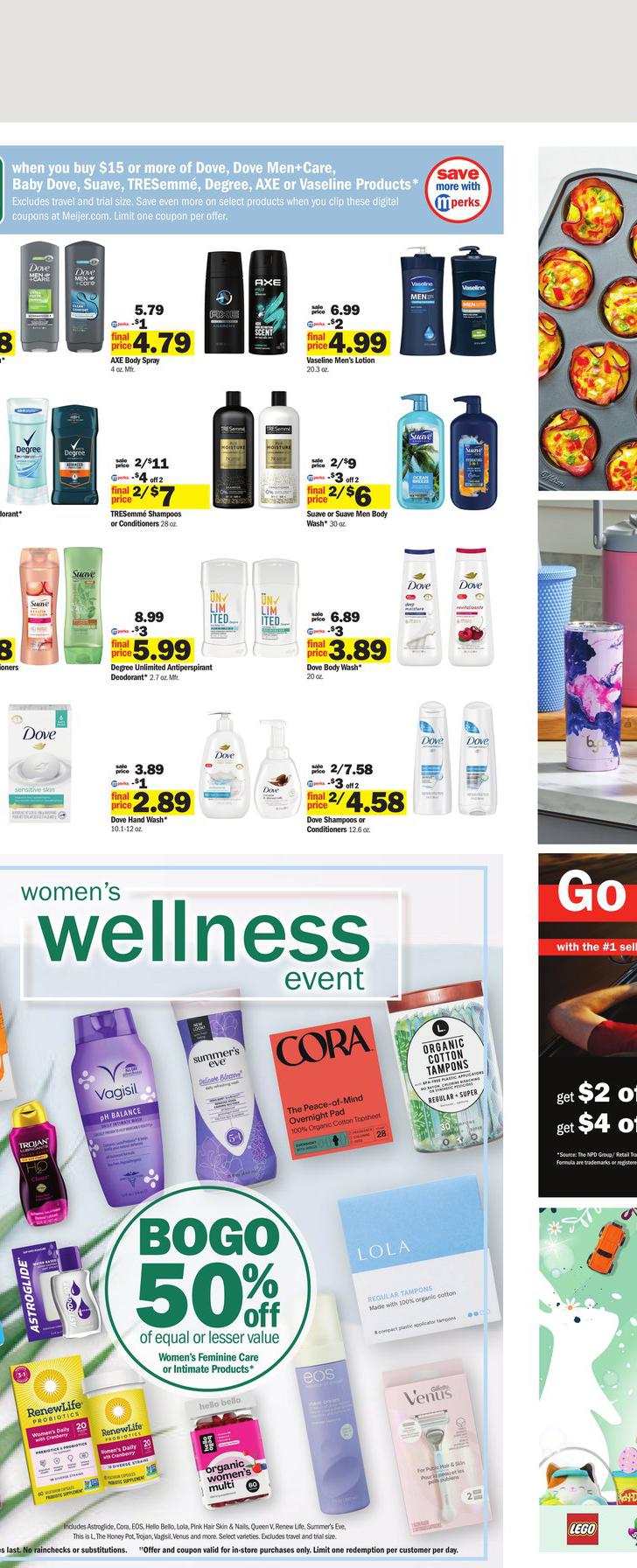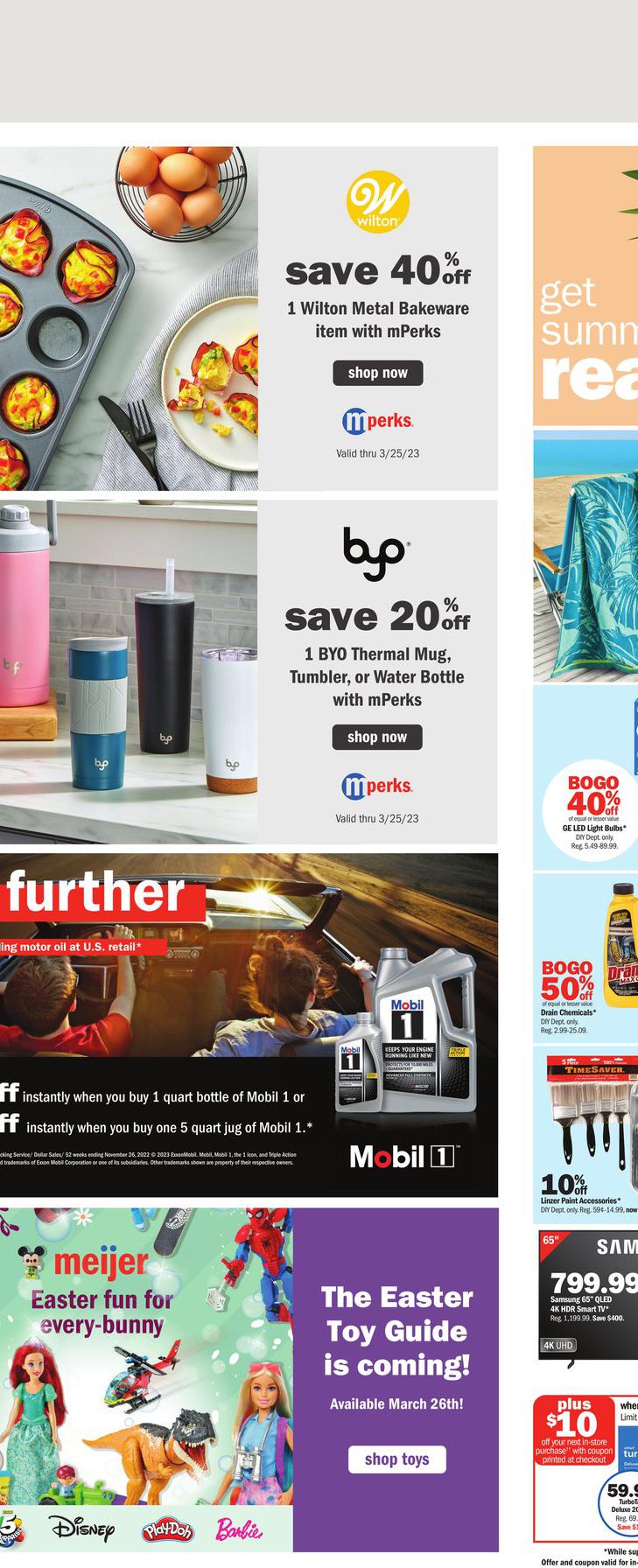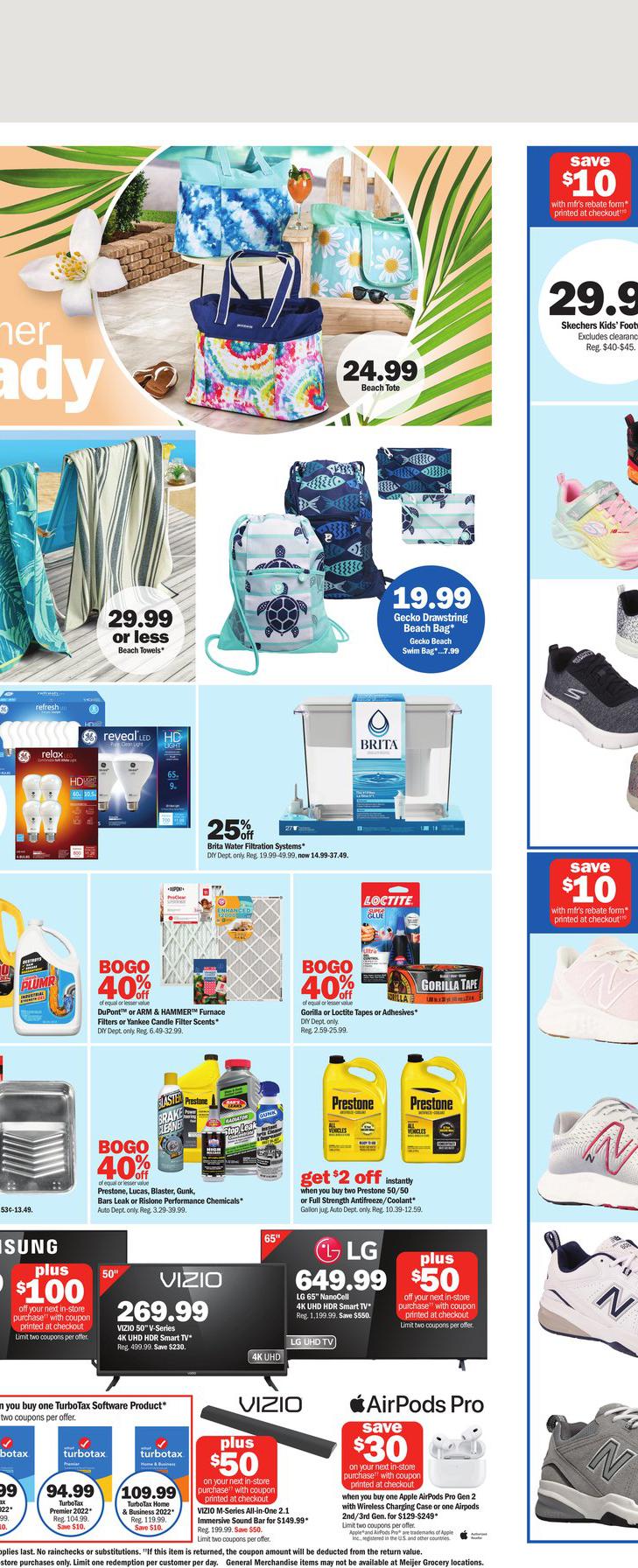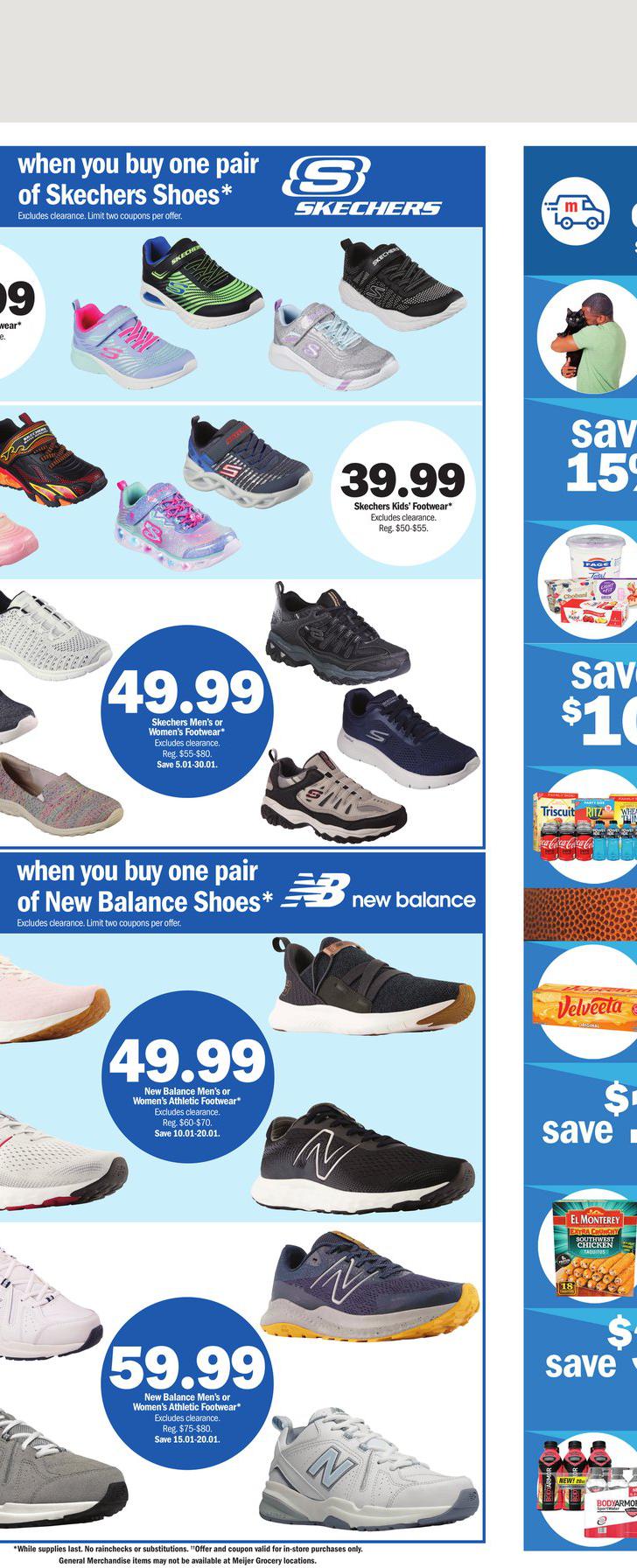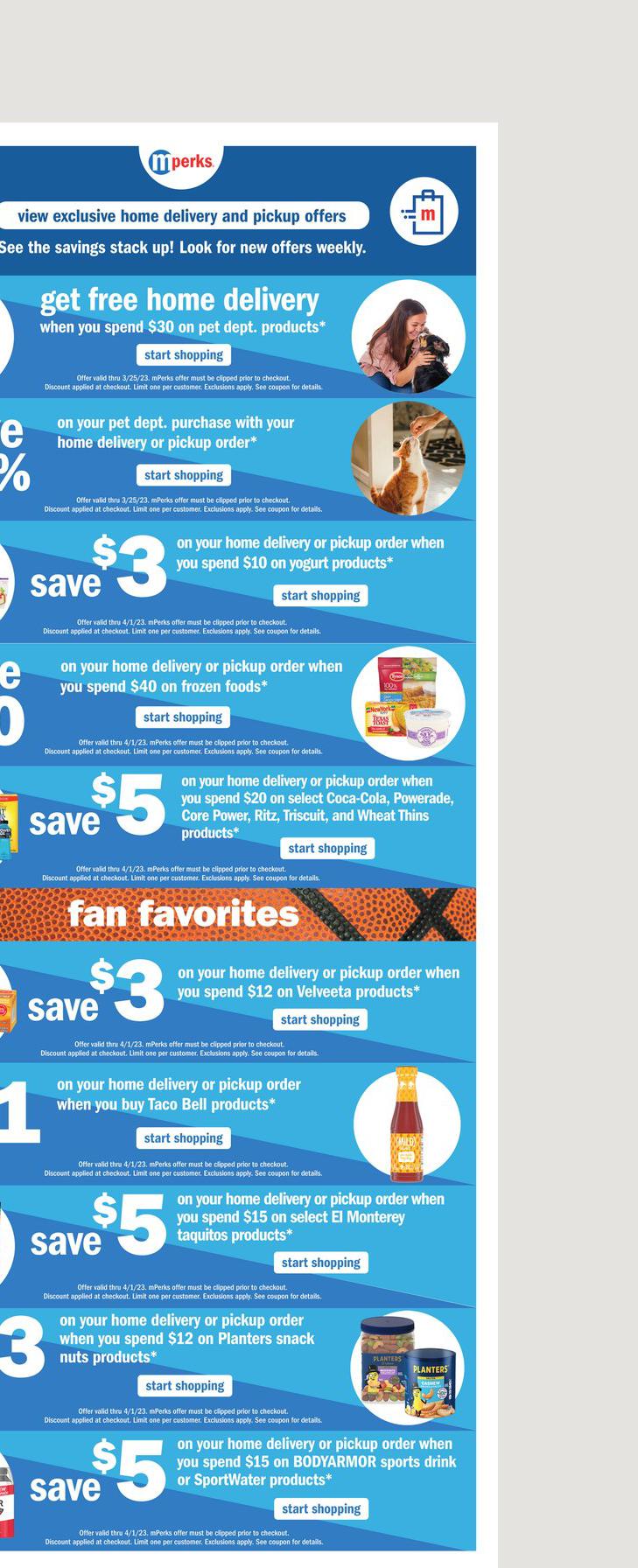 | Market | Flyer | Date |
| --- | --- | --- |
| | Black Friday Weeklong Ad | 11/19/2023 |
| | Black Friday 3-Day Sale | 11/23/2023 |
| | Weekly Ad | 11/19/2023 |
| | Hot Deals Ad | 11/19/2023 |
| | Fresh Turkey Ad | 11/19/2023 |
| | Flu & Covid Vaccines | 11/26/2023 |
| | Wine Case Sale | 11/26/2023 |
| | Holiday Ad | 11/26/2023 |
| | Hot Deals Ad | 11/26/2023 |
| | Weekly Ad | 11/26/2023 |
Products in the Flyer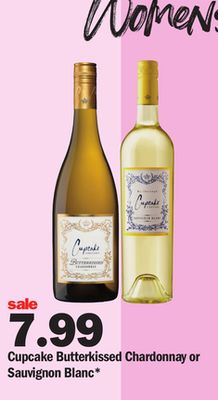 Cupcake Butterkissed Chardonnay or Sauvignon Blanc*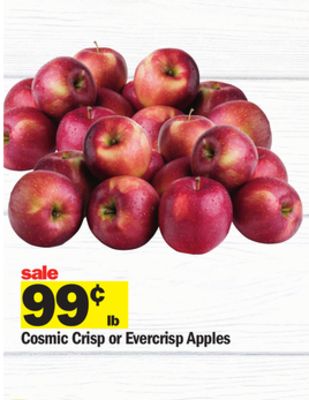 Cosmic Crisp or Evercrisp Apples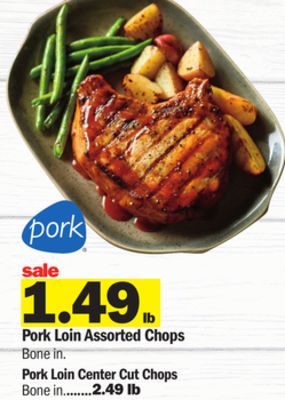 Pork Loin Assorted Chops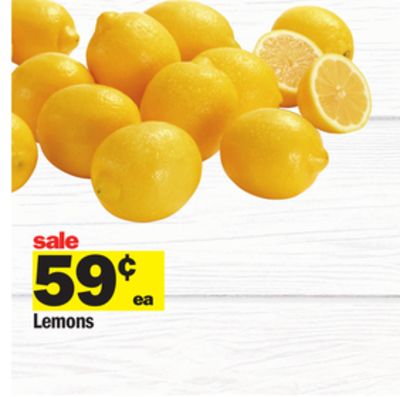 Lemons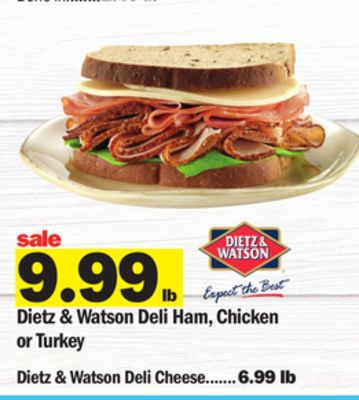 Dietz & Watson Deli Ham, Chicken or Turkey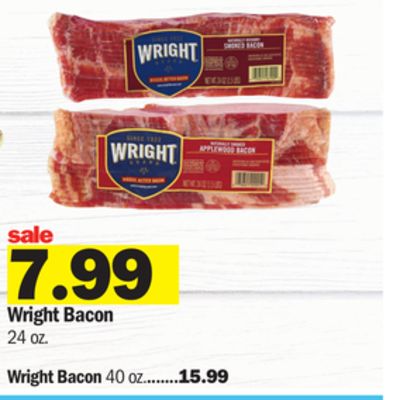 Wright Bacon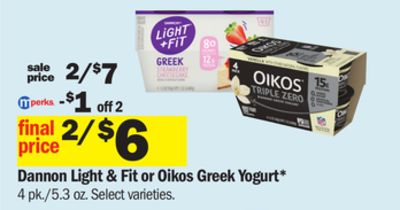 Dannon Light & Fit, Oikos Greek Yogurt*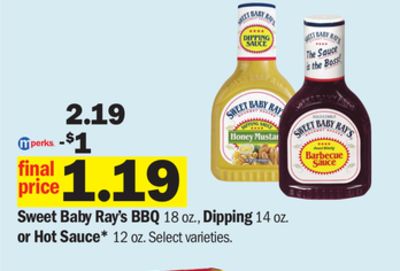 Sweet Baby Ray's BBQ 18 oz., Dipping 14 oz., or Hot Sauce* 12 oz.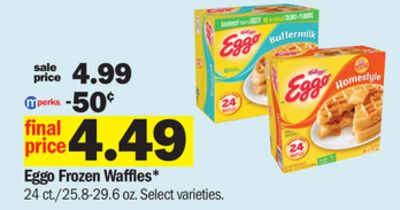 Eggo Frozen Waffles*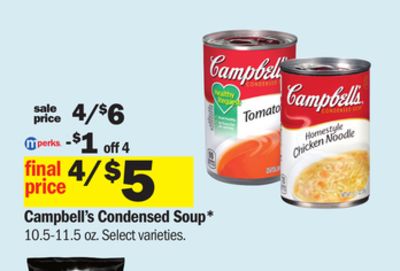 Campbell's Condensed Soup*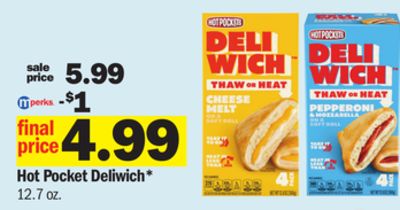 Hot Pocket Deliwich*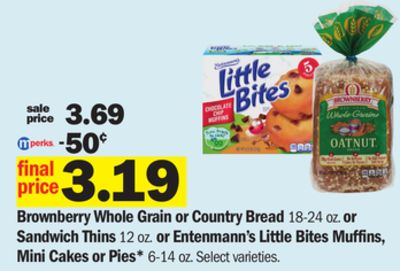 Brownberry Whole Grain or Country Bread 18 oz- 24 oz. or Sandwich Thins 12 oz. or Entenmann's Little Bites Muffins, Mini Cakes or Pies* 6-14 oz.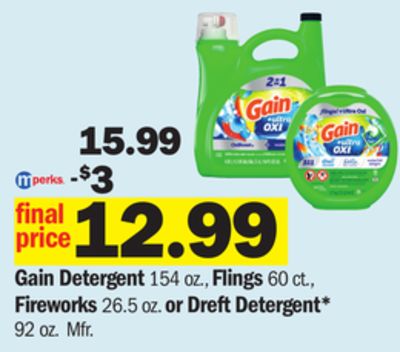 Gain Detergent 154 oz., Flings 60 ct., Fireworks 26.5 oz. or Dreft Detergent* 92 oz.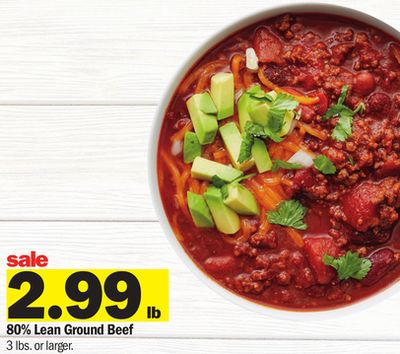 80% Lean Ground Beef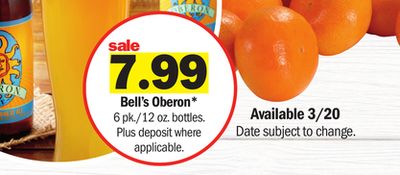 Bell's Oberon*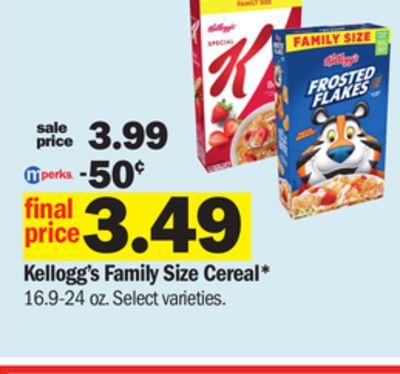 Kellogg's Family Size Cereal*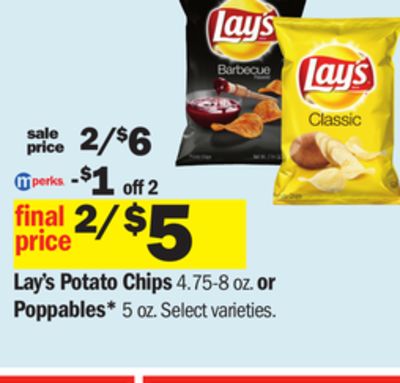 Lay's Potato Chips 4.75-8 oz. or Poppables* 5 oz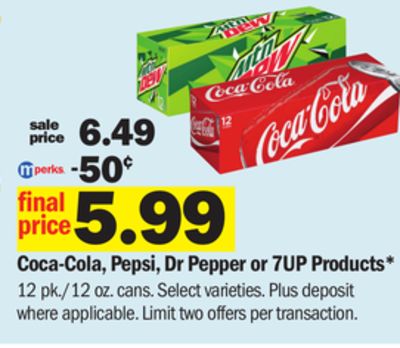 Coca-Cola, Pepsi, Dr Pepper or 7UP Products*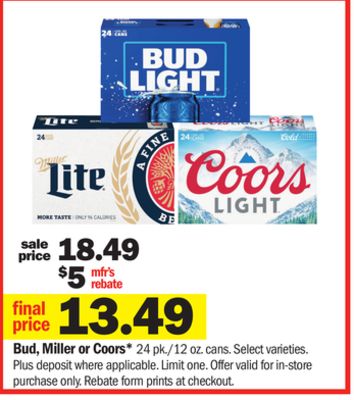 Bud, Miller, or Coors*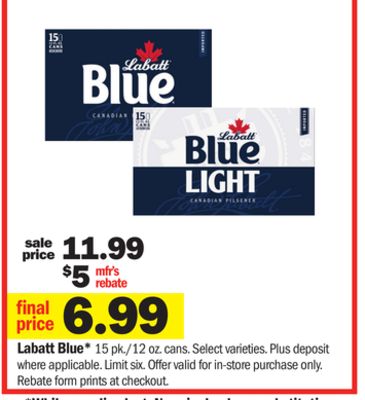 Labatt Blue*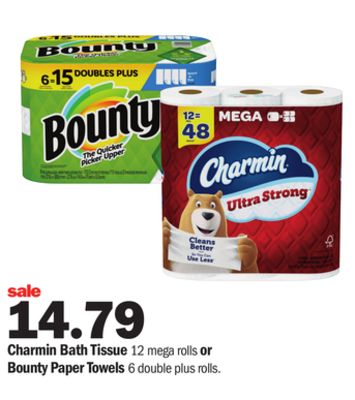 Charmin Bath Tissue 12 mega rolls or Bounty Paper Towels 6 double plus rolls.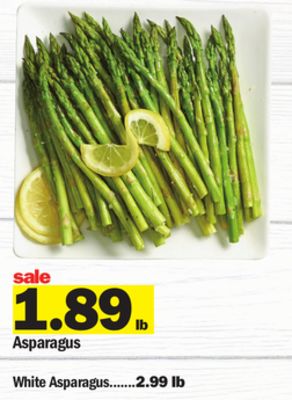 Asparagus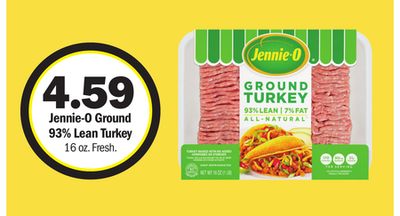 Jennie-O Ground 93% Lean Turkey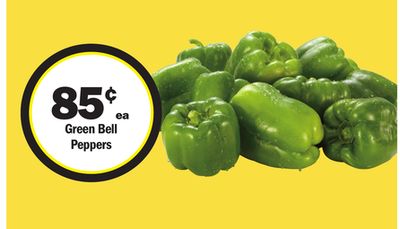 Green Bell Peppers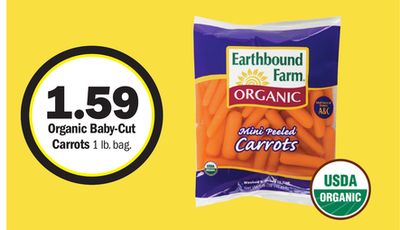 Organic Baby-Cut Carrots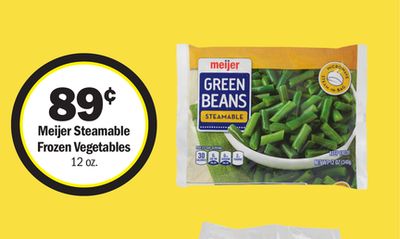 Meijer Steamable Frozen Vegetables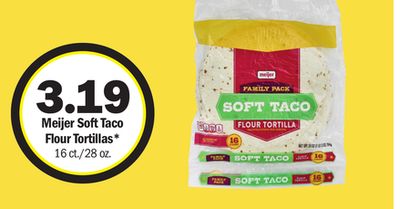 Meijer Soft Taco Flour Tortillas*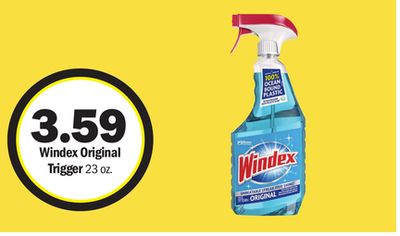 Windex Original Trigger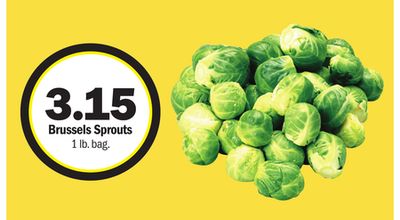 Brussels Sprouts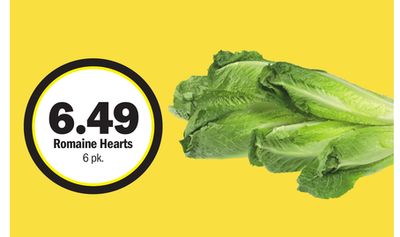 Romaine Hearts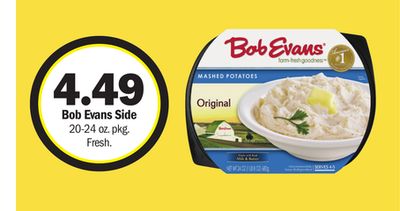 Bob Evans Side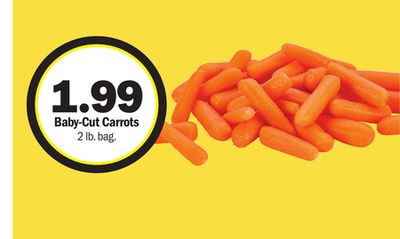 Baby-Cut Carrots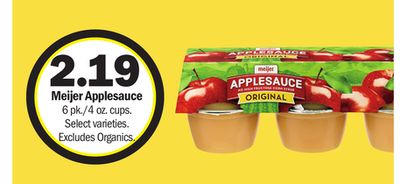 Meijer Applesauce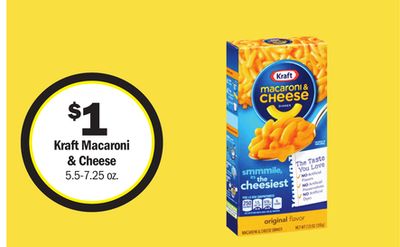 Kraft Macaroni & Cheese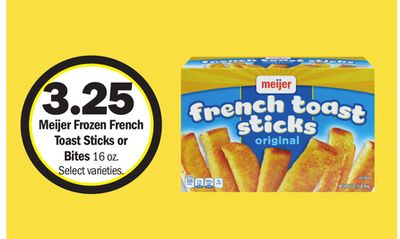 Meijer Frozen French Toast Sticks or Bites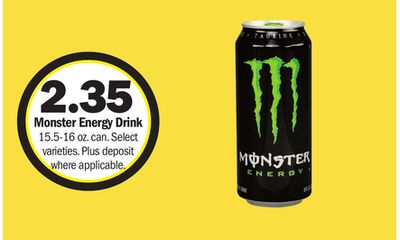 Monster Energy Drink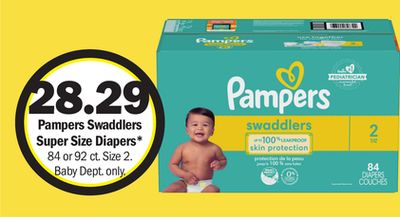 Pampers Swaddlers Super Size Diapers*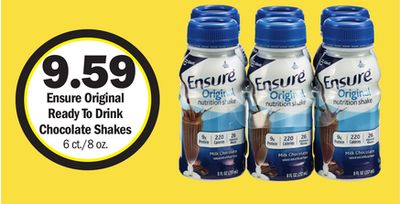 Ensure Original Ready To Drink Chocolate Shakes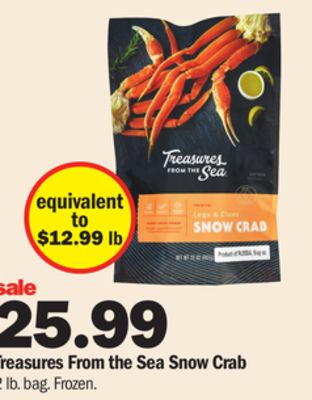 Treasures From the Sea Snow Crab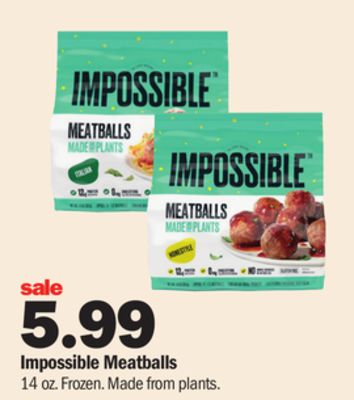 Impossible Meatballs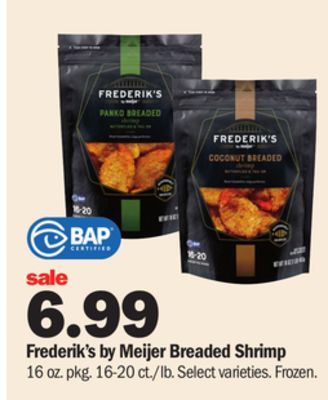 Frederiks By Meijer. Breaded Shrimp*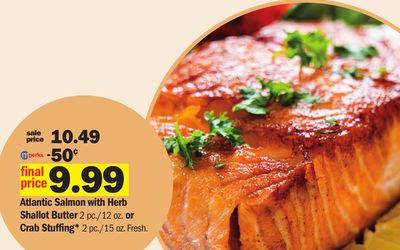 Atlantic Salmon with Herb Shallot Butter 2 pc./12 oz. or Crab Stuffing* 2 pc./15 oz.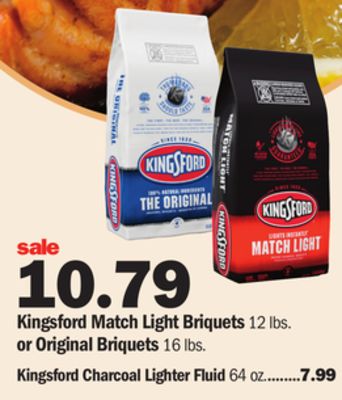 Kingsford Match Light Briquets 12 lbs. or Original Briquets 16 lbs.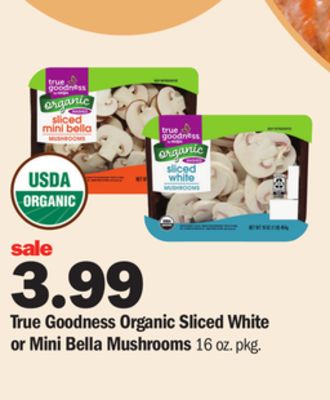 True Goodness Organic Sliced White or Mini Bella Mushrooms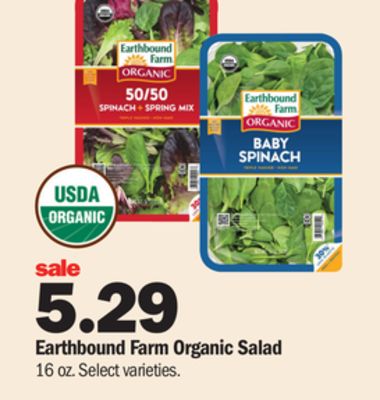 Earthbound Farm Organic Salad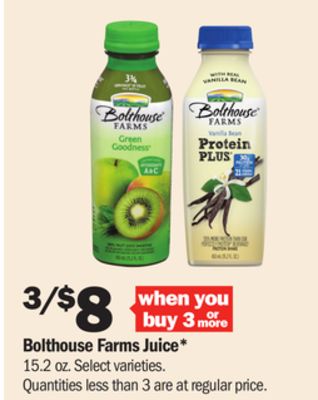 Bolthouse Farms Juice*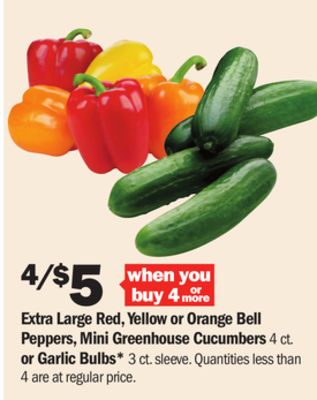 Extra Large Red, Yellow or Orange Bell Peppers, Mini Greenhouse Cucumbers 4 ct. or Garlic Bulbs* 3 ct.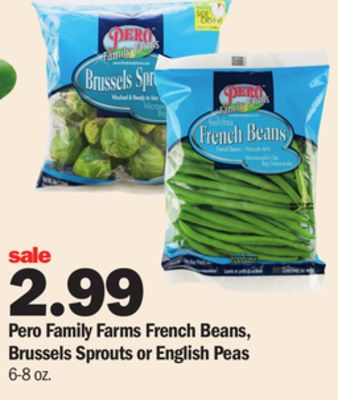 Pero Family Farms French Beans, Brussels Sprouts or English Peas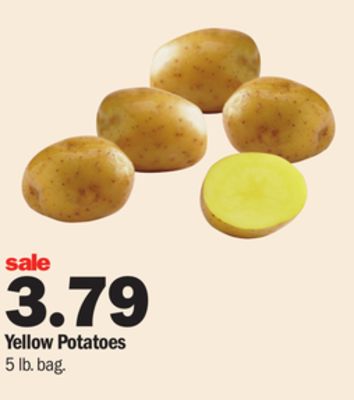 Yellow Potatoes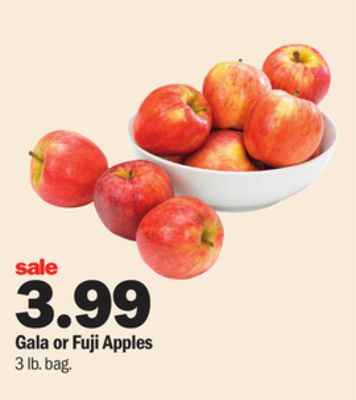 Gala or Fuji Apples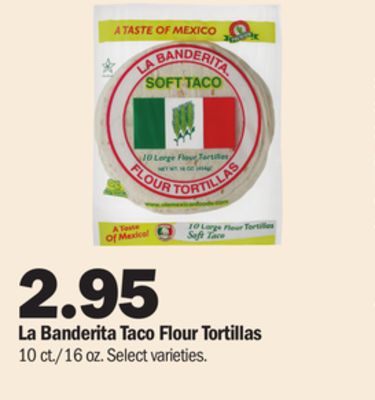 La Banderita Taco Flour Tortillas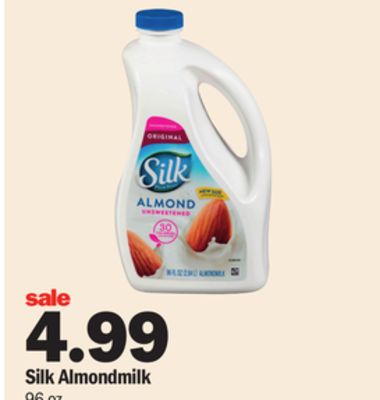 Silk Almondmilk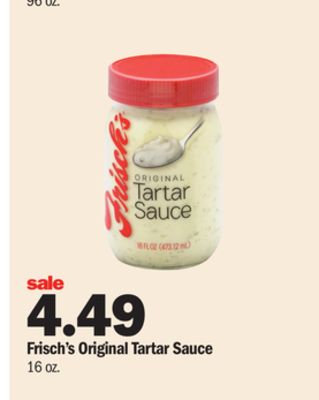 Frisch's Original Tartar Sauce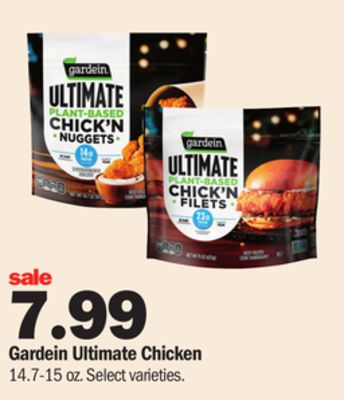 Gardein Ultimate Chicken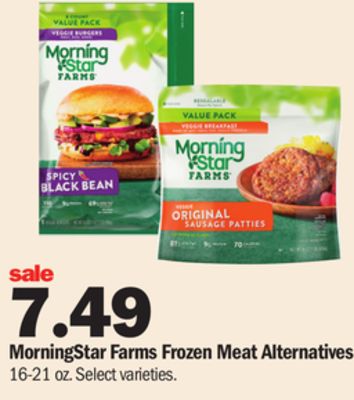 MorningStar Farms Frozen Meat Alternatives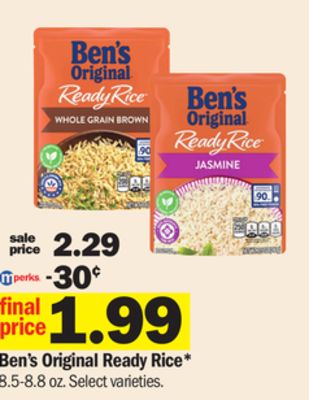 Ben's Original Ready Rice*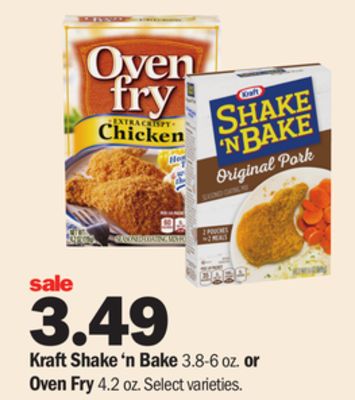 Kraft Shake 'n Bake 3.8 - 6 oz. or Oven Fry 4.2 oz.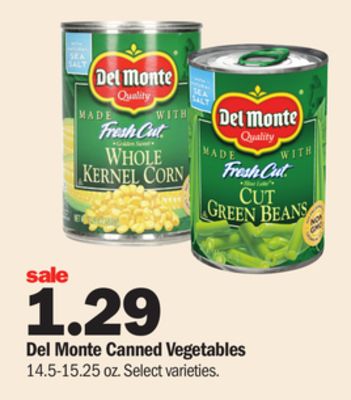 Del Monte Canned Vegetables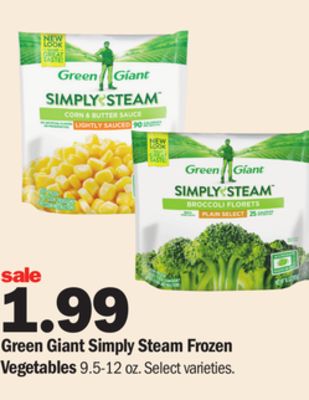 Green Giant Simply Steam Frozen Vegetables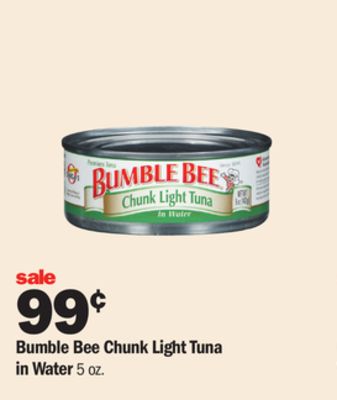 Bumble Bee Chunk Light Tuna in Water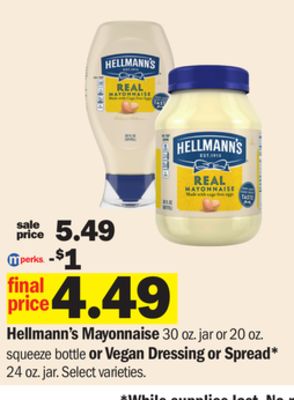 Hellmann's Mayonnaise 30 oz. jar, or 20 oz. squeeze bottle or Vegan Dressing & Spread* 24 oz. jar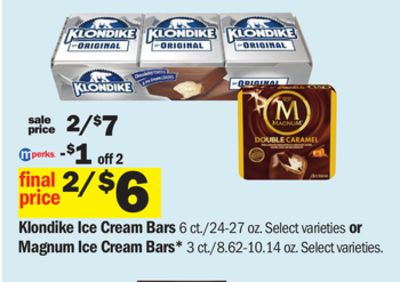 Klondike Ice Cream Bars 6 ct./24-27 oz. or Magnum Ice Cream Bars* 3 ct./8.62-10.14 oz.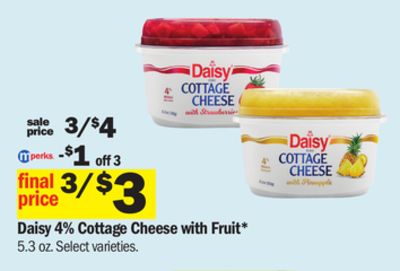 Daisy 4% Cottage Cheese with Fruit*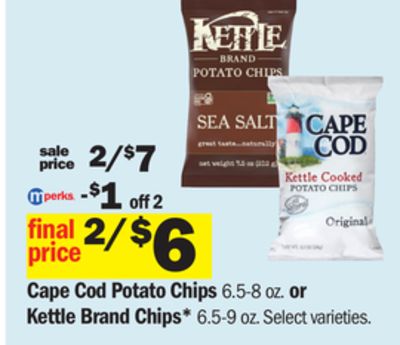 Cape Cod Potato Chips 6.5-8 oz. or Kettle Brand Chips* 6.5-9 oz.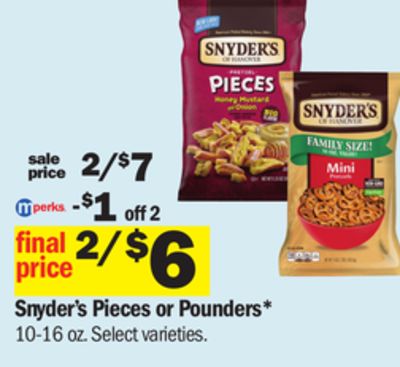 Snyder's Pieces or Pounders*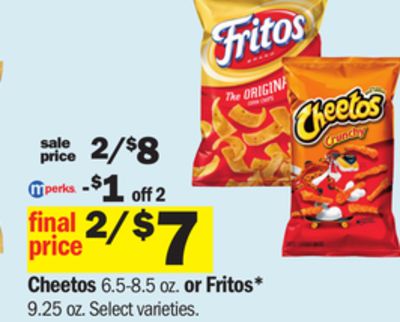 Cheetos 6.5-8.5 oz. or Fritos* 9.25 oz.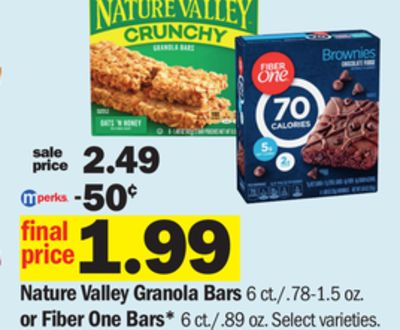 Nature Valley Granola Bars 6 ct./.78-1.5 oz. or Fiber One Bars* 6 ct./.89 oz.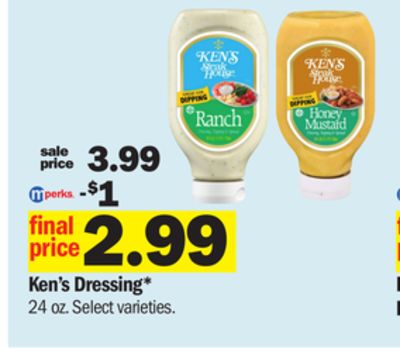 Ken's Dressing*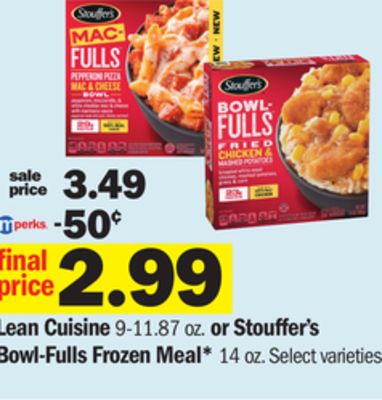 Lean Cuisine 9-11.87oz, or Stouffer's Bowlfull Frozen Meal* 14oz.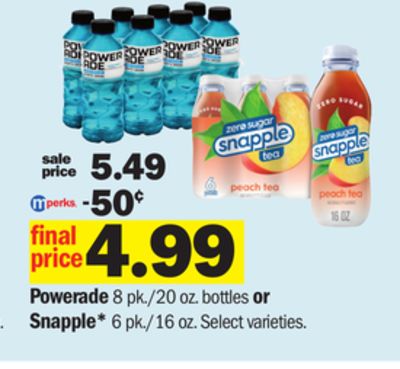 Powerade 8 pk./20 oz. bottles or Snapple* 6 pk./16 oz.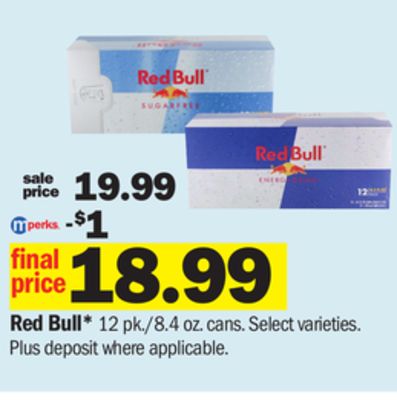 Red Bull*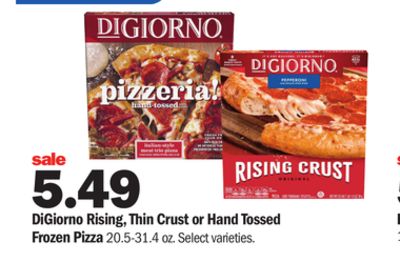 DiGiorno Rising, Thin Crust or Hand Tossed Frozen Pizza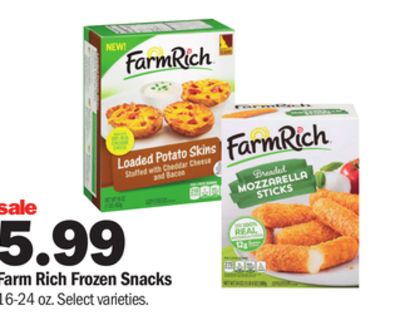 Farm Rich Frozen Snacks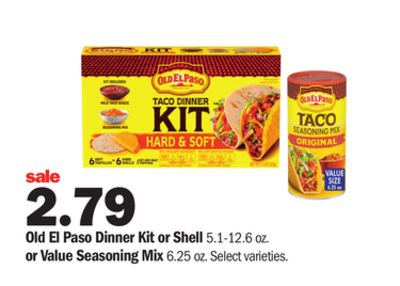 Old El Paso Dinner Kit or Shell 5.1-12.6 oz. or Value Seasoning Mix 6.25 oz.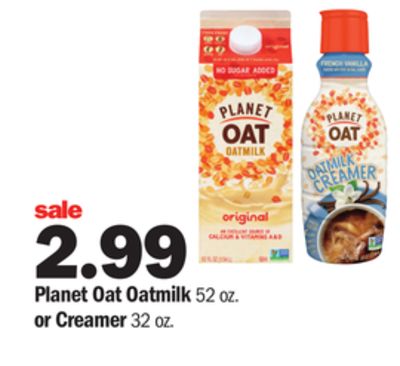 Planet Oat Oatmilk 52 oz. or Creamer 32 oz.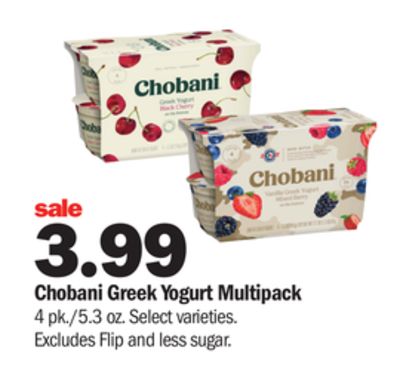 Chobani Greek Yogurt Multipack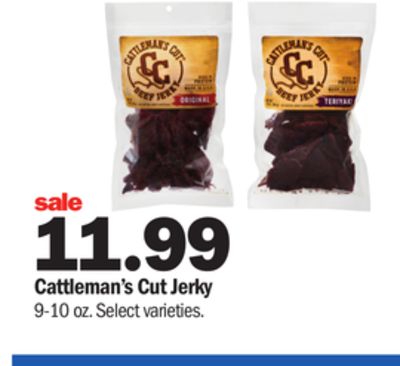 Cattleman's Cut Jerky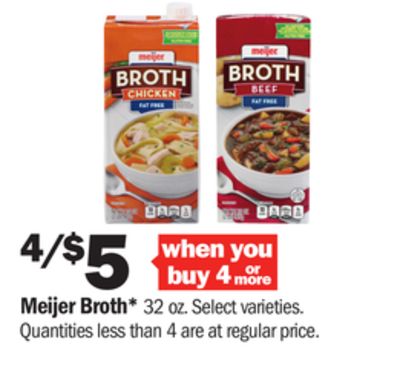 Meijer Broth*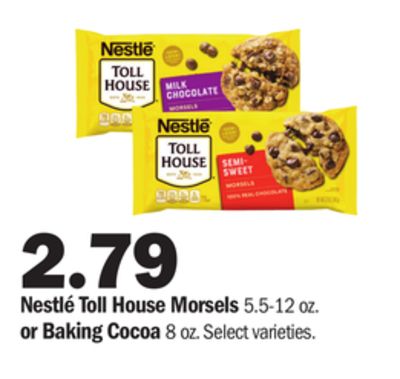 Nestlé Toll House Morsels 5.5-12 oz. or Baking Cocoa 8 oz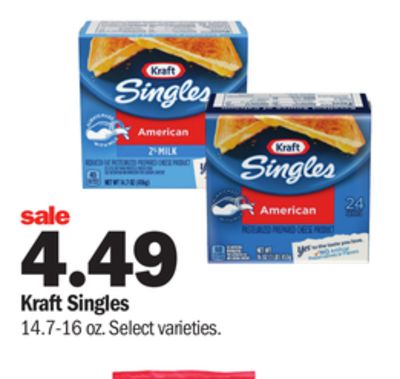 Kraft Singles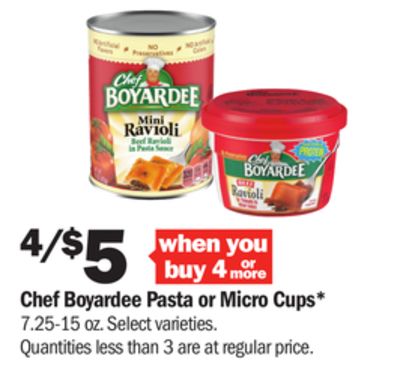 Chef Boyardee Pasta or Micro Cups*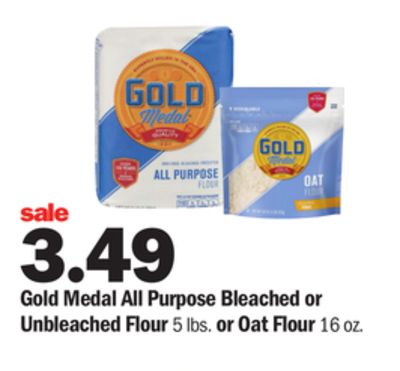 Gold Medal All Purpose Bleached or Unbleached Flour 5 lbs. or Oat Flour 16 oz.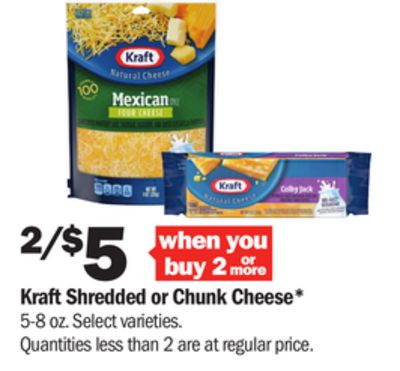 Kraft Shredded or Chunk Cheese*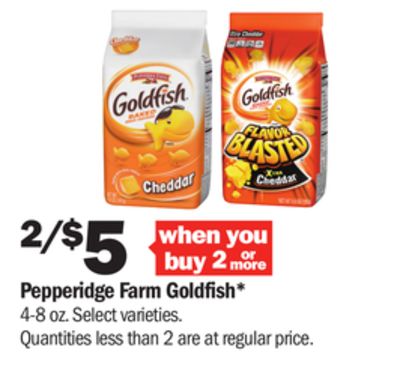 Pepperidge Farm Goldfish*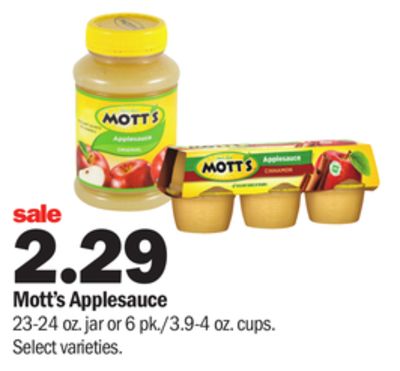 Mott's Applesauce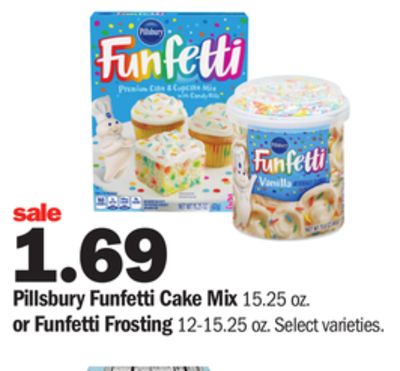 Pillsbury Funfetti Cake Mix 15.25 oz. or Funfetti Frosting 12-15.25 oz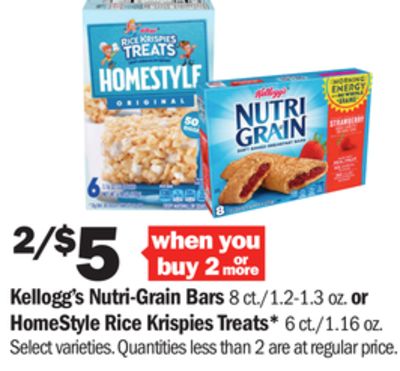 Kellogg's Nutri Grain Bars 8 ct. /1.2 -1.3 oz. or Kellogg's HomeStyle Rice Krispies Treats* 6 ct./ 1.16 oz.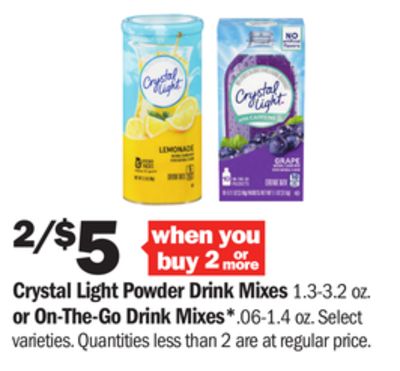 Crystal Light Powder Drink Mixes 1.3-3.2 oz. or On-The-Go Drink Mixes*.06-1.4 oz.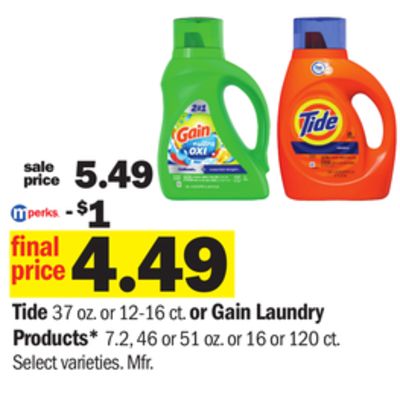 Tide 37 oz. or 12-16 ct. or Gain Laundry Products* 7.2, 46 or 51 oz. or 16 or 120 ct.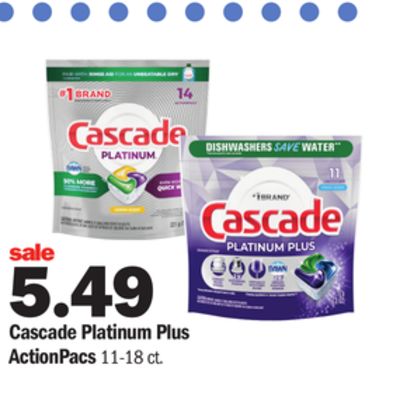 Cascade Platinum Plus ActionPacs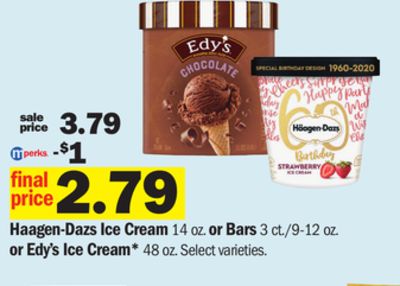 Haagen-Dazs Ice Cream 14 oz. or Bars 3ct./9-12 oz. or Edy's Ice Cream 48 oz.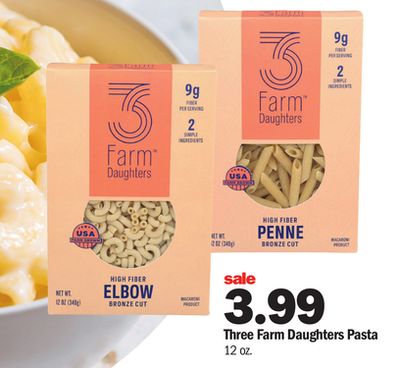 Three Farm Daughters Pasta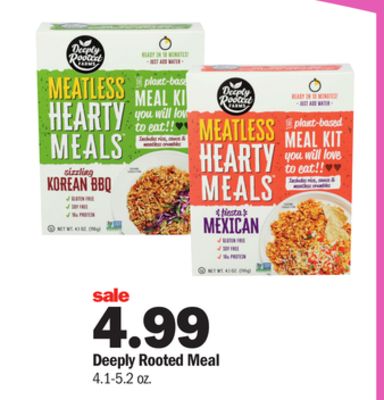 Deeply Rooted Meal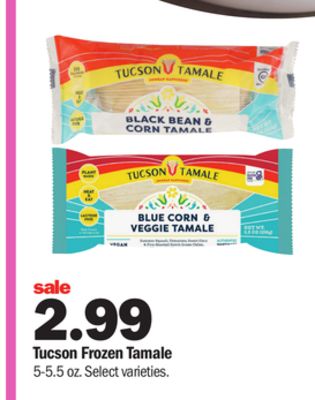 Tucson Frozen Tamale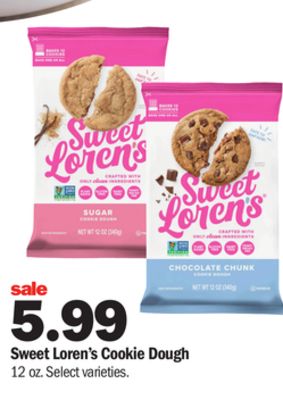 Sweet Loren's Cookie Dough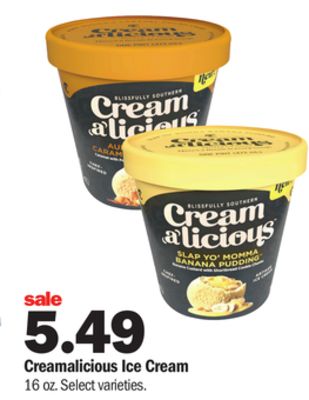 Creamalicious Ice Cream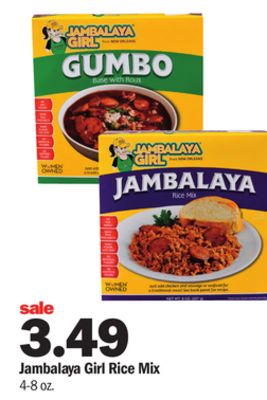 Jambalaya Girl Rice Mix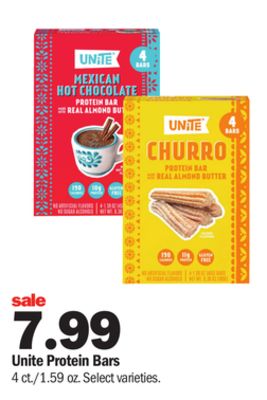 Unite Protein Bars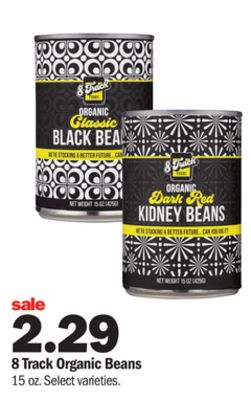 8 Track Organic Beans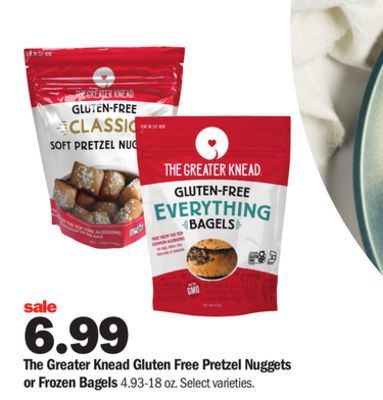 The Greater Knead Gluten Free Pretzel Nuggets or Frozen Bagels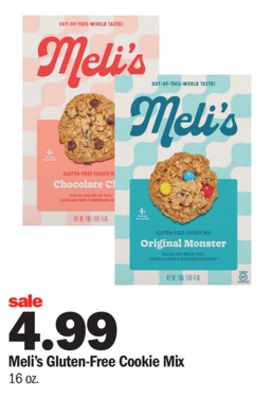 Meli's Gluten-Free Cookie Mix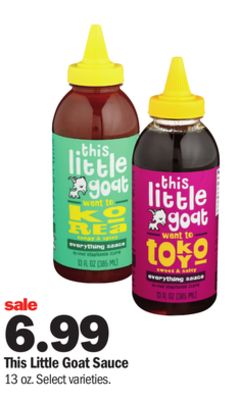 This Little Goat Sauce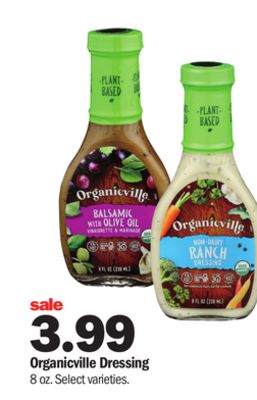 Organicville Dressing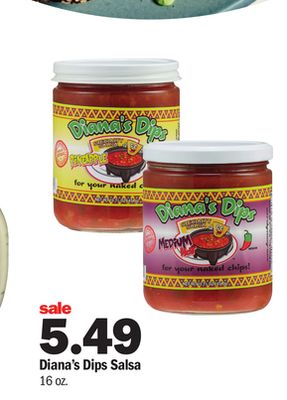 Diana's Dips Salsa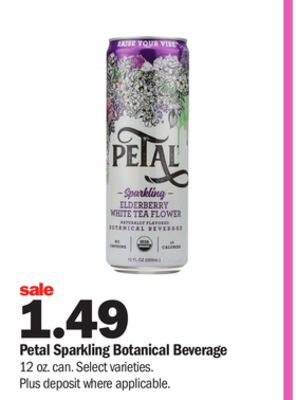 Petal Sparkling Botanical Beverage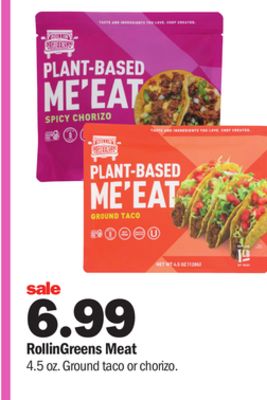 RollinGreens Meat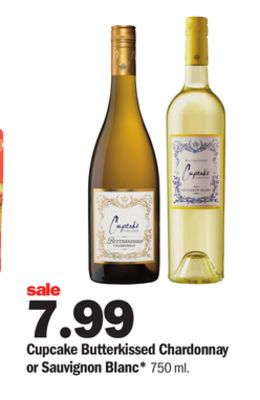 Cupcake Butterkissed Chardonnay or Sauvignon Blanc*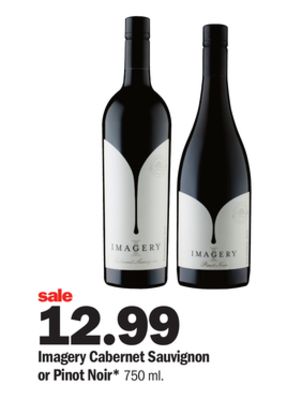 Imagery Cabernet Sauvignon or Pinot Noir*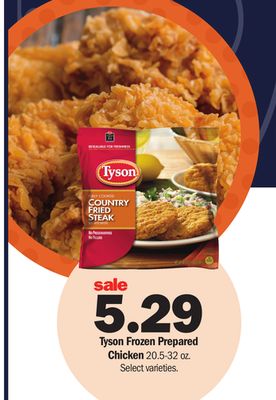 Tyson Frozen Prepared Chicken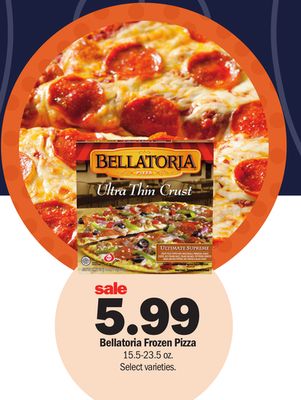 Bellatoria Frozen Pizza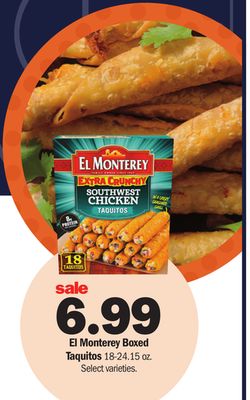 El Monterey Boxed Taquitos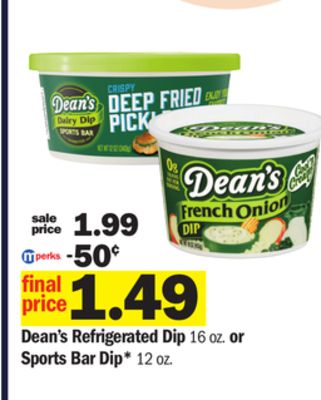 Dean's Refrigerated Dip 16 oz and Dean's Sports Bar Dip* 12 oz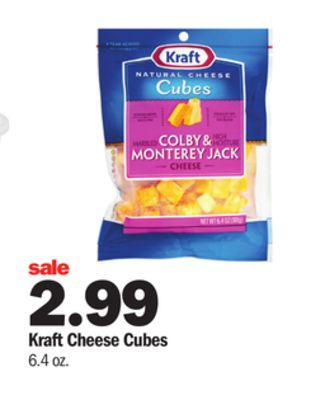 Kraft Cheese Cubes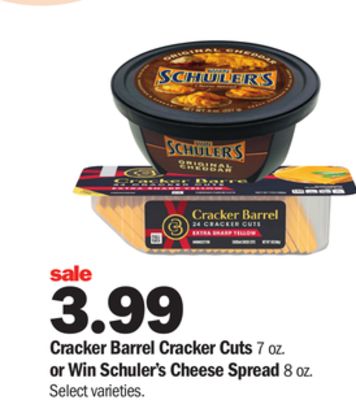 Cracker Barrel Cracker cuts 7 oz., or Win Schuler's Cheese Spread 8 oz.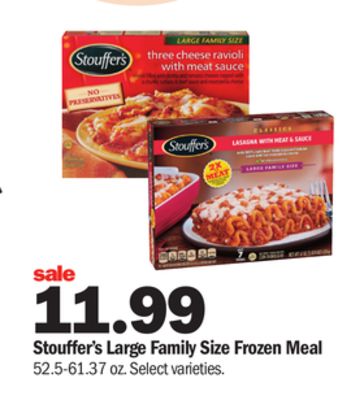 Stouffer's Large Family Size Frozen Meal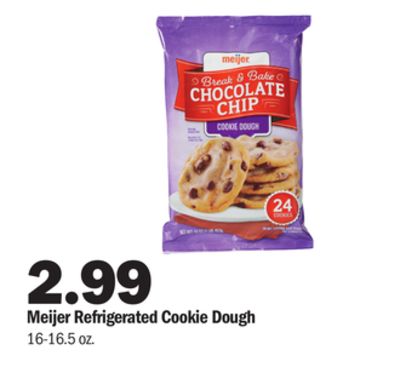 Meijer Refrigerated Cookie Dough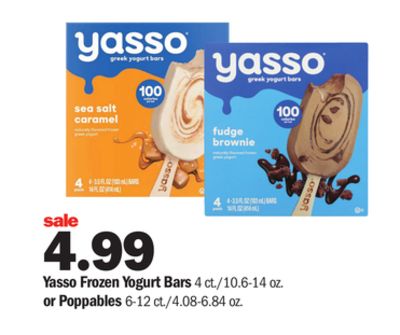 Yasso Frozen Yogurt Bars 4 ct./10.6-14 oz. or Poppables 6-12 ct./4.08-6.84 oz.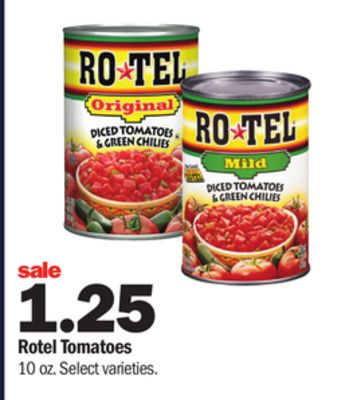 Rotel Tomatoes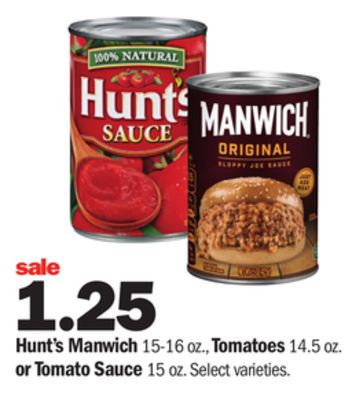 Hunt's Manwich 15-16 oz.,Tomatoes 14.5 oz. or Tomato Sauce 15 oz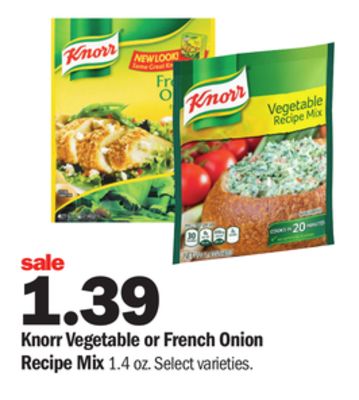 Knorr Vegetable or French Onion Recipe Mix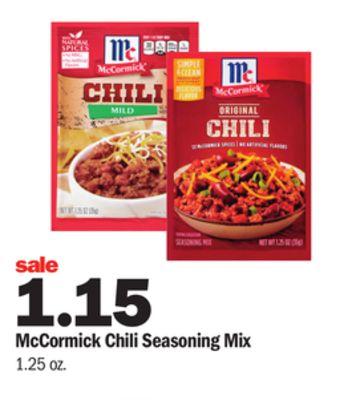 McCormick Chili Seasoning Mix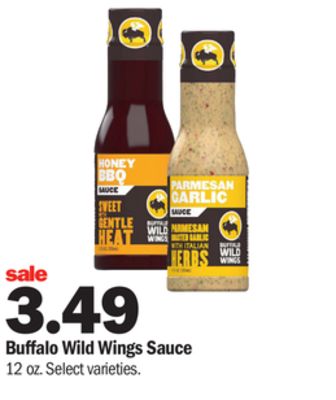 Buffalo Wild Wings Sauce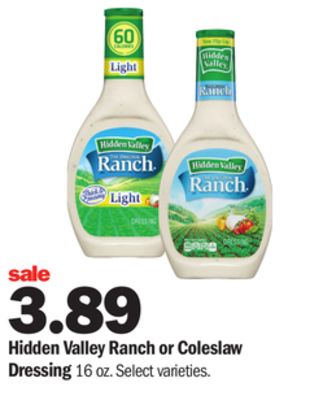 Hidden Valley Ranch or Coleslaw Dressing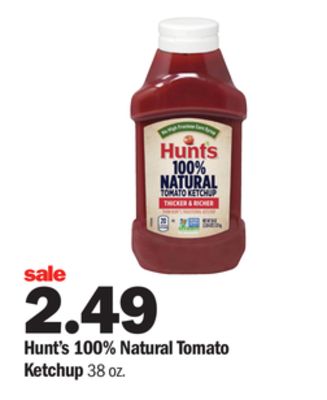 Hunt's 100% Natural Tomato Ketcup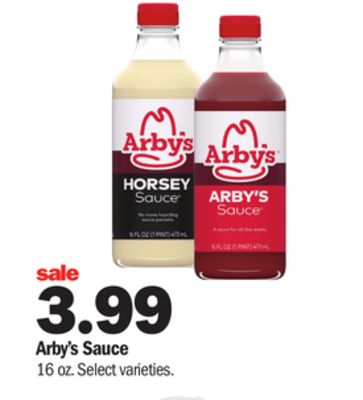 Arby's Sauce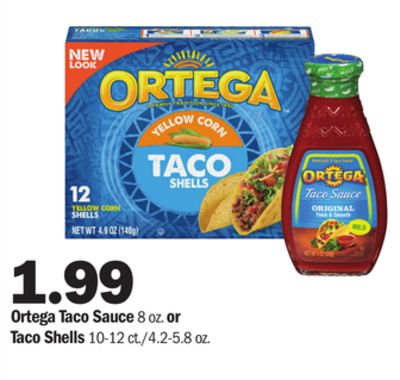 Ortega Taco Sauce 8 oz. or Taco Shells 10-12 ct./4.2-5.8 oz.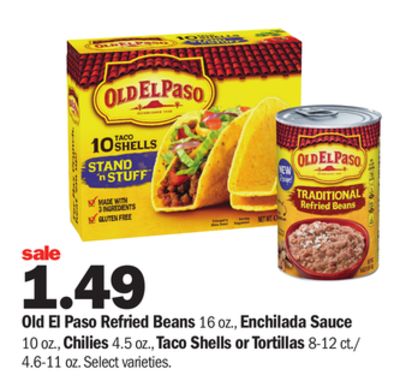 Old El Paso Refried Beans 16 oz., Enchilada Sauce 10 oz., Chilies 4.5 oz., Taco Shells or Tortillas 8-12 ct./ 4.6-11 oz.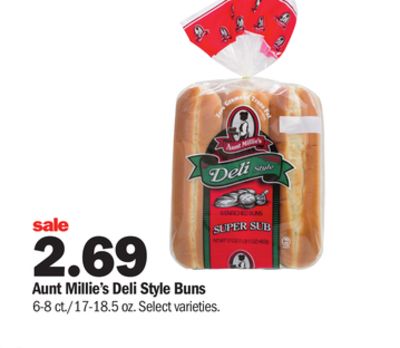 Aunt Millie's Deli Style Buns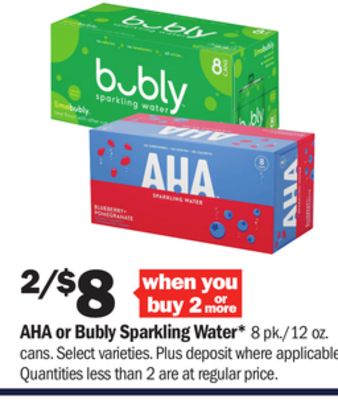 AHA or Bubly Sparkling Water*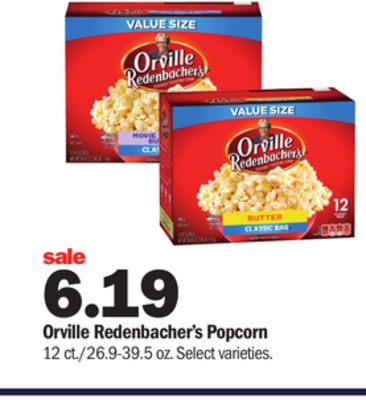 Orville Redenbacher Popcorn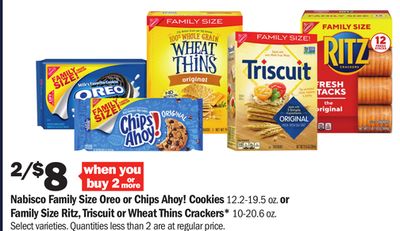 Nabisco Family Size Oreo or Chips Ahoy! Cookies 12.2-19.5 oz. or Family Size Ritz, Triscuit or Wheat Thins Crackers* 10-20.6 oz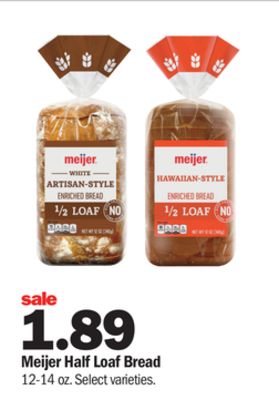 Meijer Half Loaf Bread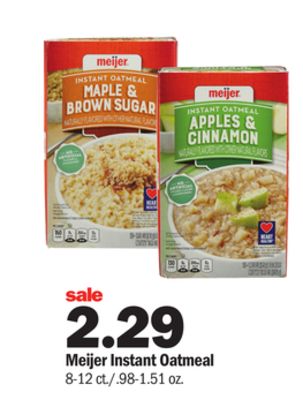 Meijer Instant Oatmeal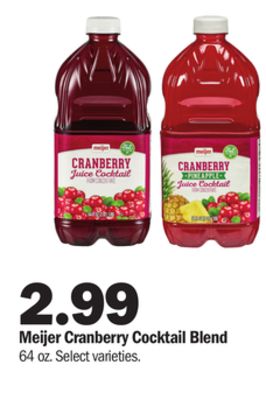 Meijer Cranberry Cocktail Blend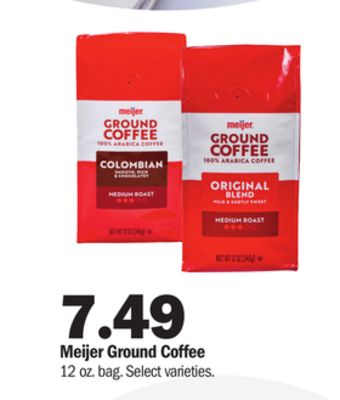 Meijer Ground Coffee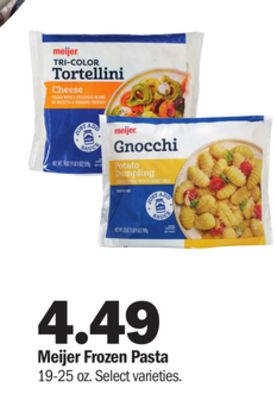 Meijer Frozen Pasta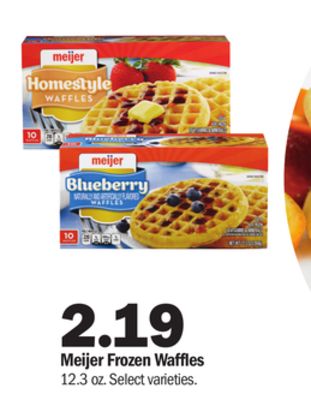 Meijer Frozen Waffles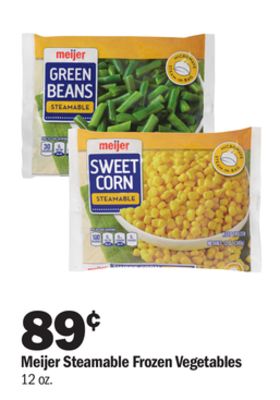 Meijer Steamable Frozen Vegetables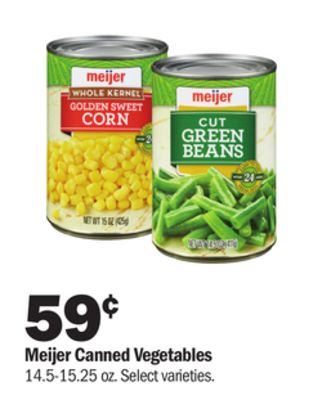 Meijer Canned Vegetables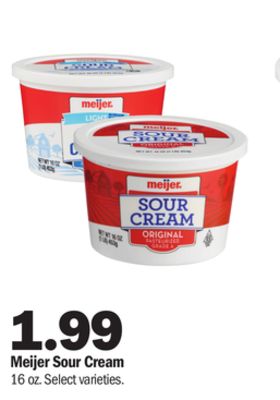 Meijer Sour Cream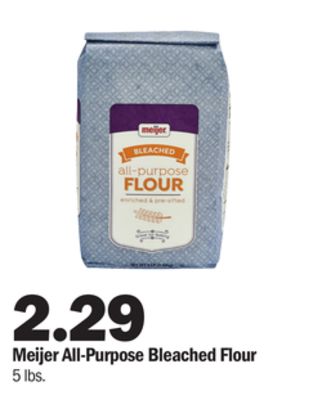 Meijer All-Purpose Bleached Flour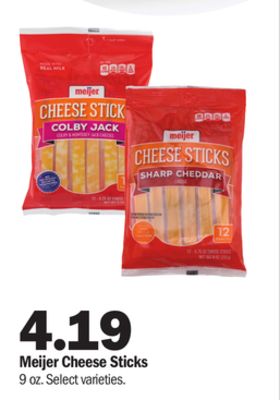 Meijer Cheese Sticks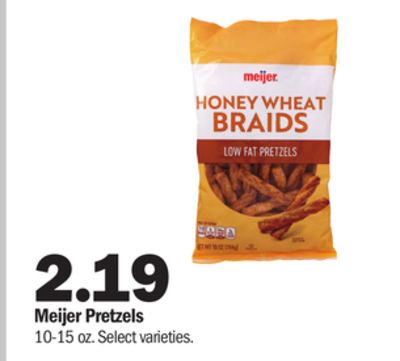 Meijer Pretzels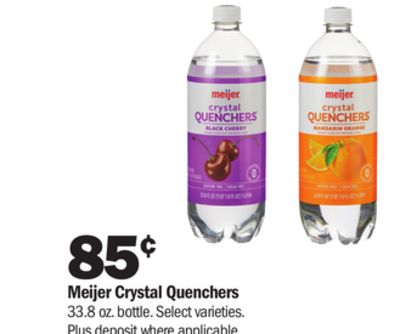 Meijer Crystal Quenchers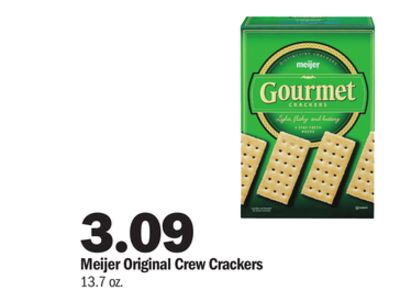 Meijer Original Crew Crackers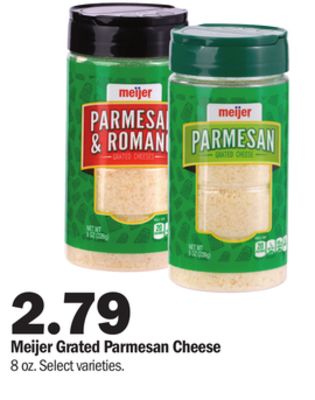 Meijer Grated Parmesan Cheese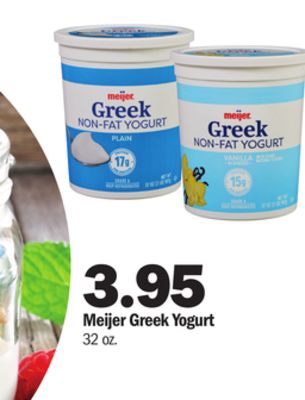 Meijer Greek Yogurt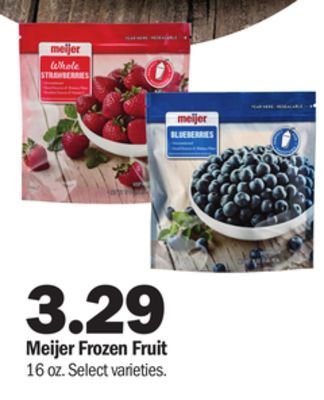 Meijer Frozen Fruit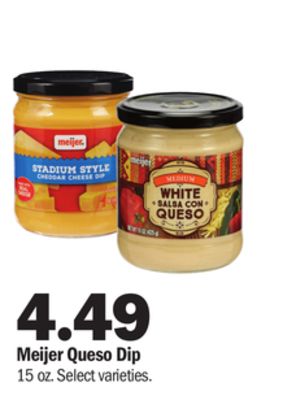 Meijer Queso Dip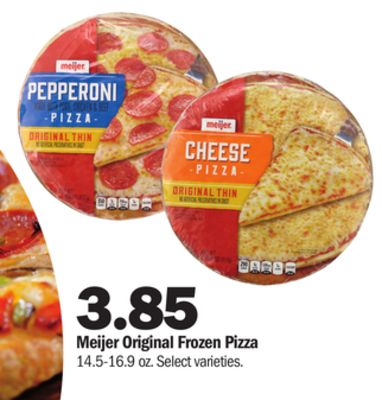 Meijer Original Frozen Pizza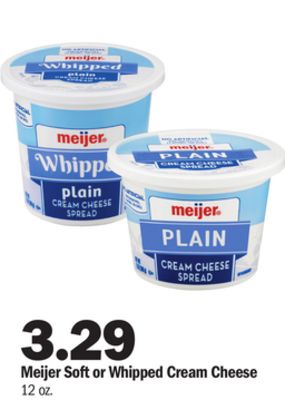 Meijer Soft or Whipped Cream Cheese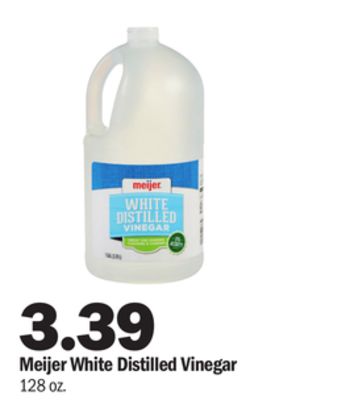 Meijer White Distilled Vinegar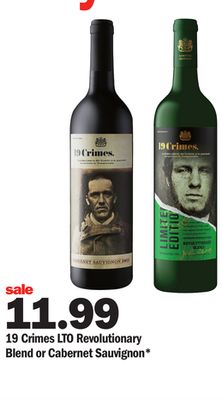 19 Crimes LTO Revolutionary Blend or Cabernet Sauvignon*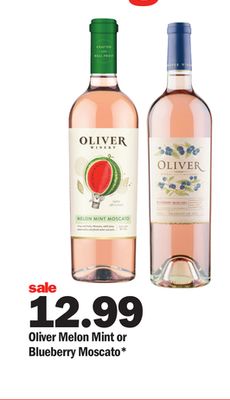 Oliver Melon Mint or Blueberry Moscato*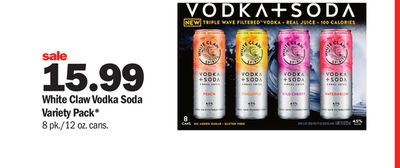 White Claw Vodka Soda Variety Pack*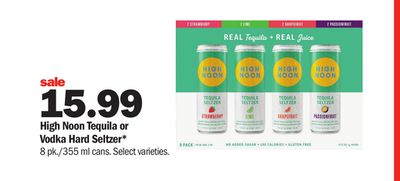 High Noon Tequila or Vodka Hard Seltzer*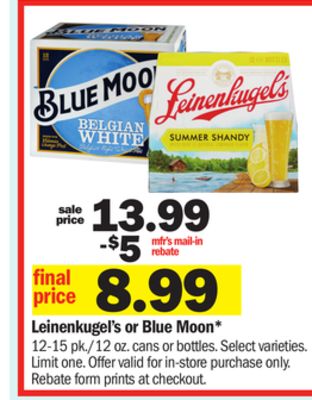 Leinenkugel's or Blue Moon*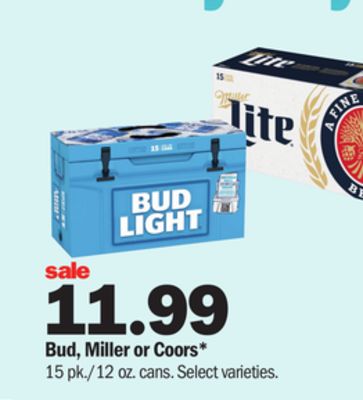 Bud, Miller or Coors*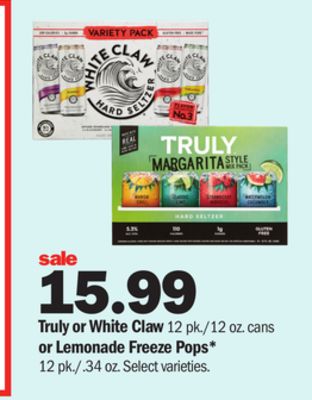 Truly or White Claw 12 pk./12 oz. cans or Lemonade Freeze Pops* 12 pk./.34 oz.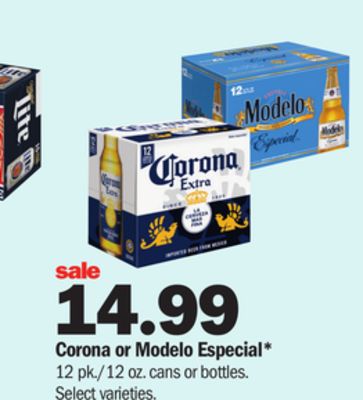 Corona or Modelo Especial*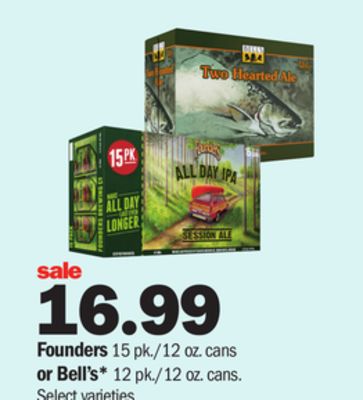 Founders 15pk/12oz cans or Bell's 12pk/12oz cans.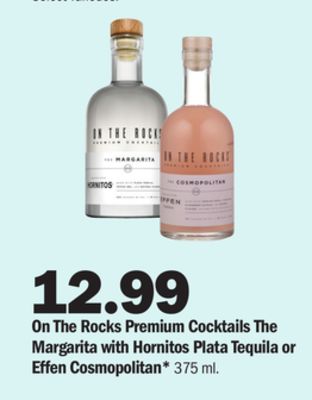 On The Rocks Premium Cocktails The Margarita with Hornitos Plata Tequila or Effen Cosmopolitan*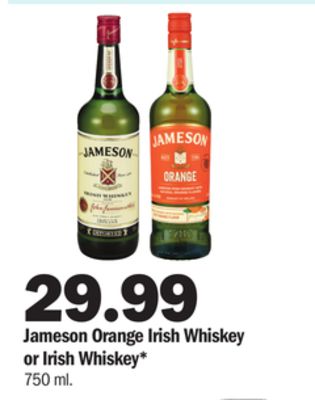 Jameson Orange Irish Whiskey or Irish Whiskey*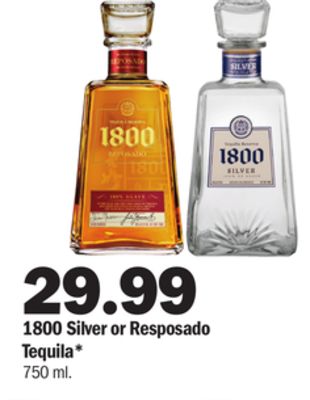 1800 Silver or Resposado Tequila*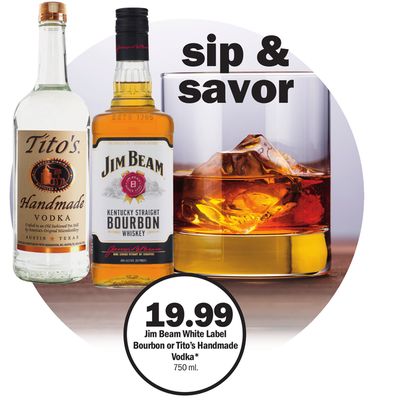 Jim Beam White Label Bourbon or Tito's Handmade Vodka*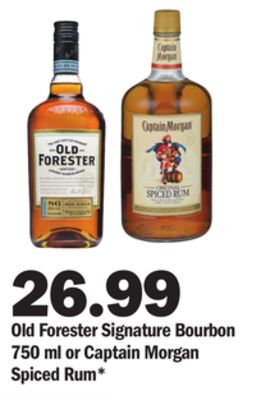 Old Forester Signature Bourbon 750 ml or Captain Morgan Spiced Rum*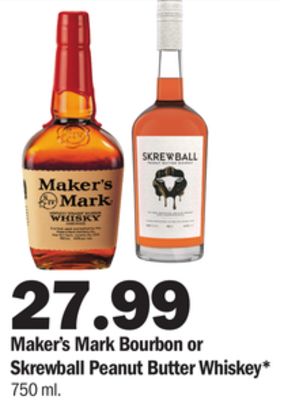 Maker's Mark Bourbon or Skrewball Peanut Butter Whiskey*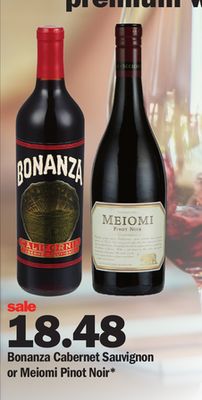 Bonanza Cabernet Sauvignon or Meiomi Pinot Noir*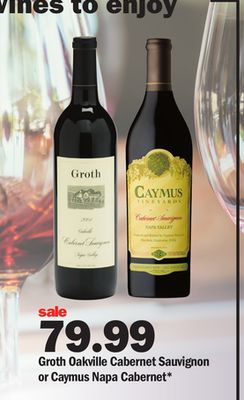 Groth Oakville Cabernet Sauvignon or Caymus Napa Cabernet*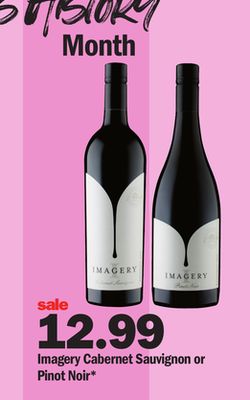 Imagery Cabernet Sauvignon or Pinot Noir*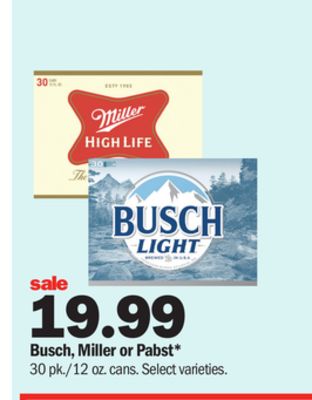 Busch, Miller or Pabst*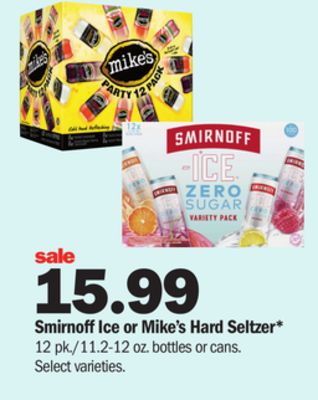 Smirnoff or Mike's Hard Seltzer*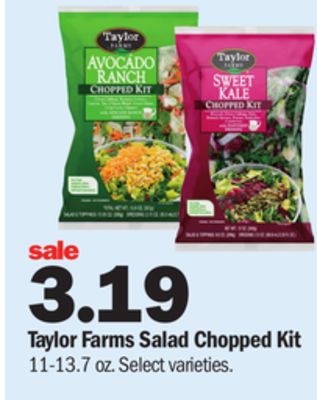 Taylor Farms Salad Chopped Kit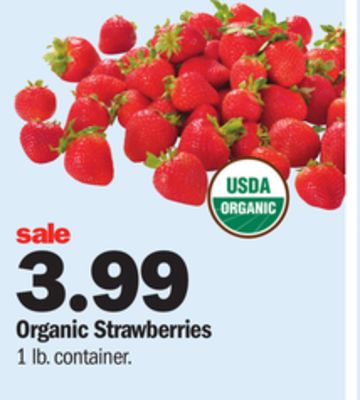 Organic Strawberries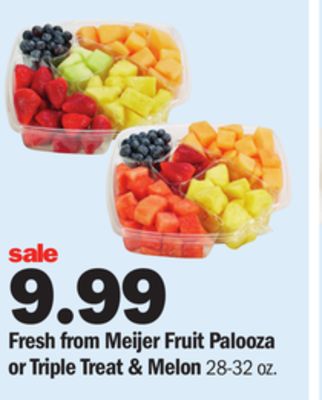 Fresh from Meijer Fruit Palooza or Triple Treat & Melon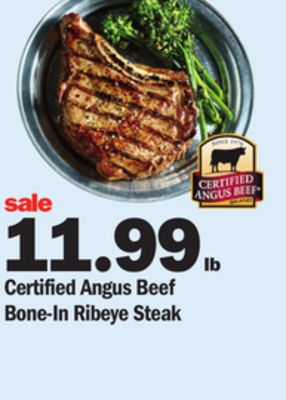 Certified Angus Beef Bone-In Ribeye Steak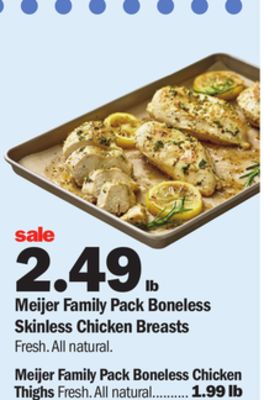 Meijer Family Pack Boneless Skinless Chicken Breasts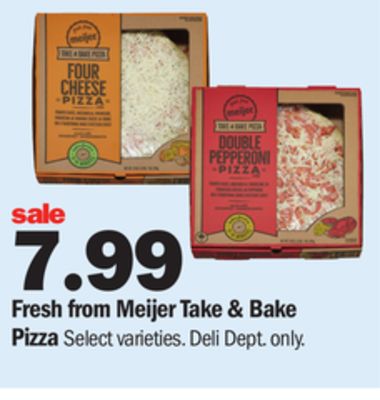 Fresh from Meijer Take & Bake Pizzas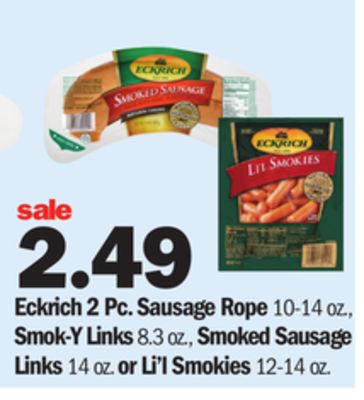 Eckrich 2 Pc. Sausage Rope 10-14 oz., Smok-Y- Links 8.3 oz., Smoked Sausage Links 14 oz or Li'l Smokies 12-14 oz.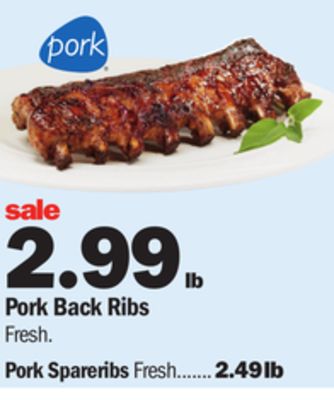 Pork Back Ribs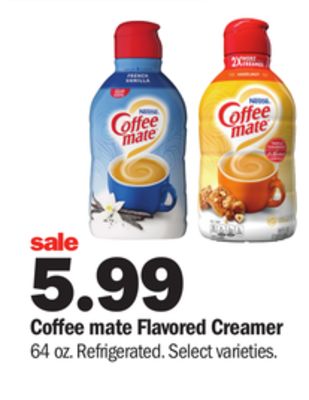 Coffee mate Flavored Creamer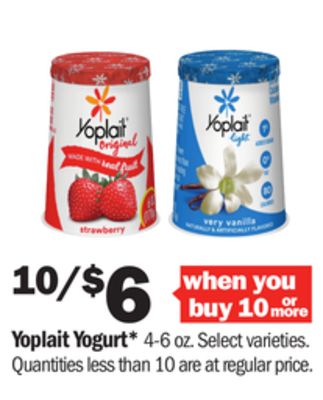 Yoplait Yogurt*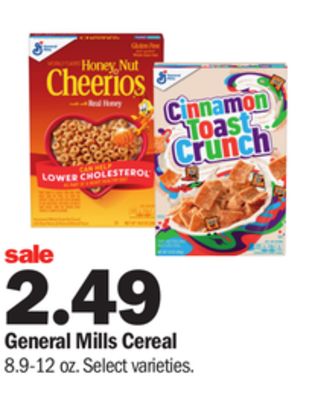 General Mills Cereal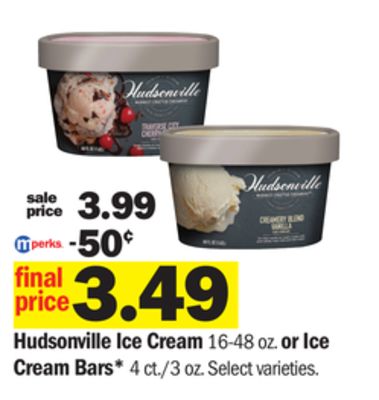 Hudsonville Ice Cream 16-48 oz. or Ice Cream Bars* 4 ct./3 oz.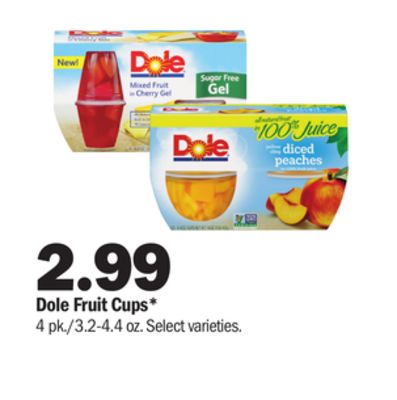 Dole Fruit Cups*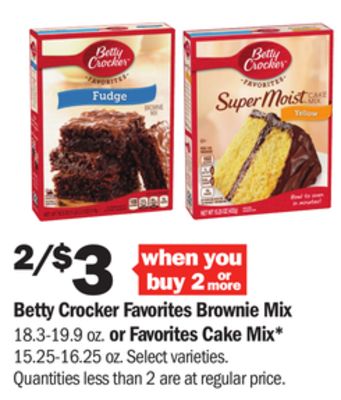 Betty Crocker Favorites Brownie Mix 18.3-19.9 oz. or Favorites Cake Mix* 15.25-16.25 oz.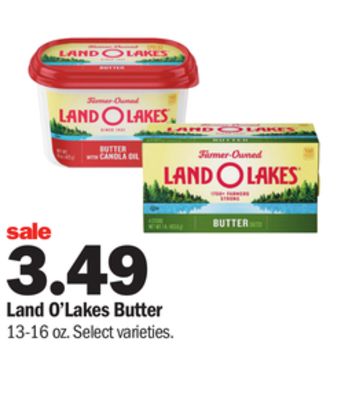 Land O' Lakes Butter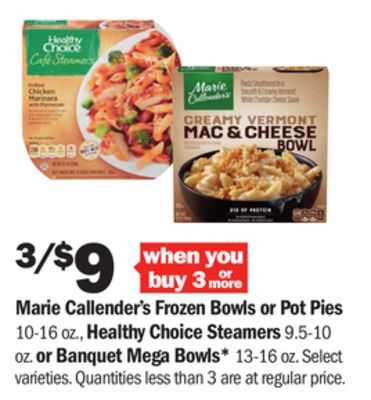 Marie Callender's Frozen Bowls or Pot Pies 10-16oz, Healthy Choice Steamers 9.5-10oz, or Banquet Mega Bowls* 13-16oz.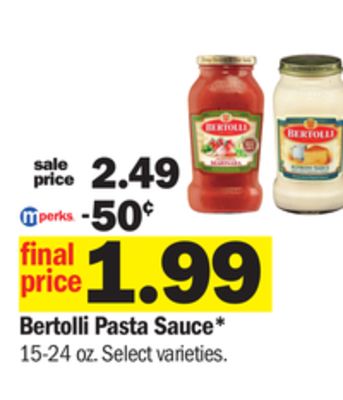 Bertolli Pasta Sauce*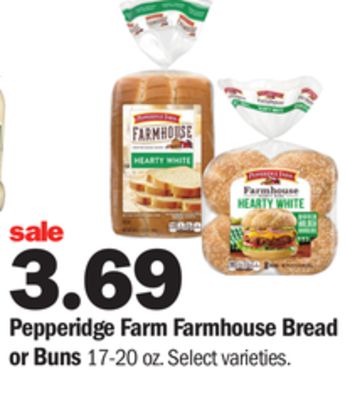 Pepperidge Farm Farmhouse Bread or Buns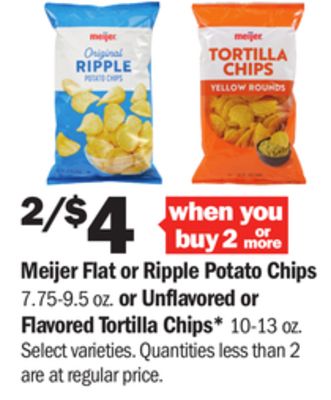 Meijer Flat or Ripple Potato Chips 7.75-9.5 oz. or Unflavored or Flavored Tortilla Chips* 10-13 oz.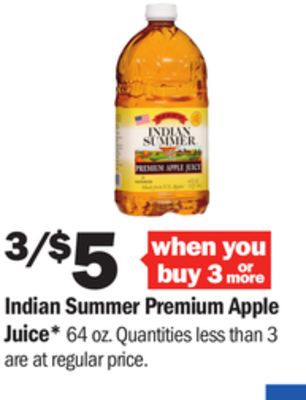 Indian Summer Premium Apple Juice*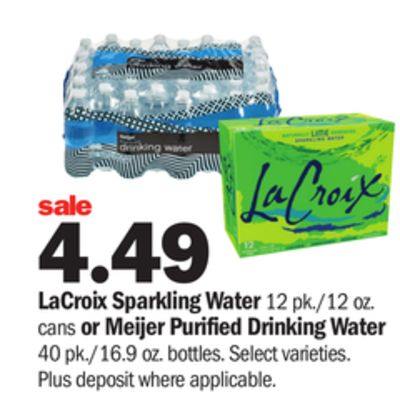 LaCroix Sparkling Water 12 pk./12 oz. cans or Meijer Purified Drinking Water 40 pk./16.9 oz. bottles.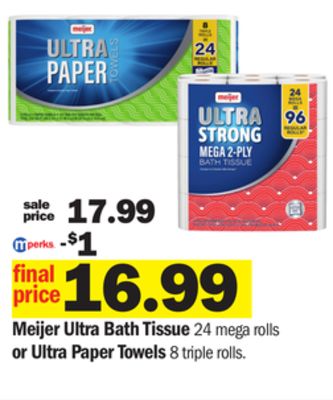 Meijer Ultra Bath Tissue 24 mega rolls or Ultra Paper Towels 8 triple rolls.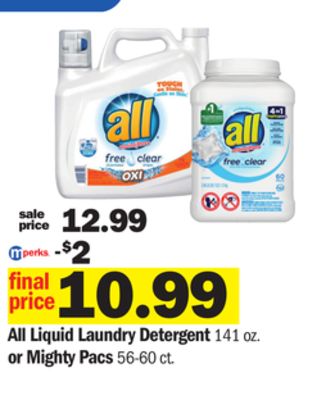 All Liquid Laundry Detergent 141 oz. or Mighty Pacs 56-60 ct.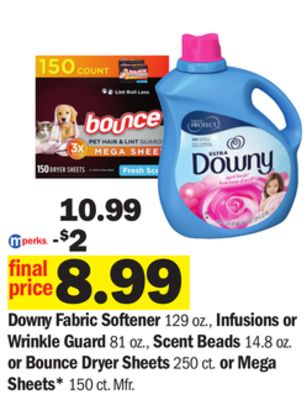 Downy Fabric Softener 129 oz., Infusions or Wrinkle Guard 81 oz., Scent Beads 14.8 oz. or Bounce Dryer Sheets 250 ct. or Mega Sheets* 150 ct.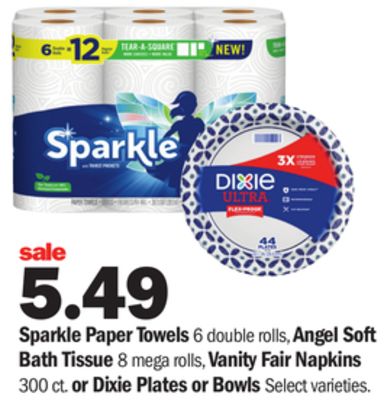 Sparkle Paper Towels 6 double rolls, Angel Soft Bath Tissue 8 mega rolls, Vanity Fair Napkins 300 ct. or Dixie Plates or Bowls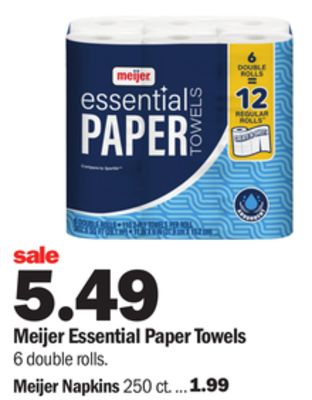 Meijer Essential Paper Towels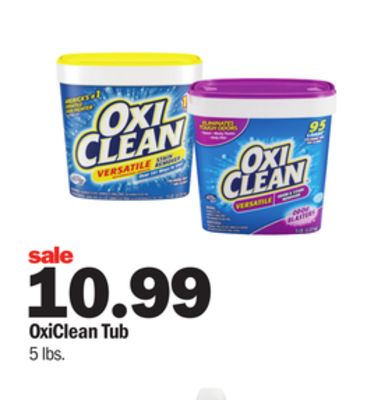 OxiClean Tub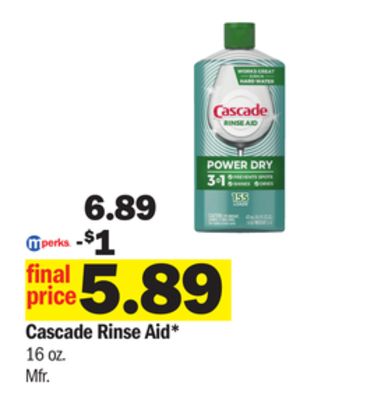 Cascade Rinse Aid*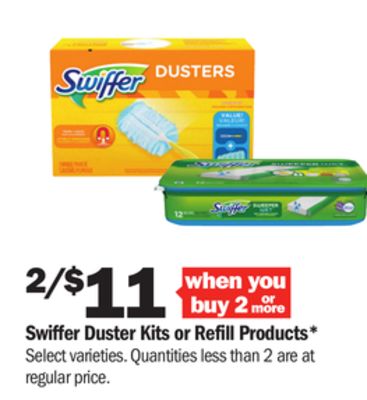 Swiffer Duster Kits or Refill Products*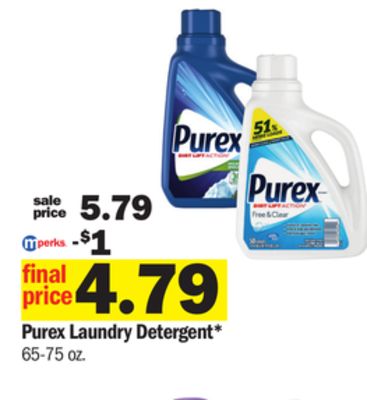 Purex Laundry Detergent*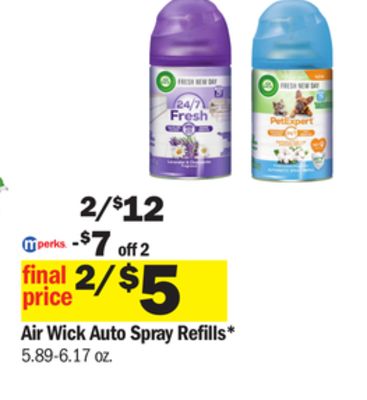 Air Wick Auto Spray Refills*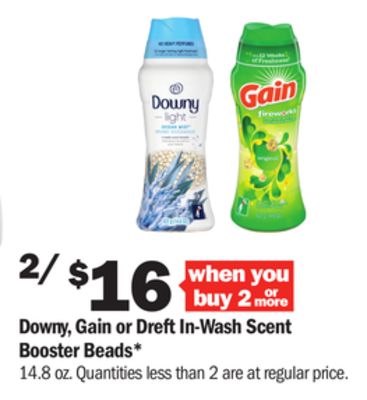 Downy, Gain or Dreft In-Wash Scent Booster Beads*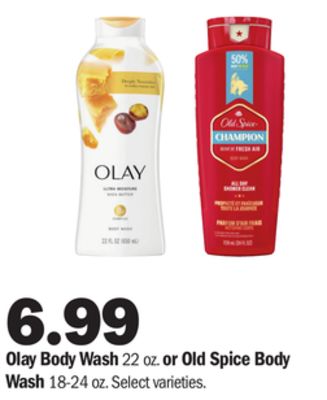 Olay Body Wash 22 oz. or Old Spice Body Wash 18-24 oz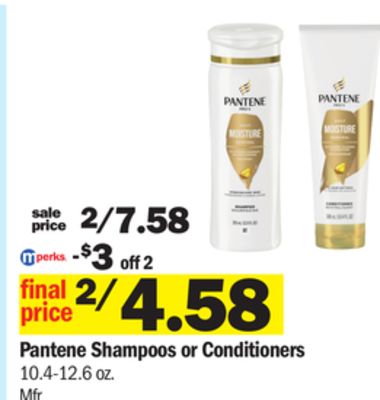 Pantene Shampoos or Conditioners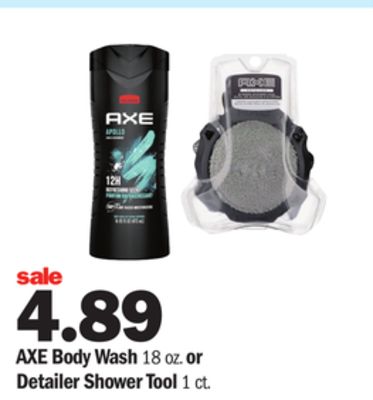 AXE Body Wash 18 oz. or Detailer Shower Tool 1 ct.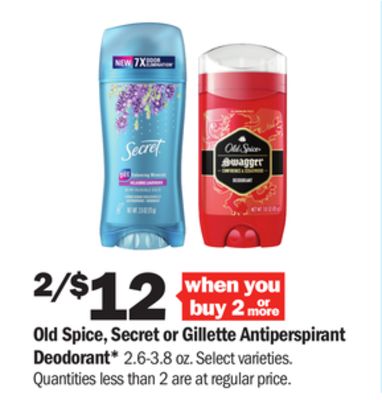 Old Spice, Secret or Gillette Antiperspirant Deodorant*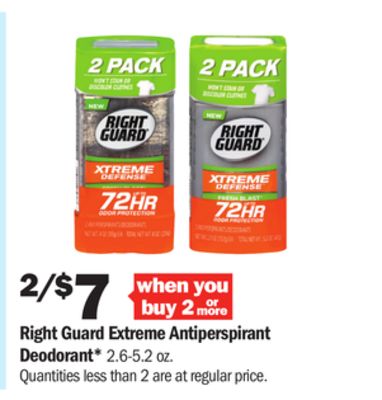 Right Guard Extreme Antiperspirant Deodorant*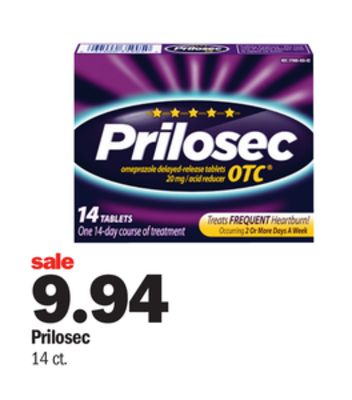 Prilosec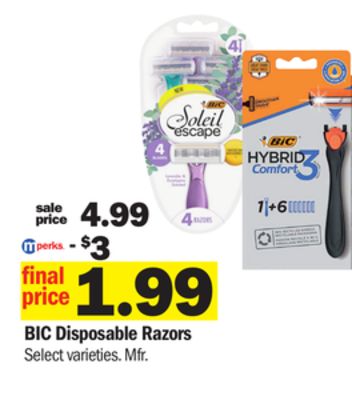 BIC Disposable Razors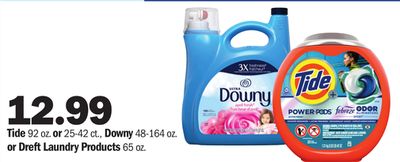 Tide 92 oz. or 25-42 ct., Downy 48-164 oz. or Dreft Laundry Products 65 oz.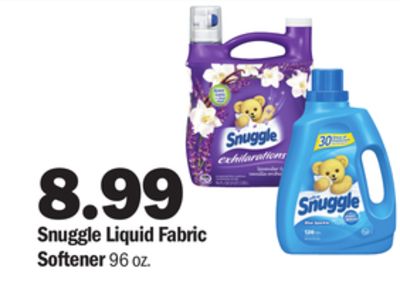 Snuggle Liquid Fabric Softener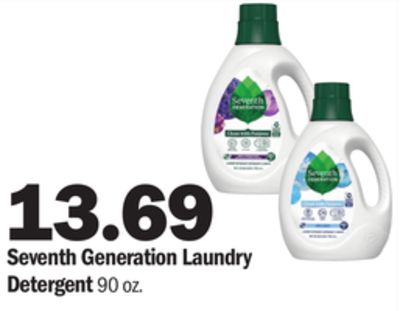 Seventh Generation Laundry Detergent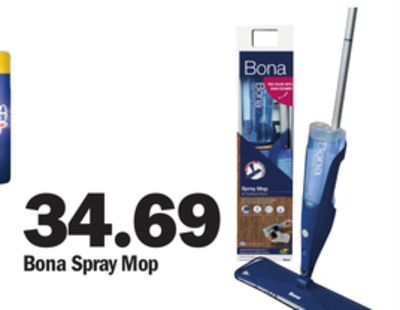 Bona Spray Mop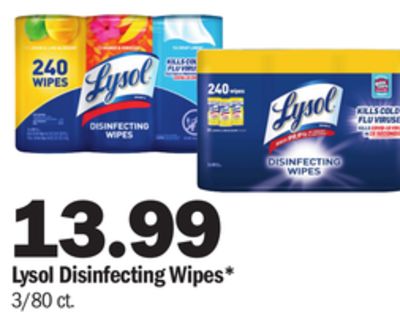 Lysol Disinfecting Wipes*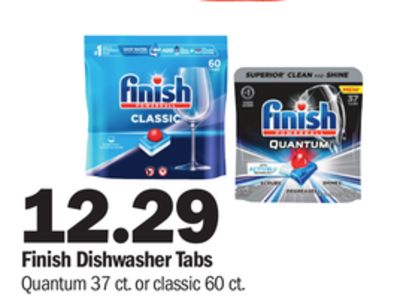 Finish Dishwasher Tabs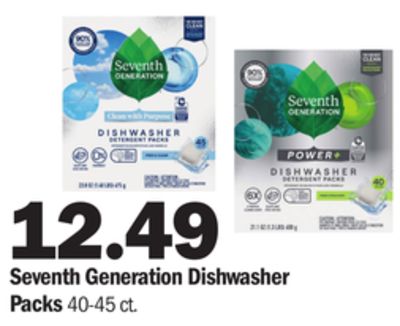 Seventh Generation Dishwasher Packs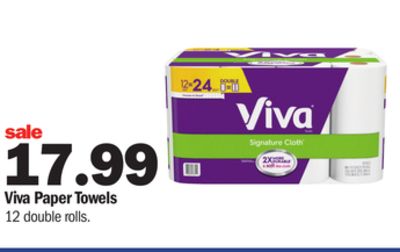 Viva Paper Towels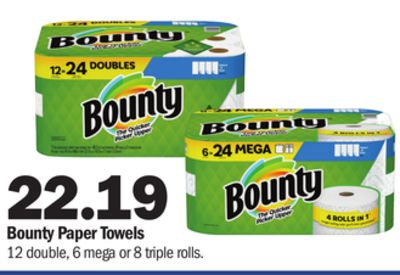 Bounty Paper Towels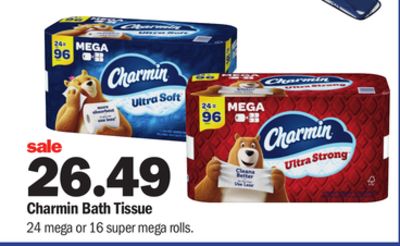 Charmin Bath Tissue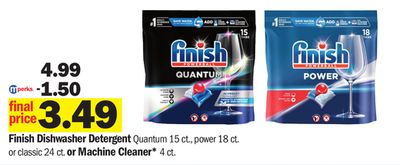 Finish Dishwasher Detergent Quantum 15 ct., power 18 ct. or classic 24 ct. or Machine Cleaner* 4 ct.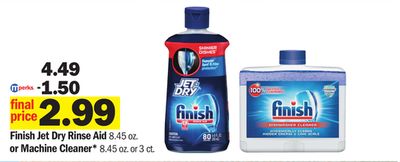 Finish Jet Dry Rinse Aid 8.45 oz. or Machine Cleaner* 8.45 oz. or 3 ct.

Air Wick Scented Oil Refills 5 ct. or Essential Mist Kit* 1 ct.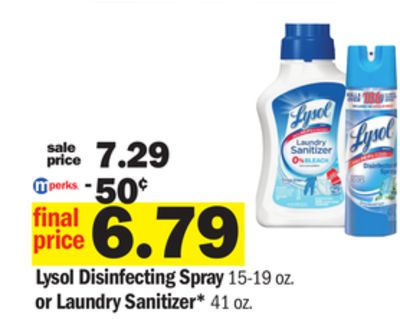 Lysol Disinfecting Spray 15-19 oz. or Laundry Sanitizer* 41 oz.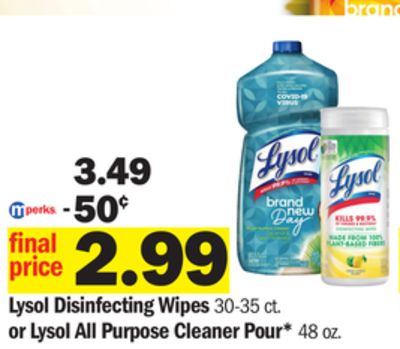 Lysol Disinfecting Wipes 30-35 ct. or Lysol All Purpose Cleaner Pour* 48 oz.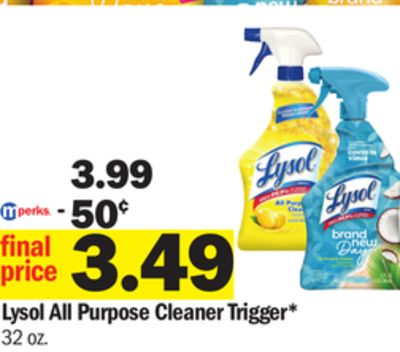 Lysol All Purpose Cleaner Trigger*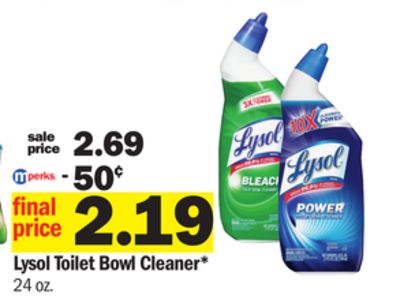 Lysol Toilet Bowl Cleaner*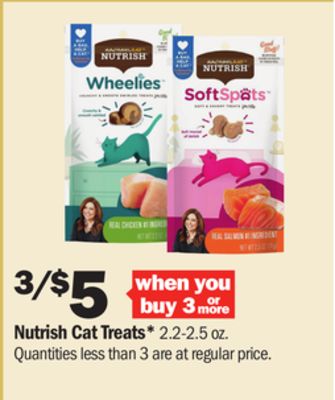 Nutrish Cat Treats*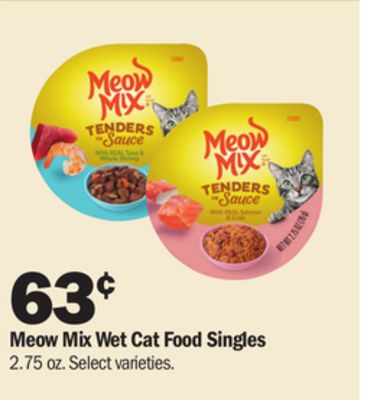 Meow Mix Wet Cat Food Singles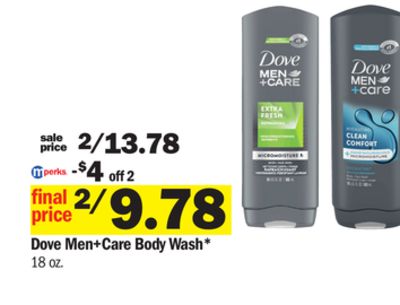 Dove Men+Care Body Wash*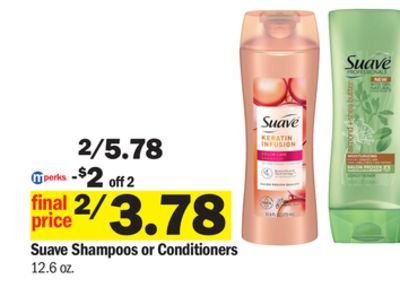 Suave Shampoos or Conditioners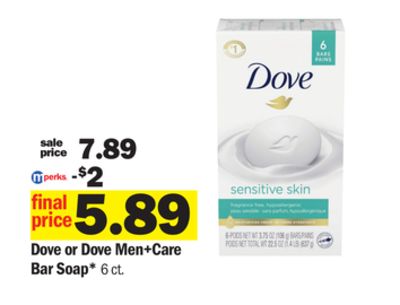 Dove or Dove Men+Care Bar Soap*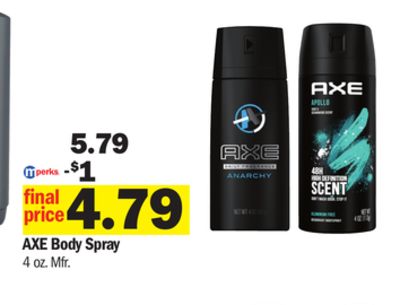 AXE Body Spray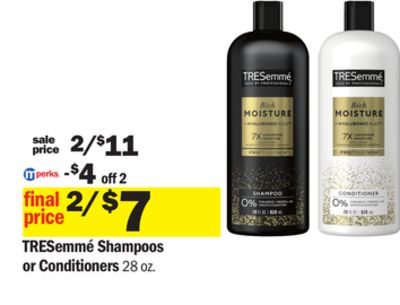 TRESemmé Shampoos or Conditioners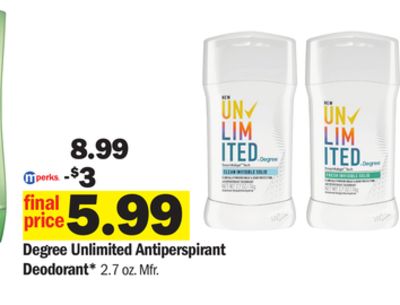 Degree Unlimited Antiperspirant Deodorant*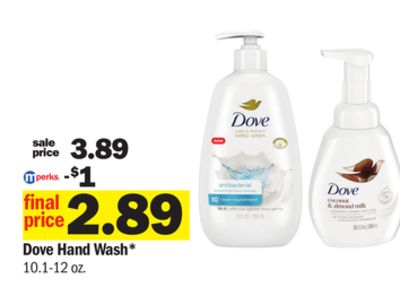 Dove Hand Wash*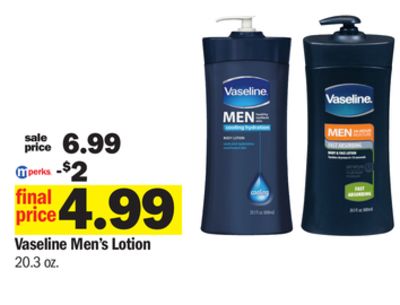 Vaseline Men's Lotion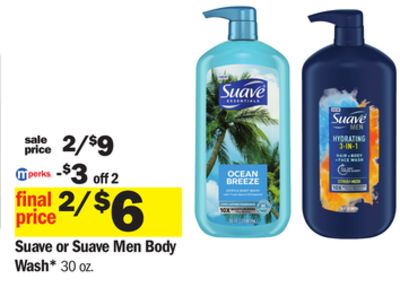 Suave or Suave Men Body Wash*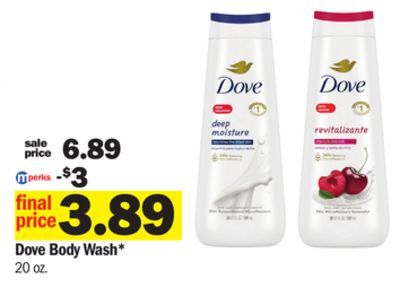 Dove Body Wash*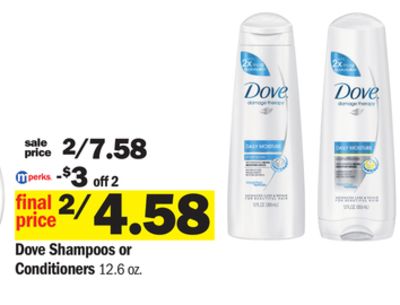 Dove Shampoos or Conditioners
Degree Antiperspirant Deodorant*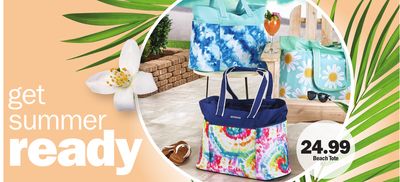 Beach Tote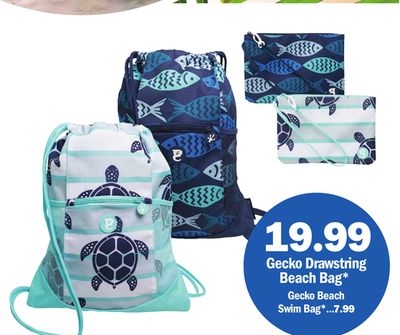 Gecko Drawstring Beach Bag*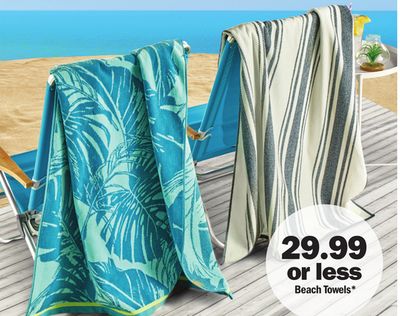 Beach Towels*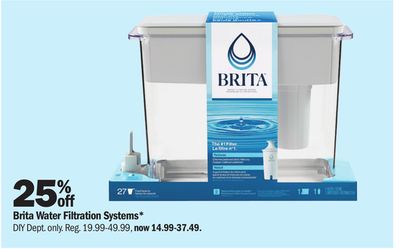 Brita Water Filtration Systems*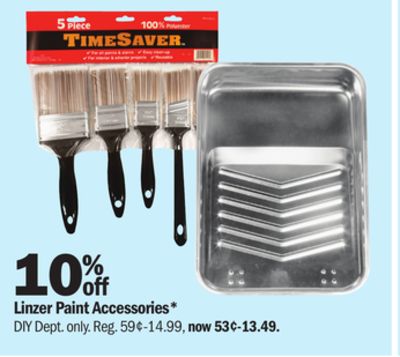 Linzer Paint Accessories*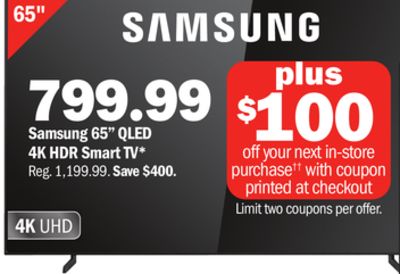 Samsung 65" QLED 4K HDR Smart TV*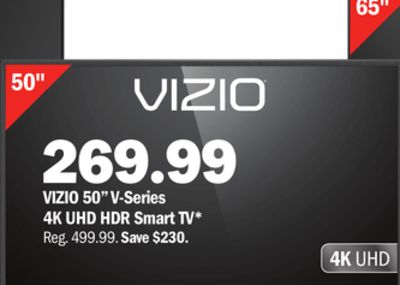 VIZIO 50" V-Series 4K UHD HDR Smart TV*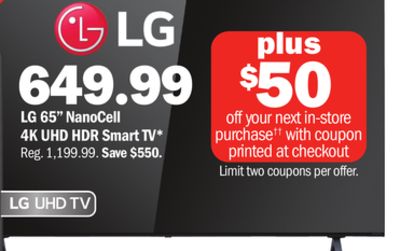 LG 65" NanoCell 4K UHD HDR Smart TV*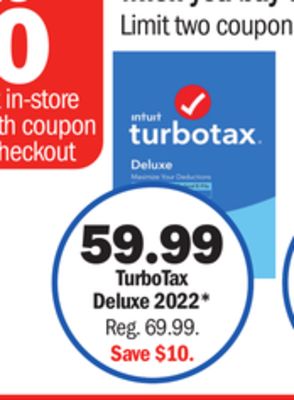 TurboTax Deluxe 2022*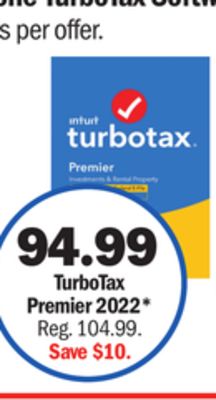 TurboTax Premier 2022*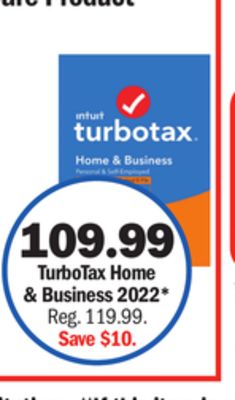 TurboTax Home & Business 2022*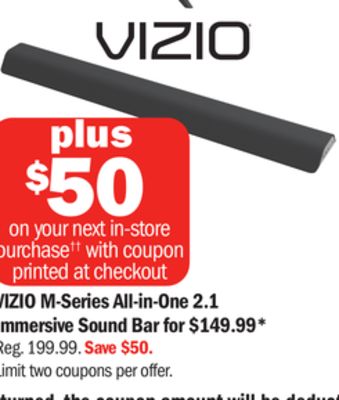 VIZIO M-Series All-in-One 2.1 Immersive Sound Bar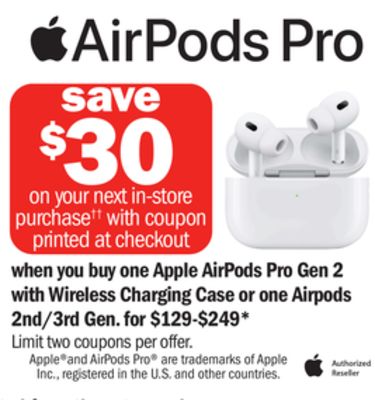 Apple AirPods Pro Gen 2 with Wireless Charging Case or one Airpods 2nd/3rd Gen

Skechers Kids' Footwear*

Skechers Kids' Footwear*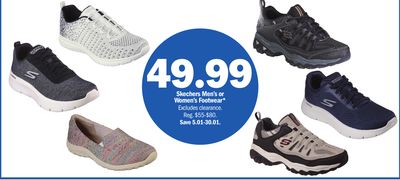 Skechers Men's or Women's Footwear*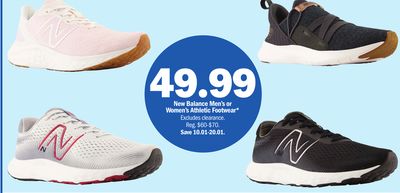 New Balance Men's or Women's Athletic Footwear*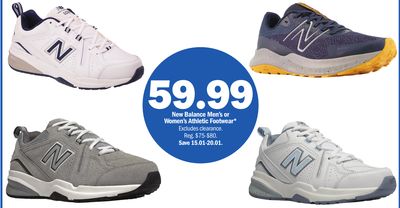 New Balance Men's or Women's Athletic Footwear*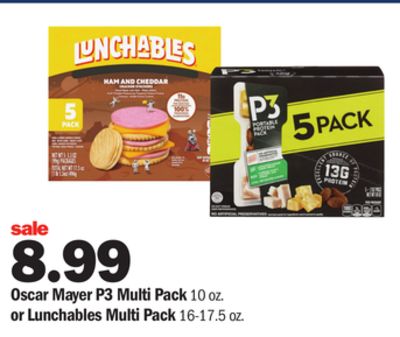 Oscar Mayer P3 Multi Pack 10 oz. or Lunchables Multi Pack 16-17.5 oz.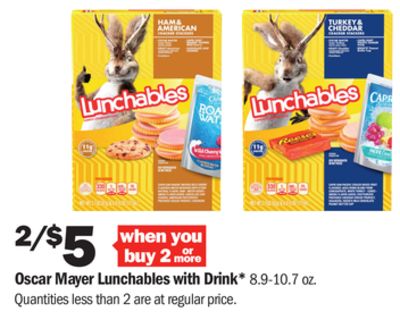 Oscar Mayer Lunchables with Drink*
Oscar Mayer Meat Franks*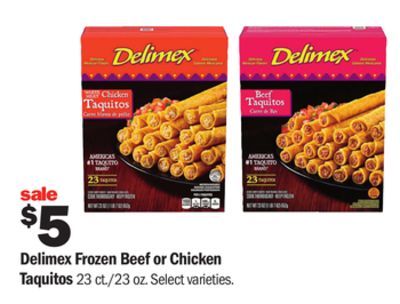 Delimex Frozen Beef or Chicken Taquitos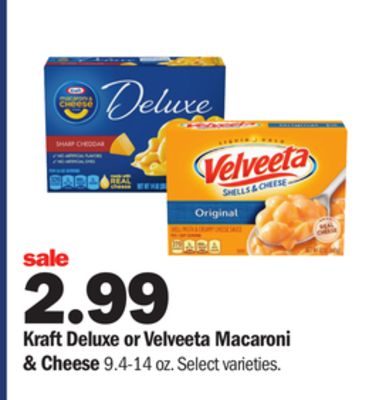 Kraft Deluxe or Velveeta Macaroni & Cheese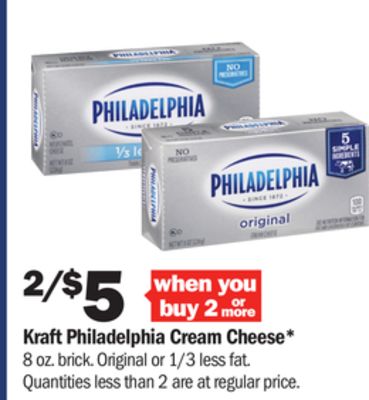 Kraft Philadelphia Cream Cheese*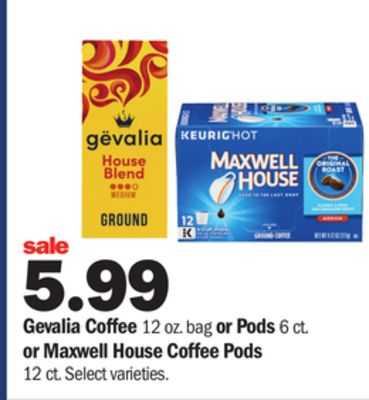 Gevalia Coffee 12 oz. bag or Pods 6 ct. or Maxwell House Coffee Pods 12 ct.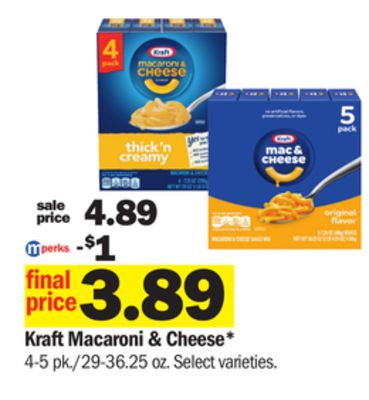 Kraft Macaroni & Cheese*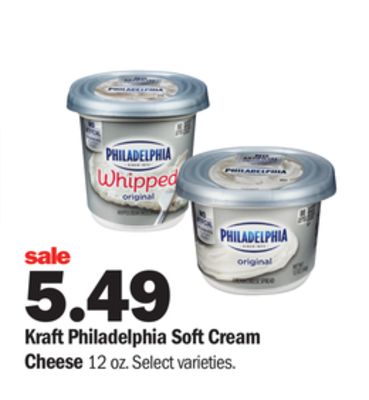 Kraft Philadelphia Soft Cream Cheese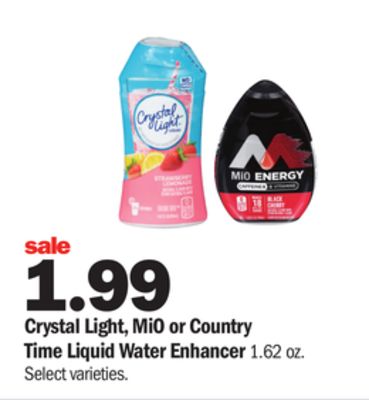 Crystal Light, MiO or Country Time Liquid Water Enhancer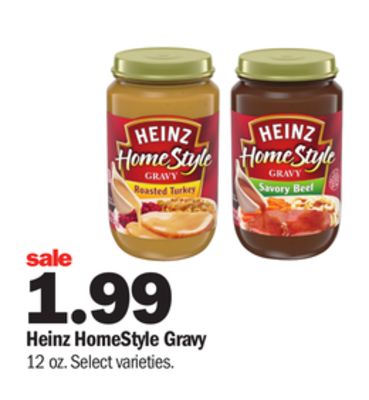 Heinz HomeStyle Gravy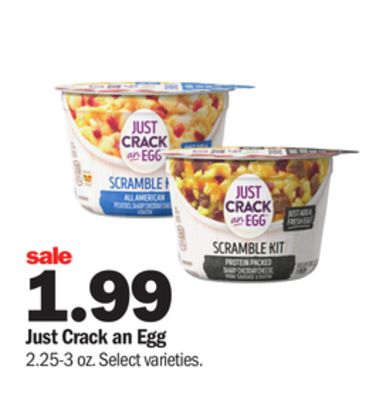 Just Crack an Egg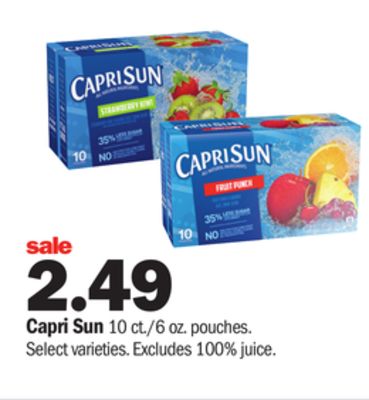 Capri Sun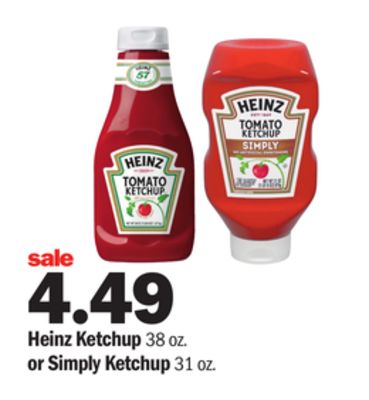 Heinz Ketchup 38 oz. or Simply Ketchup 31 oz.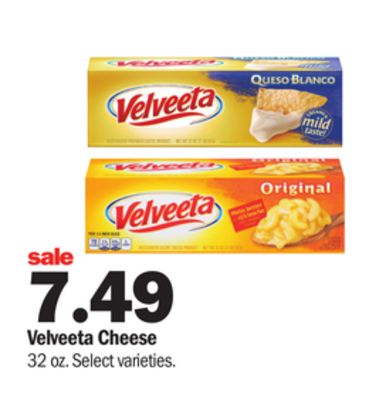 Velveeta Cheese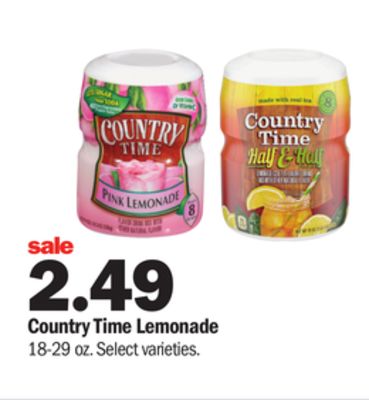 Country Time Lemonade