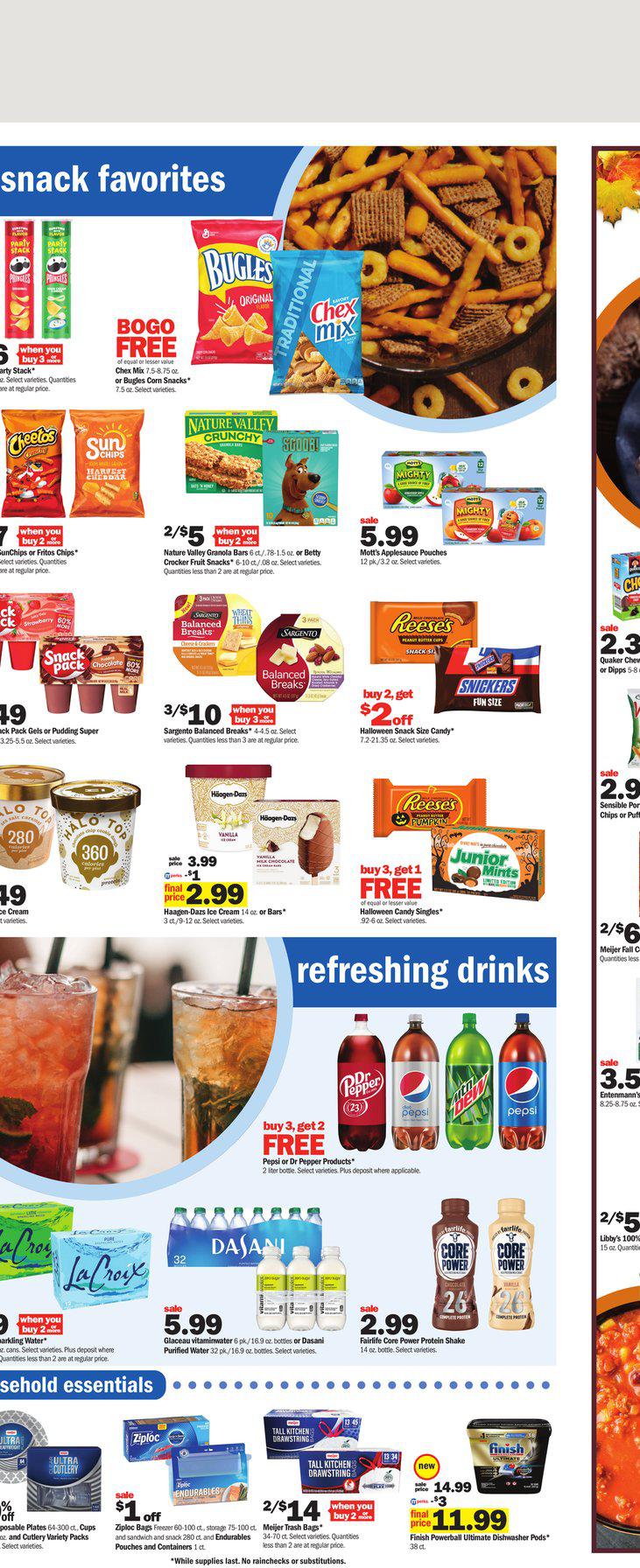 Weekly Ad
---
The Weekly Ad, which is valid in Meijer markets between 09/17/2023 - 09/24/2023, consists of 21 pages. The most expensive product of the brochure is Disney Disney 100 Ready-to-Play Mini Train Set* priced at $39.99, the cheapest product at $0.99 is Butternut, Acorn or Spaghetti Squash.
You can use the page previews below to navigate the brochure pages.
---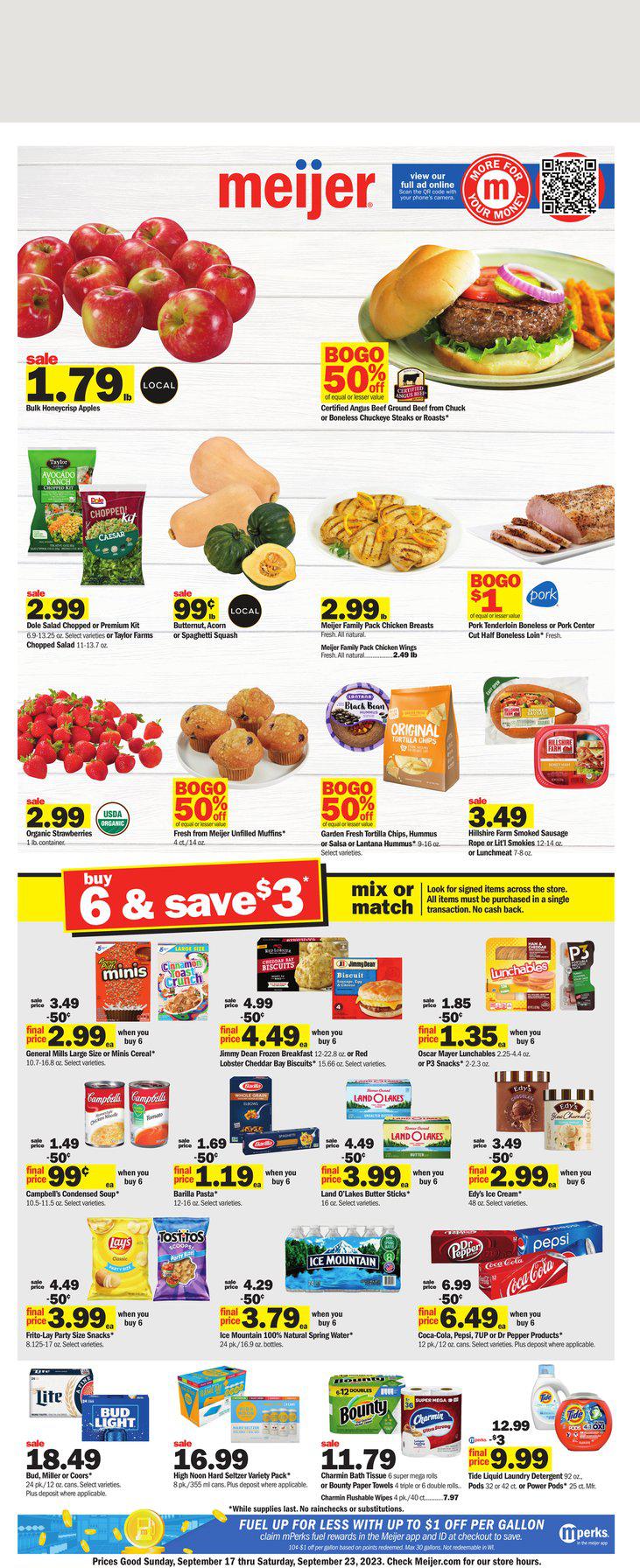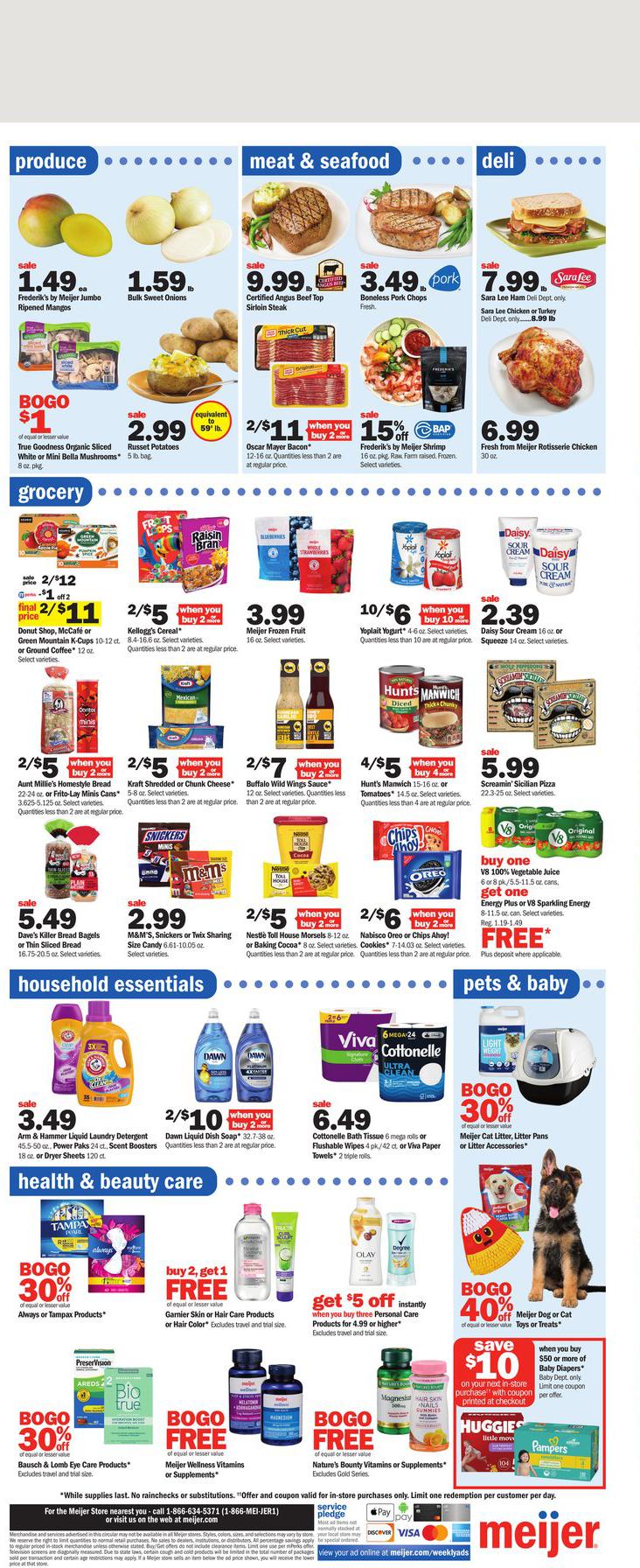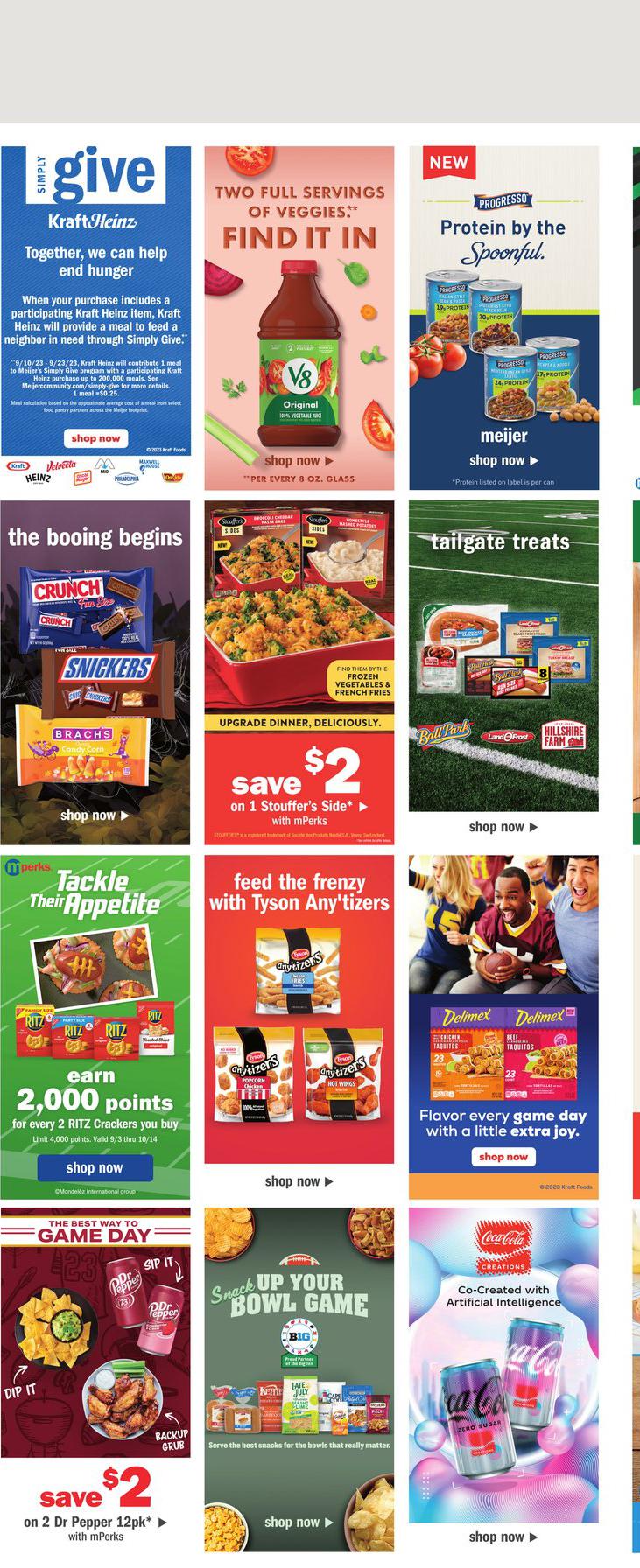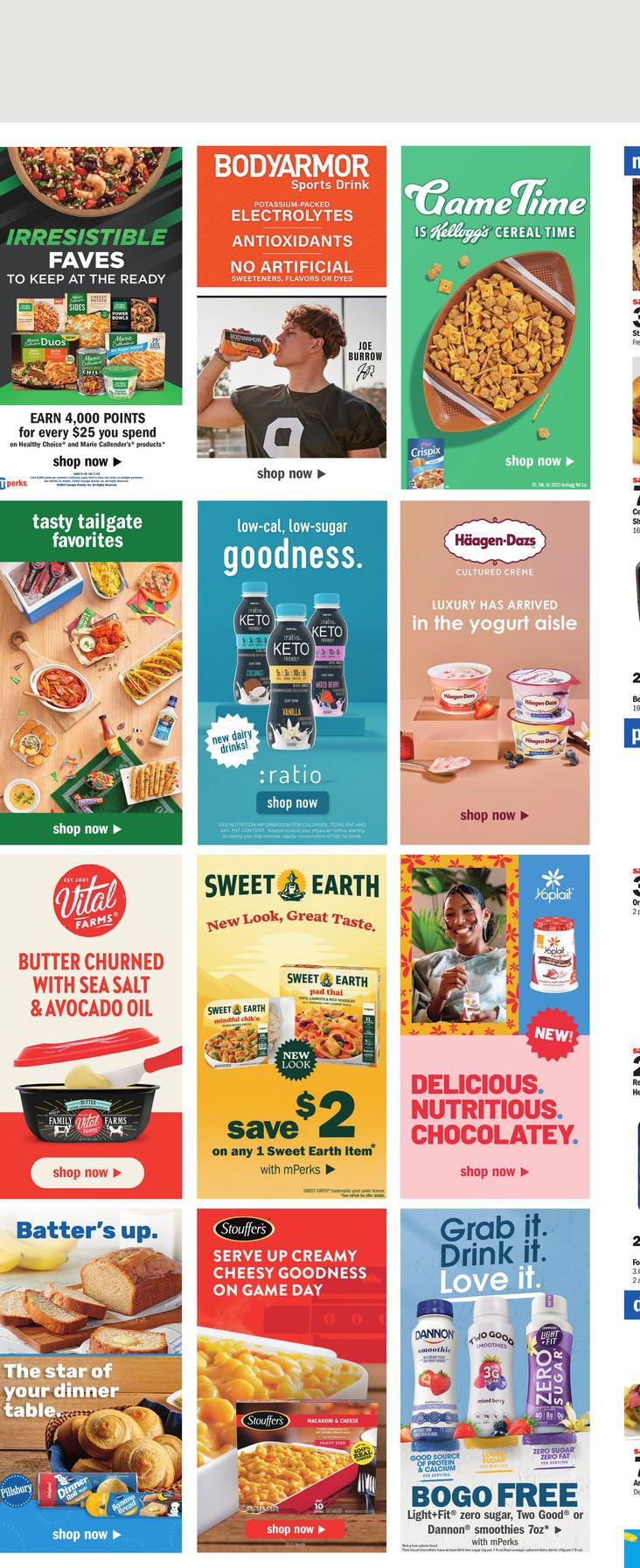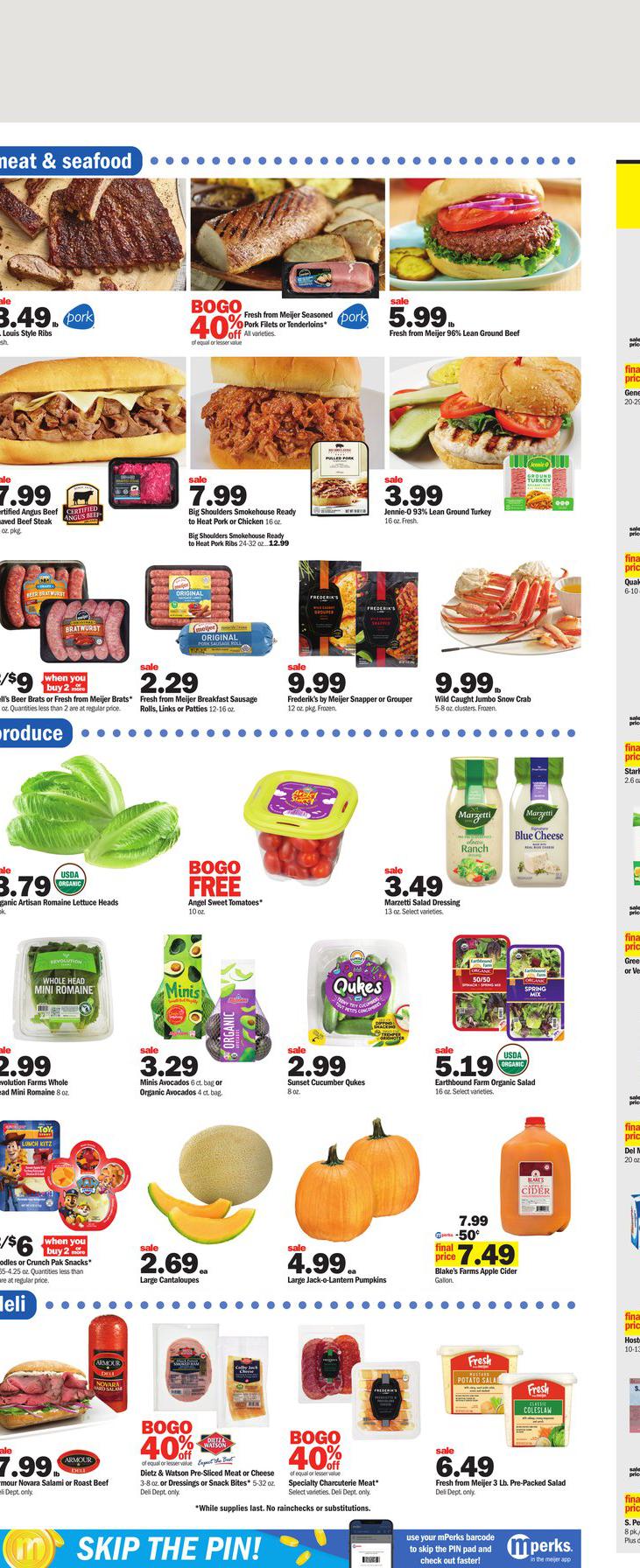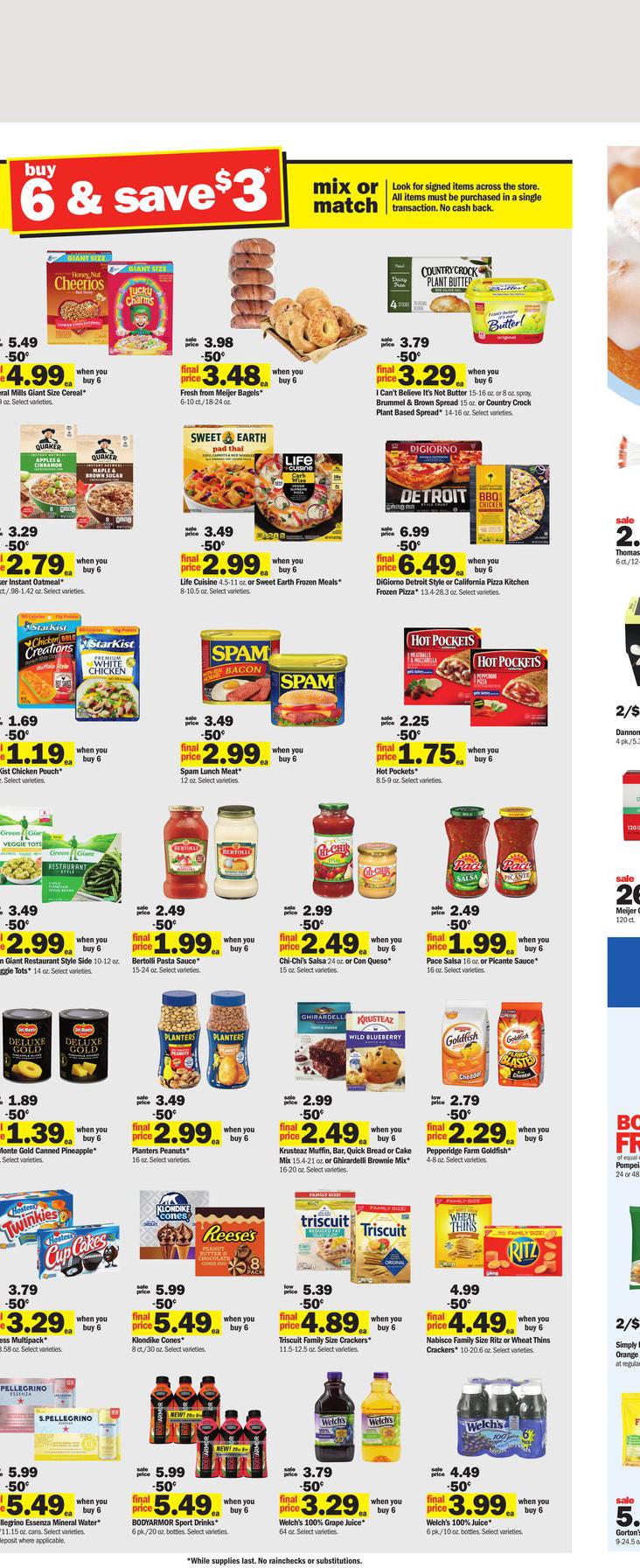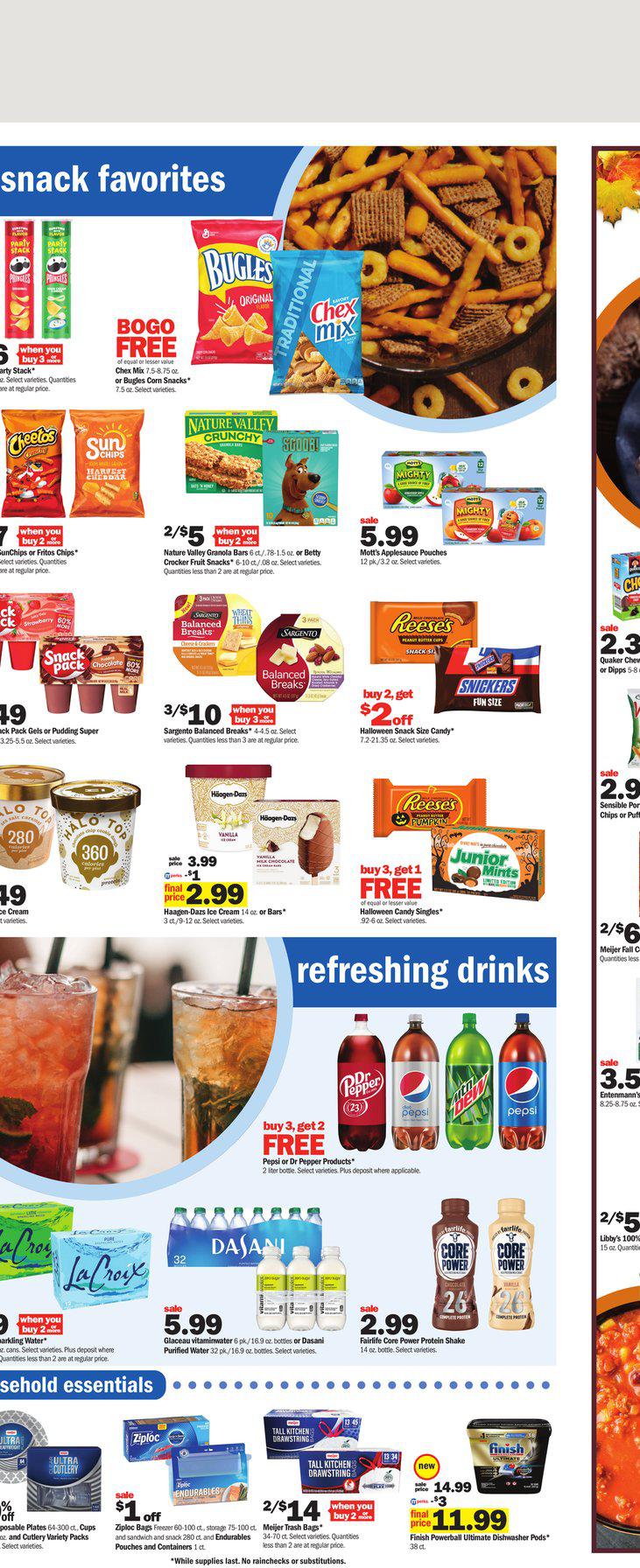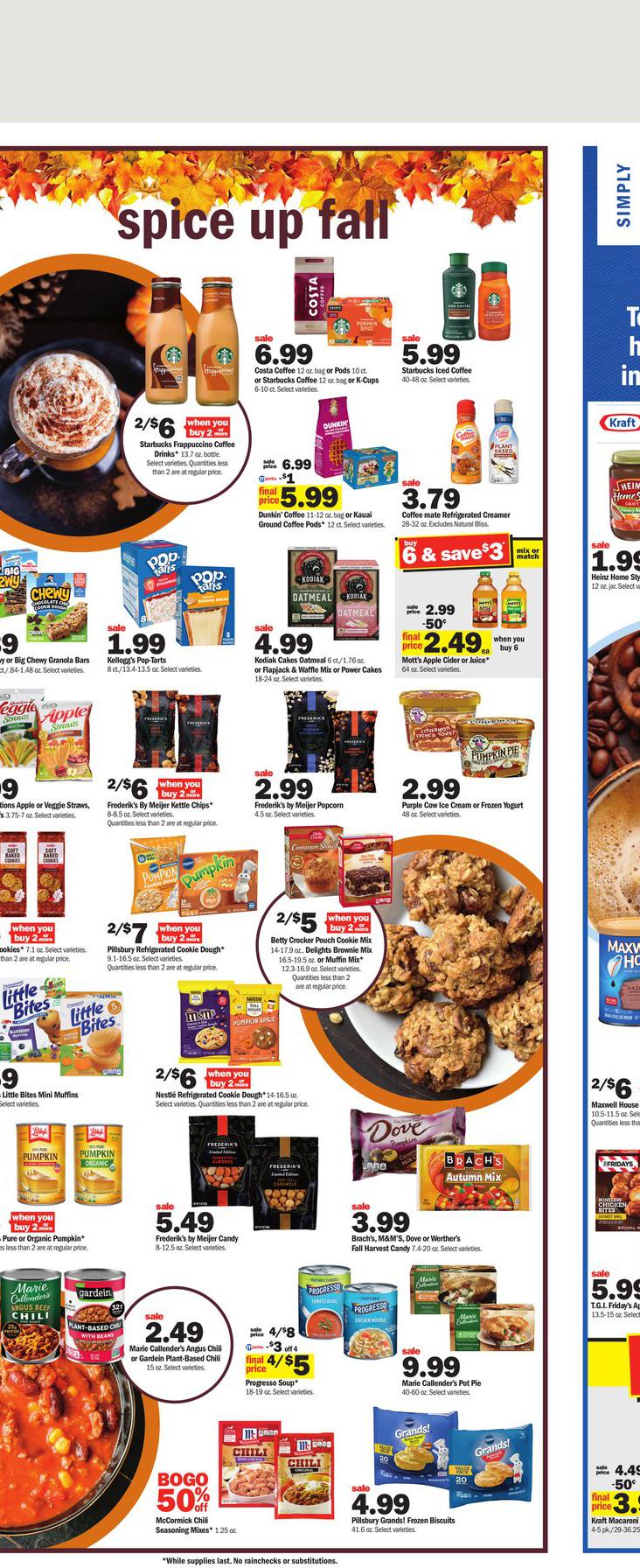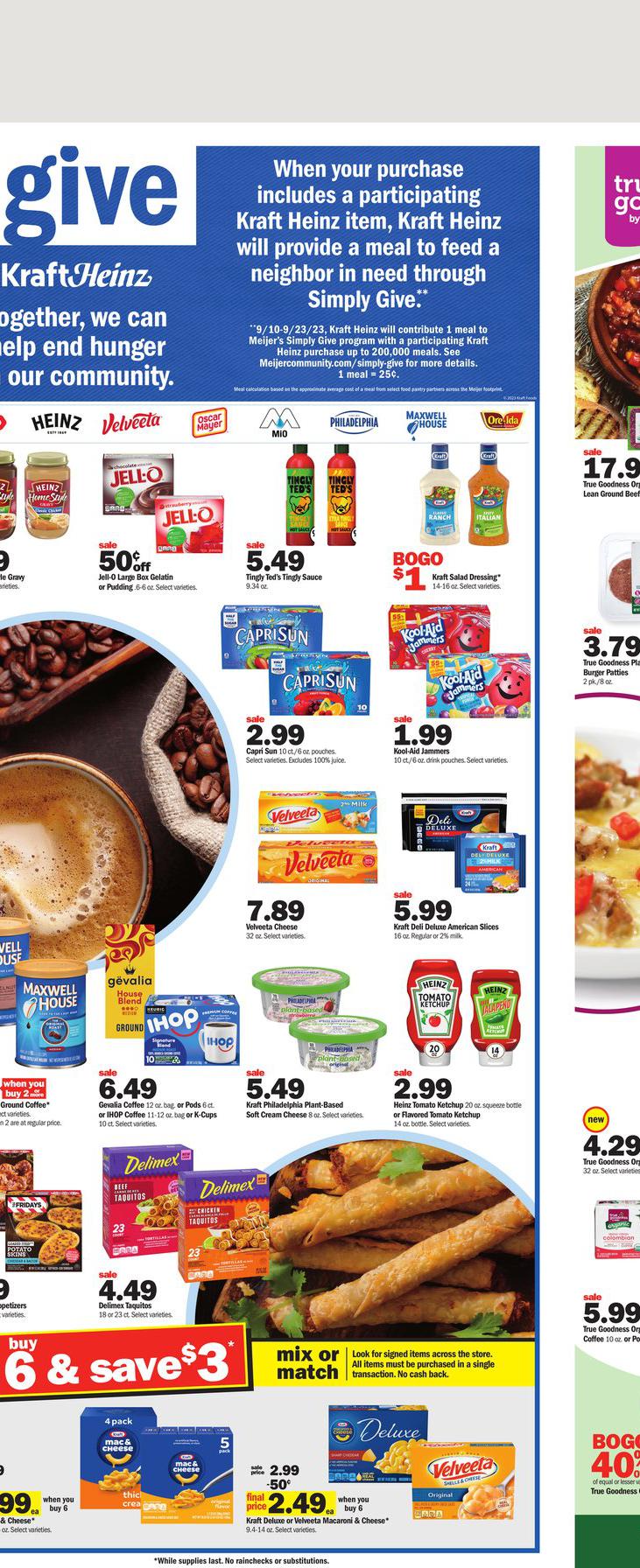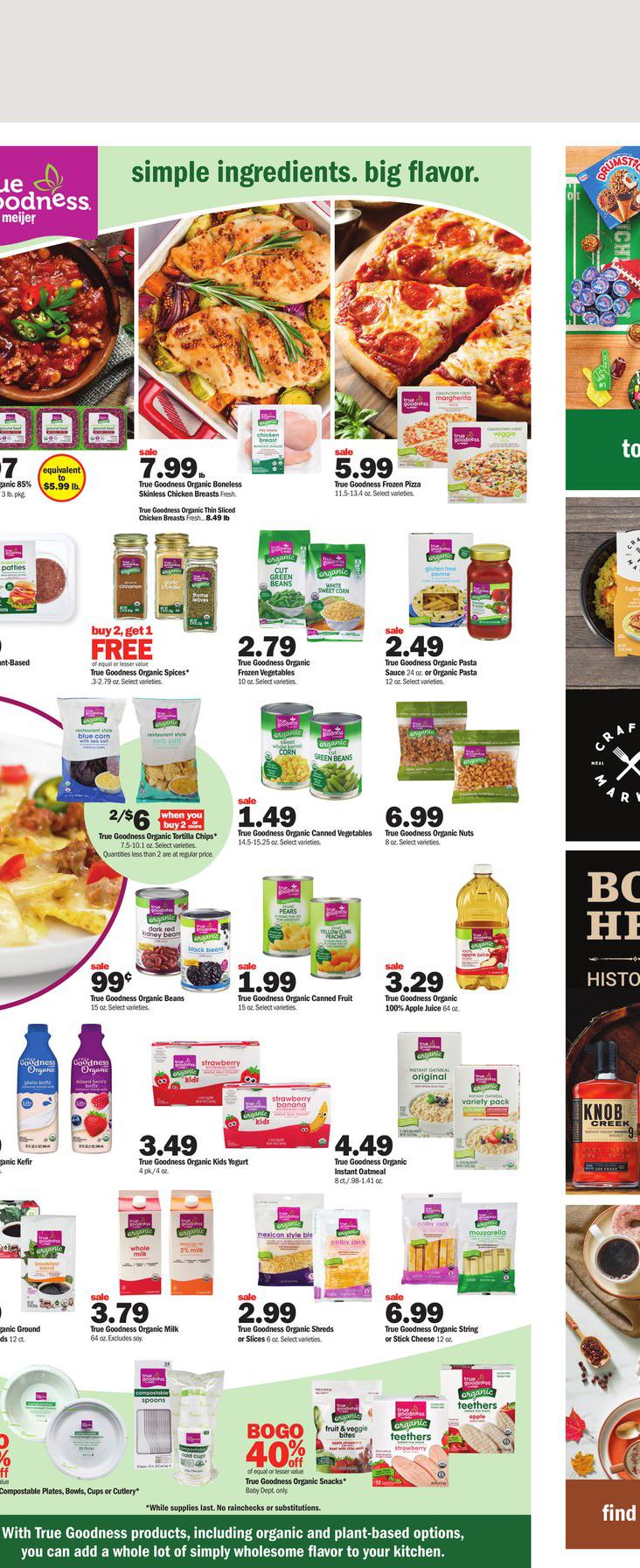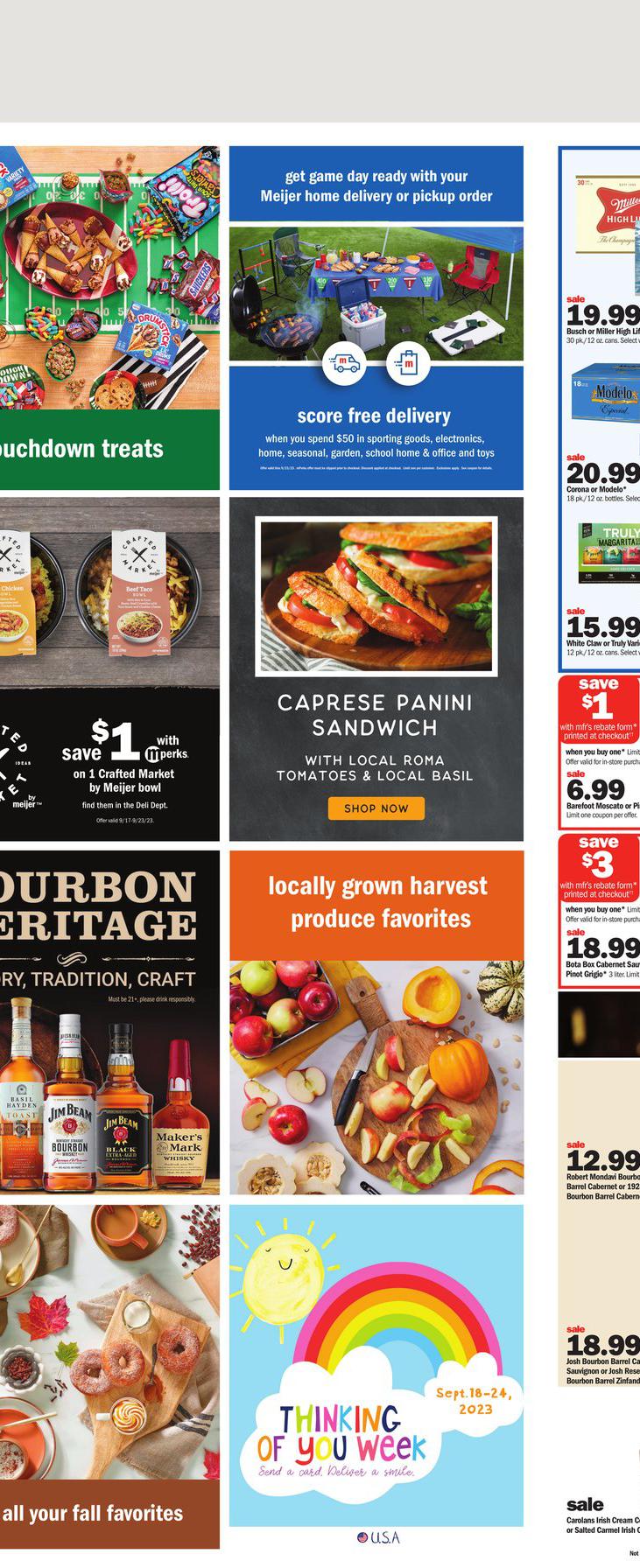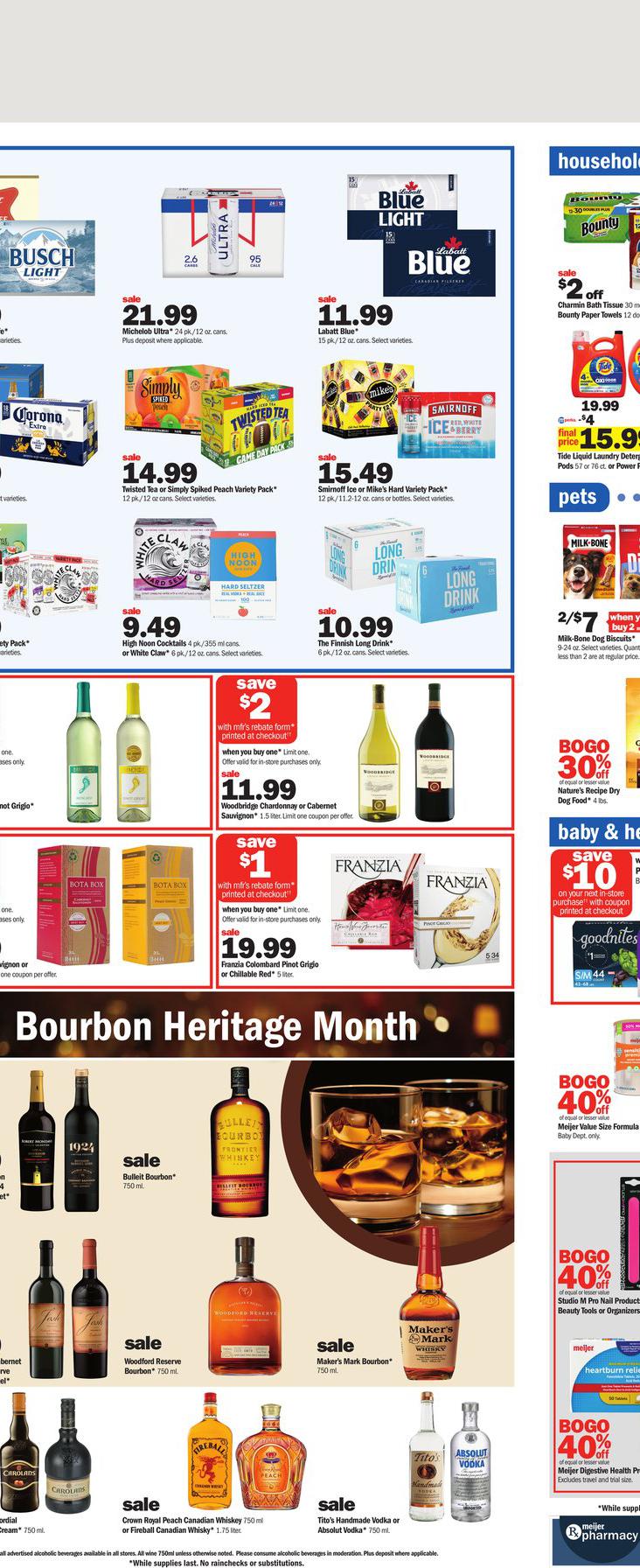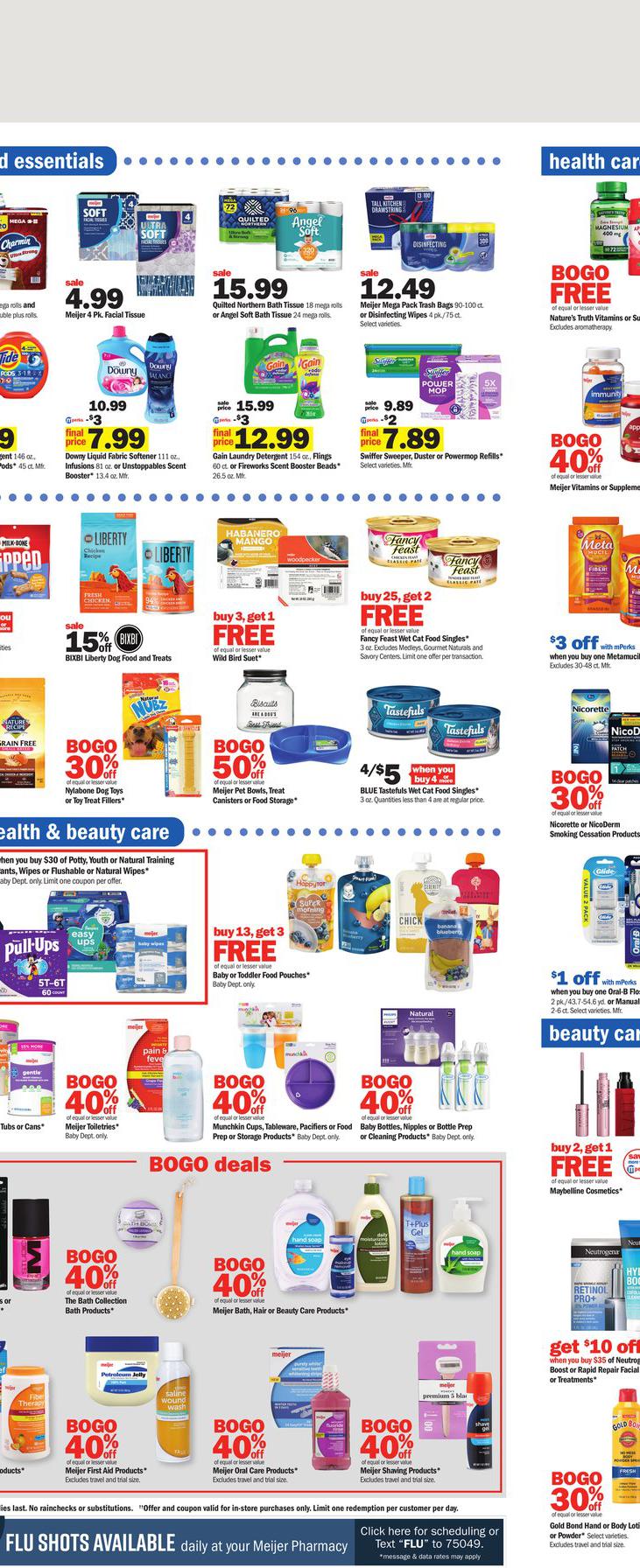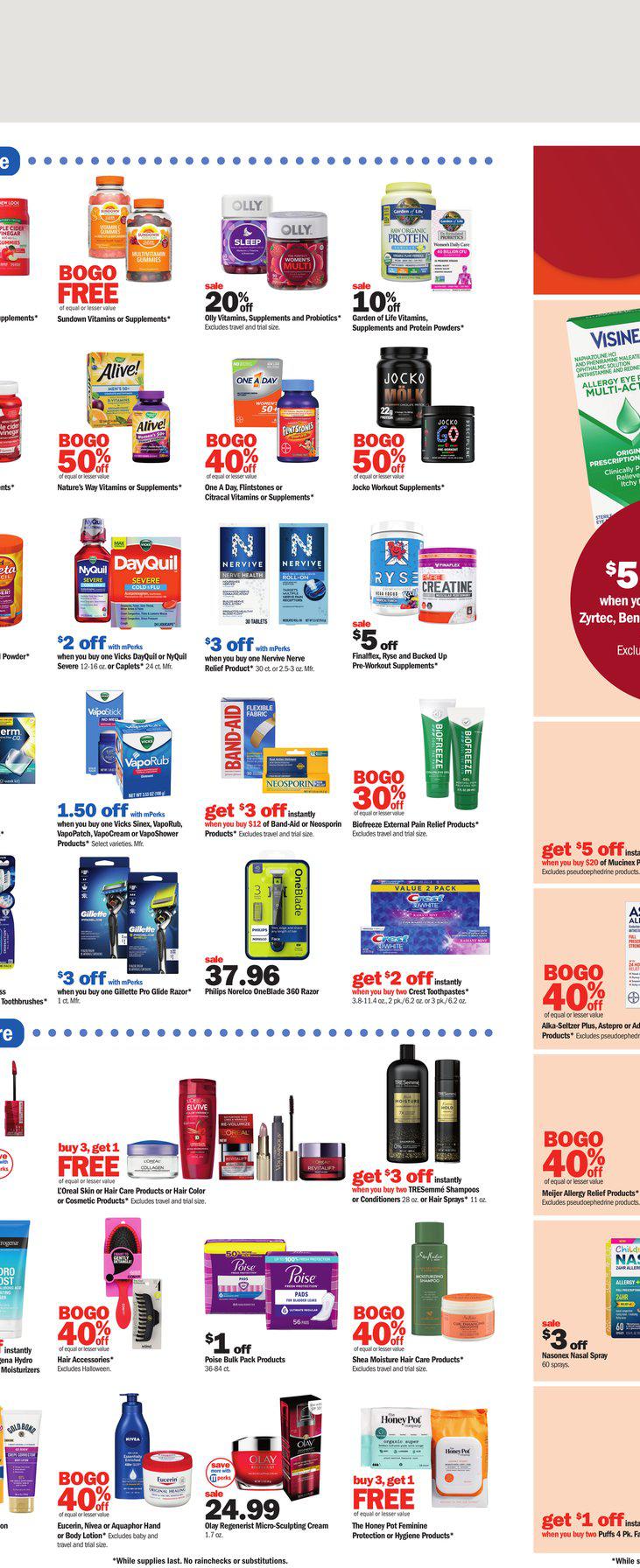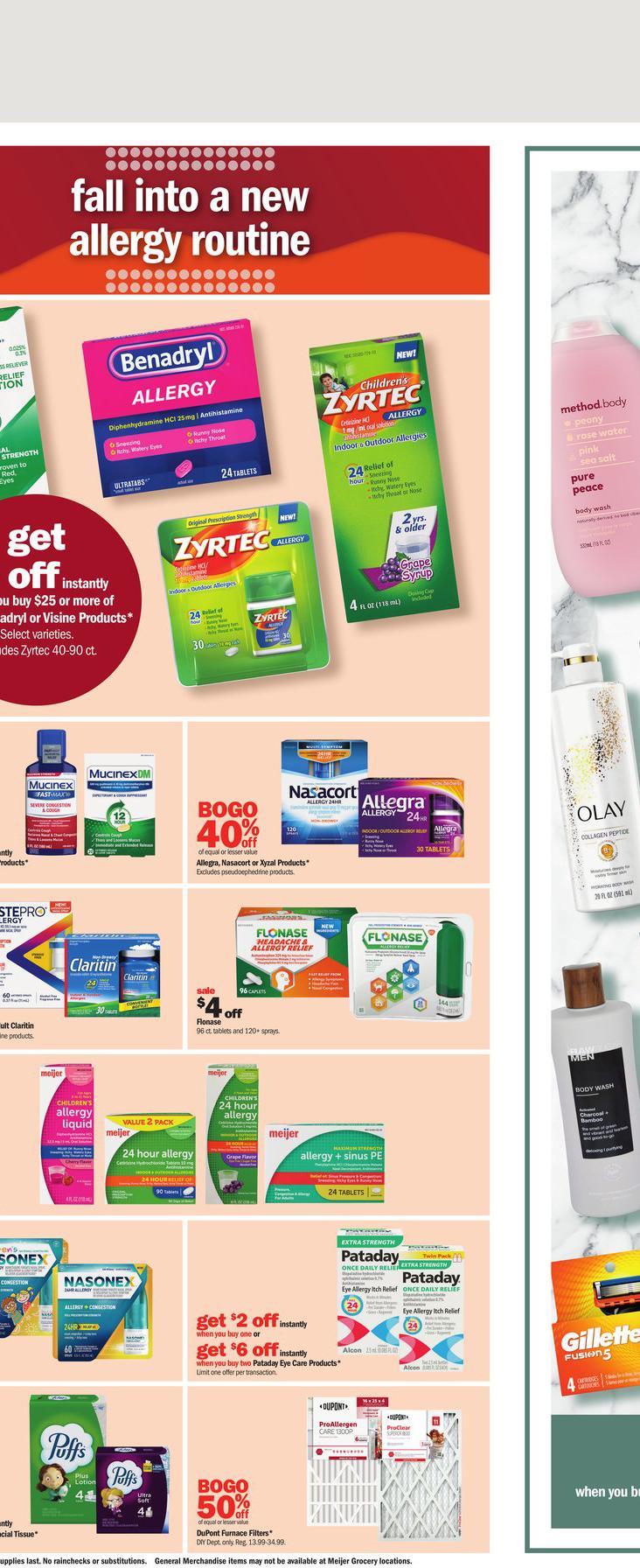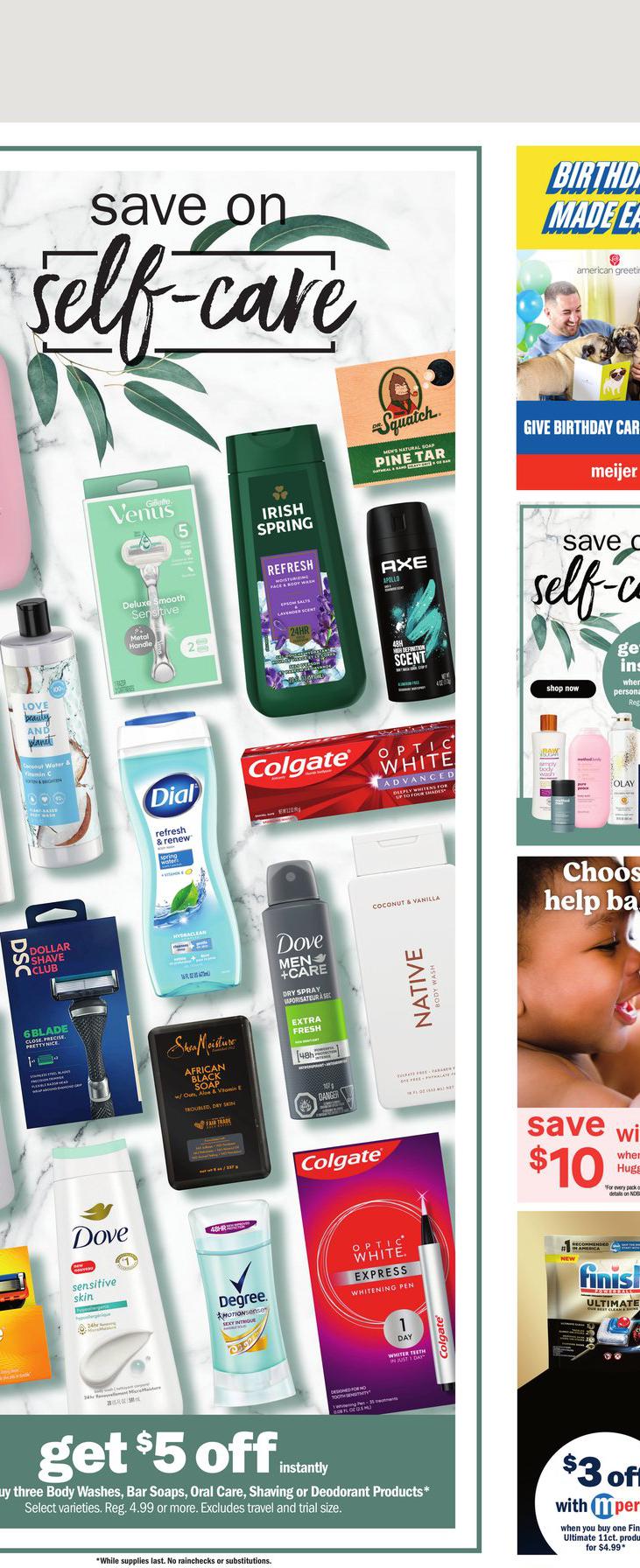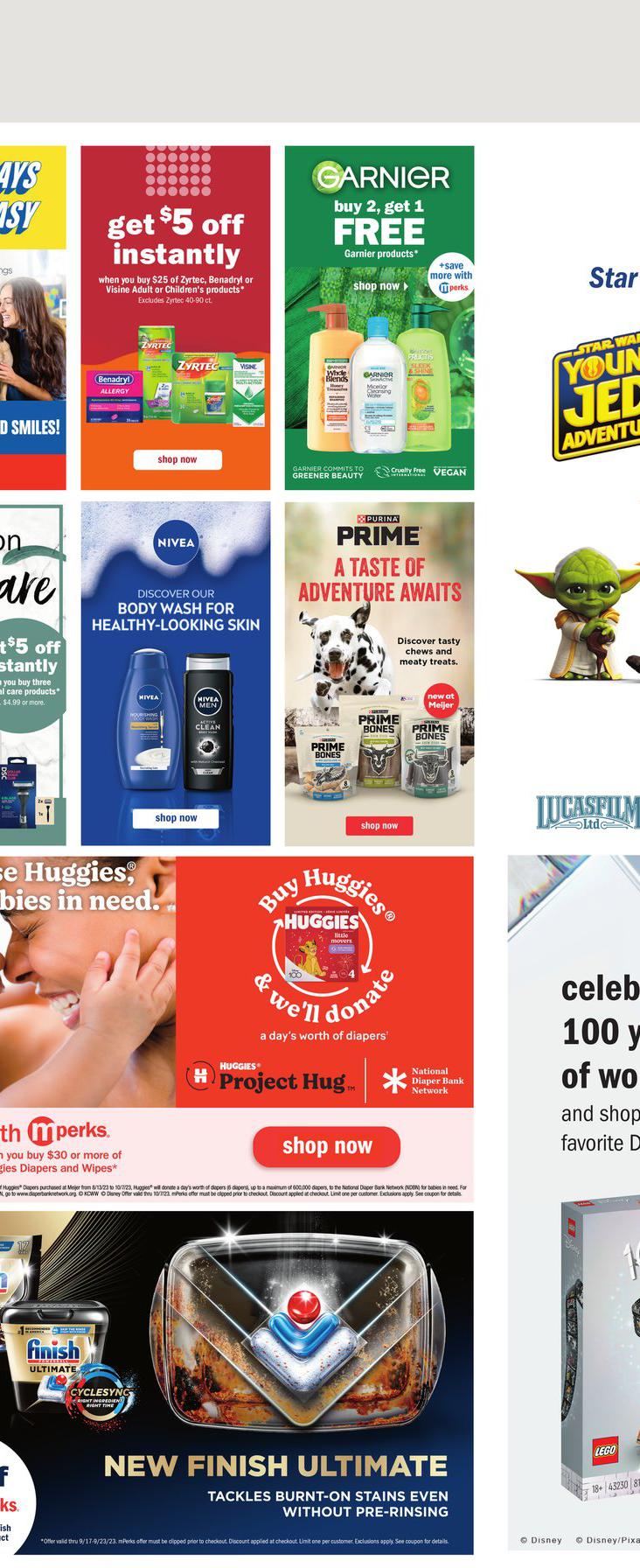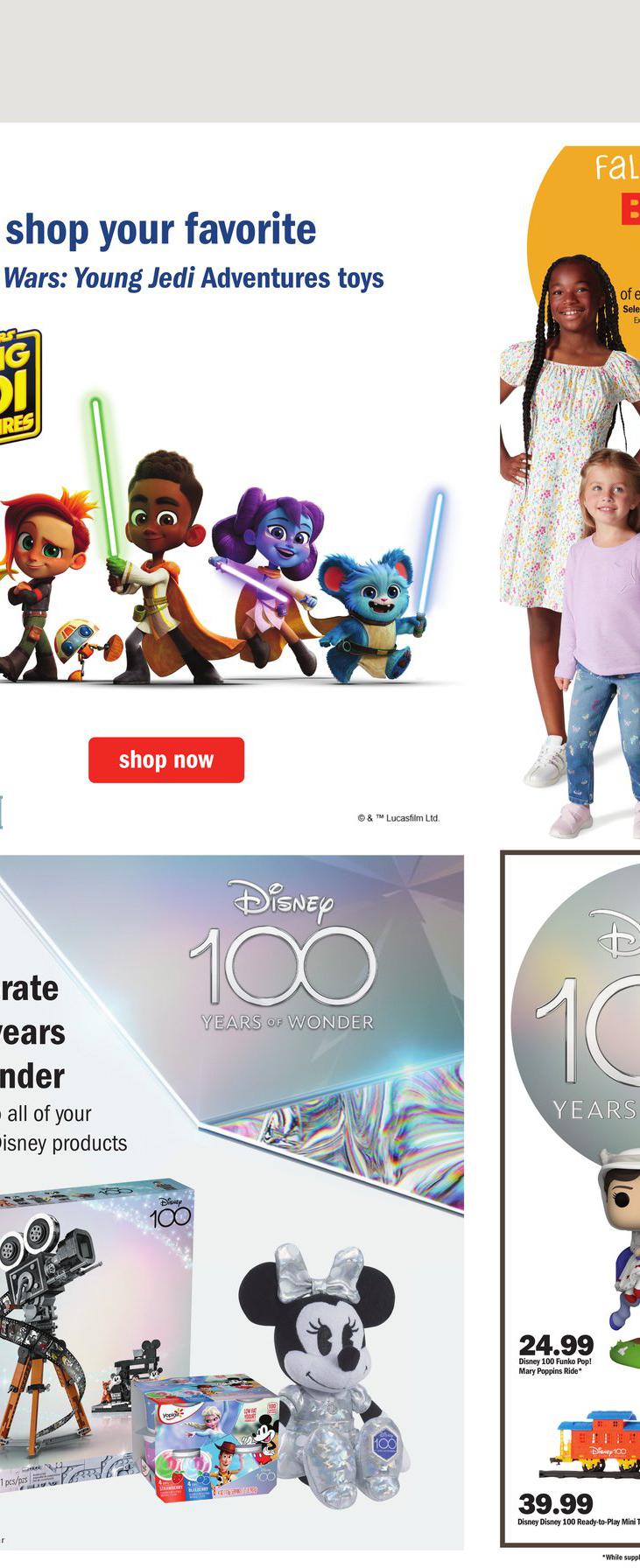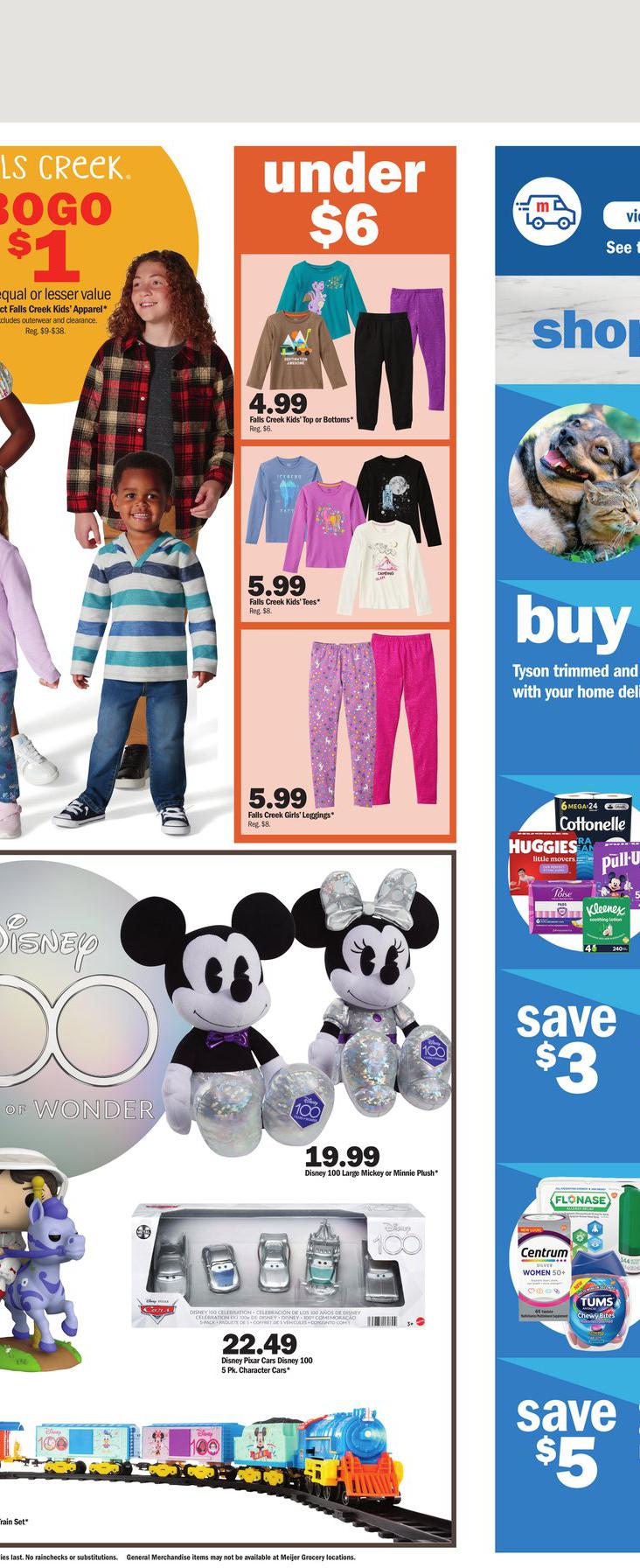 | Market | Flyer | Date |
| --- | --- | --- |
| | Growers Pick Ad | 08/25/2023 |
| | Weekly Ad | 08/27/2023 |
| | Wellness Ad | 08/27/2023 |
| | Car Tailgate Ready Ad | 08/27/2023 |
| | Weekly Ad | 09/03/2023 |
| | Hunting Ad | 09/03/2023 |
| | Tailgate Ad | 09/10/2023 |
| | Weekly Ad | 09/10/2023 |
| | Automotive Ad | 09/17/2023 |
| | Weekly Ad | 09/17/2023 |
Products in the Flyer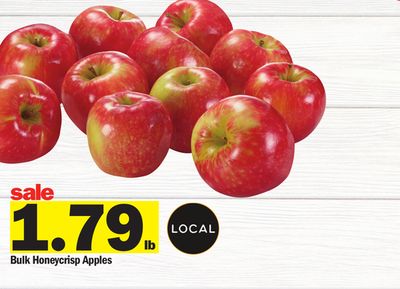 Bulk Honeycrisp Apples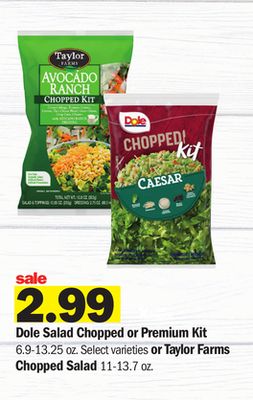 Dole Salad Chopped or Premium Kit 6.9-13.25 oz. Select varieties or Taylor Farms Chopped Salad 11.13.7 oz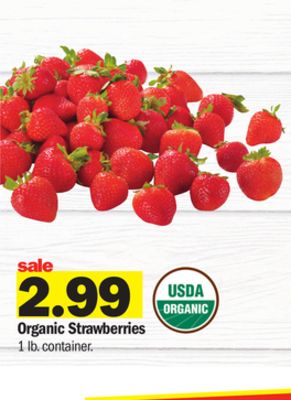 Organic Strawberries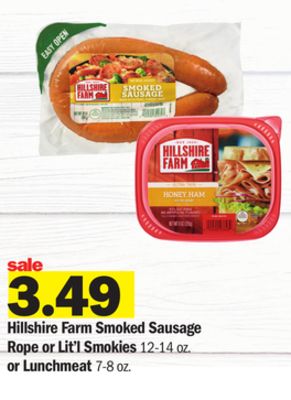 Hillshire Farm Smoked Sausage Rope or Lit'l Smokies 12-14 oz. or Lunchmeat 7-8 oz.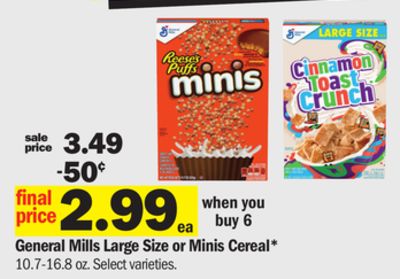 General Mills Large Size or Minis Cereal*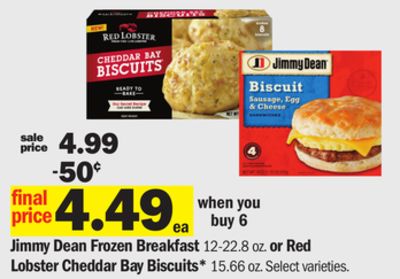 Jimmy Dean Frozen Breakfast 12-228 oz. or Red Lobster Cheddar Bay Biscuits* 15.66 oz.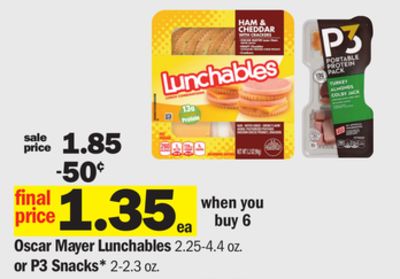 Oscar Mayer Lunchables 2.25-4.4 oz or P3 Snacks* 2-2.3 oz.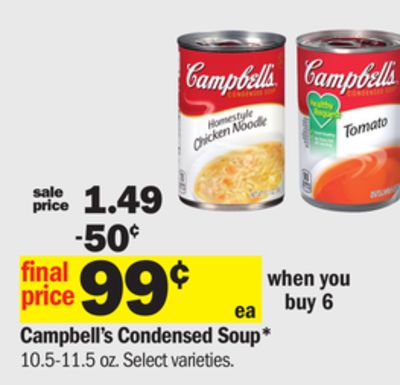 Campbell's Condensed Soup*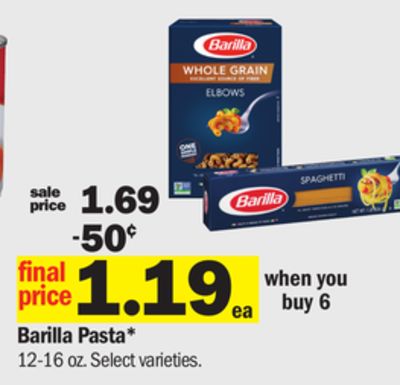 Barilla Pasta*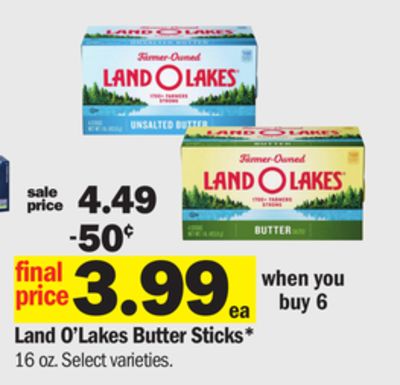 Land O'Lakes Butter Sticks*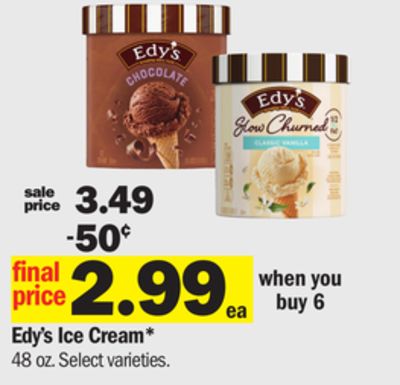 Edy's Ice Cream*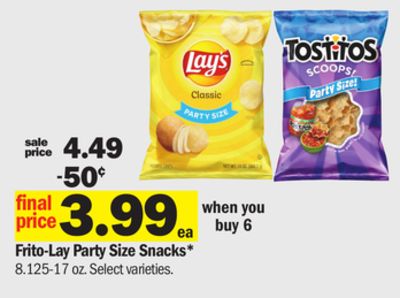 Frito-Lay Party Size Snacks*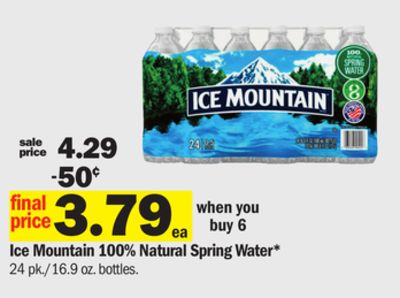 Ice Mountain 100% Natural Spring Water*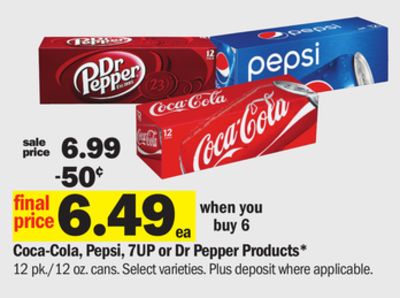 Coca-Cola, Pepsi, 7UP or Dr Pepper Products*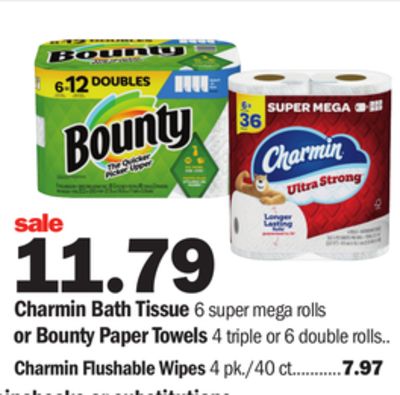 Charmin Bath Tissue 6 super mega rolls or Bounty Paper Towels 4 triple or 6 double rolls.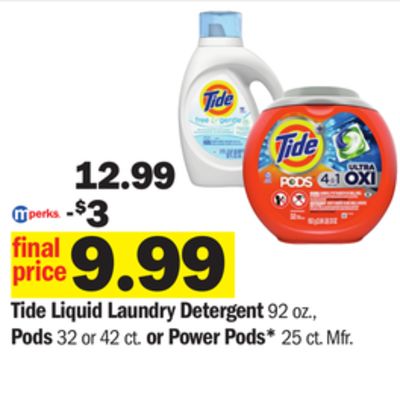 Tide Liquid Laundry Detergent 92 oz. Pods 32 or 42 ct or Power Pods* 25 ct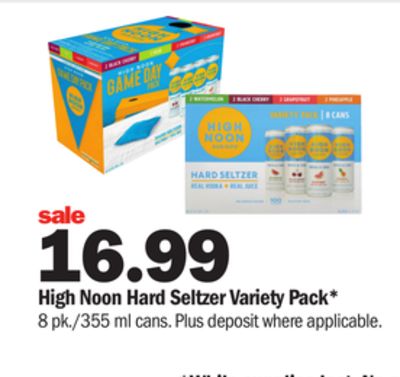 High Noon Hard Seltzer Variety Pack*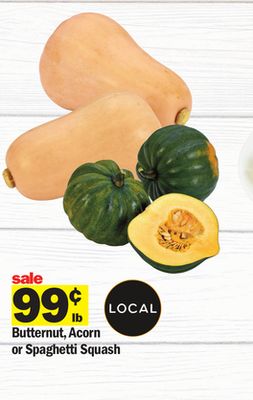 Butternut, Acorn or Spaghetti Squash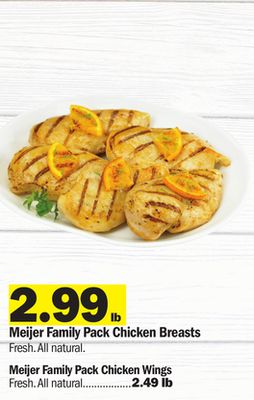 Meijer Family Pack Chicken Breasts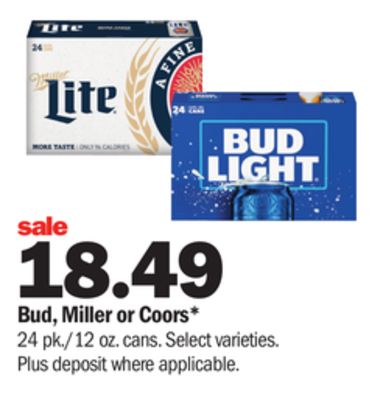 Bud, Miller or Coors*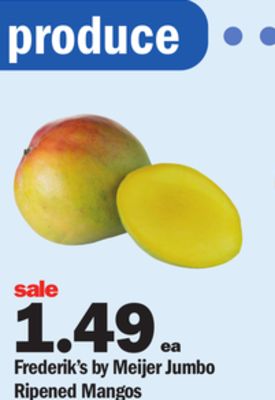 Frederik's by Meijer Jumbo Ripened Mangos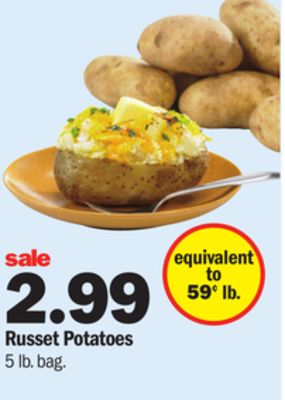 Russet Potatoes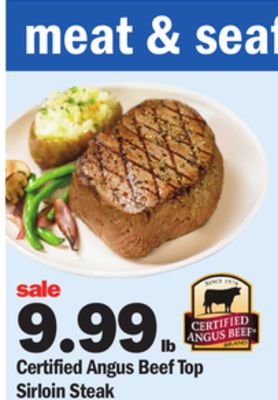 Certified Angus Beef Top Sirloin Steak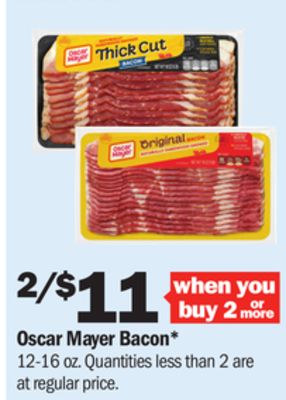 Oscar Mayer Bacon*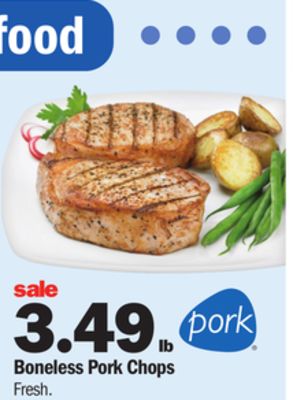 Boneless Pork Chops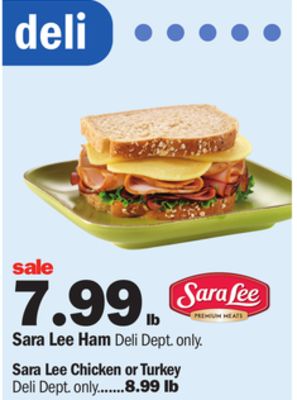 Sara Lee Ham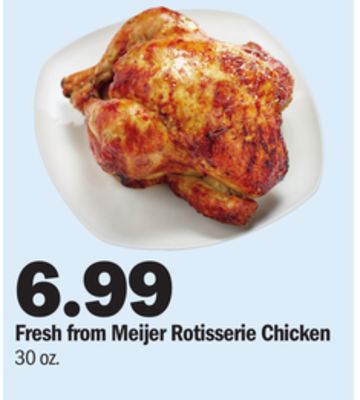 Fresh from Meijer Rotisserie Chicken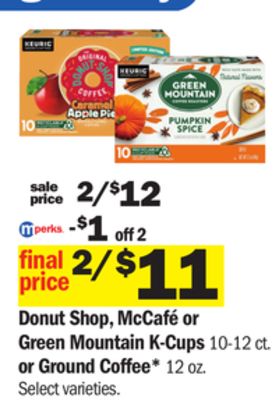 Donut Shop, McCafé or Green Mountain K-Cups 10-12 ct. or Ground Coffee* 12 oz.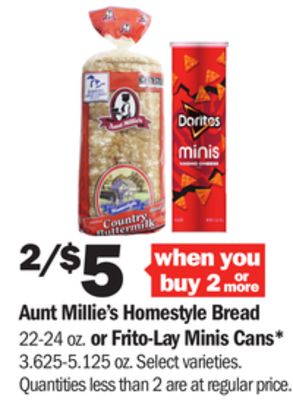 Aunt Millie's Homestyle Bread 22-24 oz. or Frito-Lay Minis Cans* 3.625-5.125 oz.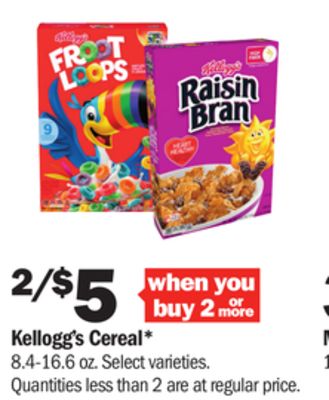 Kellogg's Cereal*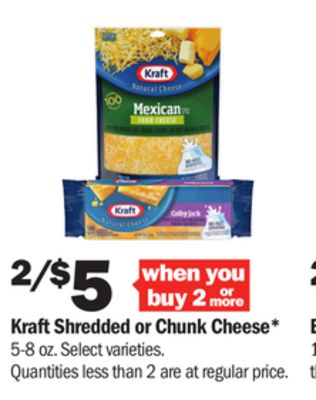 Kraft Shredded or Chunk Cheese*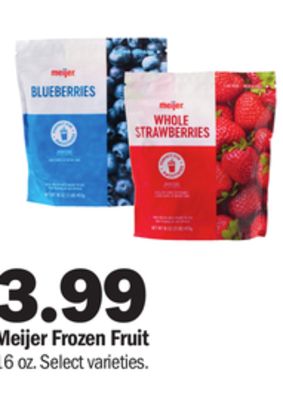 Meijer Frozen Fruit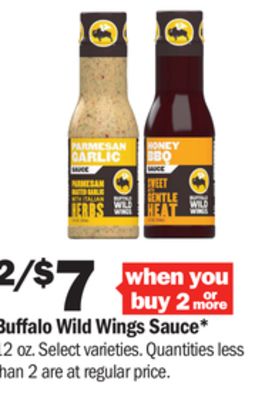 Buffalo Wild Wings Sauce*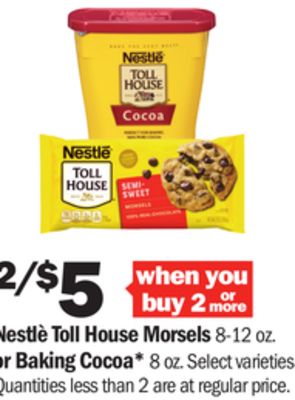 Nestlé Toll House Morsels 8-12 oz. or Baking Cocoa* 8 oz.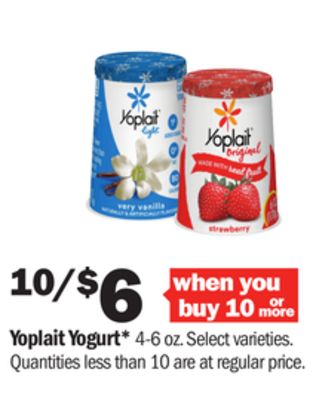 Yoplait Yogurt*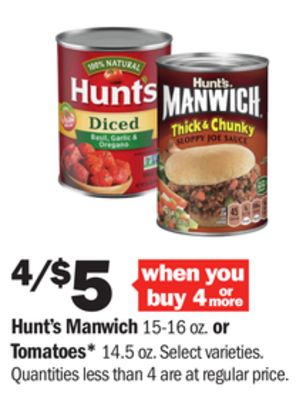 Hunt's Manwich 15-16 01. or Tomatoes* 14.5 oz.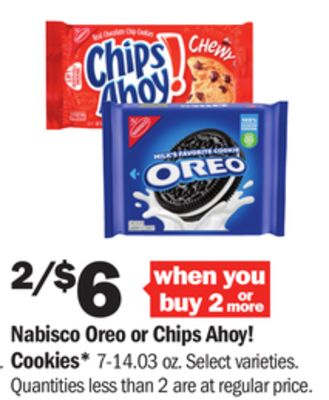 Nabisco Oreo or Chips Ahoy! Cookies*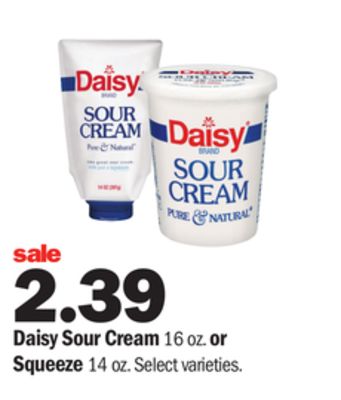 Daisy Sour Cream 16 oz. or Squeeze 14 oz.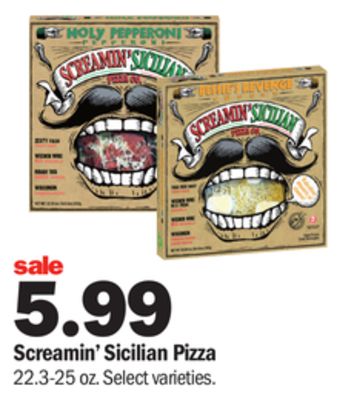 Screamin' Sicilian Pizza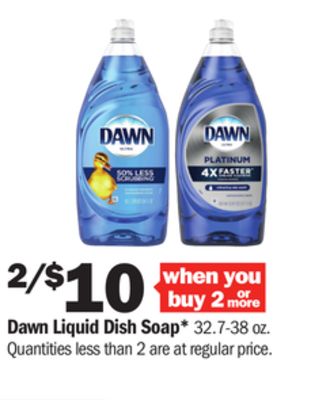 Dawn Liquid Dish Soap*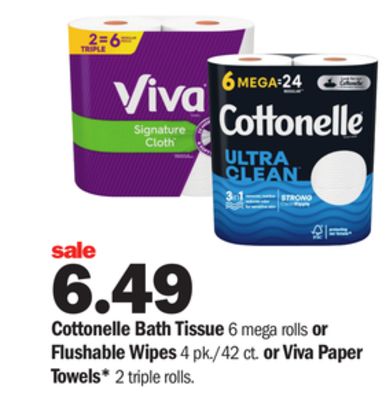 Cottonelle Bath Tissue 6 mega rolls or Flushable Wipes 4 pk./ 42 ct. or Viva Paper Towels* 2 triple rolls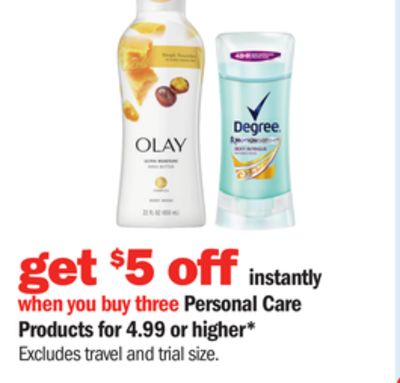 Personal Care Products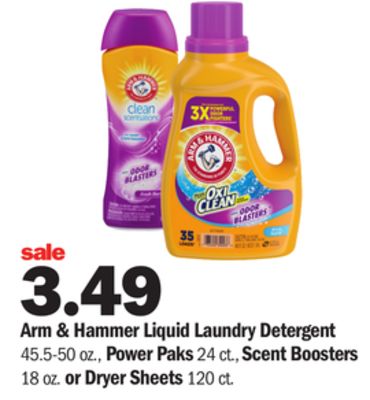 Arm & Hammer Liquid Laundry Detergent 45.5-50 oz., Power Paks 24 ct., Scent Boosters 18 oz. or Dryer Sheets 120 ct.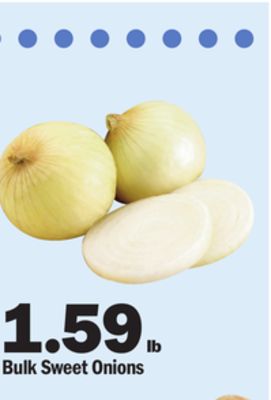 Bulk Sweet Onions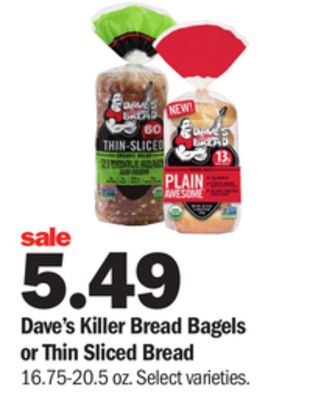 Dave's Killer Bread Bagels or Thin Sliced Bread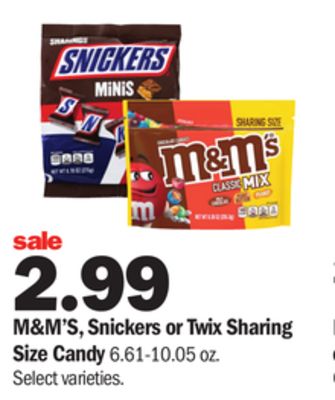 M&M'S, Snickers or Twix Sharing Size Candy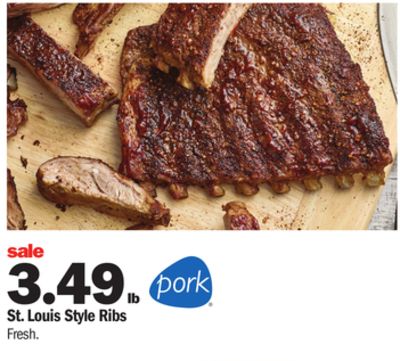 St. Louis Style Ribs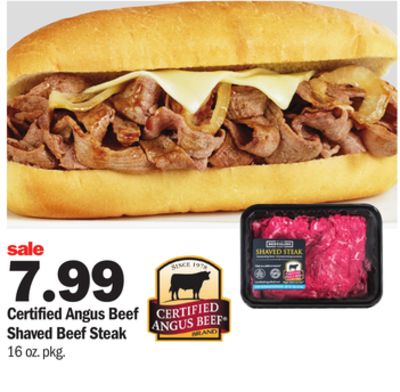 Certified Angus Beef Shaved Beef Steak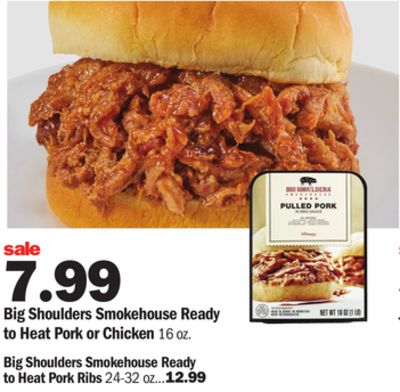 Big Shoulders Smokehouse Ready to Heat Pork or Chicken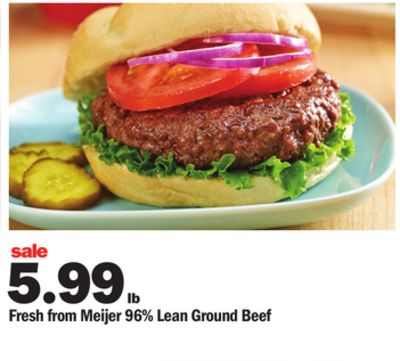 Fresh from Meijer 96% Lean Ground Beef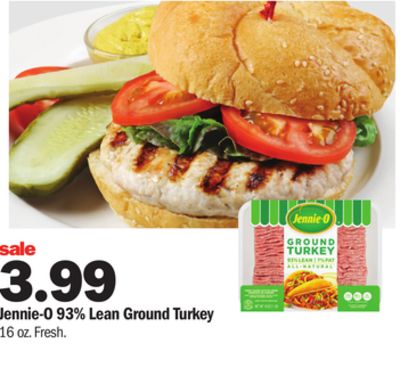 Jennie-O 93% Lean Ground Turkey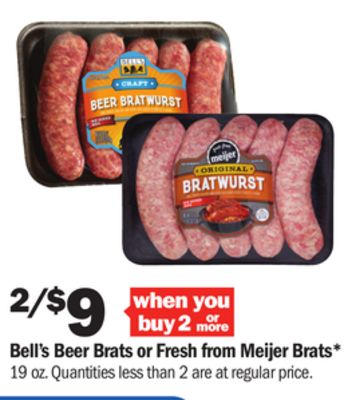 Bell's Beer Brats or Fresh From Meijer Brats*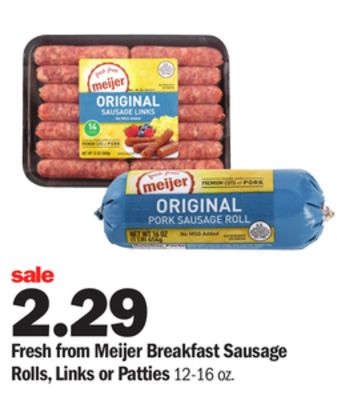 Fresh from Meijer Breakfast Sausage Rolls, Links or Patties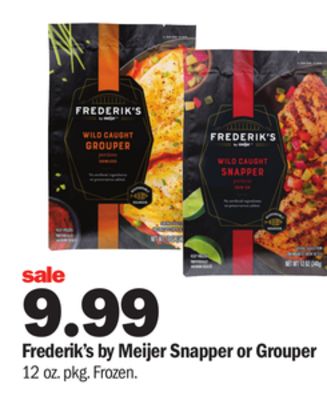 Frederik's by Meijer Snapper or Grouper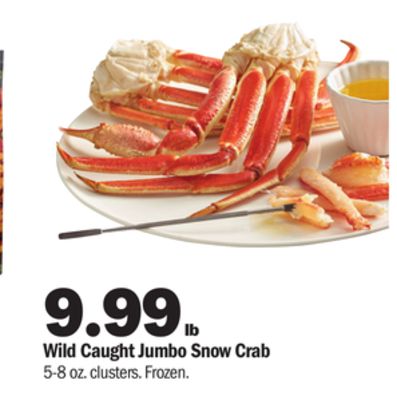 Wild Caught Jumbo Snow Crab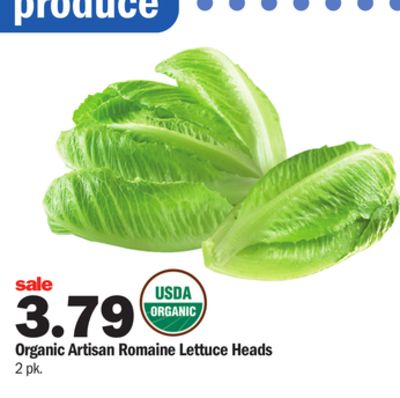 Organic Artisan Romaine Lettuce Heads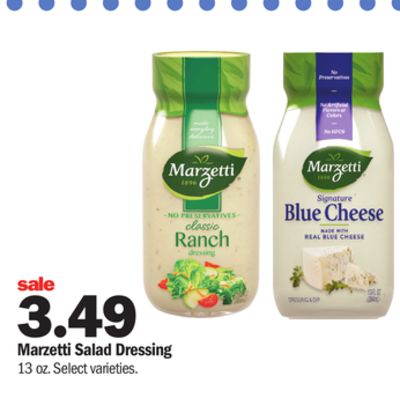 Marzetti Salad Dressing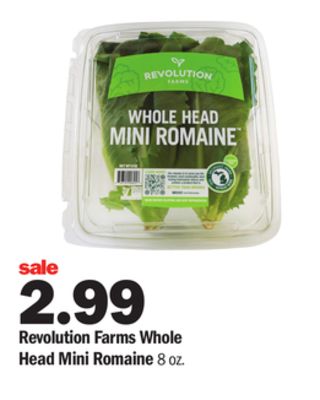 Revolution Farms Whole Head Mini Romaine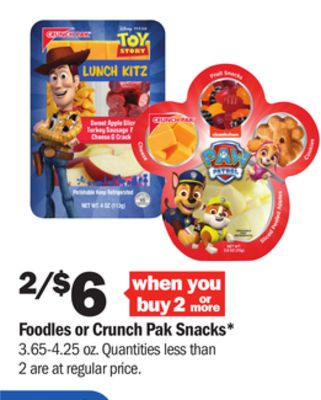 Foodles or Crunch Pak Snacks*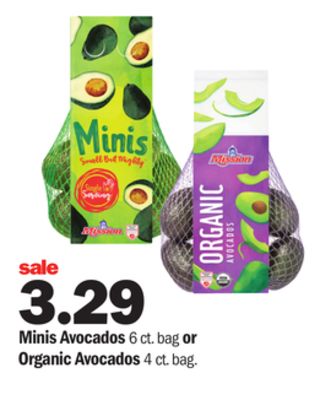 Minis Avocados 6 ct. bag or Organic Avocados 4 ct. bag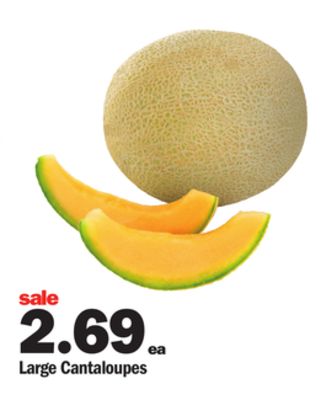 Large Cantaloupes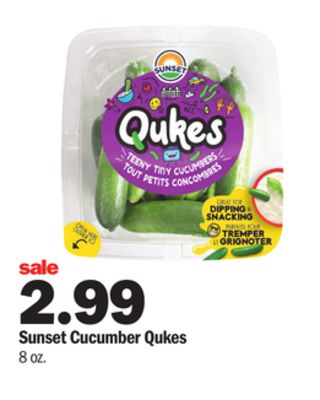 Sunset Cucumber Qukes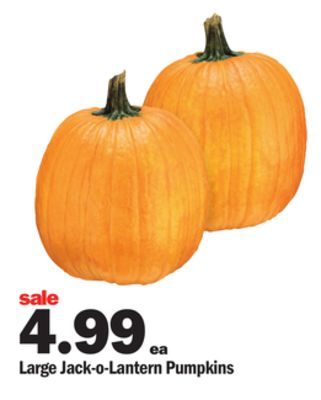 Large Jack-o-Lantern Pumpkins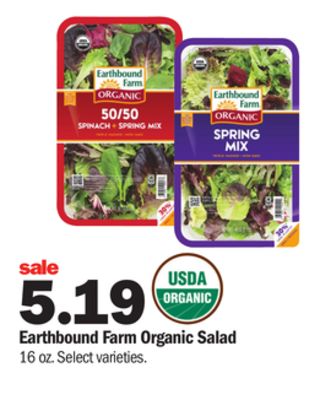 Earthbound Farm Organic Salad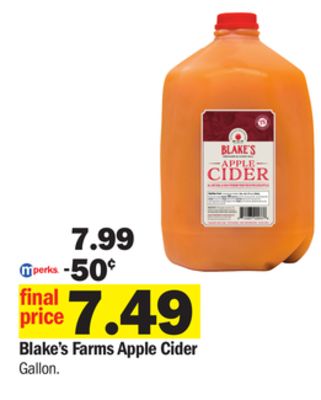 Blake's Farms Apple Cider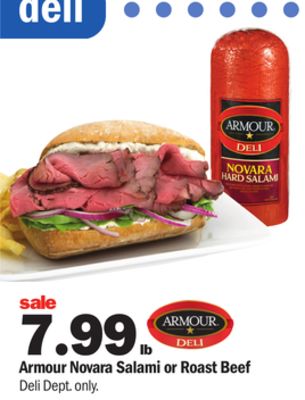 Armour Novara Salami or Roast Beef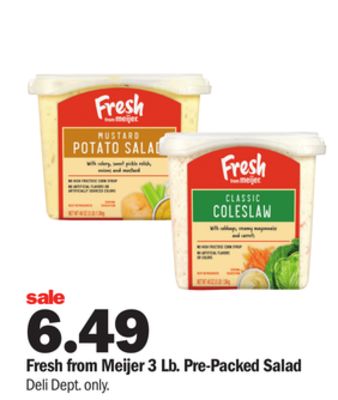 Fresh from Meijer 3 Lb. Pre-Packed Salad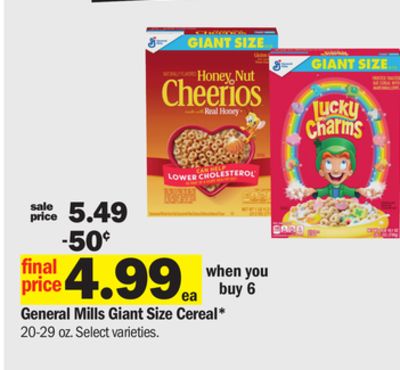 General Mills Giant Size Cereal*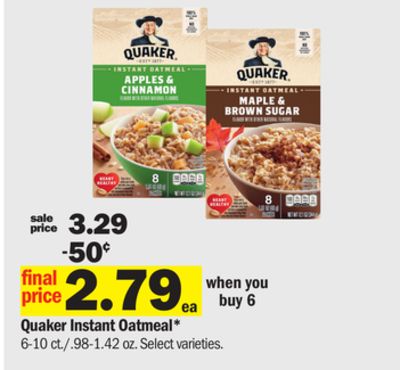 Quaker Instant Oatmeal*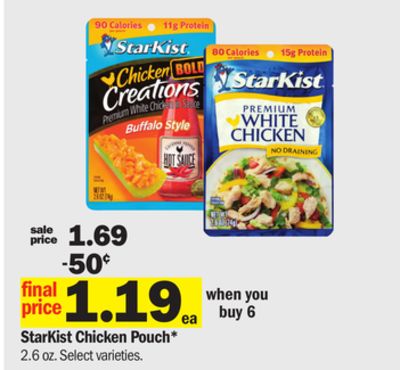 StarKist Chicken Pouch*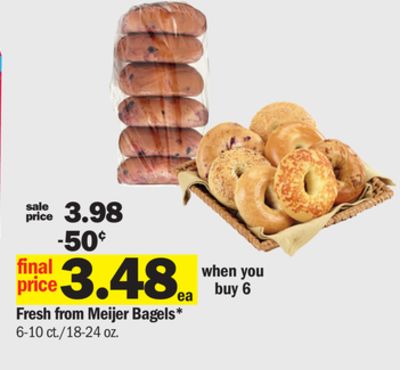 Fresh from Meijer Bagels*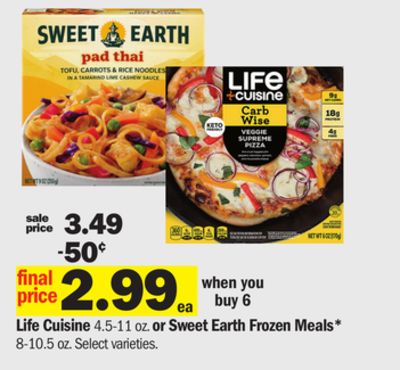 Life Cuisine 4.5-11 oz. or Sweet Earth Frozen Meals* 8-10.5 oz.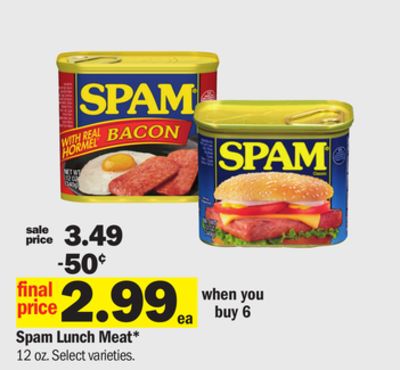 Spam Lunch Meat*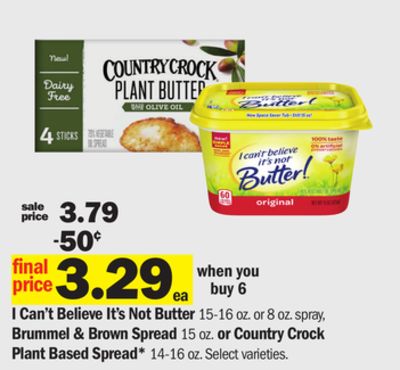 I Can't Believe It's Not Butter 15-16 01. or802. spray. Brummel & Brown Spread 15 oz. or Country Crock Plant Based Spread' 14-16 oz.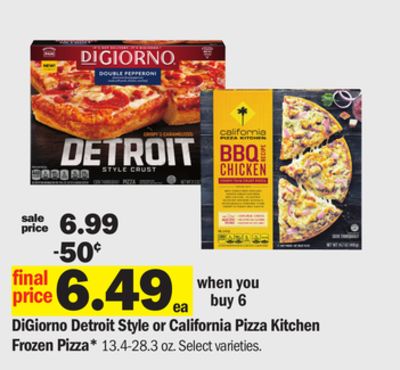 Digiorno Detroit Style or California Pizza Kitchen Frozen Pizza*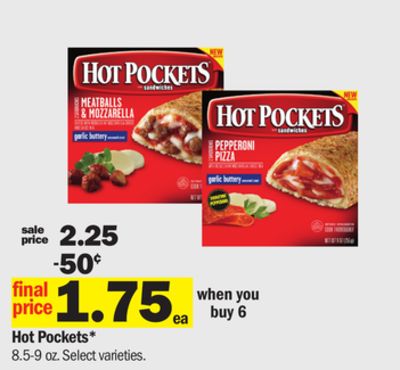 Hot Pockets*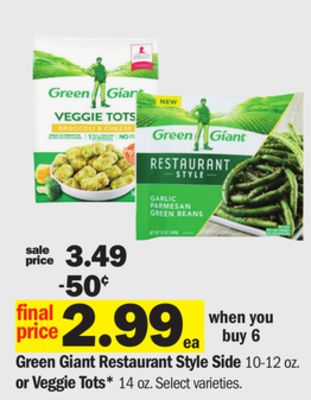 Green Giant Restaurant Style Sides 10-12 oz or Veggie Tots* 14 oz.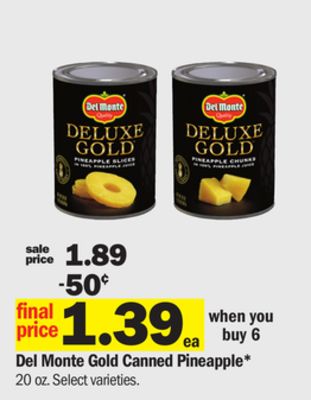 Del Monte Gold Canned Pineapple*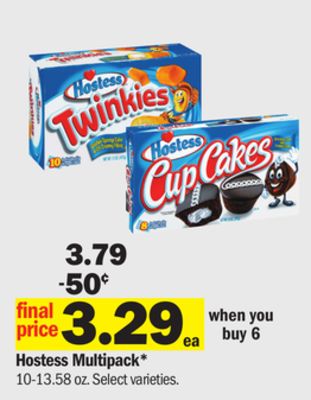 Hostess Multipack*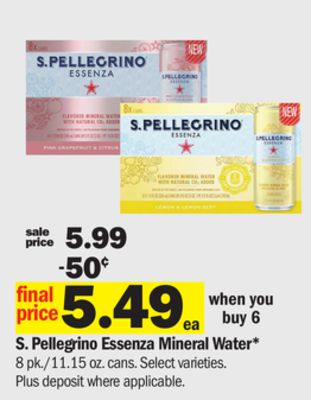 S. Pellegrino Essenza Mineral Water*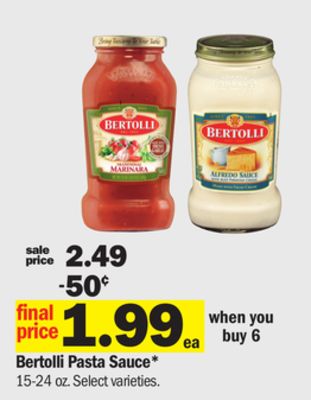 Bertolli Pasta Sauce*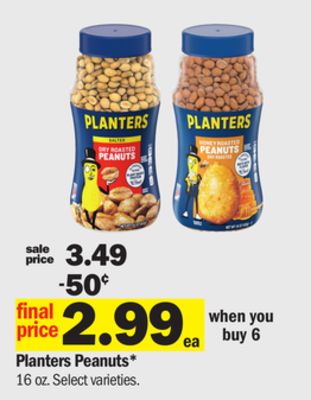 Planters Peanuts*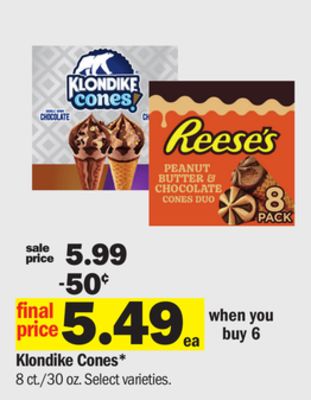 Klondike Cones*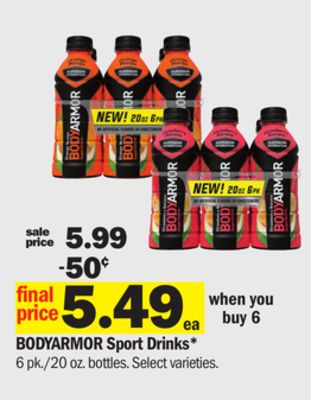 BODYARMOR Sport Drinks*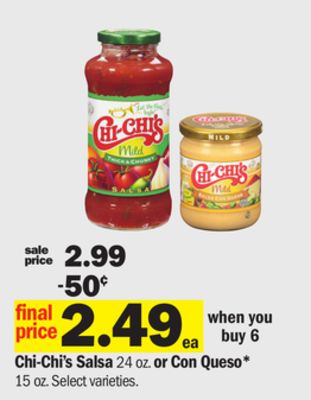 Chi-Chi's Salsa 24 oz. or Con Queso* 15 oz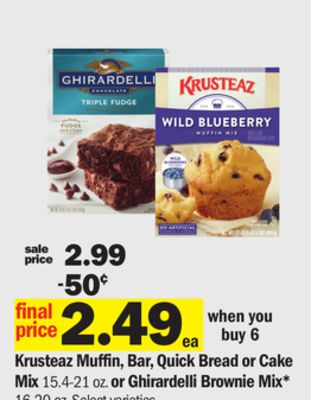 Krusteaz Muffin, Bar, Quick Bread or Cake Mix 154-21 02. or Ghirardelli Brownie Mix 16.20 oz.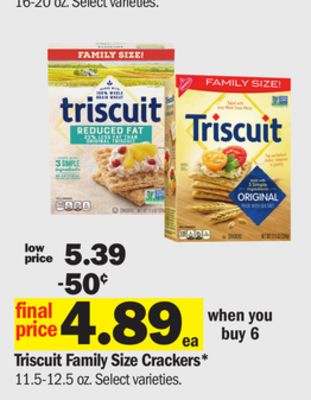 Triscuit Family Size Crackers*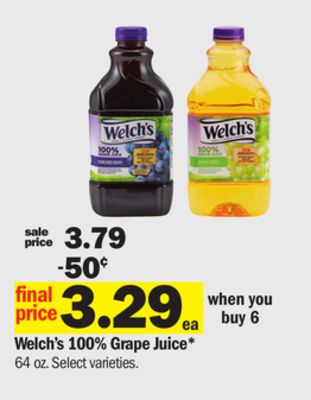 Welch's 100% Grape Juice*
Pace Salsa 16 oz. or Picante Sauce* 16 oz..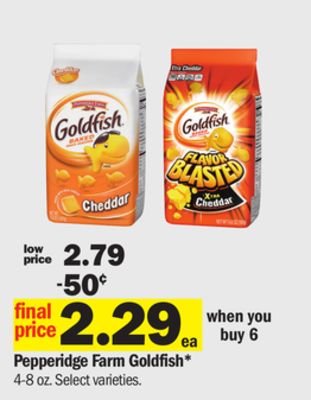 Pepperidge Farm Goldfish*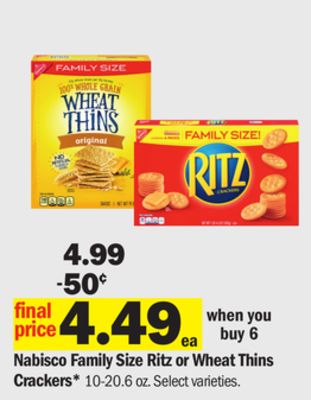 Nabisco Family Size Ritz or Wheat Thins Crackers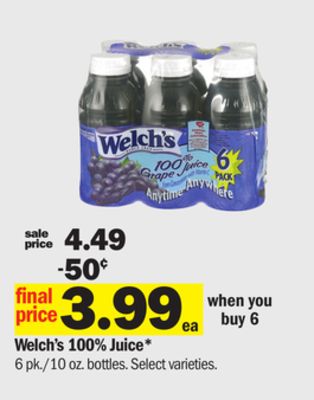 Welch's 100% Juice*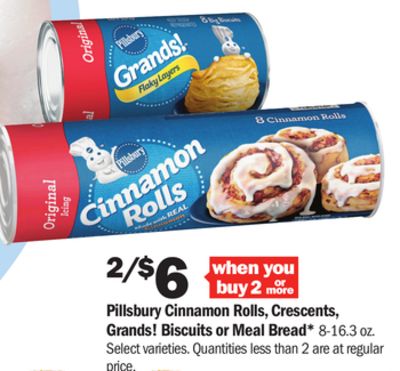 Pillsbury Cinnamon Rolls, Crecents, Grands Biscuits or Meal bread*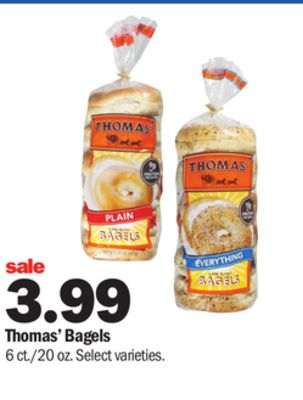 Thomas' Bagels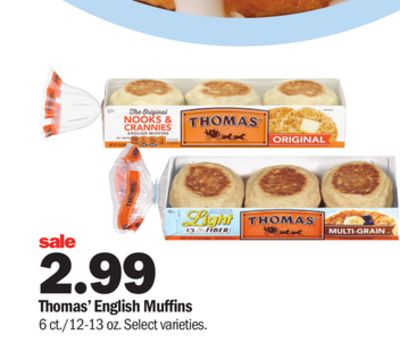 Thomas' English Muffins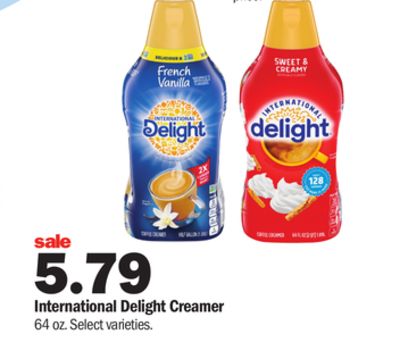 International Delight Creamer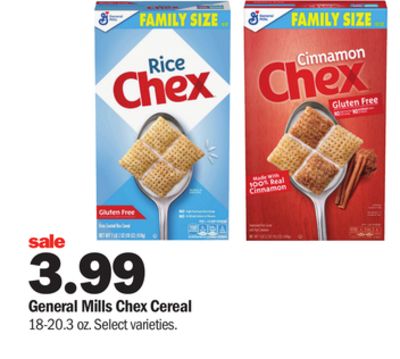 General Mills Chex Cereal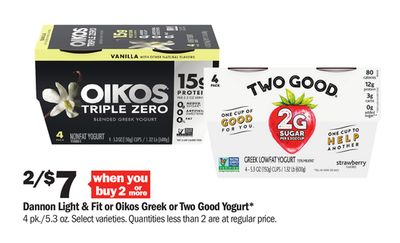 Dannon Light & Fit, Oikos Greek or Two Good Yogurt*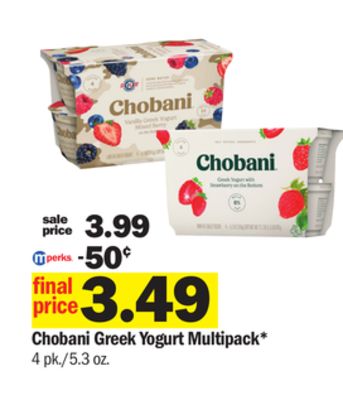 Chobani Greek Yogurt Multipack*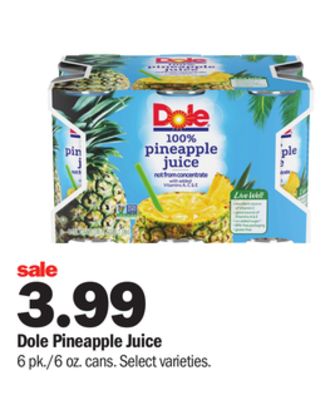 Dole Pineapple Juice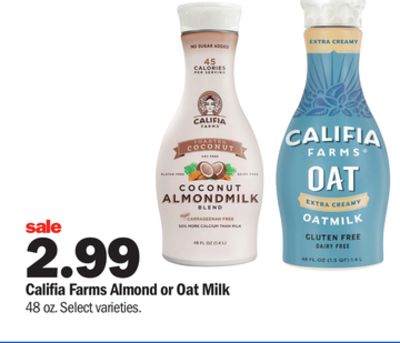 Califia Farms Almond or Oat Milk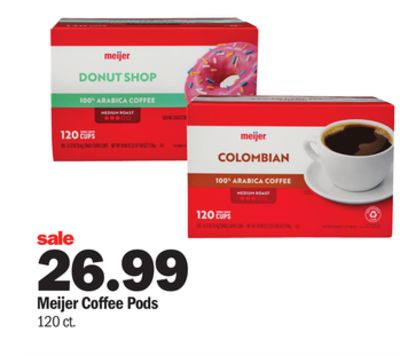 Meijer Coffee Pods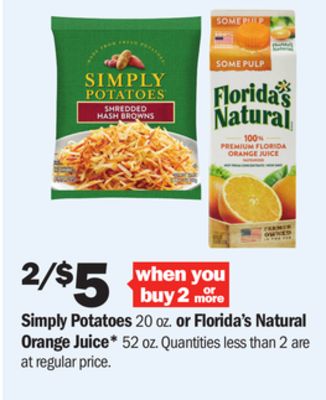 Simply Potatoes 20 oz. or Florida's Natural Orange Juice* 52 oz.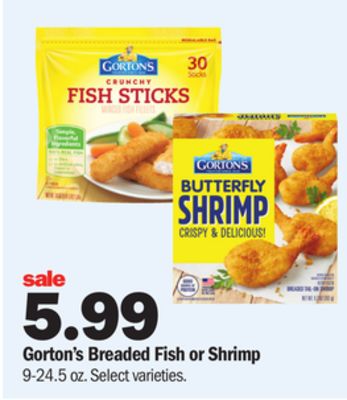 Gorton's Breaded Fish or Shrimp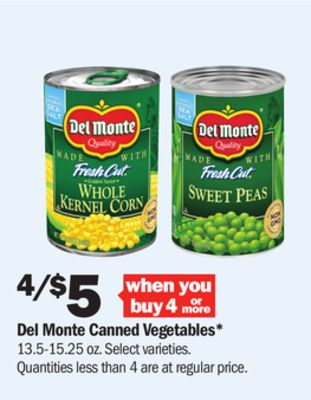 Del Monte Canned Vegetables*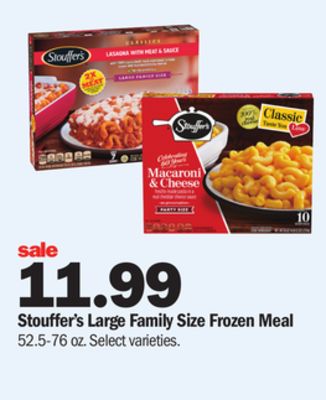 Souffer's Large Family Size Frozen Meal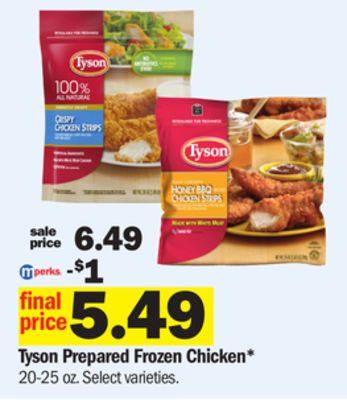 Tyson Prepared Frozen Chicken*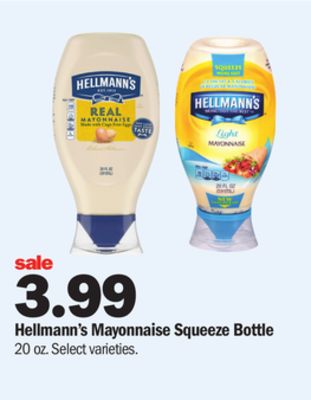 Hellmann's Mayonnaise Squeeze Bottle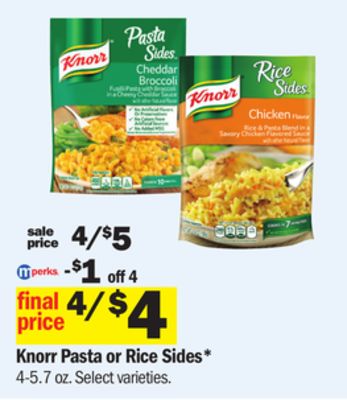 Knorr Pasta or Rice Sides*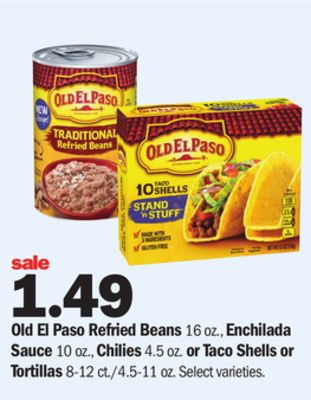 Old El Paso Refried Beans 16 oz., Enchilada Sauce 10 oz., Chilies 4.5 oz., Taco Shells or Totillas 8ct-12ct 4.5-11 oz.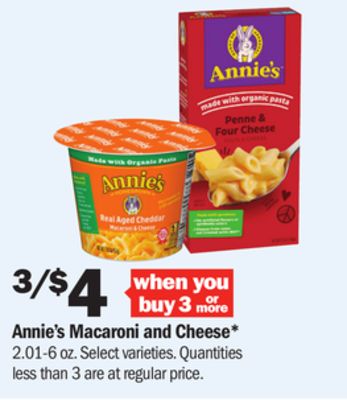 Annie's Macaroni and Cheese*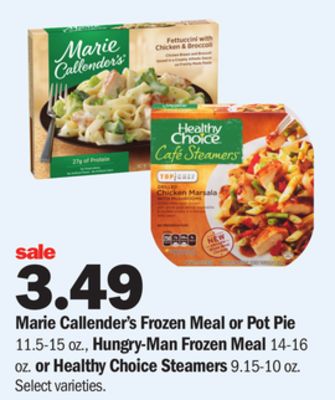 Marie Callender Frozen Meal or Pot Pie 11.5-15 oz, Hungry Man Frozen Meal 14-16 oz, or Healthy Choice Steamers 9.15-10 oz.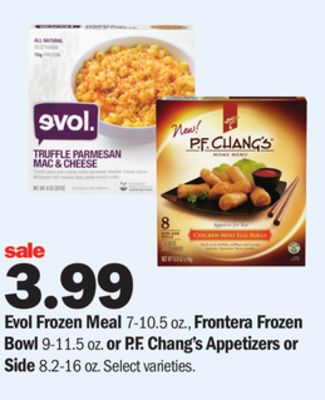 Evol Frozen Meal 7-10.5 oz., Frontera Frozen Bowl 9-11.5 oz. or P.F. Chang's Appetizers or Side 8.2-16 oz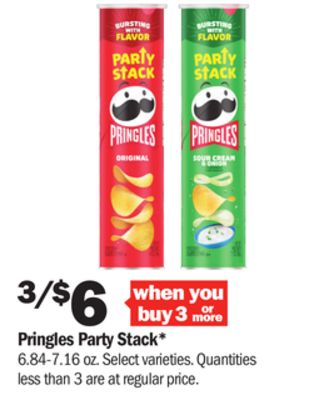 Pringles Party Stack*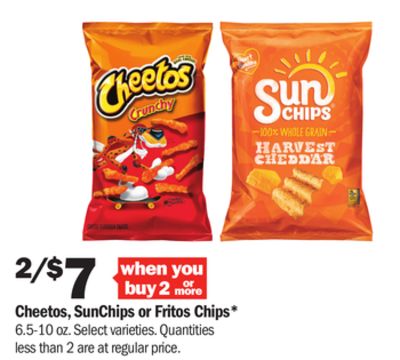 Cheetos, Sunchips or Fritos Chips*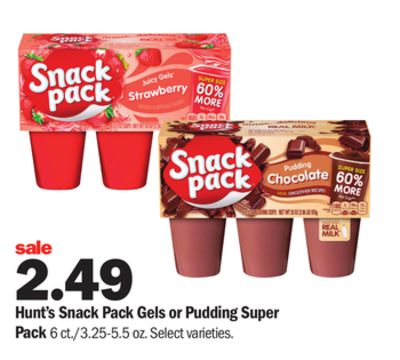 Hunt's Snack Pack Gels or Pudding Super Pack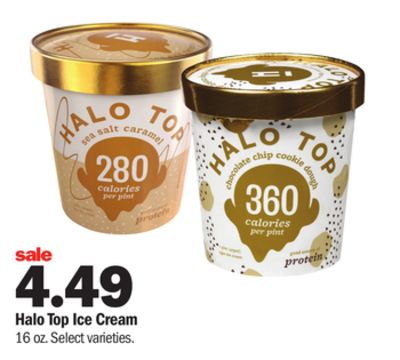 Halo Top ice Cream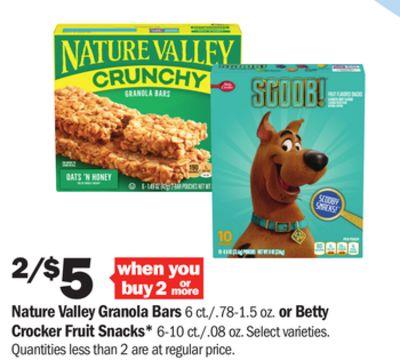 Nature Valley Granola Bars 6 ct. / .78 - 1.5 oz. Betty Crocker Fruit Snacks 6-10 ct./.08 oz.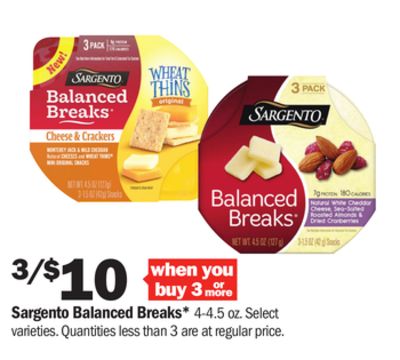 Sargento Balanced Breaks*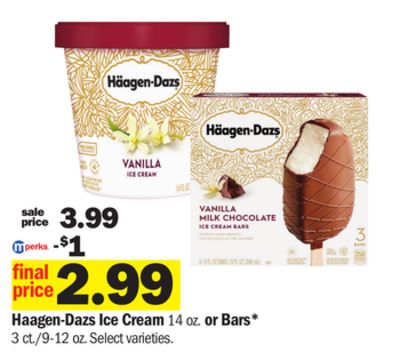 Haagen Dazs Ice Cream 14 oz., or Bars 3 ct. 9-12 oz.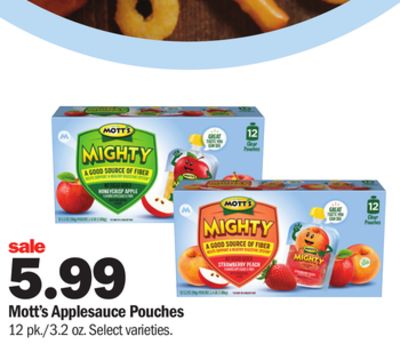 Mott's Applesauce Pouches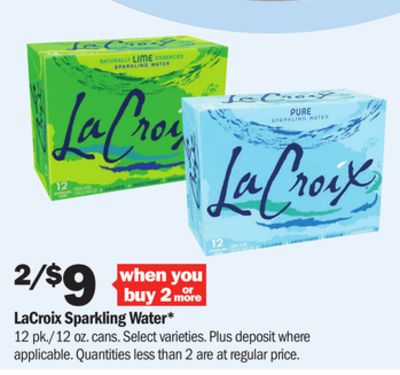 LaCroix Sparkling Water*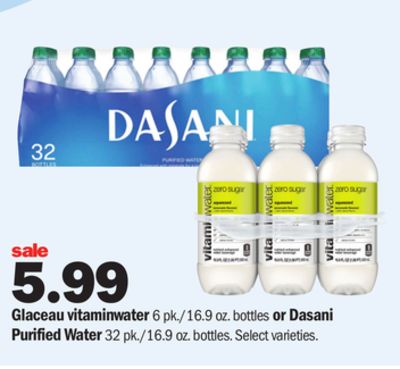 Glaceau vitaminwater 6 pic/16.9 oz. bottles or Dasani Purified Water 32 pk/ 16.9 oz. bottles.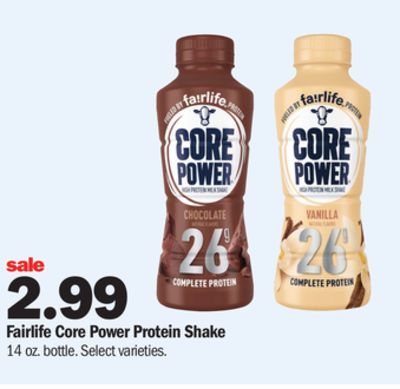 Fairlife Core Power Protein Shake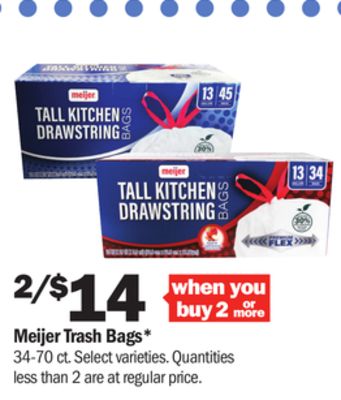 Meijer Trash Bags*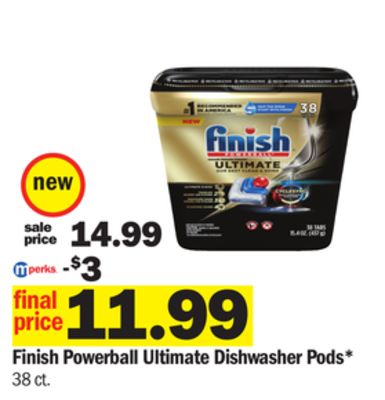 Finish Powerball Ultimate Dishwasher Pods*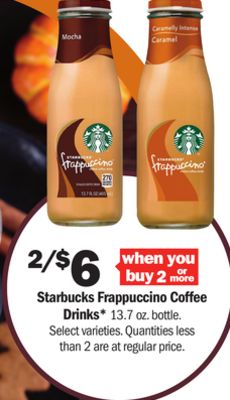 Starbucks Frappuccino Coffee Drinks*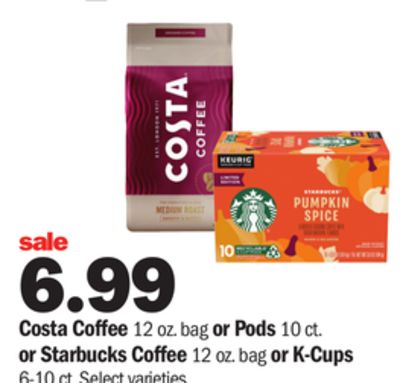 Costa Coffee bags 12 oz. or Pods 10 ct. Or Starbucks Coffee bags 12 oz or K-Cups 6-10 ct.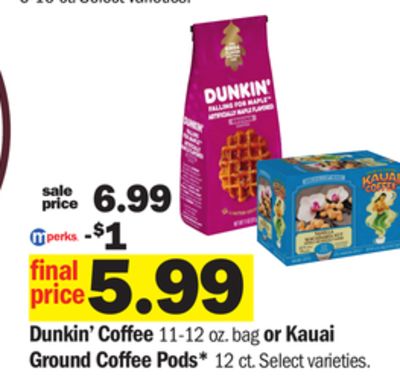 Dunkin' Coffee 11-12 oz. bag or Kauai Ground Coffee Pods* 12 ct.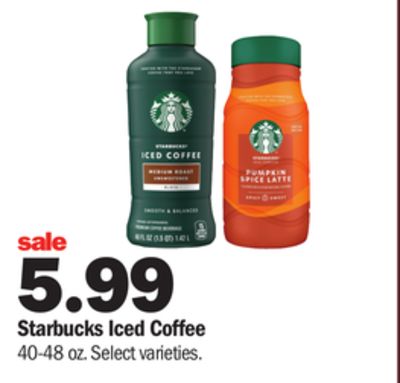 Starbucks Iced Coffee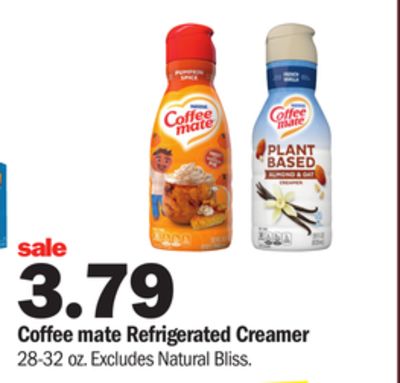 Coffee mate Refrigerated Creamer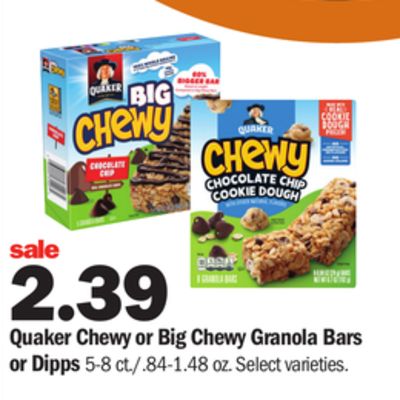 Quaker Chewy or Big Chewy Granola Bars or Dipps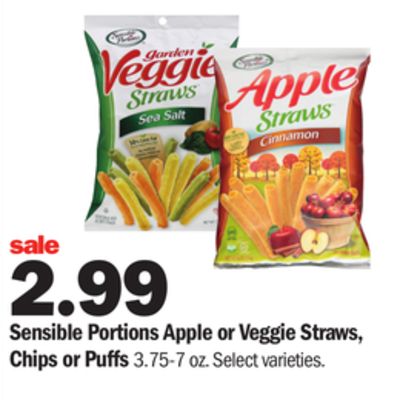 Sensible Portions Apple or Veggie Straws, Chips or Puffs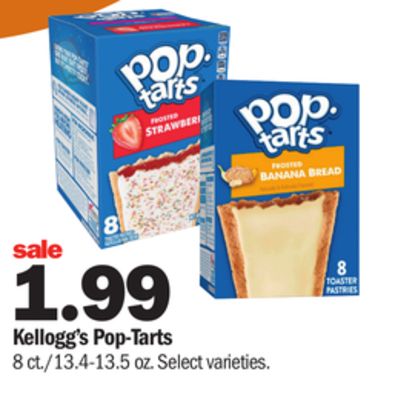 Kellogg's Pop-Tarts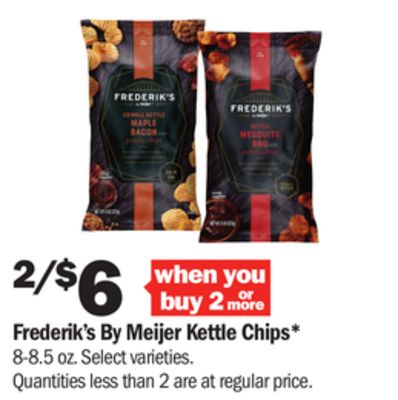 Frederik's By Meijer Kettle Chips*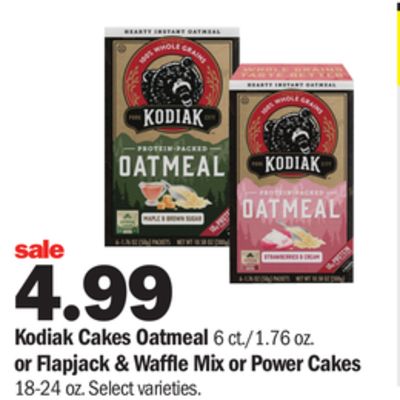 Kodiak Cakes Oatmeal 6 ct./1.76 oz. or Flapjack & Waffle Mix or Power Cakes 18-24 oz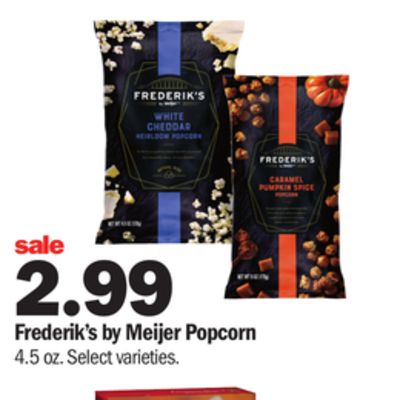 Frederik's by Meijer Popcorn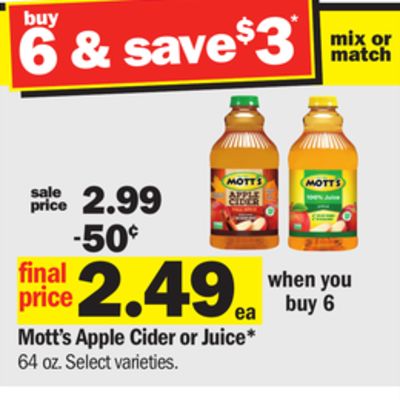 Mott's Apple Cider or Juice*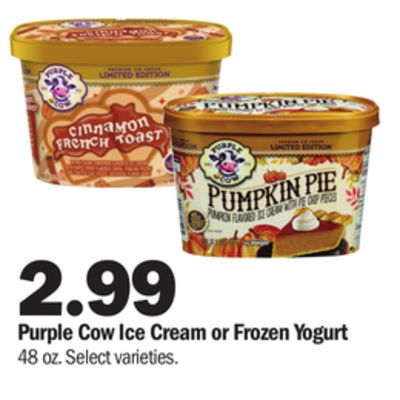 Purple Cow Ice Cream or Frozen Yogurt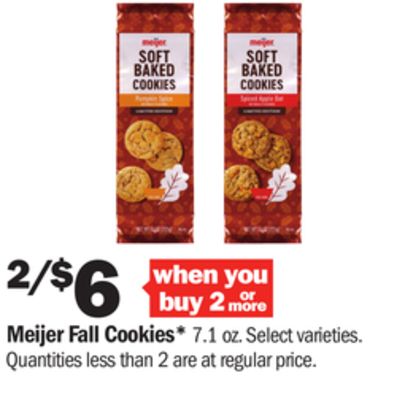 Meijer fall Cookies*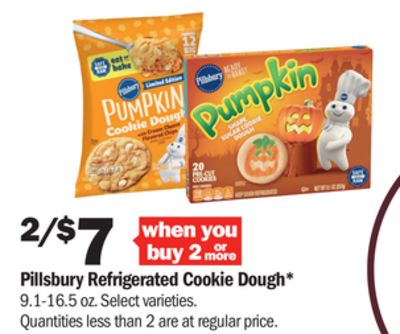 Pillsbury Refrigerated Cookie Dough*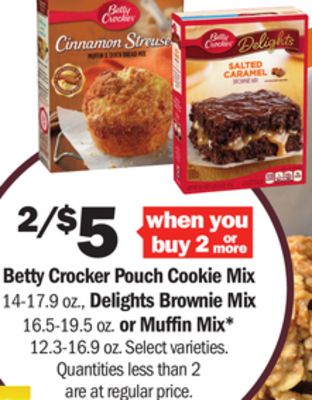 Betty Crocker Pouch Cookie Mix 14-17.9 oz. or Delights Brownie Mix 16.5-19.5 oz. or Muffin Mix* 12.3-16.9 oz.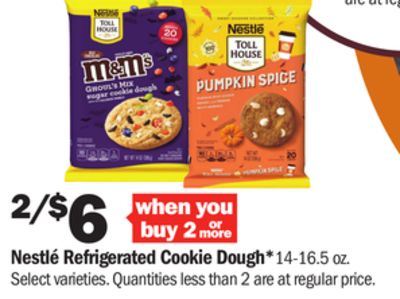 Nestlé Refrigerated Cookie Dough*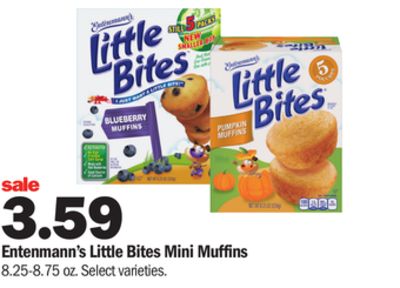 Entenmann's Little Bites Mini Muffins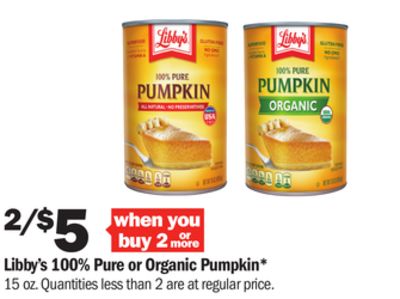 Libby's 100% Pure or Organic Pumpkin*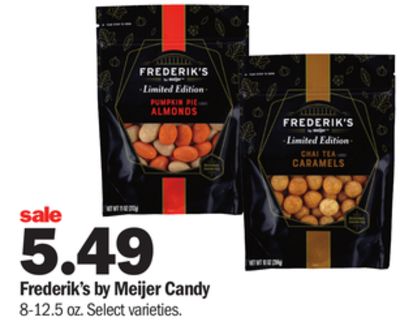 Frederik's by Meijer Candy
Brach's, M&M'S, Dove or Werther's Fall Harvest Candy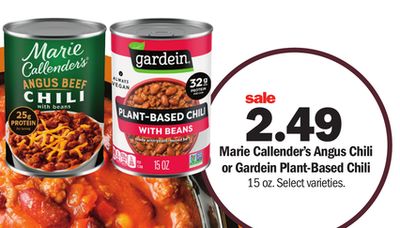 Marie Callender's Angus Chili or Gardein Plant-Based Chili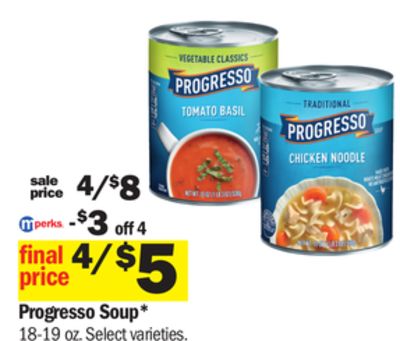 Progresso Soup*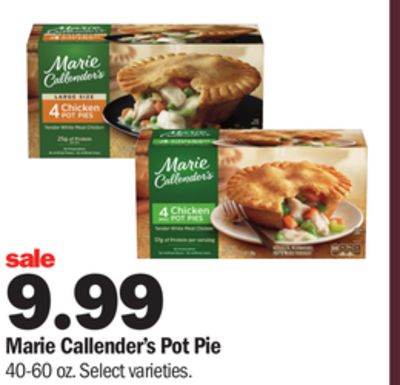 Marie Callender's Pot Pie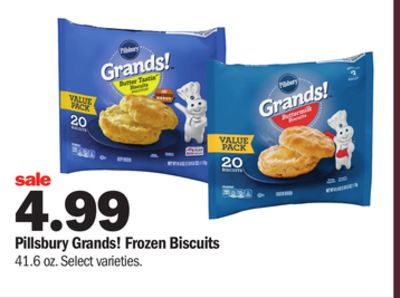 Pillsbury Grands! Frozen Biscuits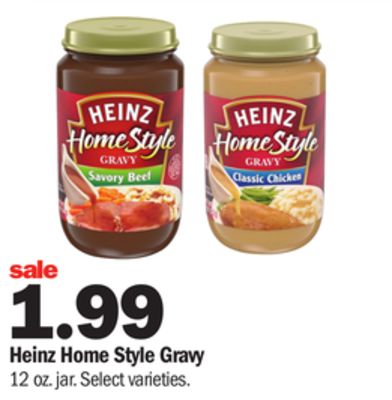 Heinz Home Style Gravy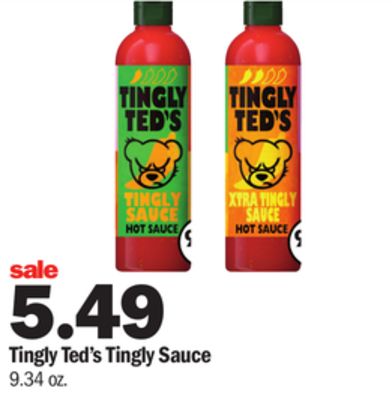 Tingly Ted's Tingly Sauce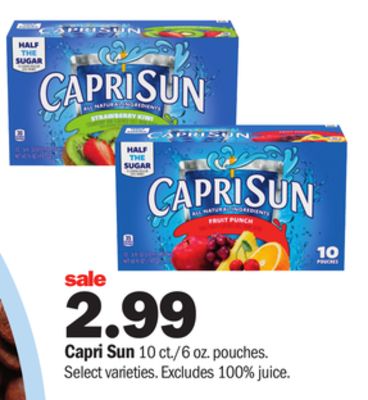 Capri Sun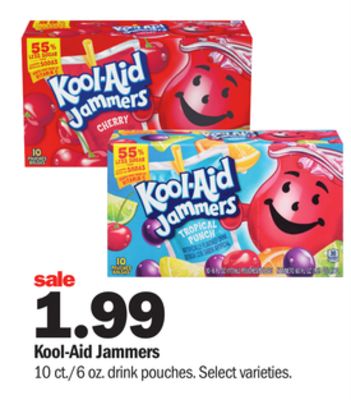 Kool-Aid Jammers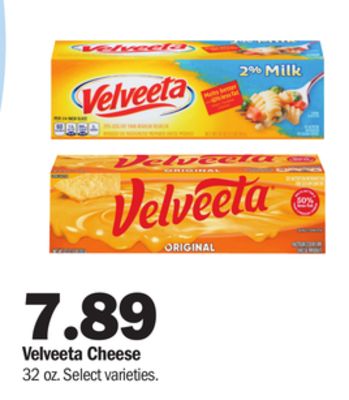 Velveeta Cheese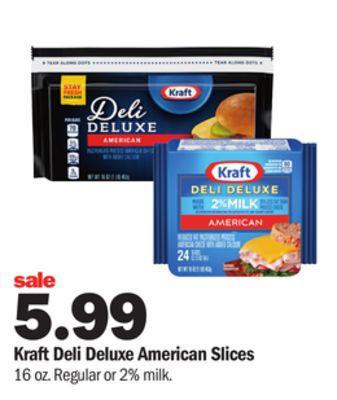 Kraft Deli Deluxe American Slices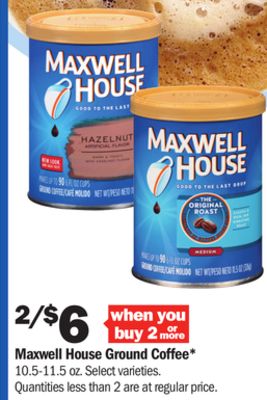 Maxwell House Ground Coffee*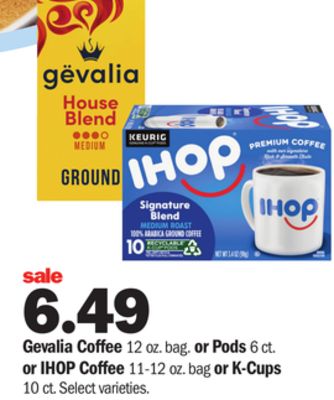 Gevalia Coffee 12 oz Bag. or 6 ct. Pods, or IHOP Coffee 11-12 oz. Bag, or 10 ct. K-Cups.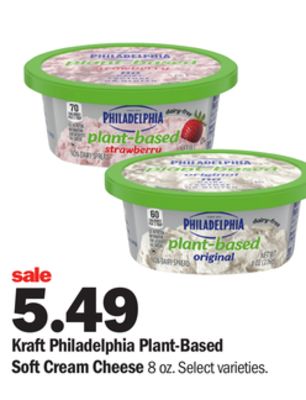 Kraft Philadelphia Plant-Based Soft Cream Cheese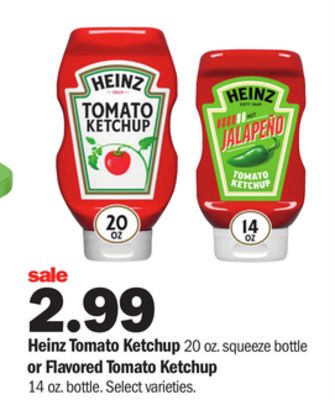 Heinz Tomato Ketchup 20 oz. squeeze bottle or Flavored Tomato Ketchup 14 oz. bottle.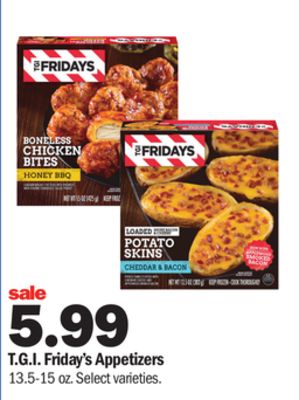 T.G.I. Friday's Appetizers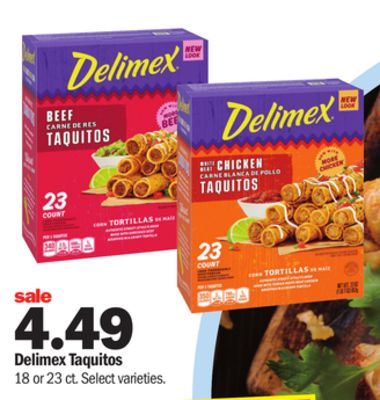 Delimex Taquitos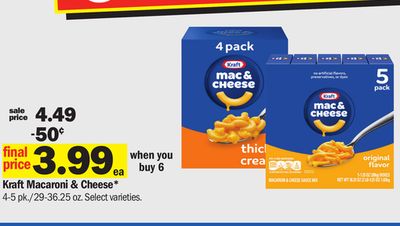 Kraft Deluxe or Velveeta Macaroni & Cheese*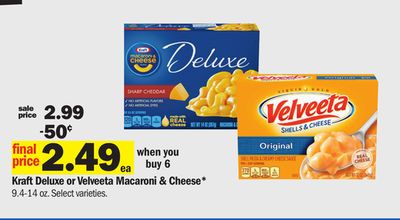 Kraft Deluxe or Velveeta Macaroni & Cheese*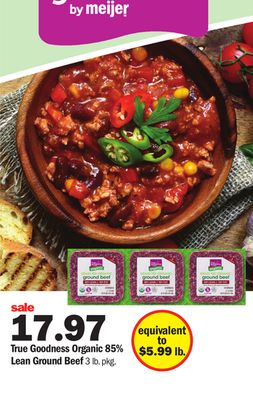 True Goodness Organic 85% Lean Ground Beef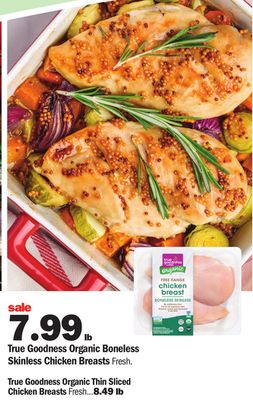 True Goodness Organic Boneless Skinless Chicken Breasts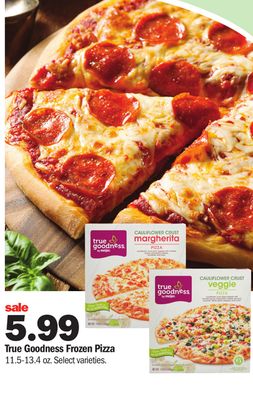 True Goodness Frozen Pizza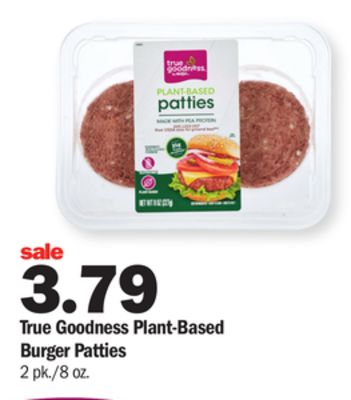 True Goodness Plant-Based Burger Patties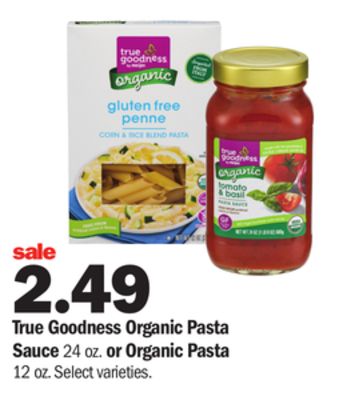 True Goodness Organic Pasta Sauce 24 or Organic Pasta 12 oz.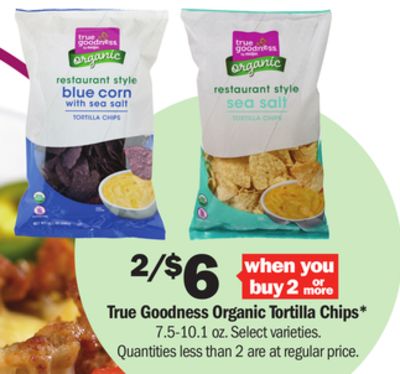 True Goodness Organic Tortilla Chips*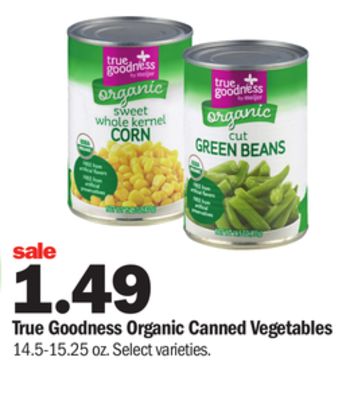 True Goodness Organic Canned Vegetables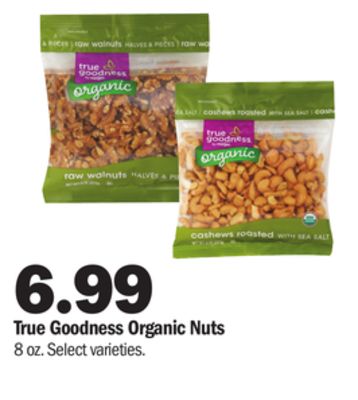 True Goodness Organic Nuts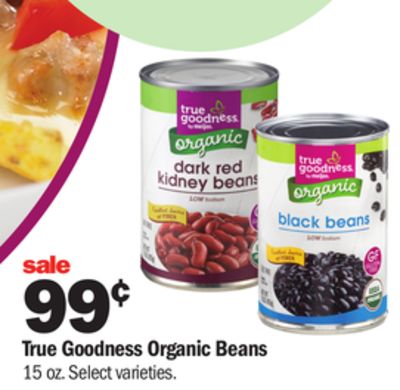 True Goodness Organic Beans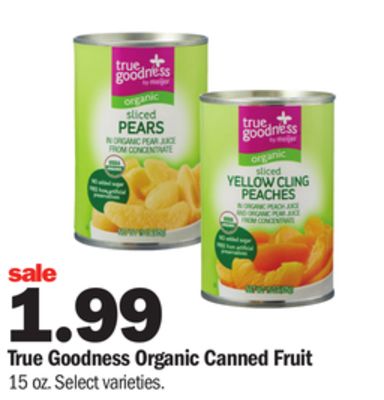 True Goodness Organic Canned Fruit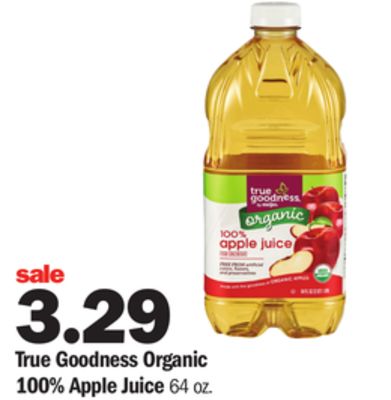 True Goodness Organic 100% Apple Juice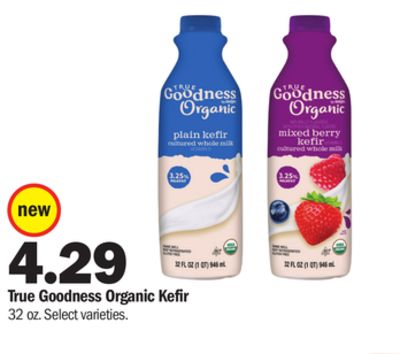 True Goodness Organic Kefir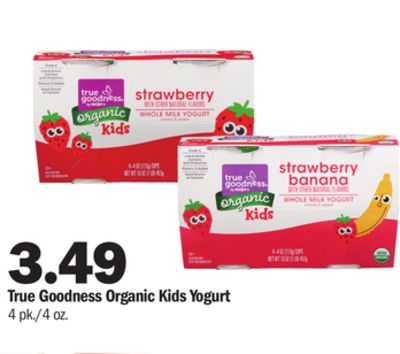 True Goodness Organic Kids Yogurt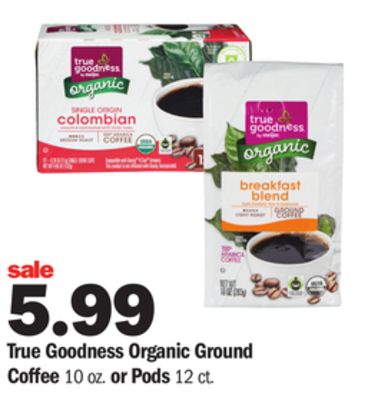 True Goodness Organic Ground Coffee 10 oz. or Pods 12 ct.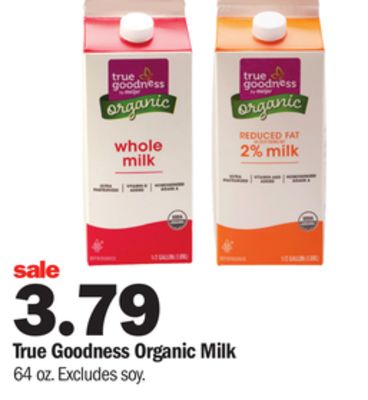 True Goodness Organic Milk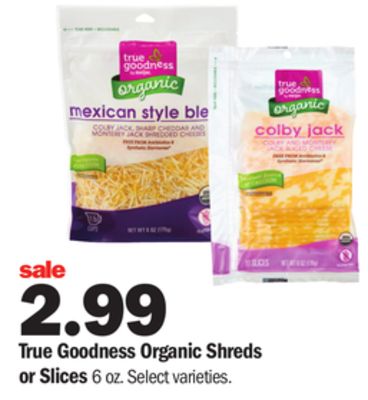 True Goodness Organic Shreds or Slices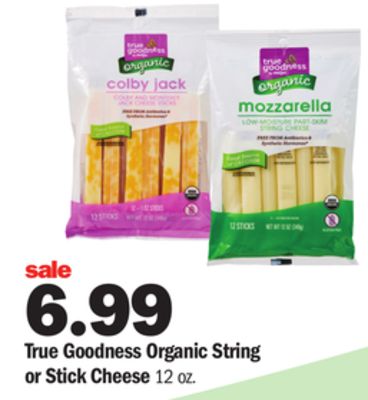 True Goodness Organic String or Stick Cheese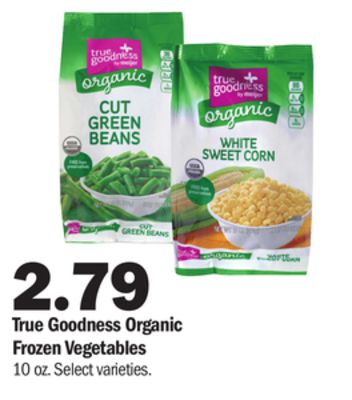 True Goodness Organic Frozen Vegetables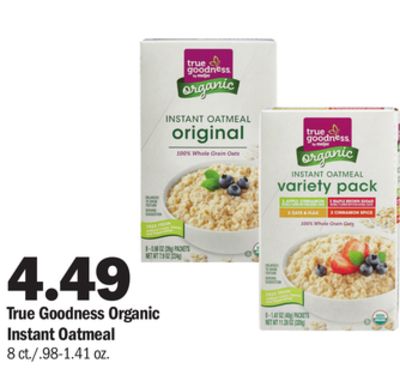 True Goodness Organic Instant Oatmeal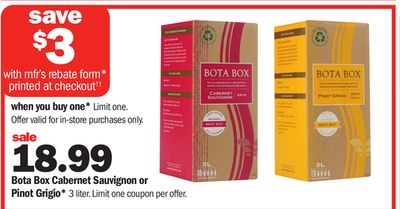 Bota Box Cabernet Sauvignon or Bota Box Pinot Grigio*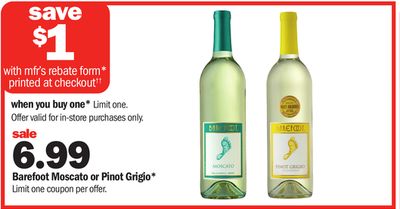 Barefoot Moscato or Pinot Grigio*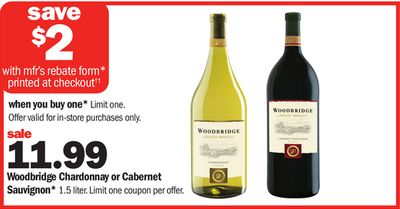 Woodbridge Chardonnay or Cabernet Sauvignon*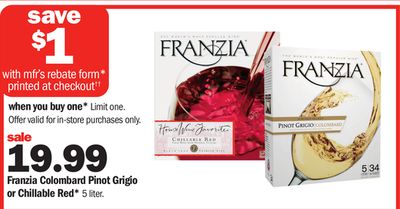 Franzia Colombard Pinot Grigio or Chillable Red*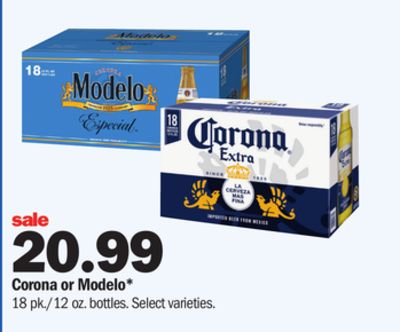 Corona or Modelo*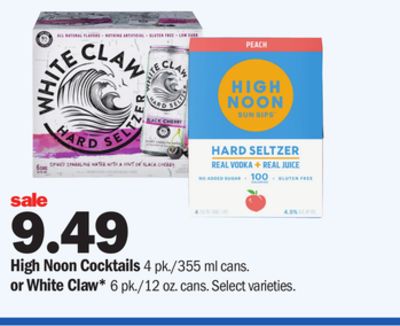 High Noon Cocktails 4 pk./355 ml cans. or White Claw* 6 pk./12 oz cans.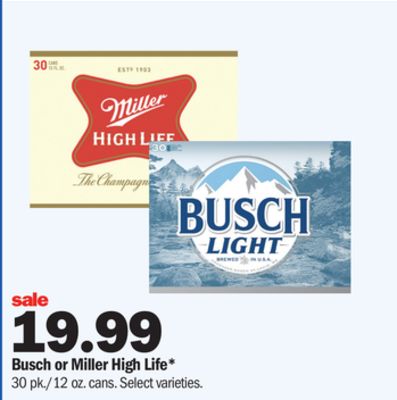 Busch or Miller High Life*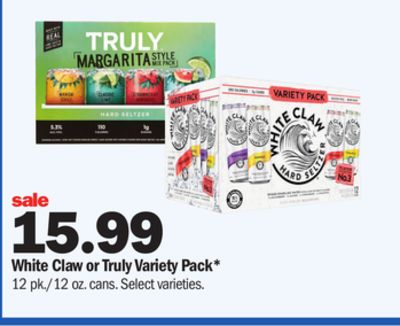 White Claw or Truly Variety Pack*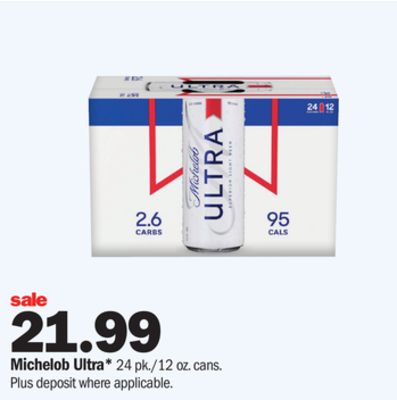 Michelob Ultra*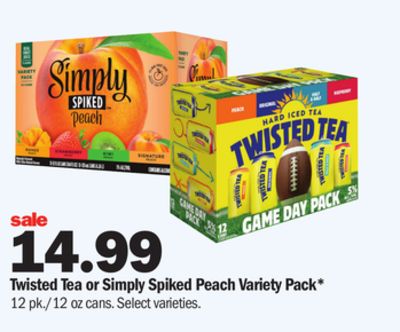 Twisted Tea or Simply Spiked Peach Variety Pack*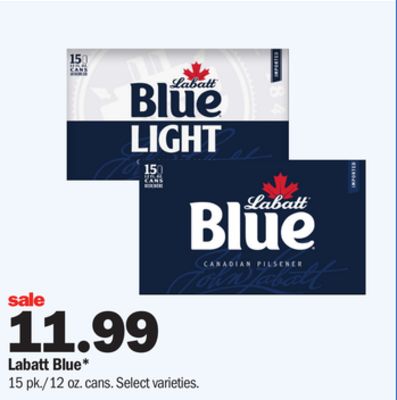 Labatt Blue*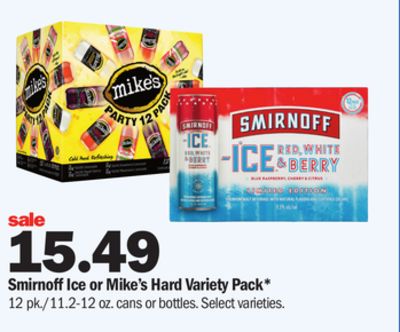 Smirnoff Ice or Mike's Hard Variety pack*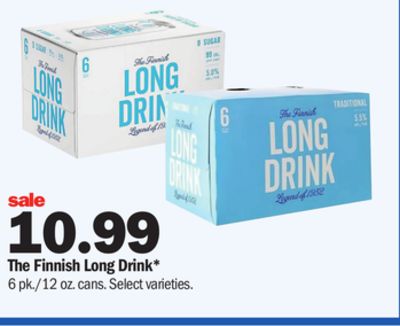 The Finnish Long Drink*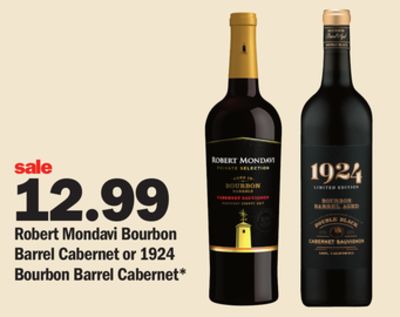 Robert Mondavi Bourbon Barrel Cabernet or 1924 Bourbon Barrel Cabernet*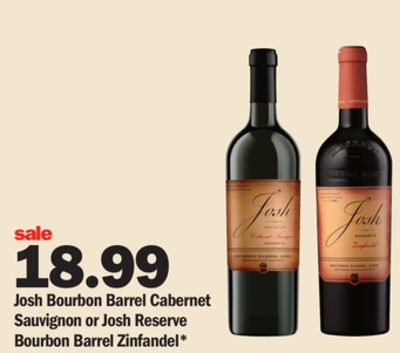 Josh Bourbon Barrel Cabernet Sauvignon or Josh Reserve Bourbon Barrel Zinfandel*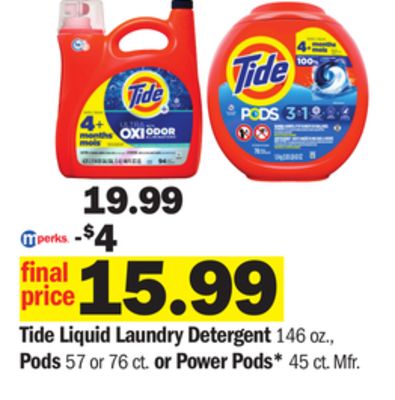 Tide Liquid Laundry Detergent 146 oz., Pods 57 or 76 ct. or Power Pods* 45 ct.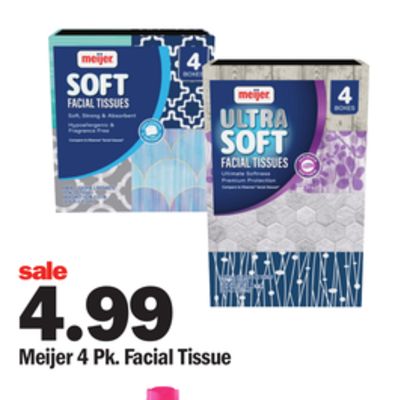 Meijer 4 Pk. Facial Tissue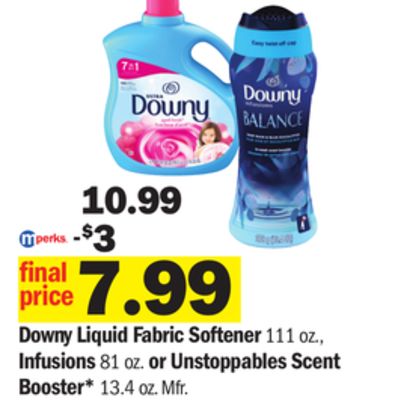 Downy Liquid Fabric Softener 111 0L. infusions 81 oz. or Unstoppables Scent Booster* 13.4 oz.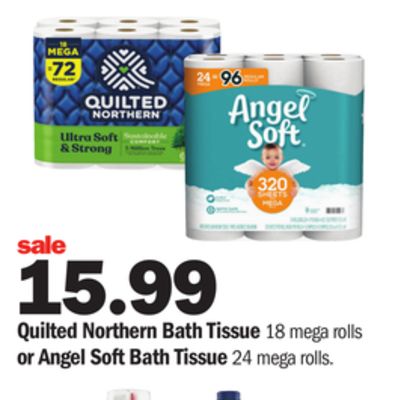 Quilted Norther Bath Tissue 18 mega rolls or Angel Soft Bath Tissue 24 mega rolls.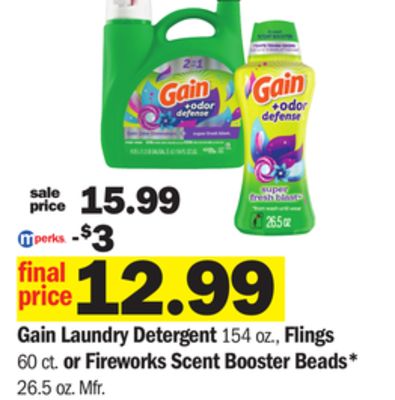 Gain Laundry Detergent 154 oz. Flings 60 ct. or Fireworks Scent Booster Beads* 26.5 oz.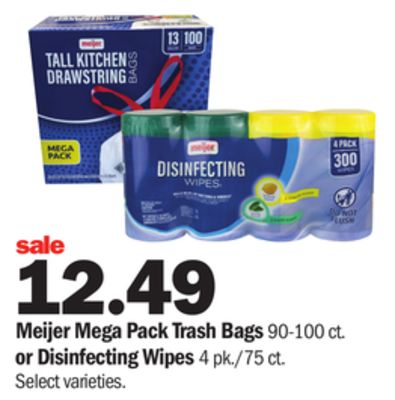 Meijer Mega Pack Trash Bags 90-100 on or Disinfecting Wipes 4 pk/75 ct.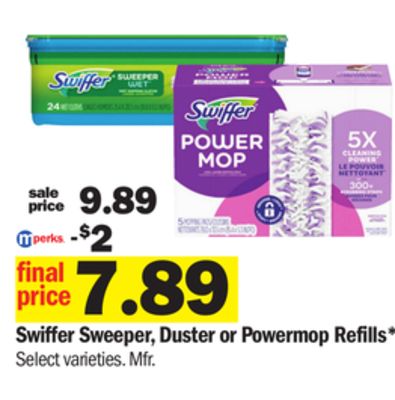 Swiffer Sweeper, Duster or Powermop Refills*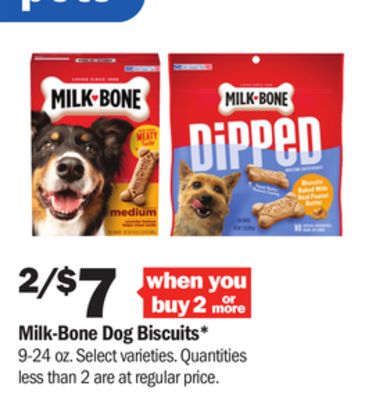 Milk-Bone Dog Biscuits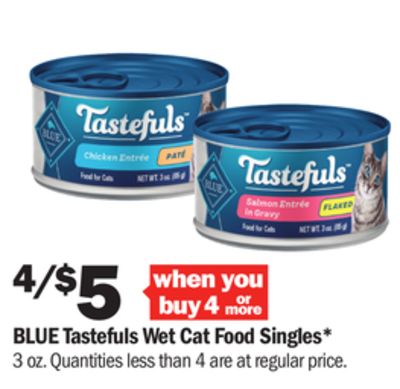 BLUE Tastefuls Wet Cat Food Singles*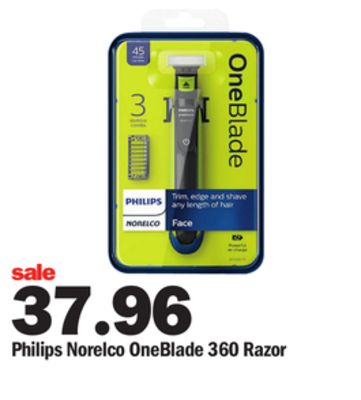 Philips Norelco OneBlade 360 Razor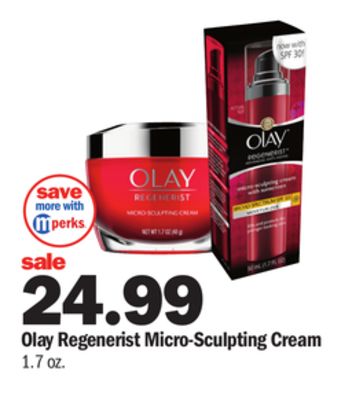 Olay Regenerist Micro-Sculpting Cream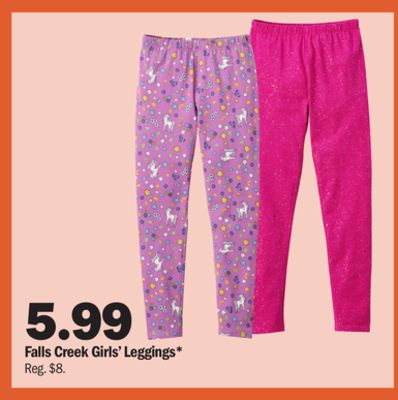 Falls Creek Girls' Leggings*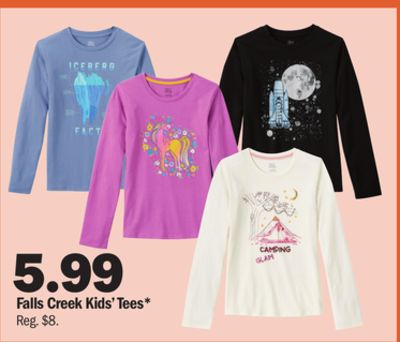 Select Falls Creek Kids' Tees*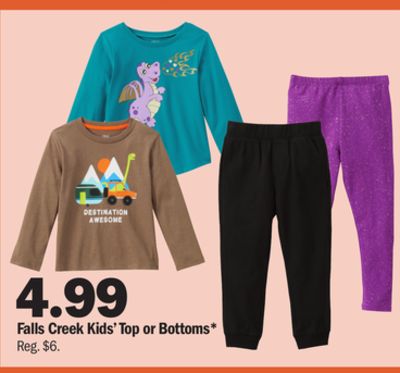 Falls Creek Kids' Top or Bottoms*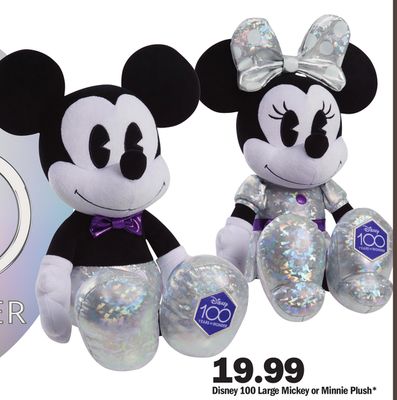 Disney 100 Large Mickey or Minnie Plush*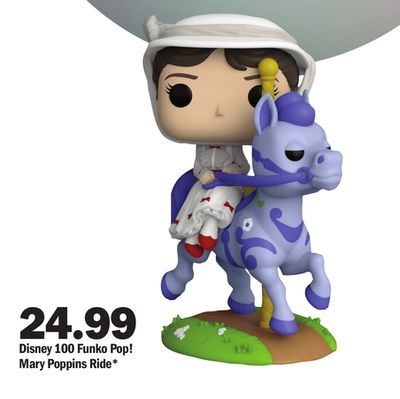 Disney 100 Funko Pop! Mary Poppins Ride*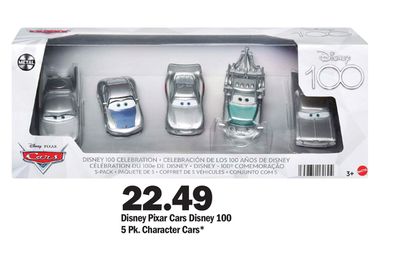 Disney Pixar Cars Disney 100 5 Pk. Character Cars*

Disney Disney 100 Ready-to-Play Mini Train Set*