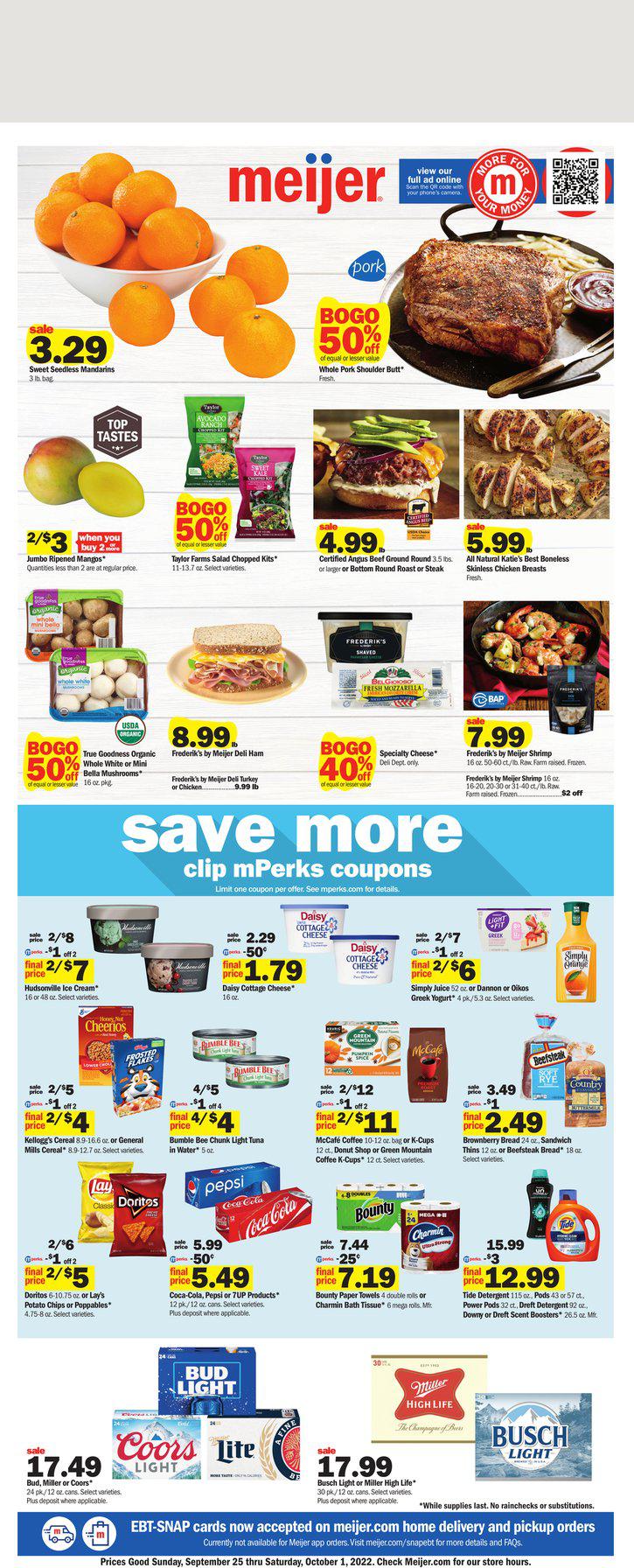 Weekly Ad
---
The Weekly Ad, which is valid in Meijer markets between 09/25/2022 - 10/02/2022, consists of 23 pages. The most expensive product of the brochure is Ninja 12-Cup DualBrew Coffee Maker with K-Cup Compatibility and 3 Brew Styles* priced at $159.99, the cheapest product at $0.75 is Meijer Cream of Mushroom or Cream of Chicken Soup.
You can use the page previews below to navigate the brochure pages.
---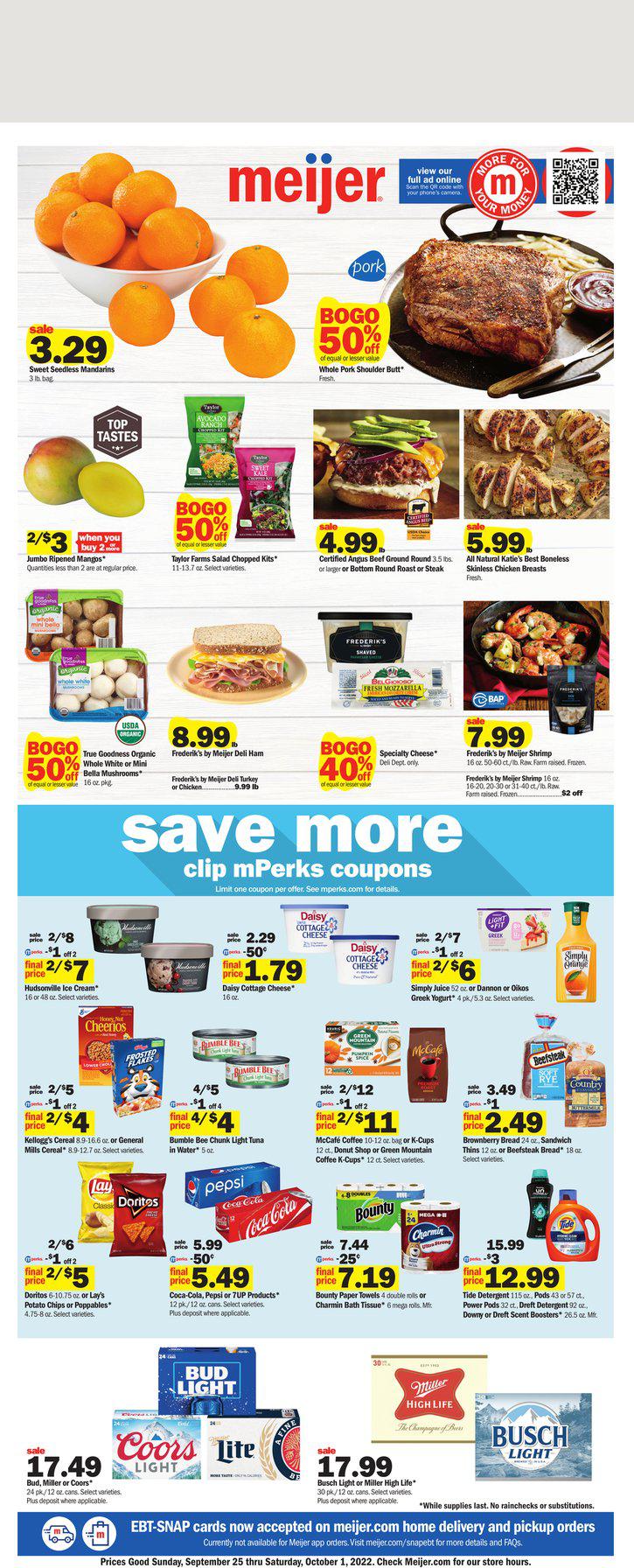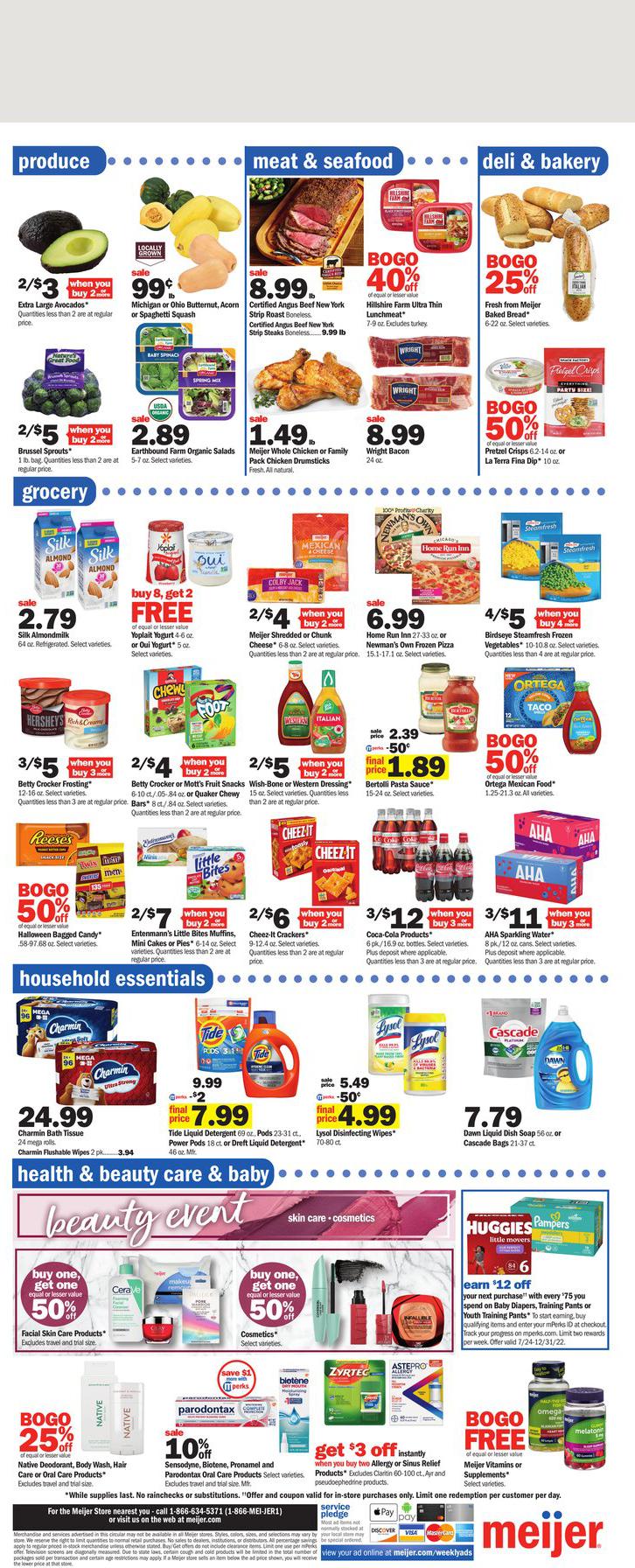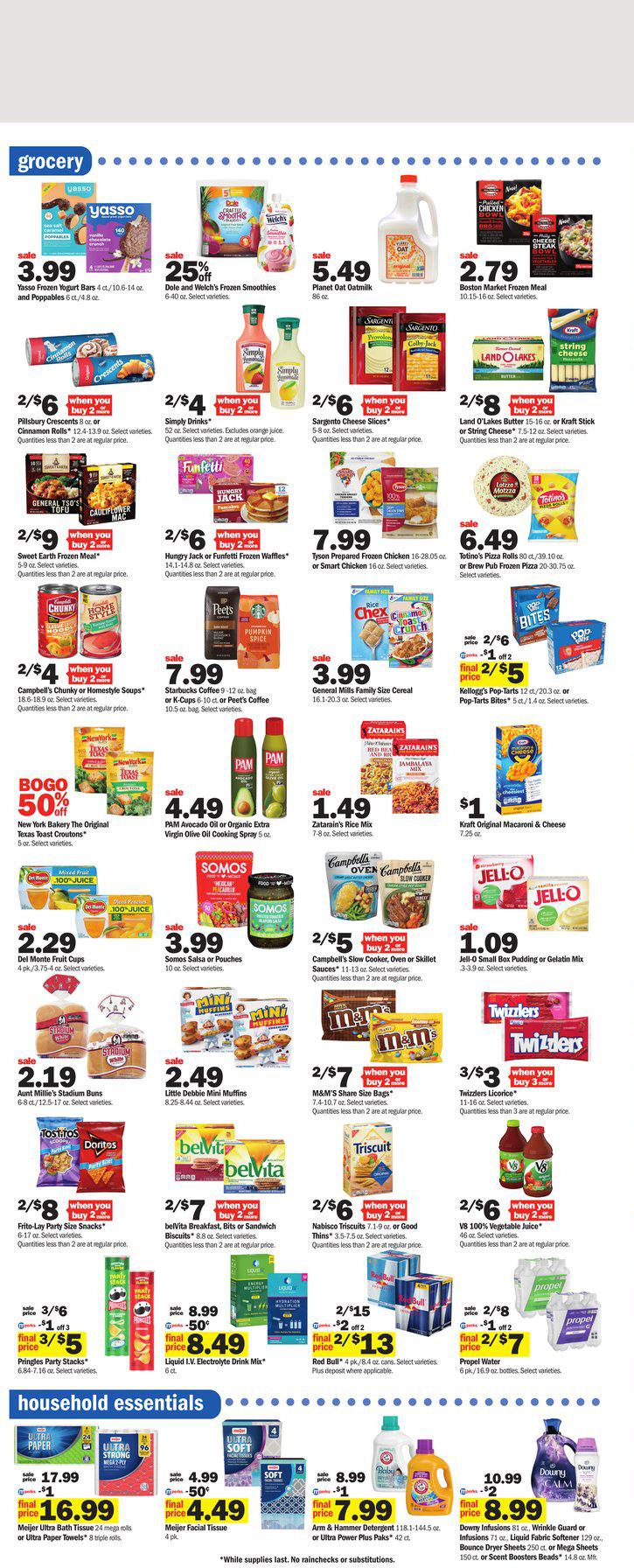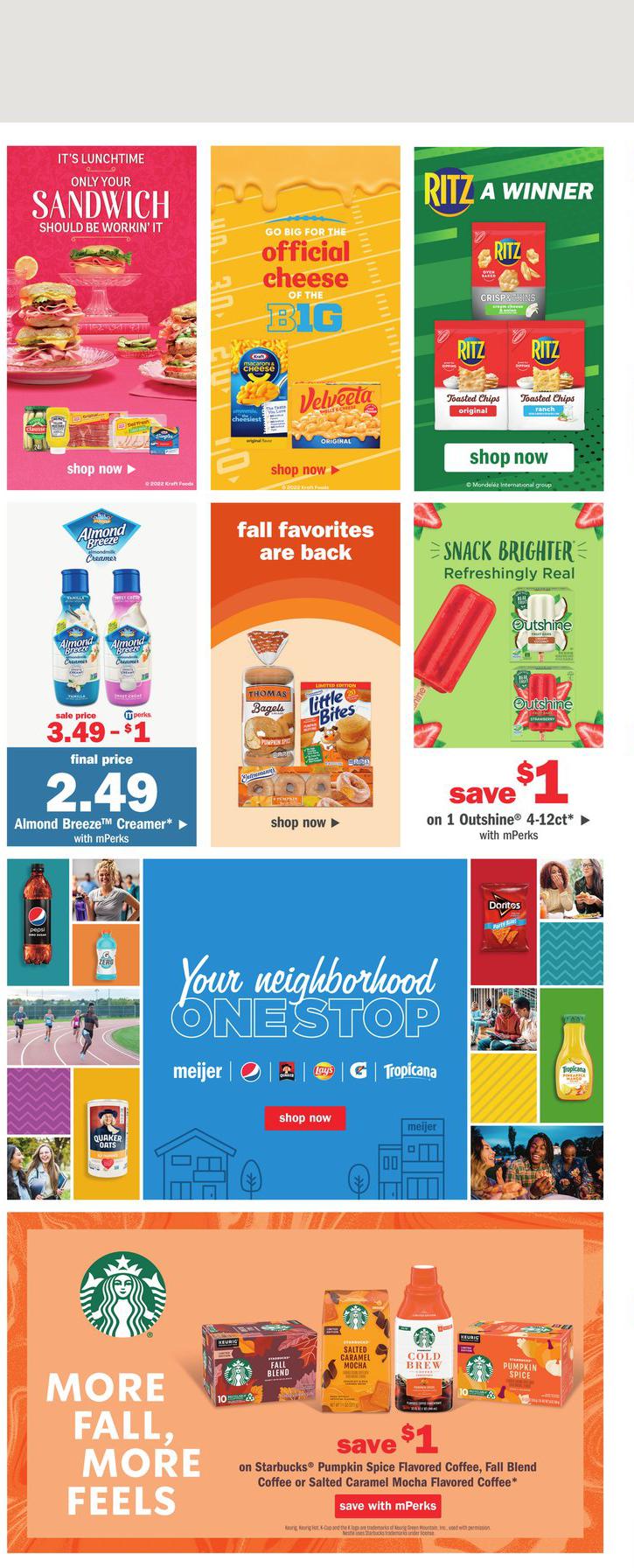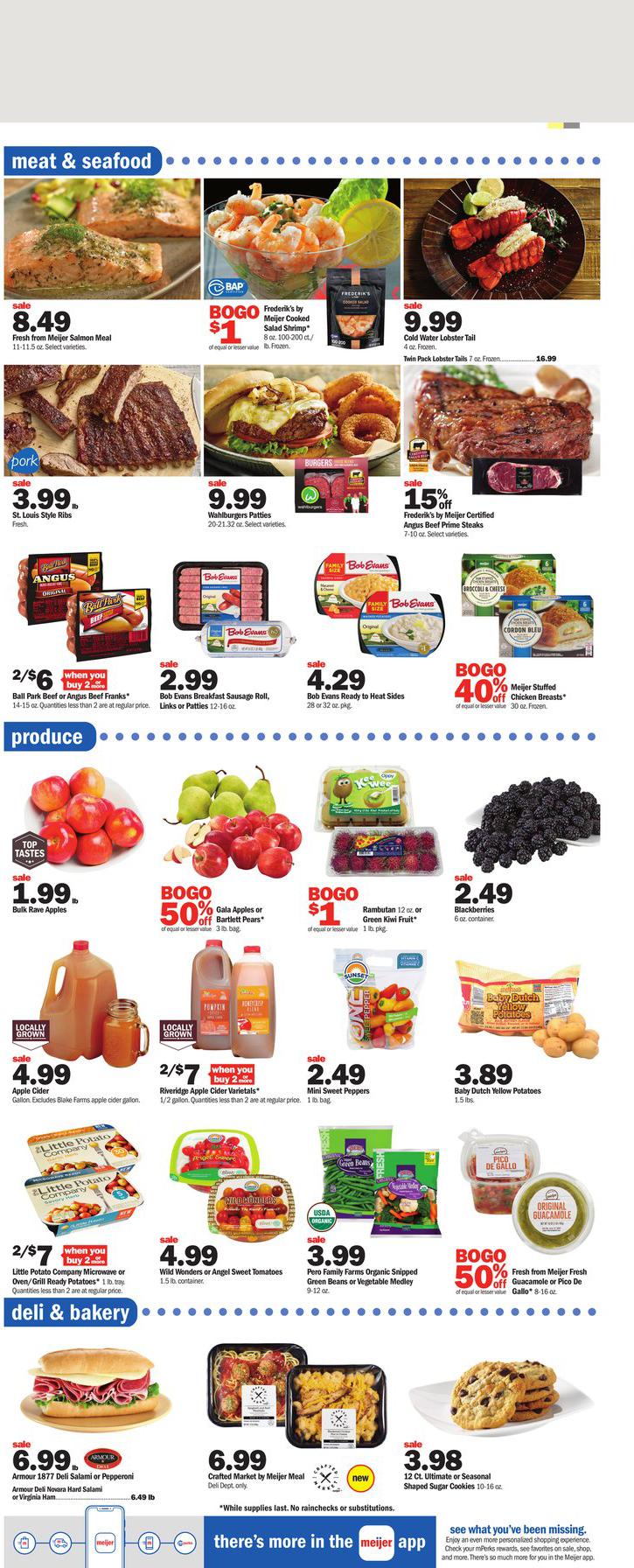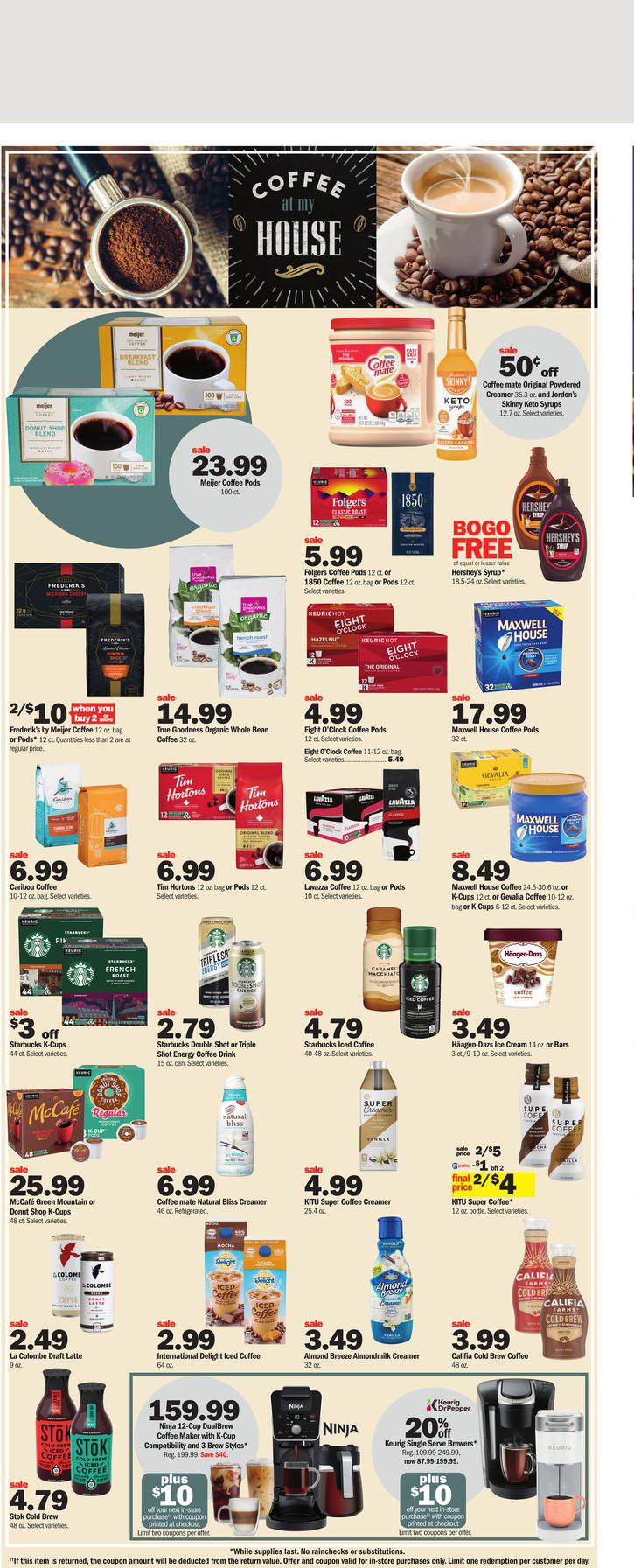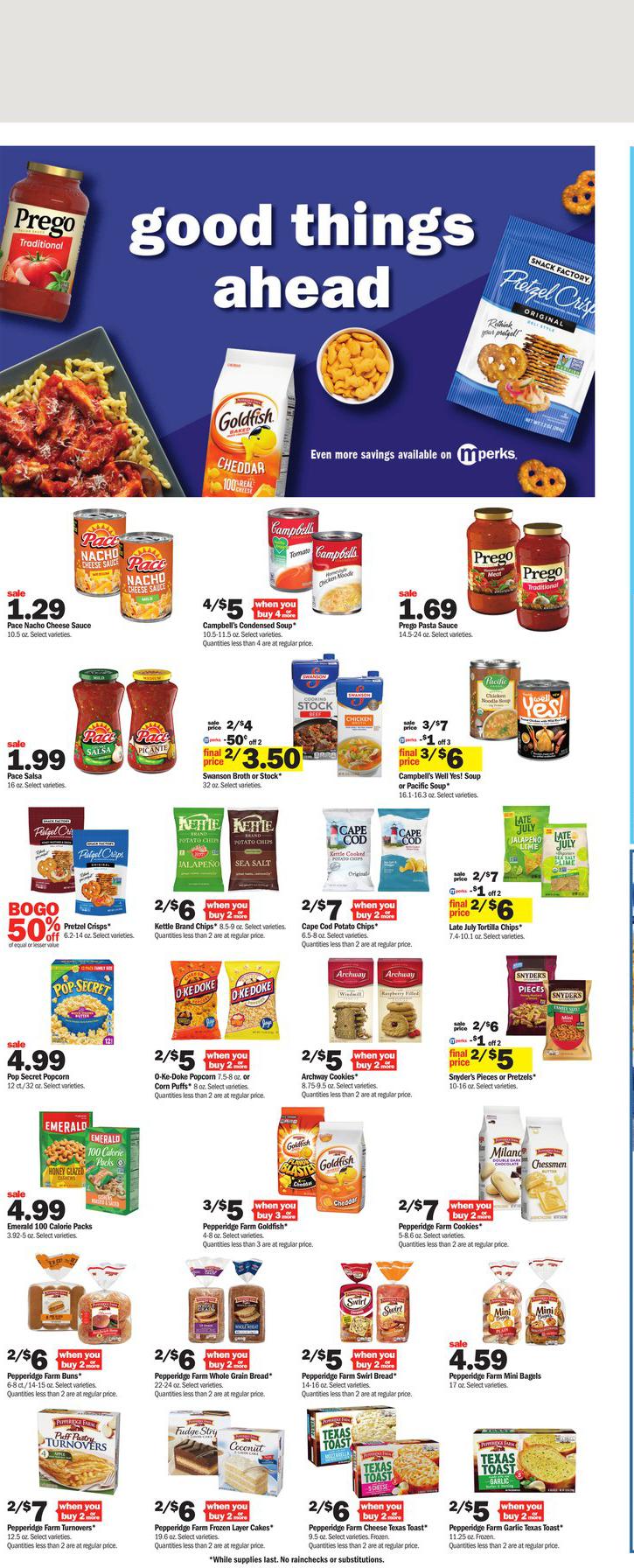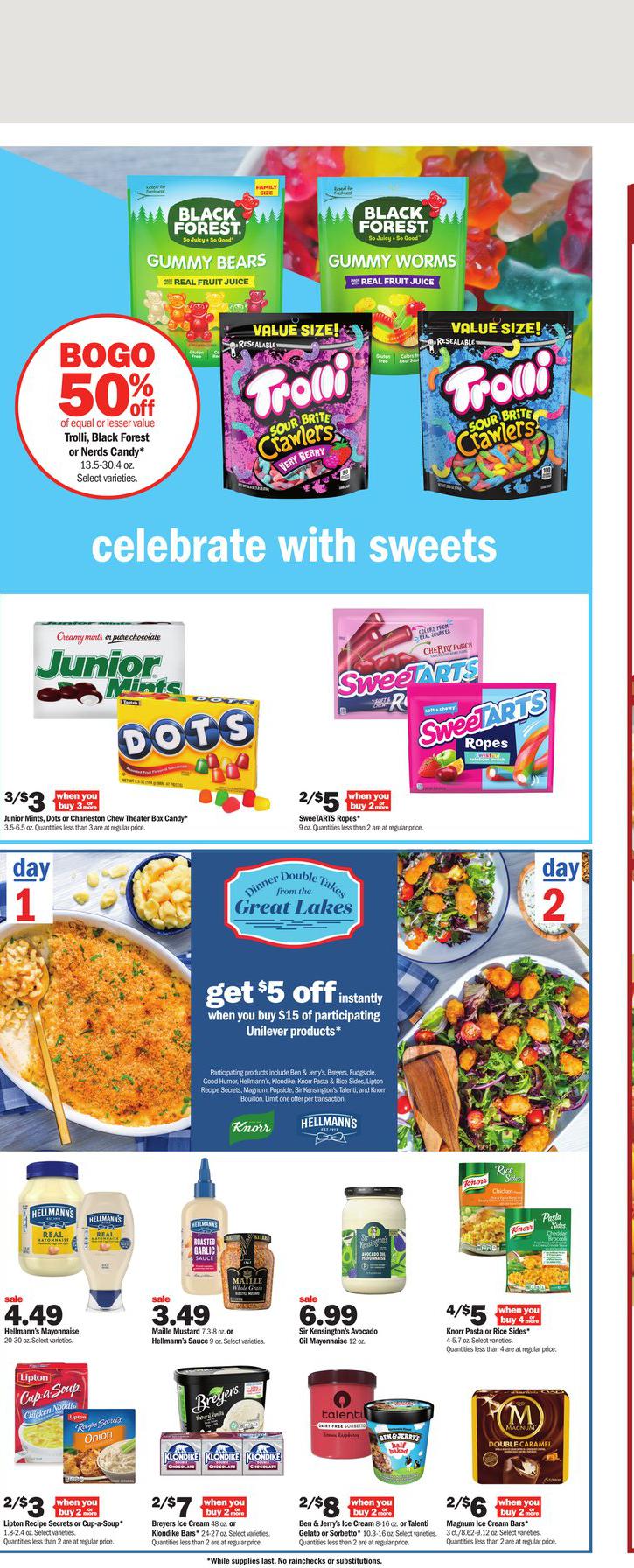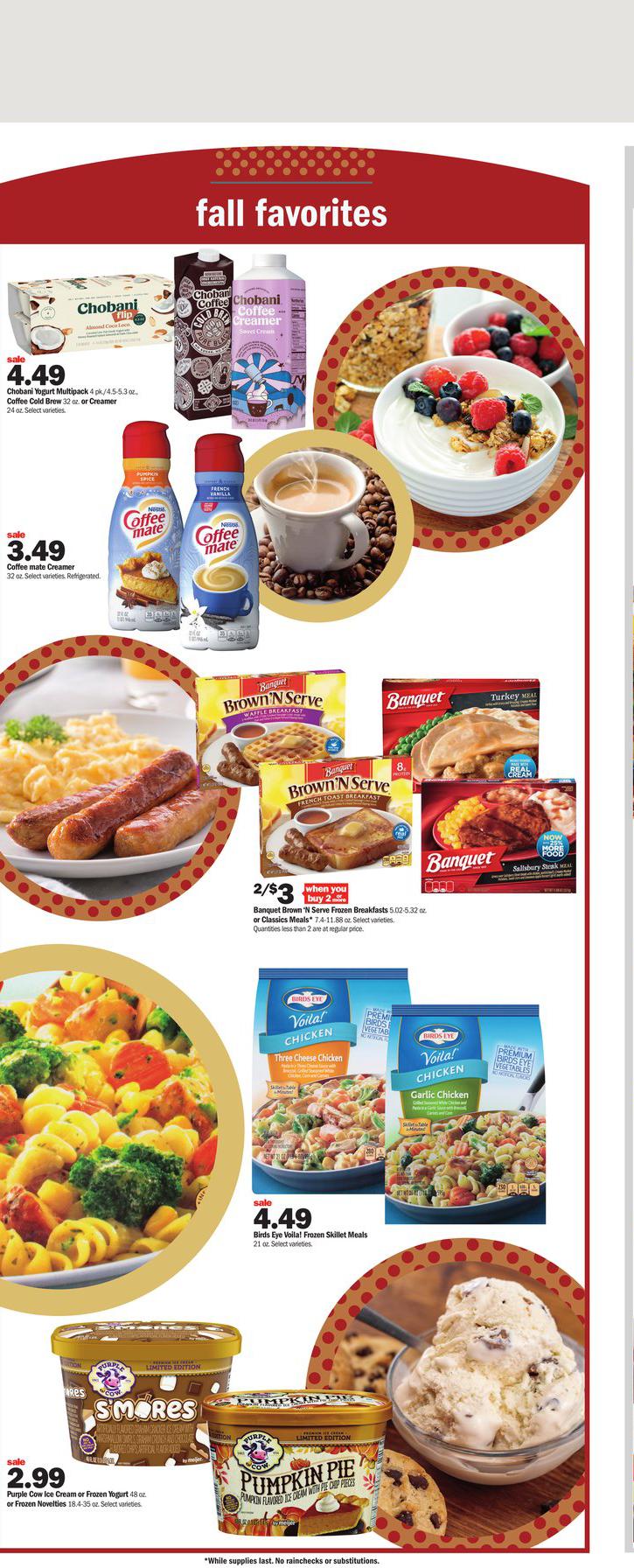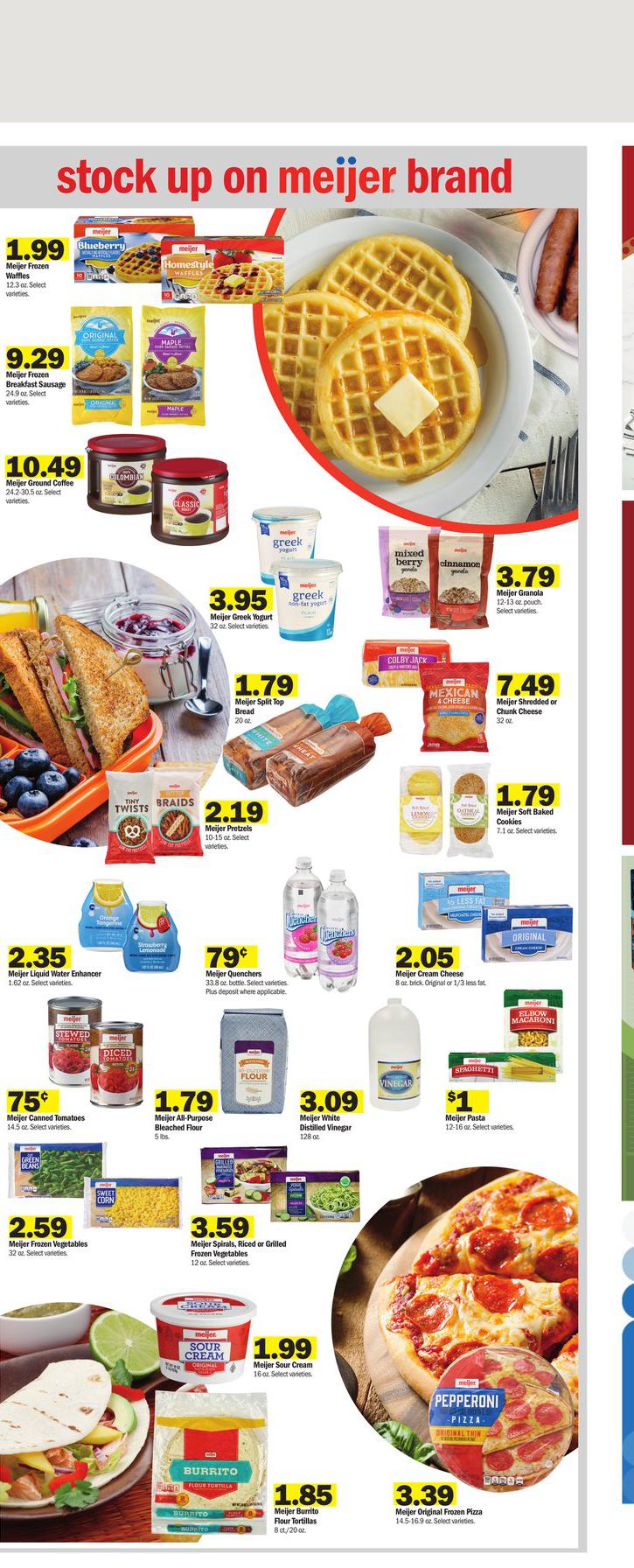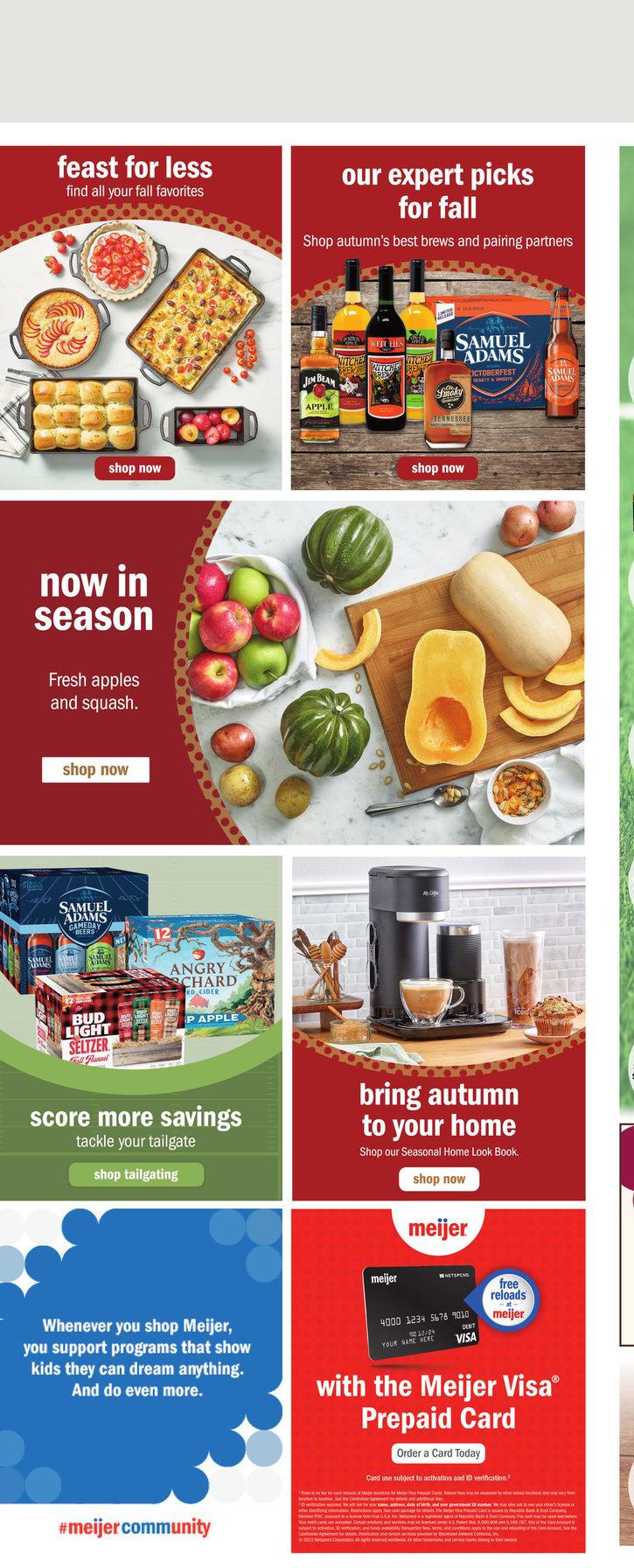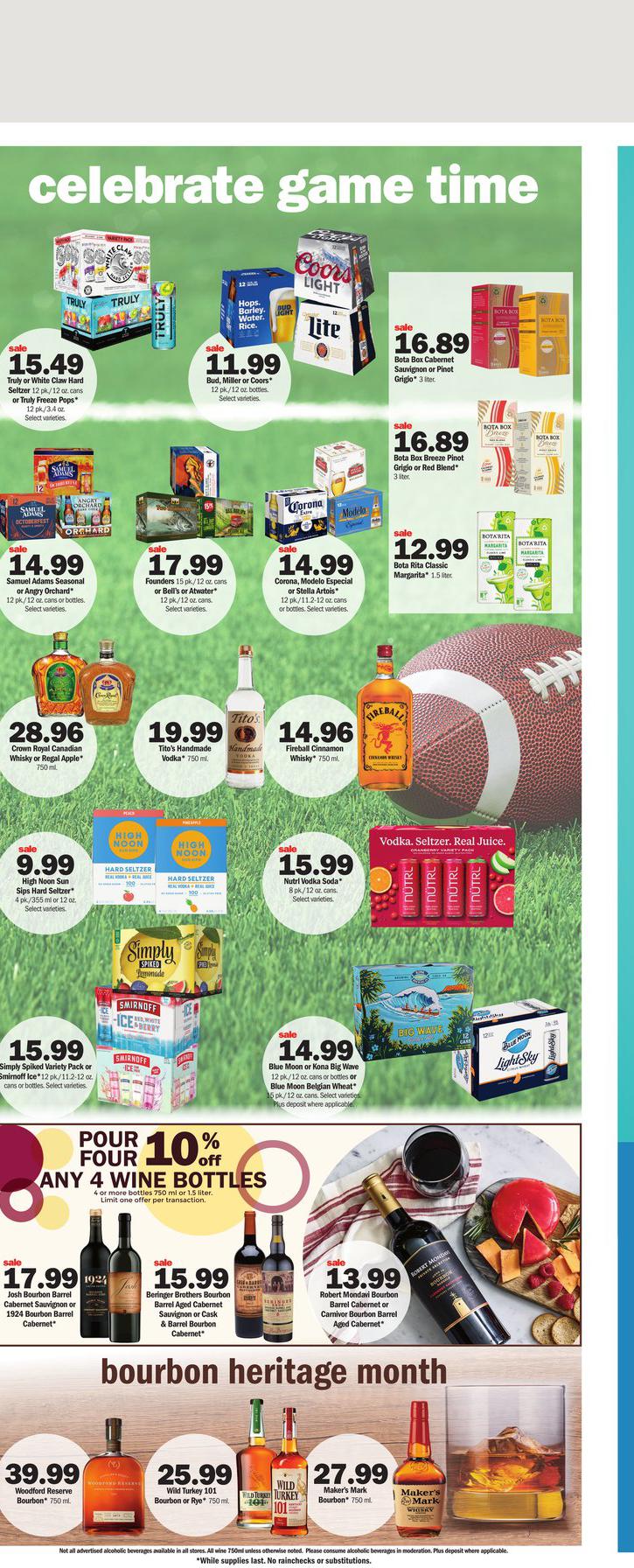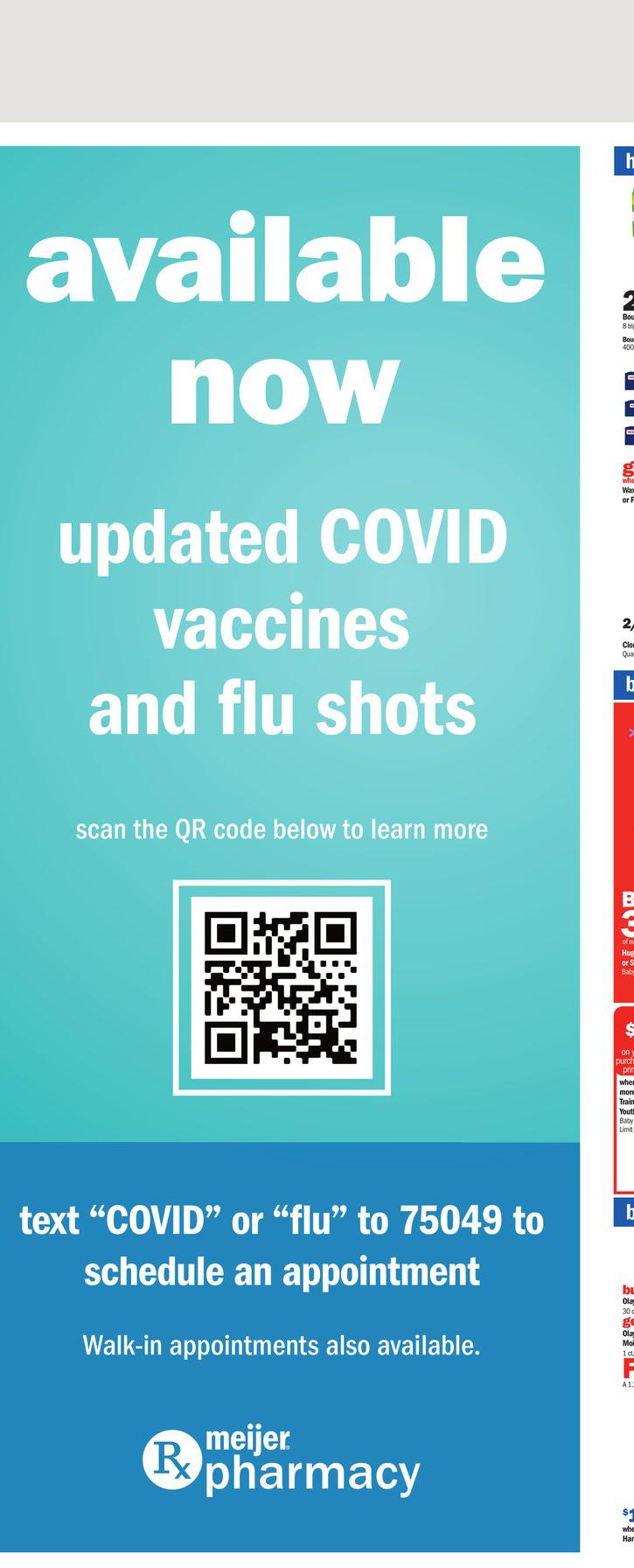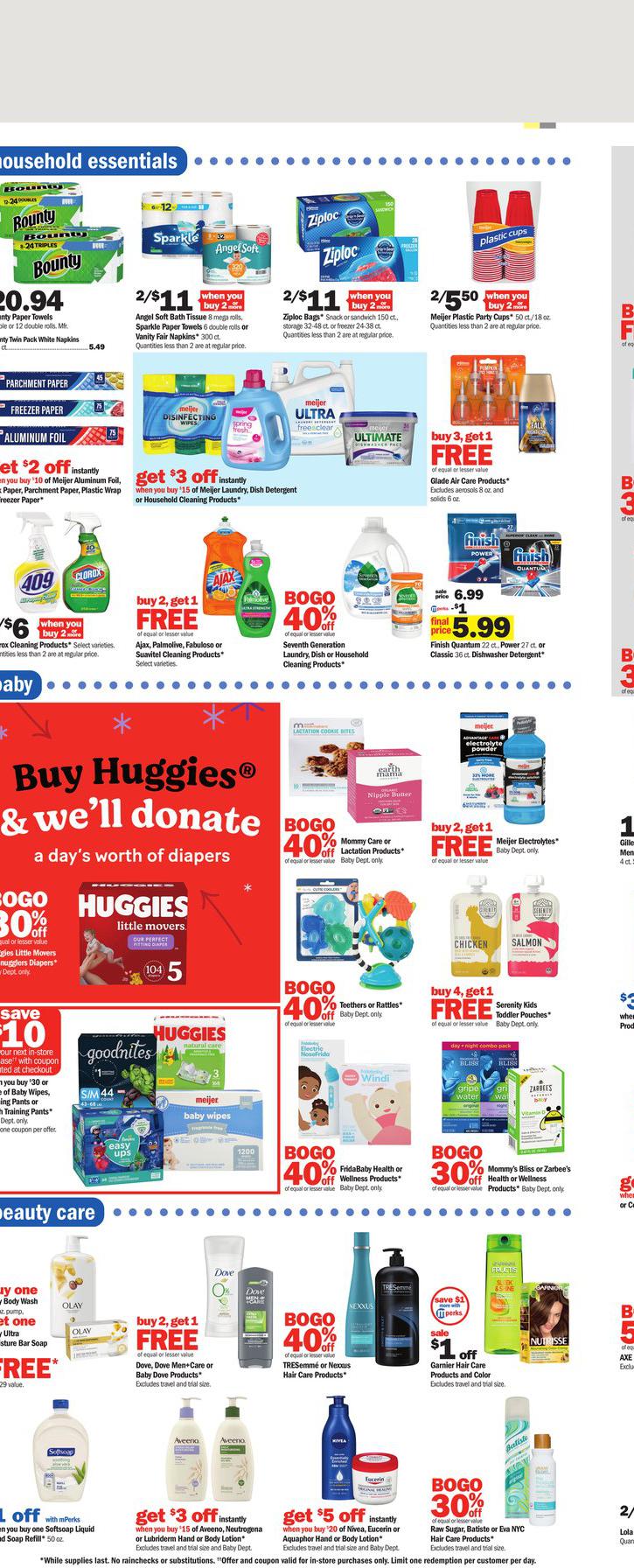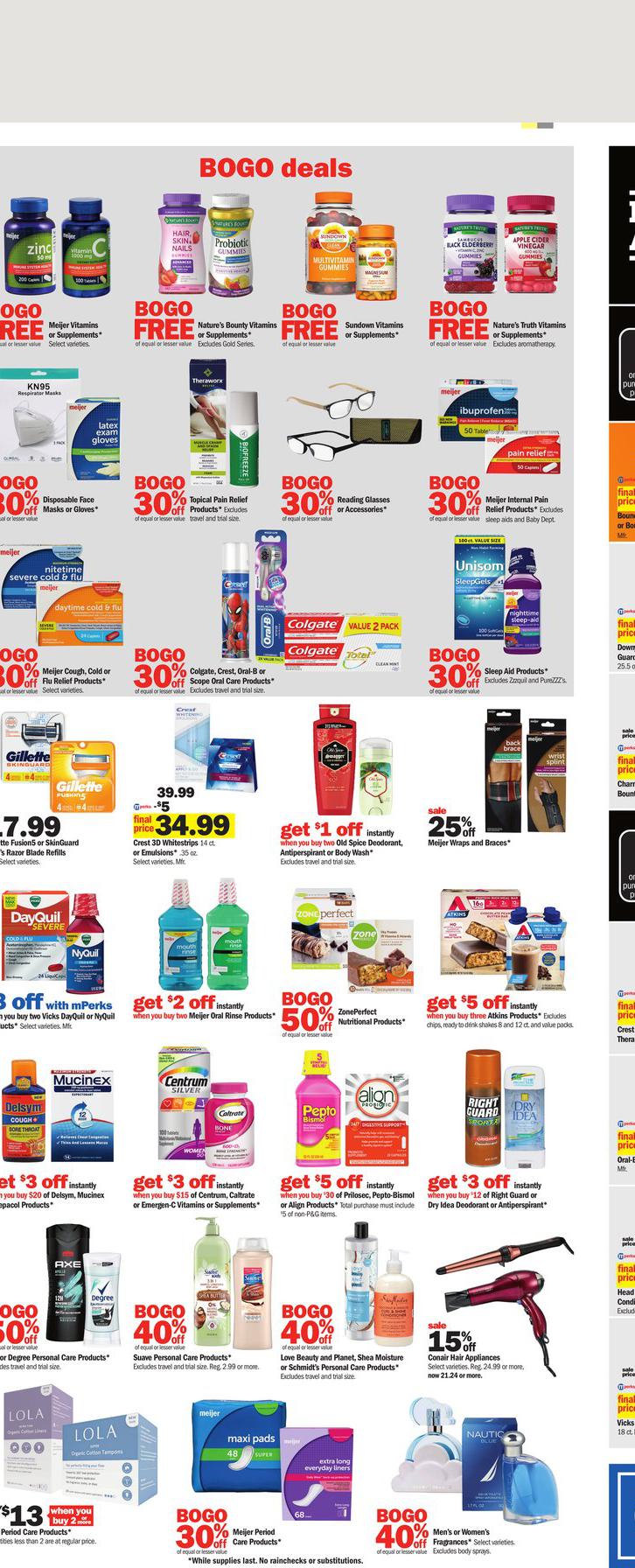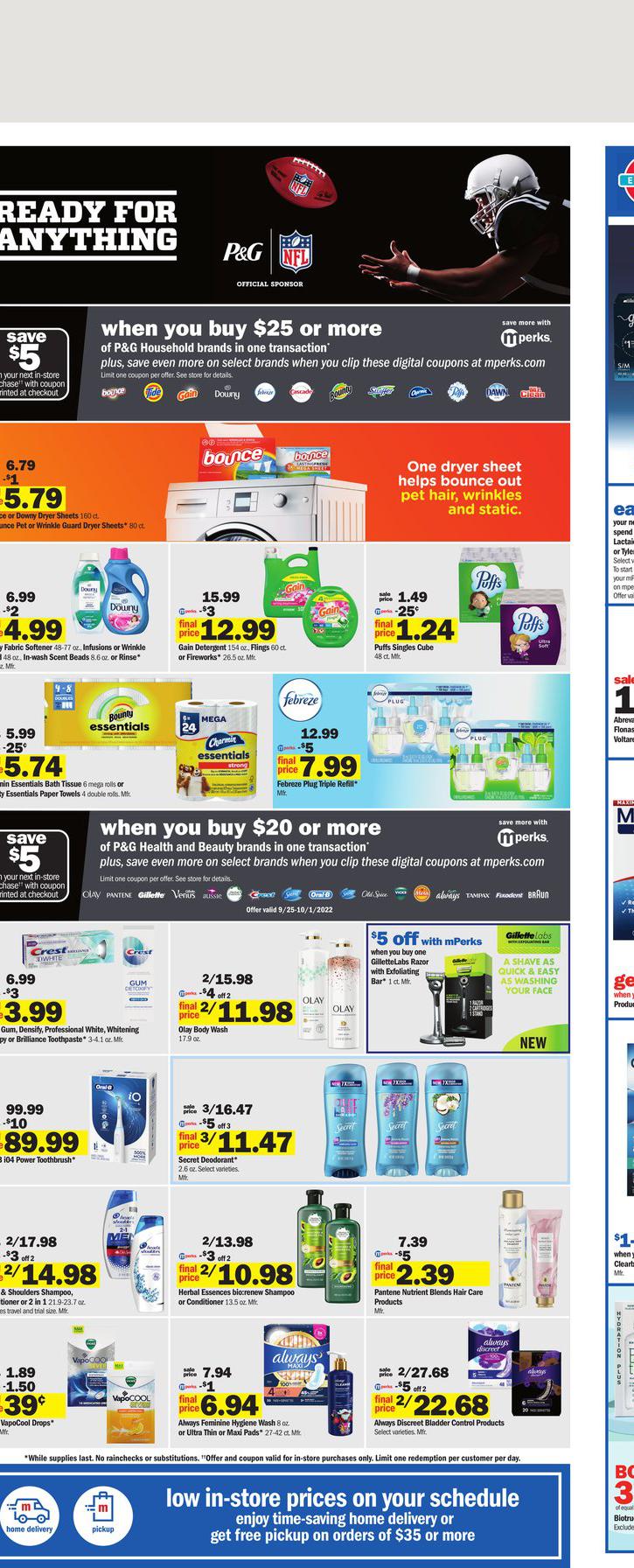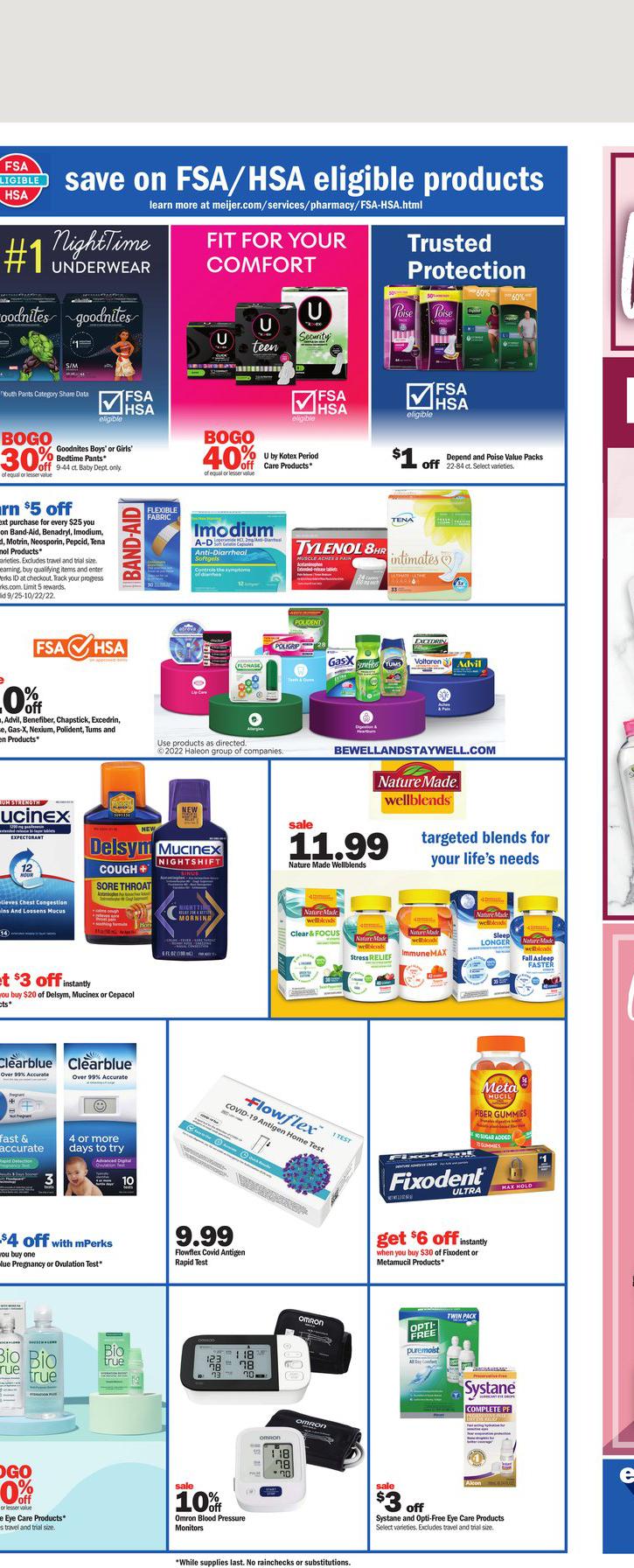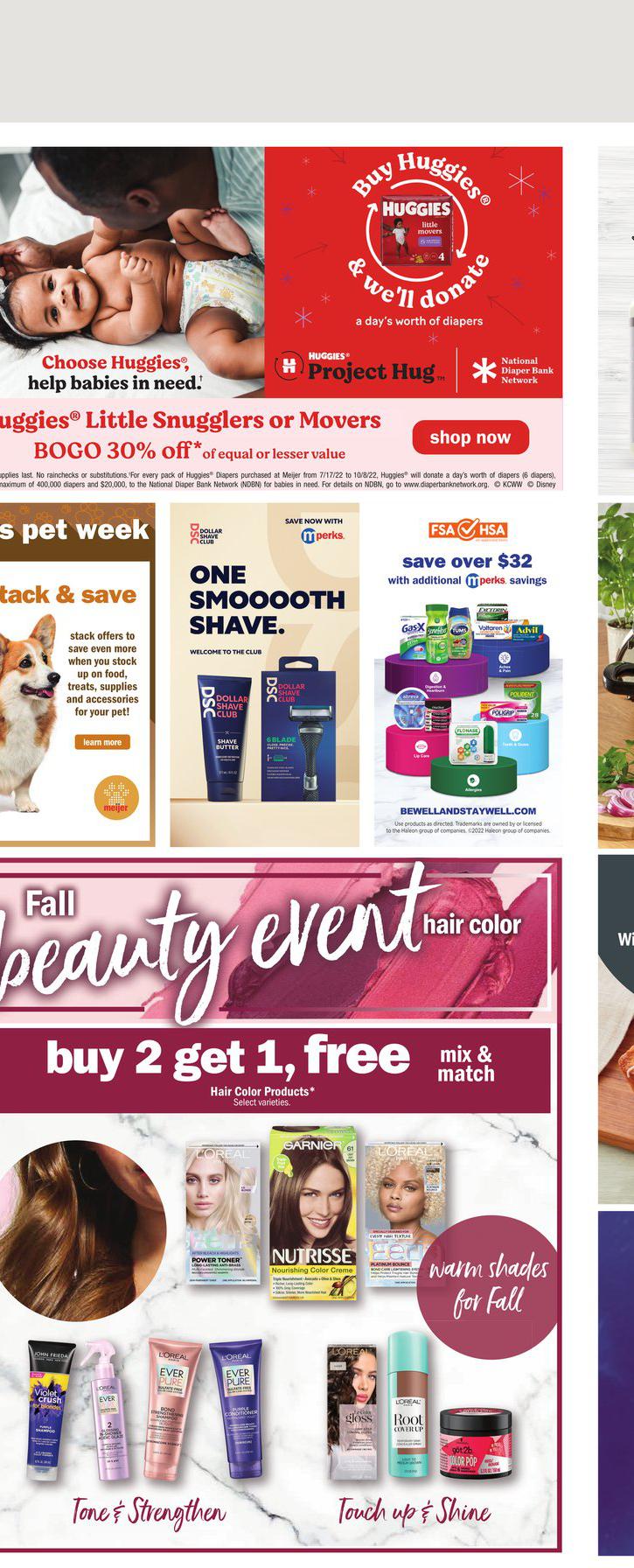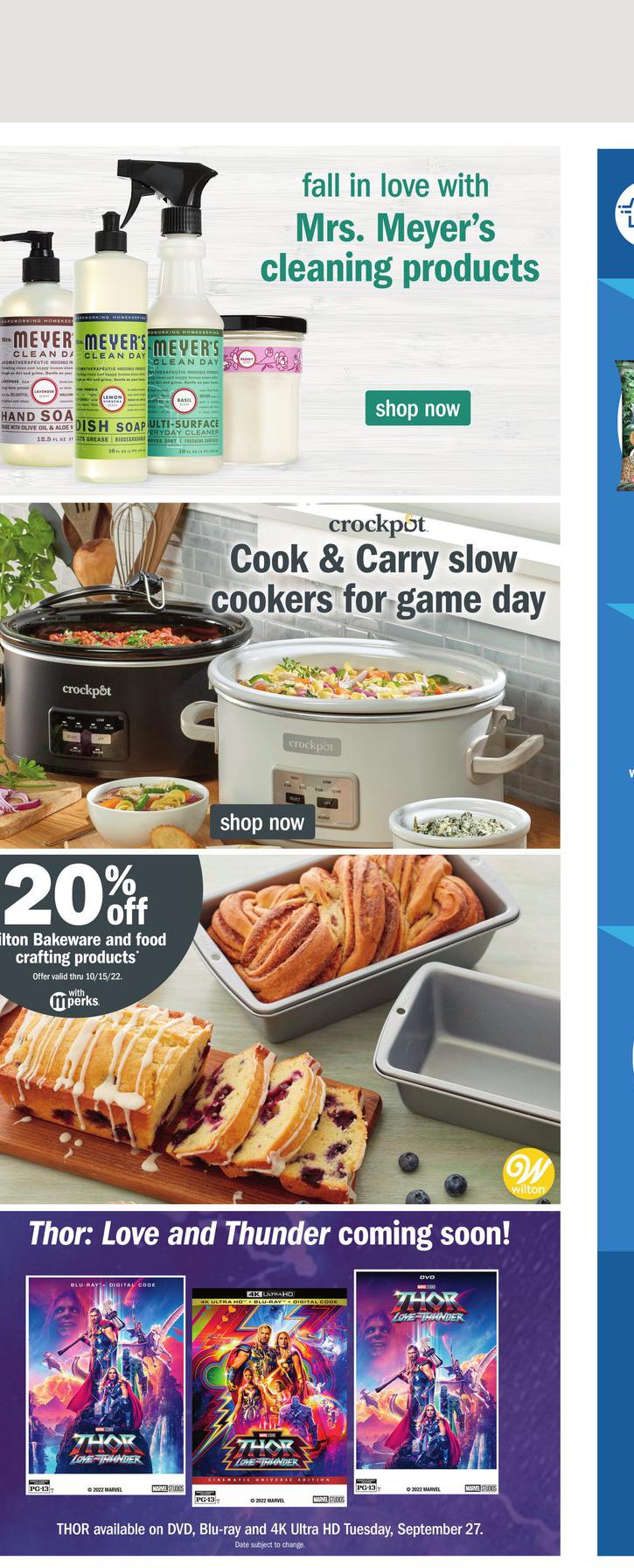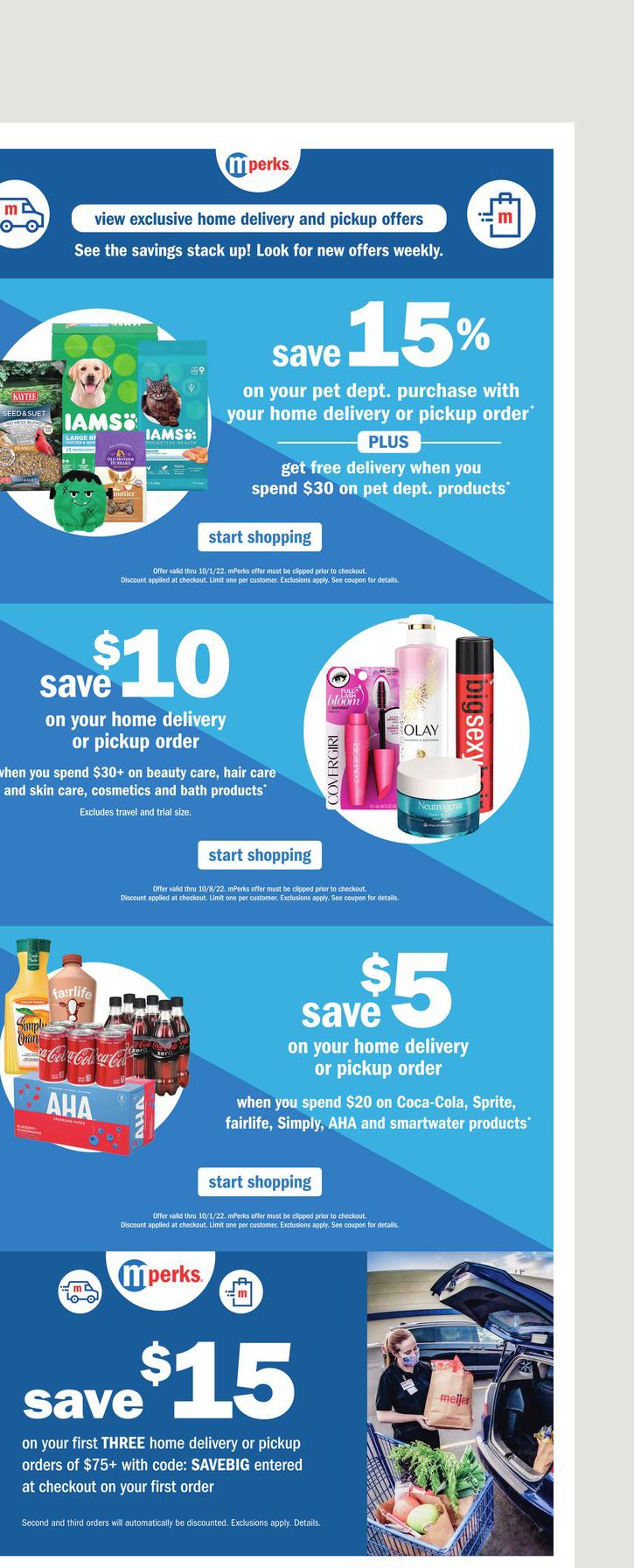 | Market | Flyer | Date |
| --- | --- | --- |
| | Softlines Hot Deals | 11/27/2022 |
| | Butcher's Pick | 11/27/2022 |
| | Clearance | 11/27/2022 |
| | Cold and Flu | 11/27/2022 |
| | Grower's Pick | 12/01/2022 |
| | Weekly Ad | 12/04/2022 |
| | Holiday Ad | 12/04/2022 |
| | Deli Sushi | 12/05/2022 |
| | 12 Days of Gifting | 12/05/2022 |
| | OPA | 12/07/2022 |
Products in the Flyer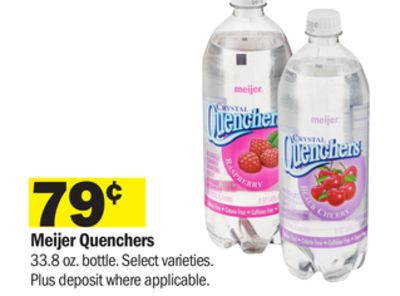 Meijer Quenchers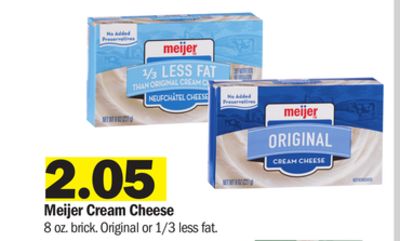 Meijer Cream Cheese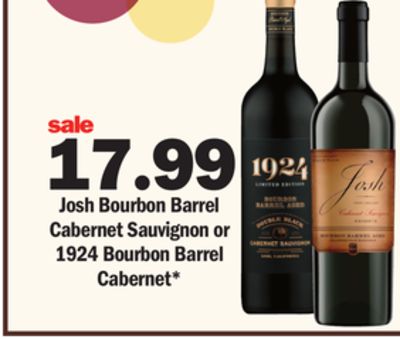 Josh Bourbon Barrel Cabernet Sauvignon or 1924 Bourbon Barrel Cabernet*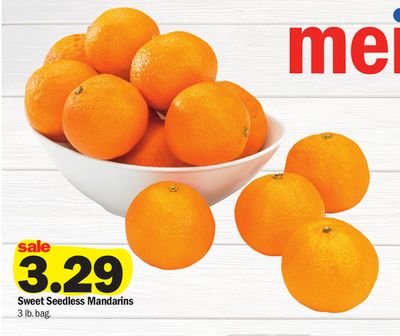 Sweet Seedless Mandarins
Jumbo Ripened Mangos*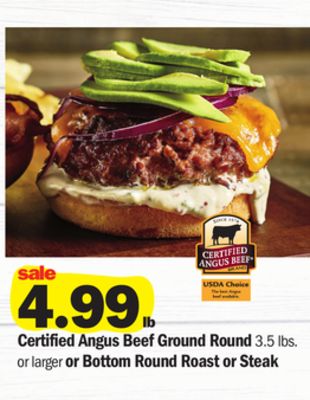 Certified Angus Beef Ground Round 3.5 lbs. or larger or Bottom Round Roast or Steak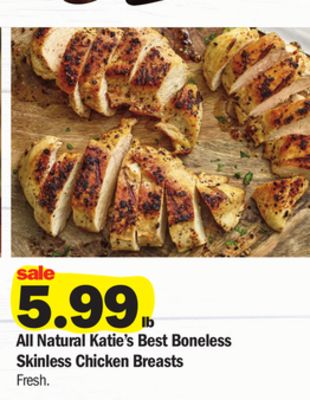 All Natural Katie's Best Boneless Skinless Chicken Breasts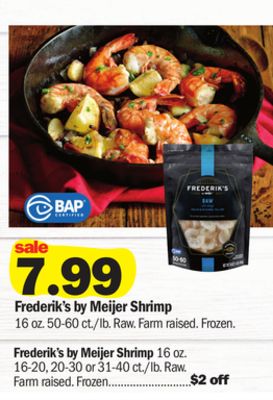 Frederik's by Meijer Shrimp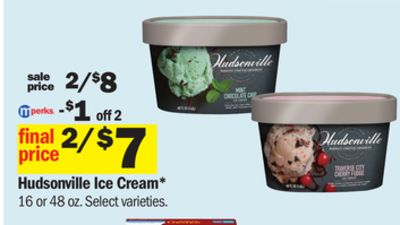 Hudsonville Ice Cream*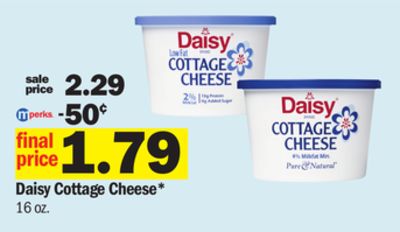 Daisy Cottage Cheese*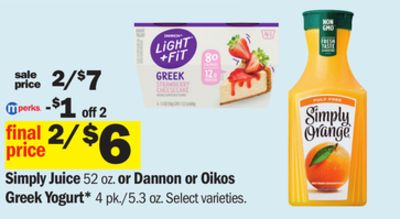 Simply Juice 52 oz. or Dannon or Oikos Greek Yogurt 4 pk / 5.3 oz.
Kellogg's Cereal 8.9-16.6 oz or General Mills Cereal* 8.9 - 12.7 oz.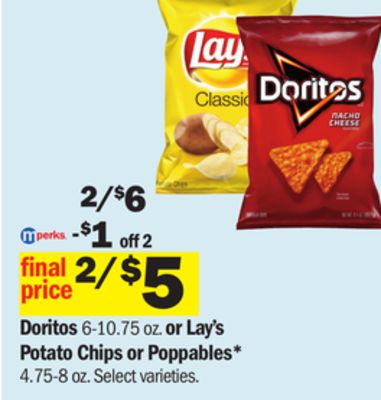 Doritos 6-10.75 oz. or Lay's Potato Chips or Poppables* 4.75-8 oz.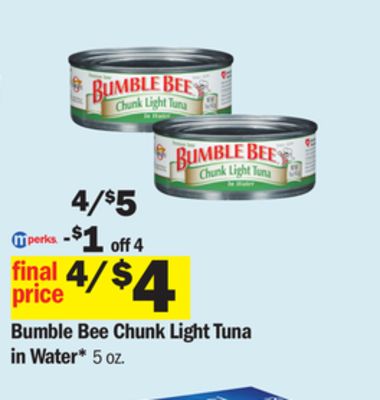 Bumble Bee Chunk Light Tuna in Water*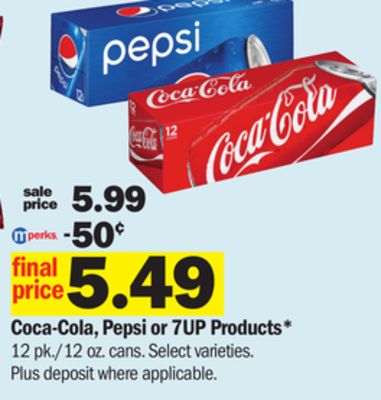 Coca-Cola, Pepsi or 7UP Products*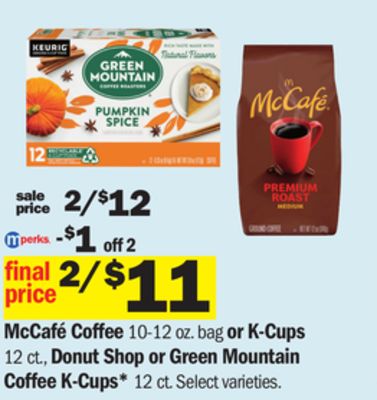 McCafé Coffee 10-12 oz. bag or K-Cups 12 ct., Donut Shop or Green Mountain Coffee K-Cups* 12 ct.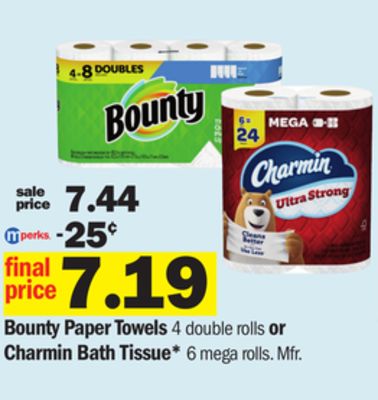 Bounty Paper Towels 4 double rolls or Charmin Bath Tissue* 6 mega rolls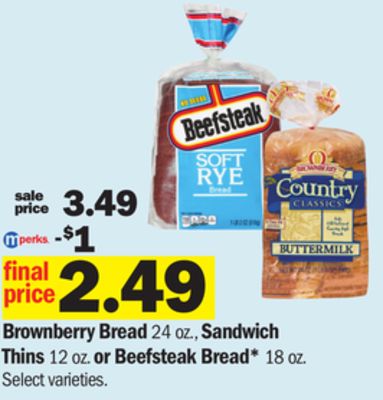 Brownberry Bread 24 oz. or Sandwich Thins 12 oz, or Beefsteak Bread* 18 oz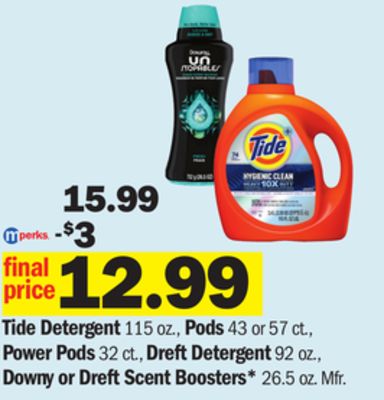 Tide Detergent 115 oz., Pods 43 or 57 ct., Power Pods 32 ct., Dreft Detergent 92 oz., Downy or Dreft Scent Boosters* 26.5 oz.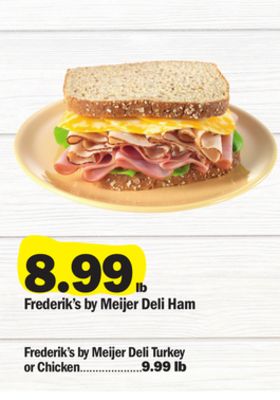 Frederik's By Meijer Deli Ham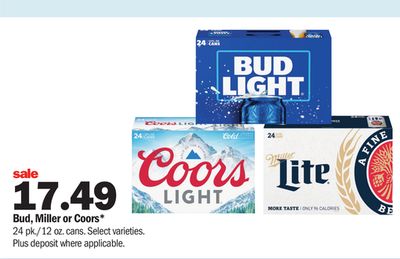 Bud, Miller or Coors*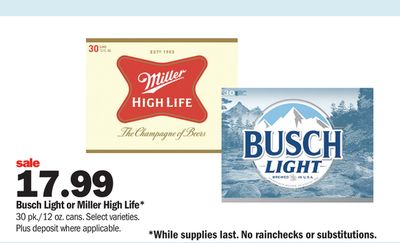 Busch Light or Miller High Life*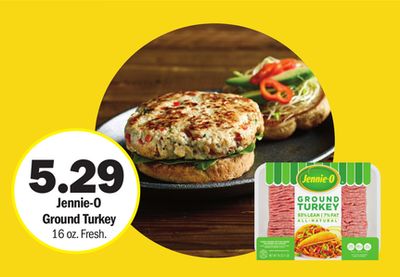 Jennie-O Ground Turkey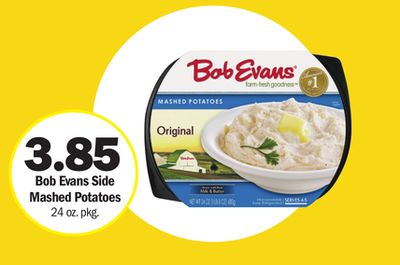 Bob Evans Side Mashed Potatoes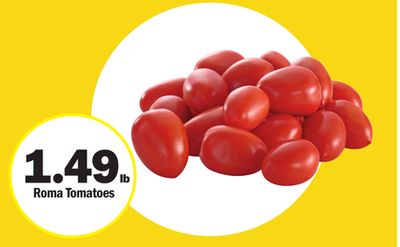 Roma Tomatoes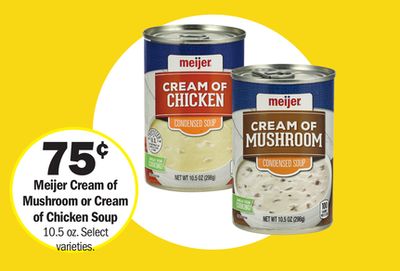 Meijer Cream of Mushroom or Cream of Chicken Soup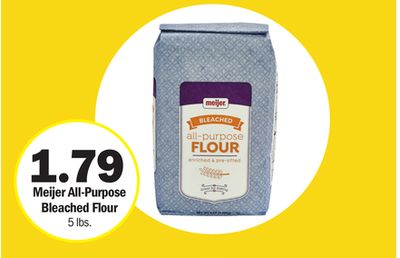 Meijer All-Purpose Bleached Flour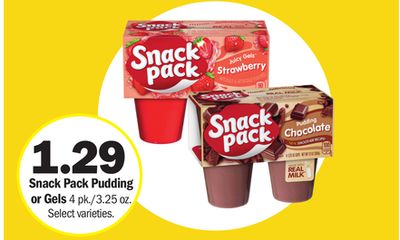 Snack Pack Pudding or Gels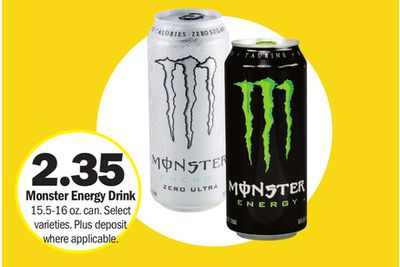 Monster Energy Drink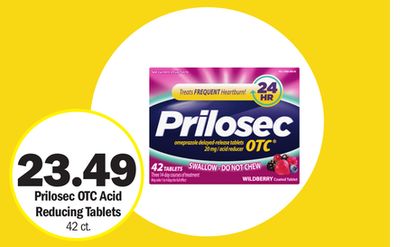 Prilosec OTC Acid Reducing Tablets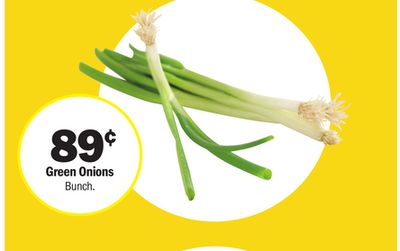 Green Onions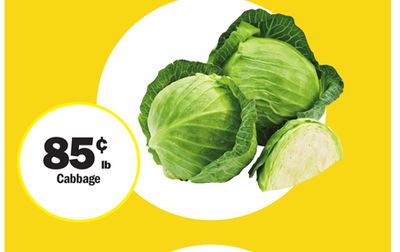 Cabbage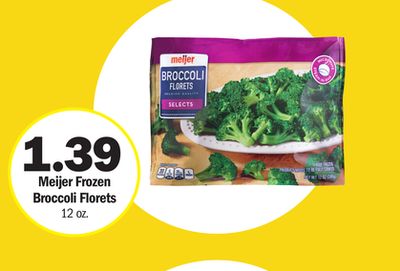 Meijer Frozen Broccoli Florets
Imperial Spread Quarters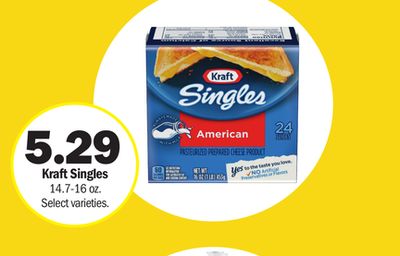 Kraft Singles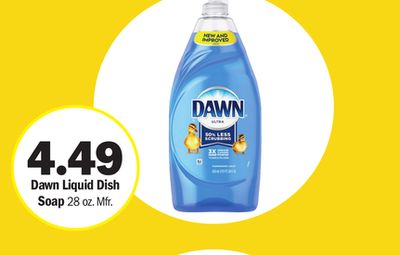 Dawn Liquid Dish Soap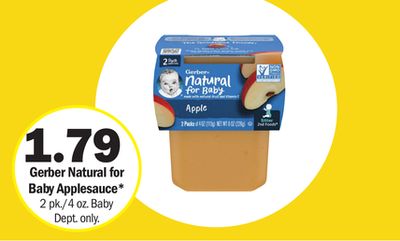 Gerber Natural for Baby Applesauce*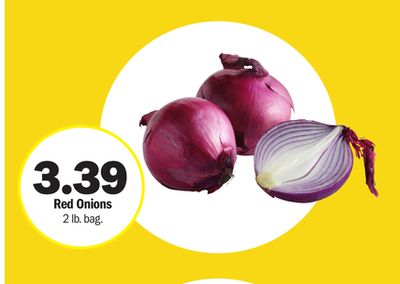 Red Onions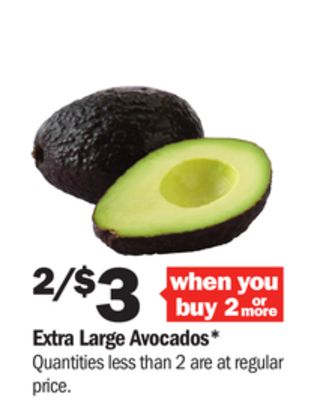 Extra Large Avocados*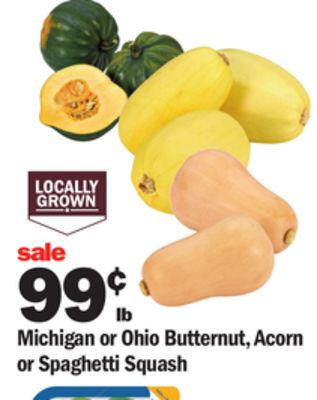 Michigan or Ohio Butternut, Acorn or Spaghetti Squash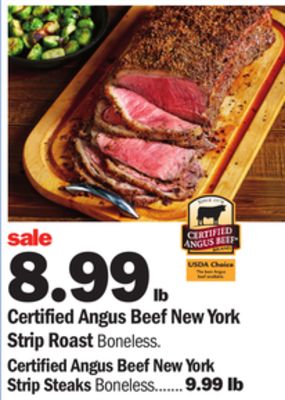 Certified Angus Beef New York Strip Roast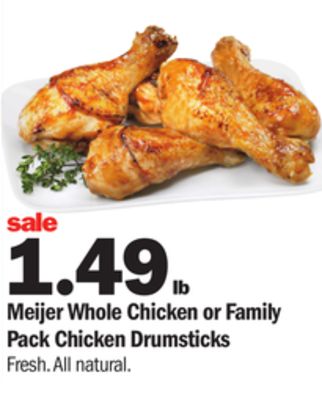 Meijer Whole Chicken or Meijer Family Pack Chicken Drumsticks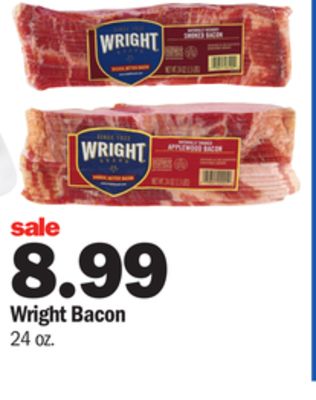 Wright Bacon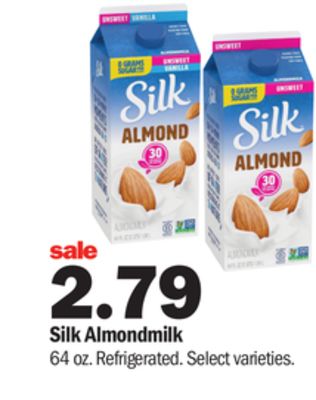 Silk Almondmilk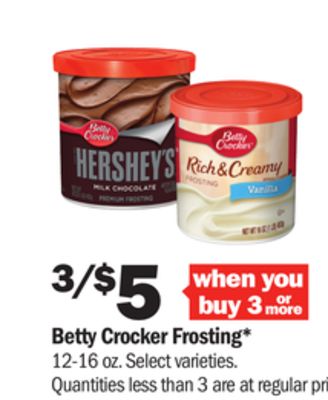 Betty Crocker Frosting*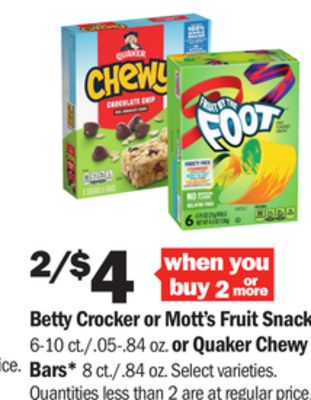 Betty Crocker or Mott's Fruit Snacks 6 -10 ct./.05 -.84 oz. or Quaker Chewy Bars* 8 ct./.84 oz.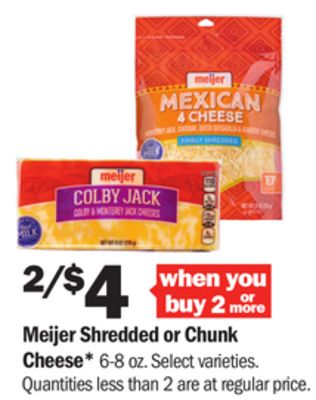 Meijer Shredded or Chunk Cheese*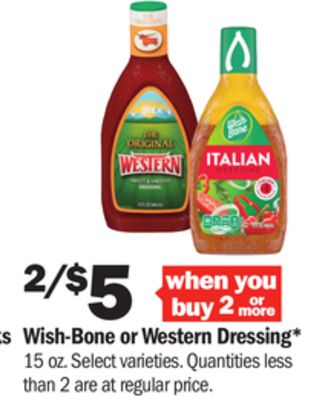 Wish-Bone or Western Dressing*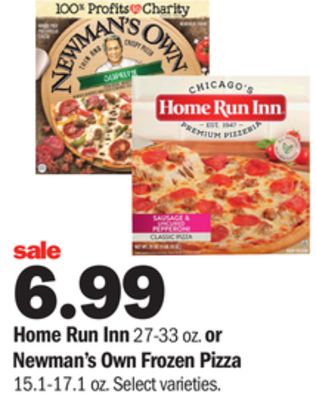 Home Run Inn Frozen Pizza 27-33 oz. and Newmans Own Frozen Pizza 15.1 - 17.1 oz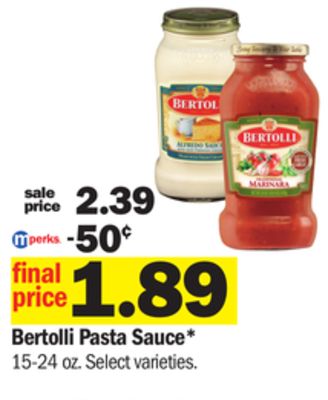 Bertolli Pasta Sauce*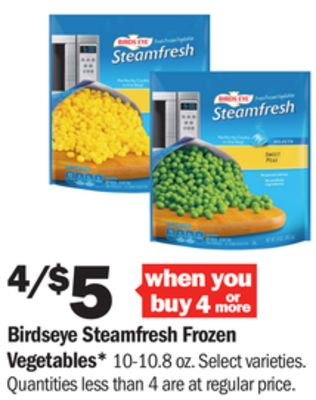 Birdseye Steamfresh Frozen Vegatables*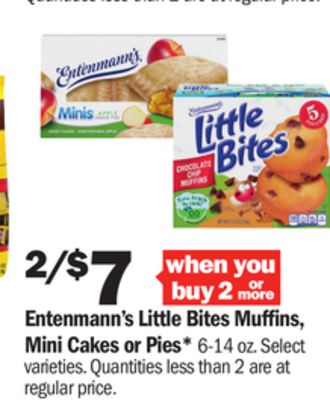 Entenmann's Little Bites Muffins, Mini Cakes or Pies*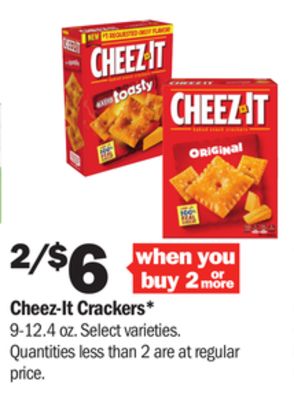 Cheez-It Crackers*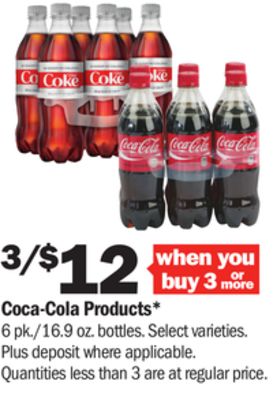 Coca-Cola Products*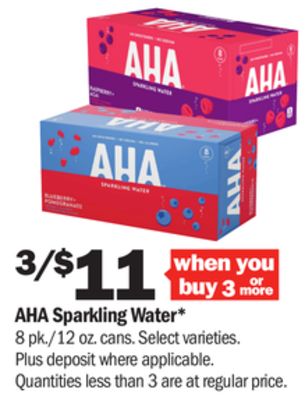 AHA Sparkling Water*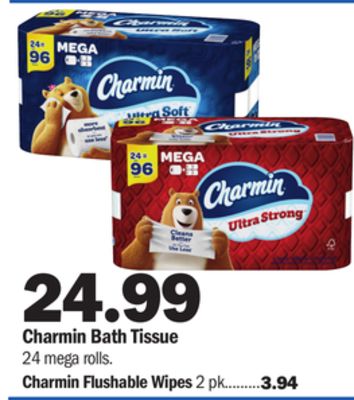 Charmin Bath Tissue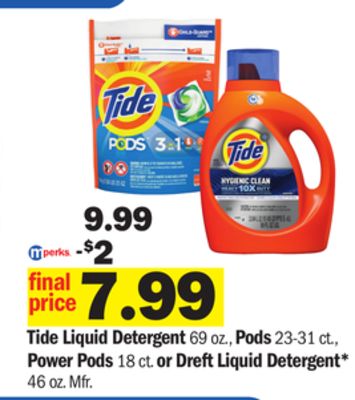 Tide Liquid Detergent 69 oz., Pods 23-31 ct., Power Pods 18 ct. or Dreft Liquid Detergent* 46 oz.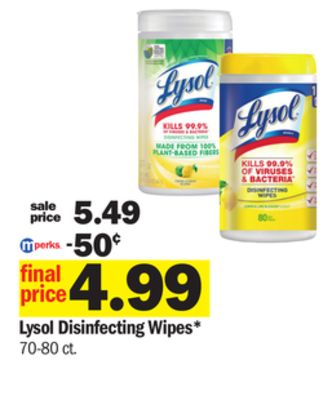 Lysol Disinfecting Wipes*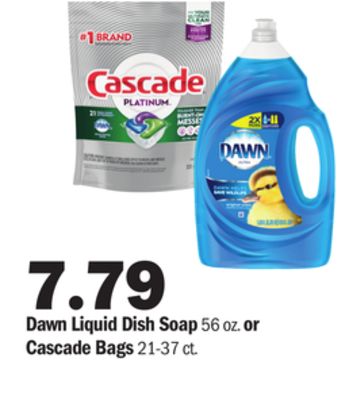 Dawn Liquid Dish Soap 56 oz. or Cascade Bags 21-37 ct.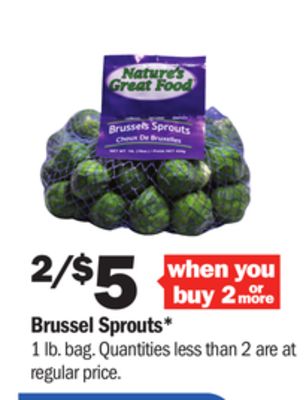 Brussel Sprouts*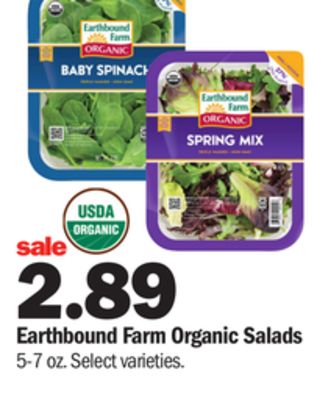 Earthbound Farm Organic Salads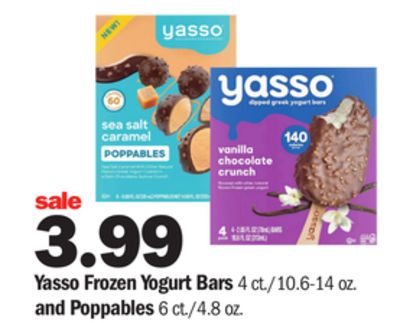 Yasso Frozen Yogurt Bars 4 ct./10.6-14 oz. or Poppables 6 ct./4.8 oz.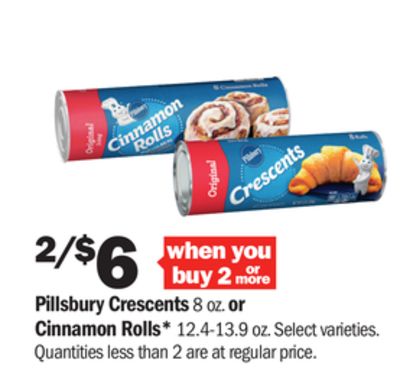 Pillsbury Crescents 8 oz or Cinnamon Rolls* 12.4-13.9 oz.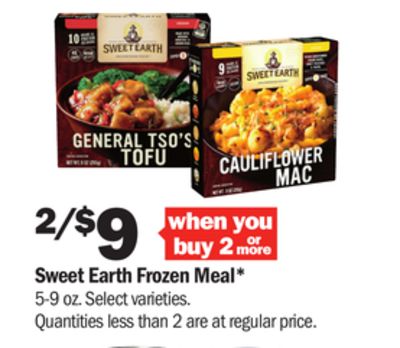 Sweet Earth Frozen Meals*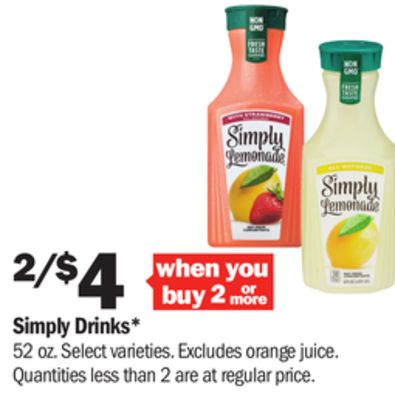 Simply Drinks*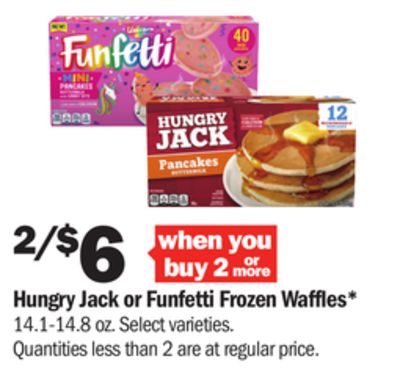 Hungry Jack or Funfetti Frozen Waffles*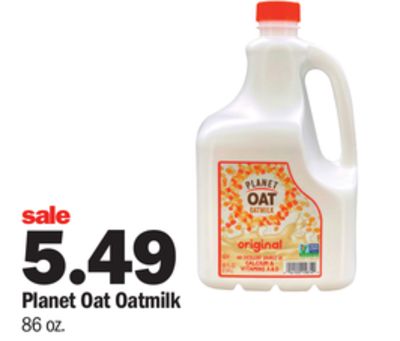 Planet Oat Oatmilk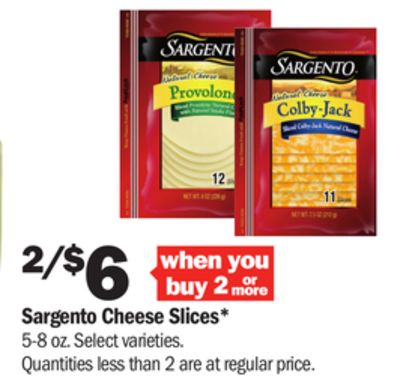 Sargento Cheese Slices*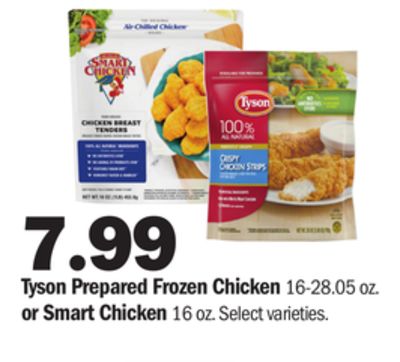 Tyson Prepared Frozen Chicken 16-28.05 oz. and Smart Chicken 16 oz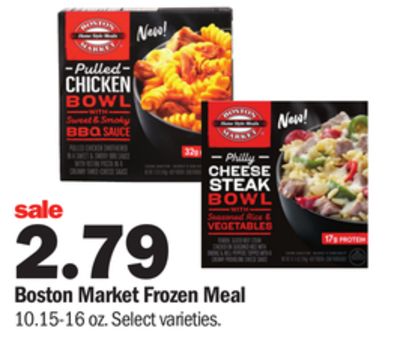 Boston Market Frozen Meal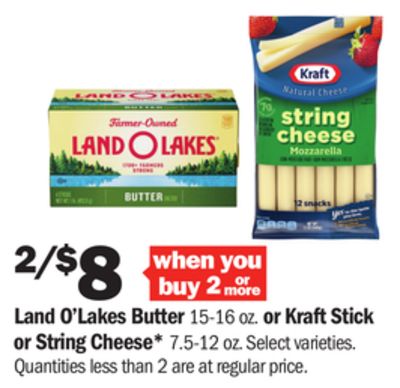 Land O' Lakes Butter 15-16 oz or Kraft Stick or String Cheese 7.5-12 oz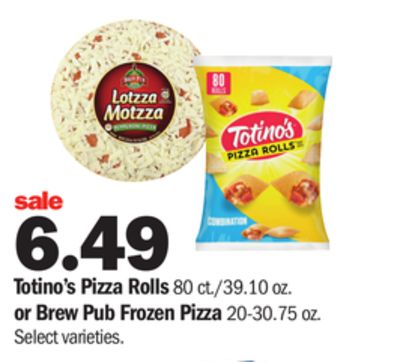 Totino's Pizza Rolls 80 ct./39.10 oz. or Brew Pub Frozen Pizza 20-30.75 oz.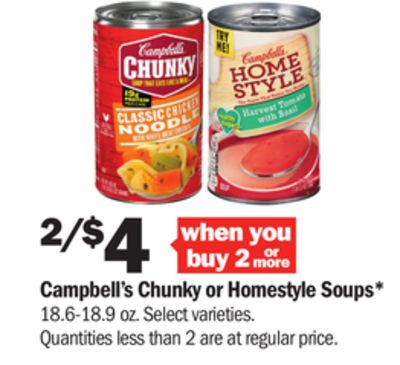 Campbell's Chunky or Homestyle Soups*
Del Monte Fruit Cups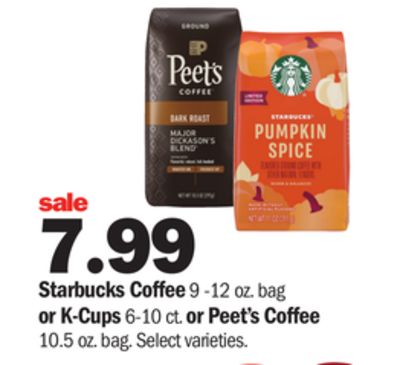 Starbucks Coffee 9 -12 oz. bags or K-Cups 6-10 ct. or Peet's Coffee 10.5 oz. bag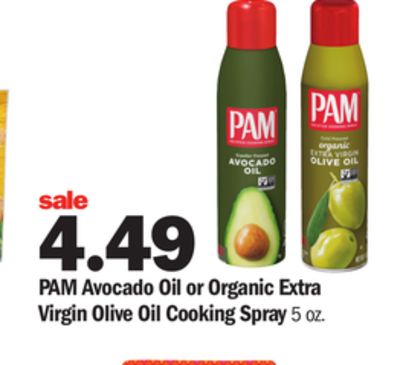 PAM Avocado Oil or Organic Extra Virgin Olive Oil Cooking Spray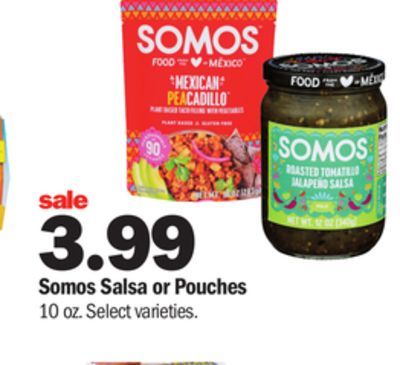 Somos Salsa or Pouches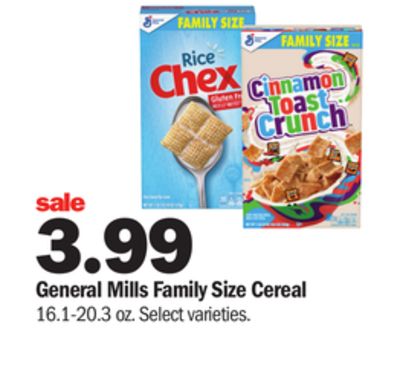 General Mills Family Size Cereal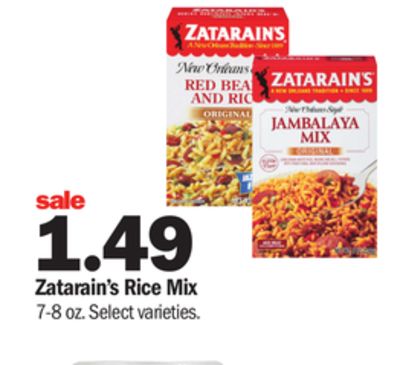 Zatarain's Rice Mix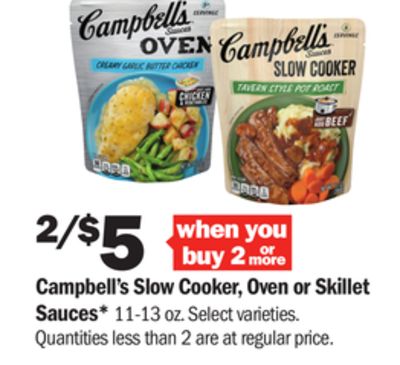 Campbell's Slow Cooker, Oven or Skillet Sauces*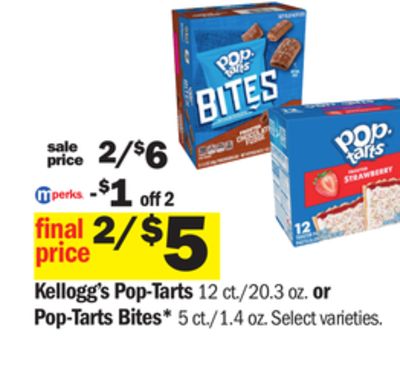 Kellogg's Pop-Tarts 12 ct./20.3 oz. or Pop-Tarts Bites* 5 ct./1.4 oz.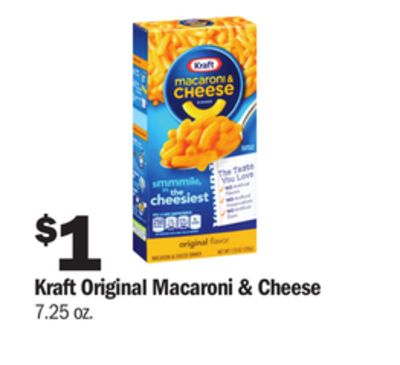 Kraft Original Macaroni & Cheese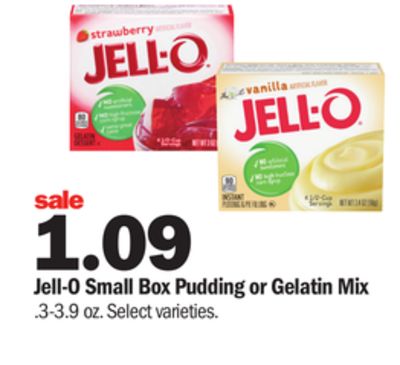 Jell-O Small Box Pudding or Gelatin Mix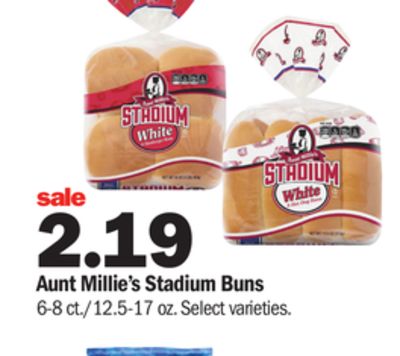 Aunt Millie's Stadium Buns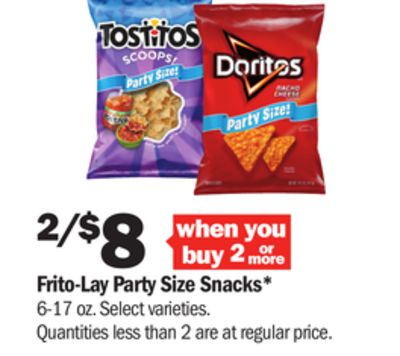 Frito-lay Party Size Snacks*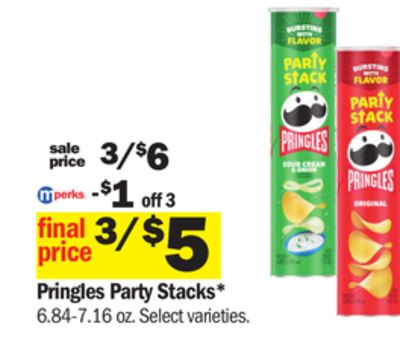 Pringles Party Stacks*
Little Debbie Mini Muffins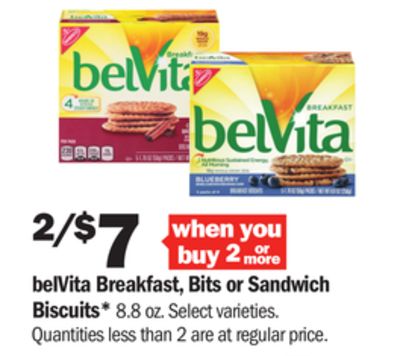 belVita Breakfast, Bits or Sandwich Biscuits*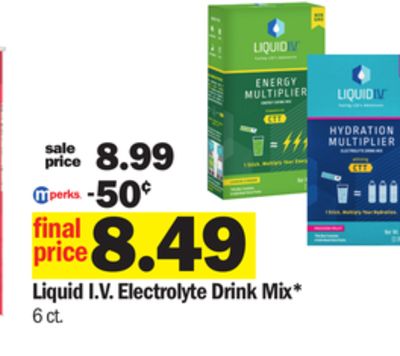 Liquid I.V. Electrolyte Drink Mix*
M&M'S Share Sine Bags*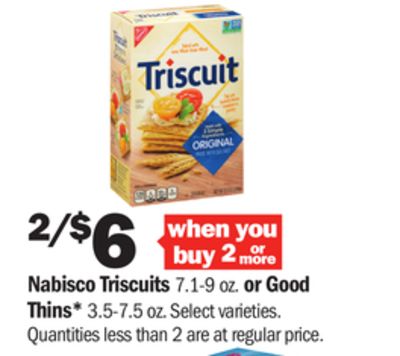 Nabisco Triscuits or Wheat Thins 7.1-9 oz. or Good Thins 3.5-7.5 oz.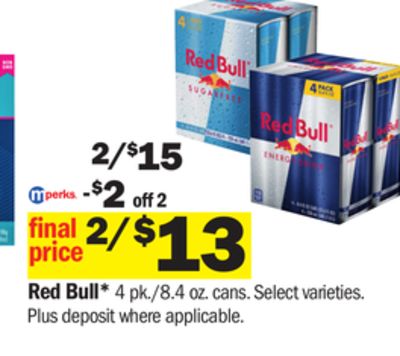 Red Bull*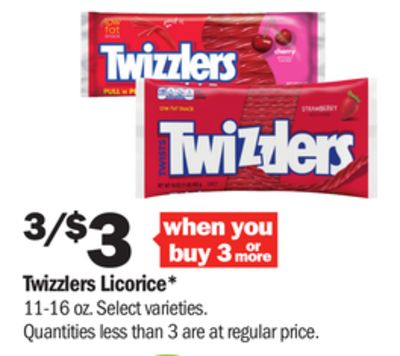 Twizzlers Licorice*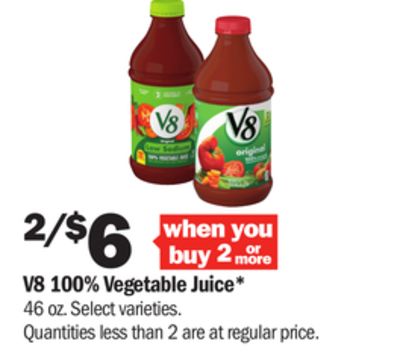 V8 100% Vegetable Juice*
Propel Water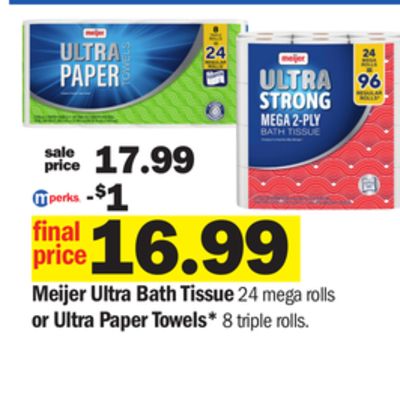 Meijer Ultra Bath Tissue 24 mega rolls or Ultra Paper Towels* 8 triple rolls.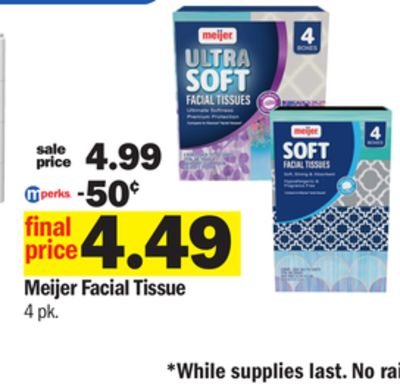 Meijer Facial Tissue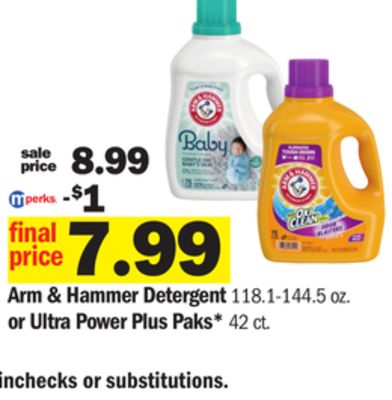 Arm & Hammer Detergent 118.1-144.5oz or ultra power plus paks 42ct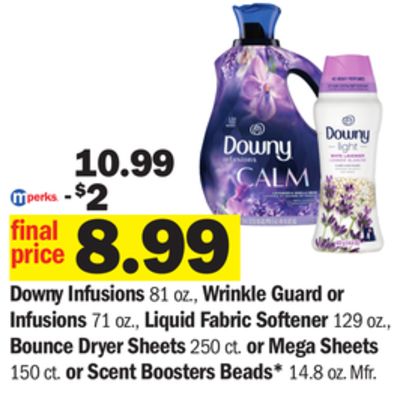 Downy Infusions 81 oz., Wrinkle Guard or Infusions 71 oz., Liquid Fabric Softener 129 oz., Bounce Dryer Sheets 250 ct. or Mega Sheets 150 ct. or Scent Boosters Beads* 14.8 oz.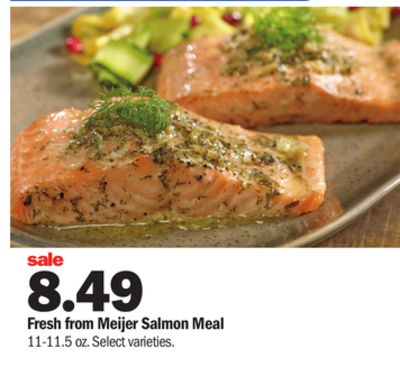 Fresh from Meijer Salmon Meals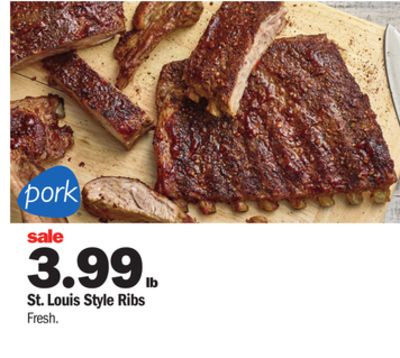 St. Louis Style Ribs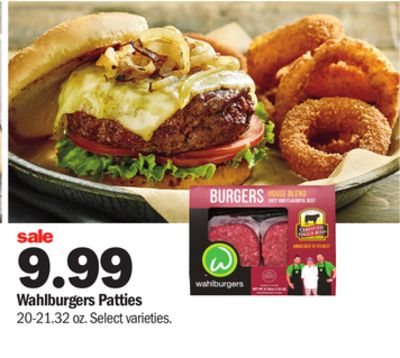 Wahlburgers Patties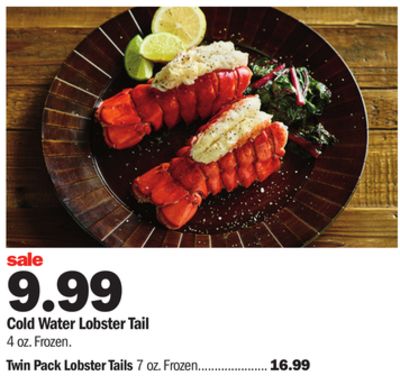 Cold Water Lobster Tail
Ball Park Beef or Angus Beef Franks*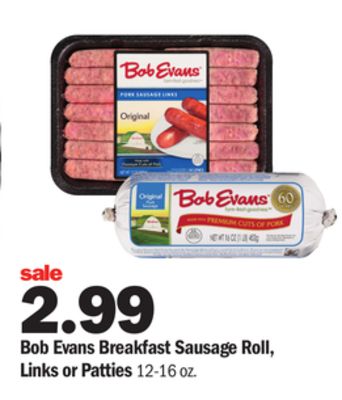 Bob Evans Breakfast Sausage Roll, Links and Patties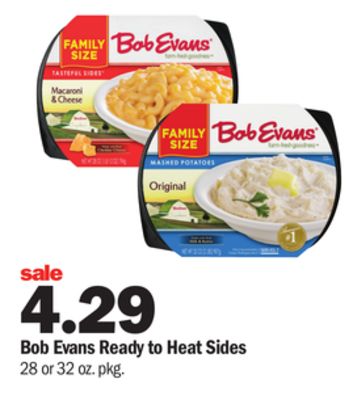 Bob Evans Ready to Heat Sides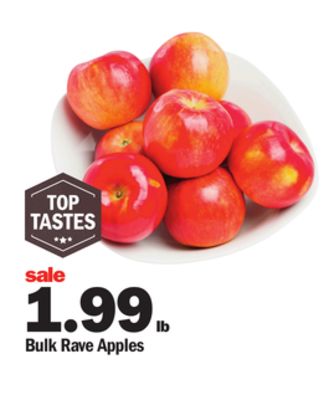 Bulk Rave Apples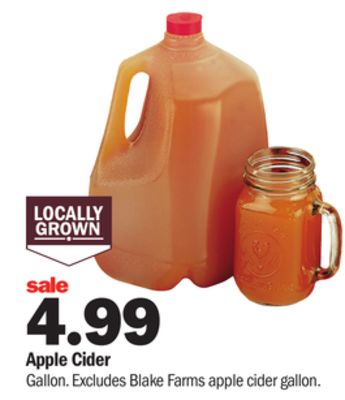 Apple Cider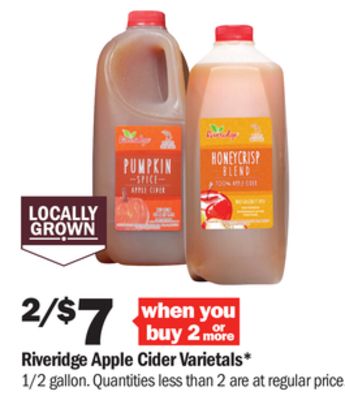 Riveridge Apple Cider Varietals*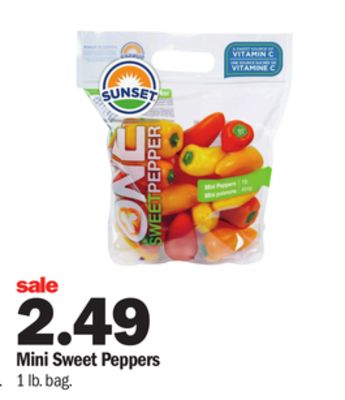 Mini Sweet Peppers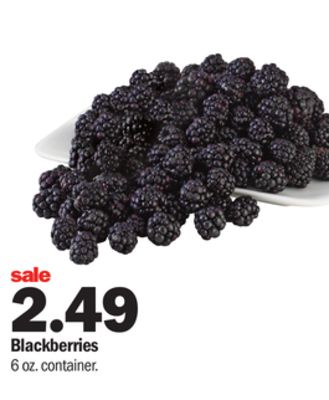 Blackberries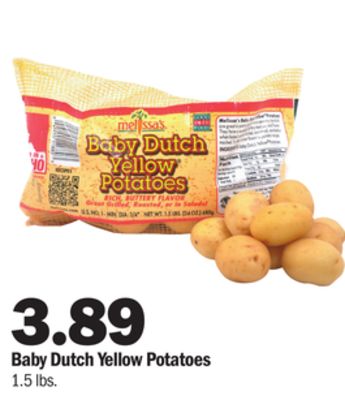 Baby Dutch Yellow Potatoes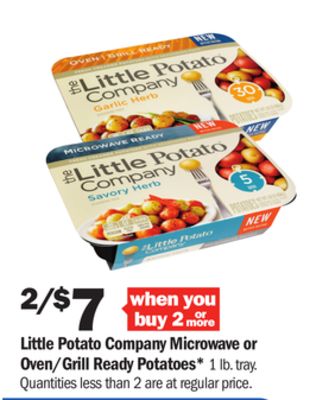 Little Potato Company Microwave or Oven/Grill Ready Potatoes*
Wild Wonders or Angel Sweet Tomatoes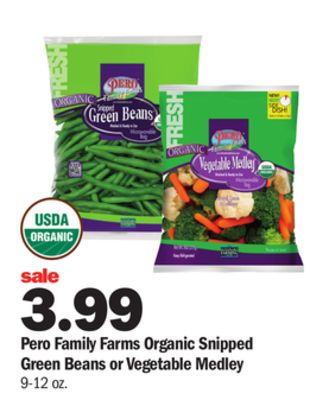 Pero Family Farms Organic Snipped Green Beans or Vegetable Medley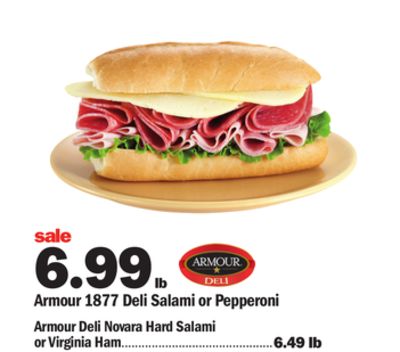 Armour 1877 Deli Salami or Pepperoni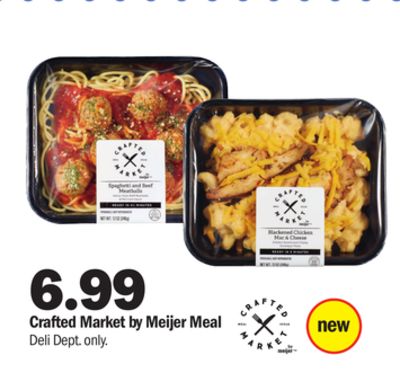 Crafted Market by Meijer Meal
12 Ct. Ultimate or Seasonal Shaped Sugar Cookies
Meijer Coffee Pods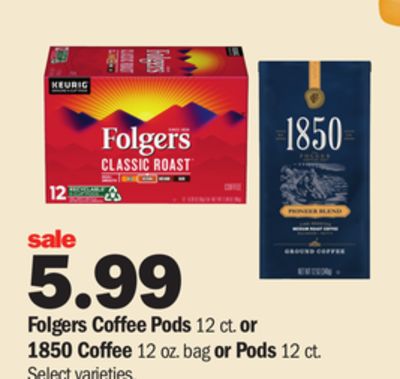 Folgers Coffee Pods 12 ct. or 1850 Coffee 12 oz. bag or Pods 12 ct.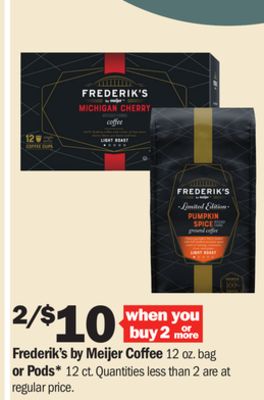 Frederik's by Meijer Coffee 12 oz. bag or Pods* 12 ct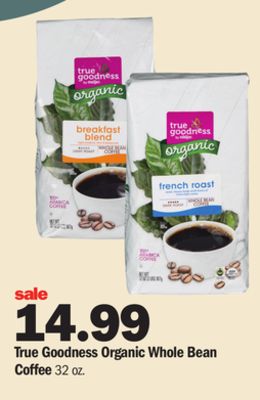 True Goodness Organic Whole Bean Coffee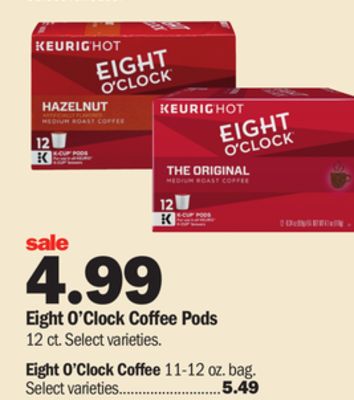 Eight O' Clock Coffee Pods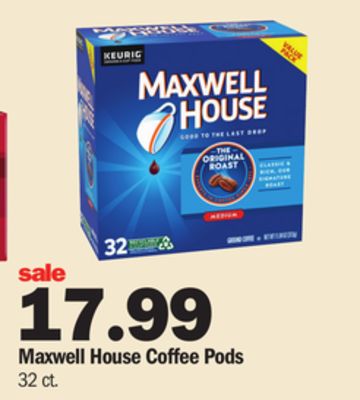 Maxwell House Coffee Pods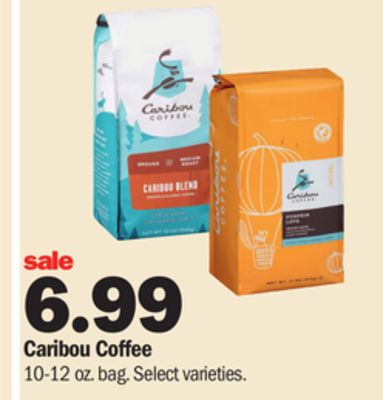 Caribou Coffee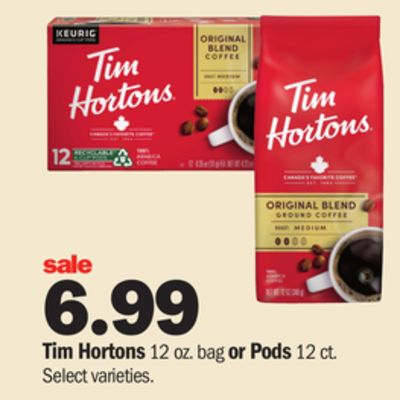 Tim Hortons 12 oz bag or Pods 12 ct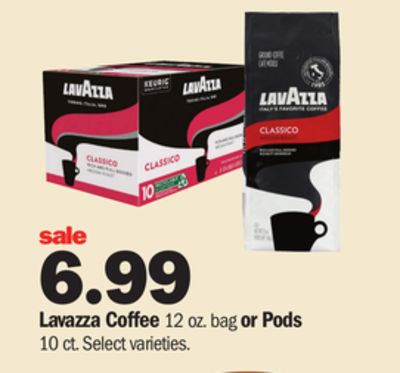 Lavazza Coffee 12 oz. bag or Pods 10 ct.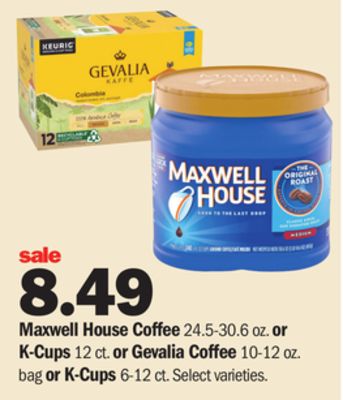 Maxwell House Coffee 24.5-30.6 oz. or K-Cups 12 ct. or Gevalia Coffee 10-12 oz. bag or K-Cups 6-12 ct.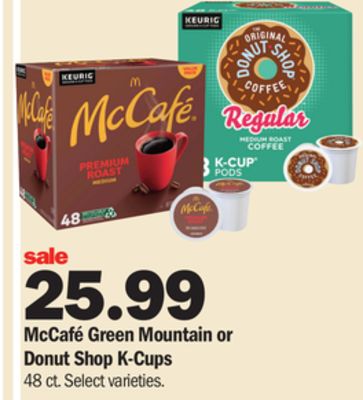 McCafé Green Mountain or Donut Shop K-Cups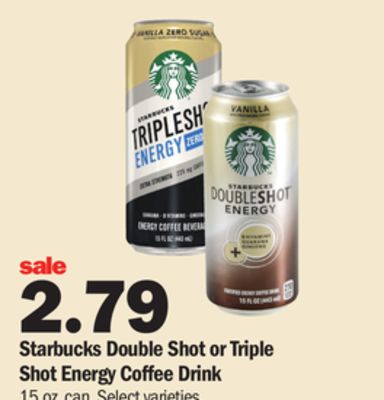 Starbucks Double Shot or Triple Shot Energy Coffee Drink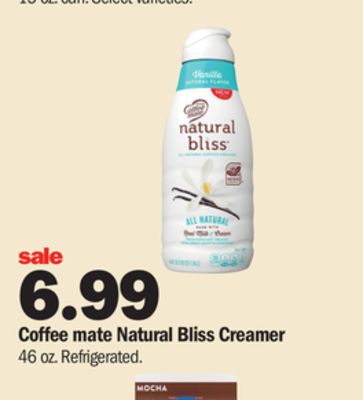 Coffee Mate Natural Bliss Creamer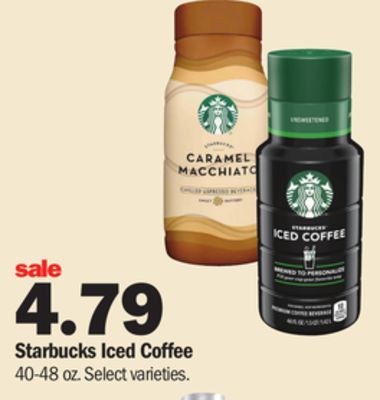 Starbucks Iced Coffee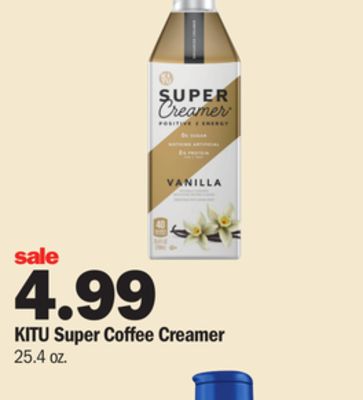 KITU Super Coffee Creamer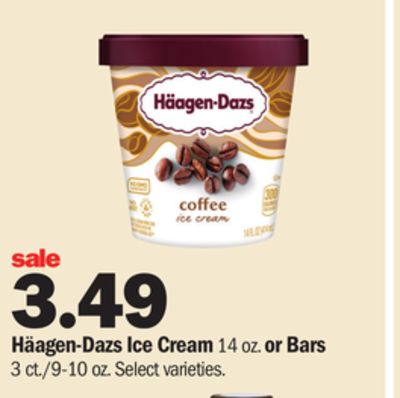 Haagen-Dazs Ice Cream 14 oz or Bars 3ct/9-10 oz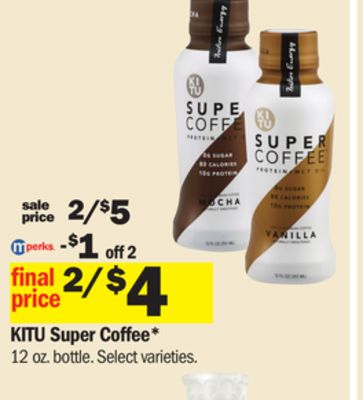 KITU Super Coffee*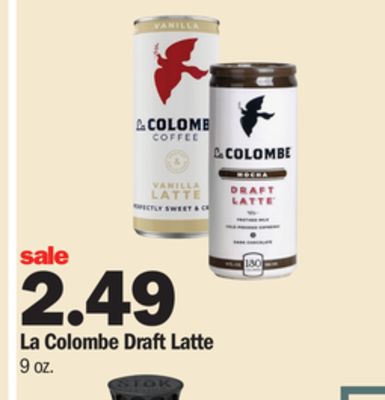 La Colombe Draft Latte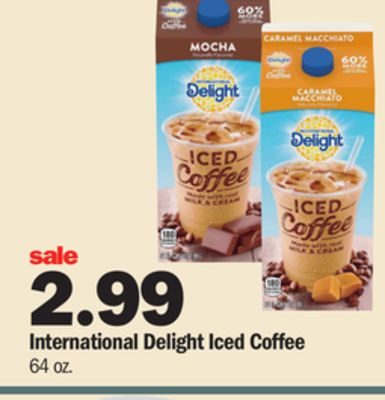 International Delight Iced Coffee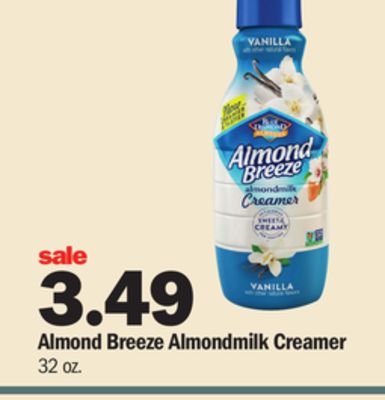 Almond Breeze Almondmilk Creamer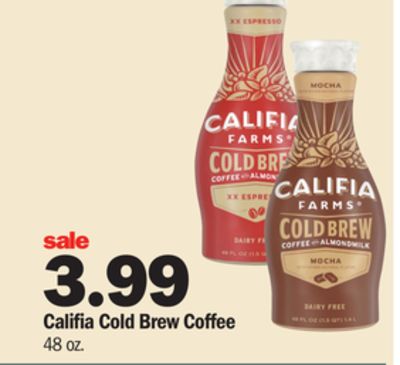 Califia Cold Brew Coffee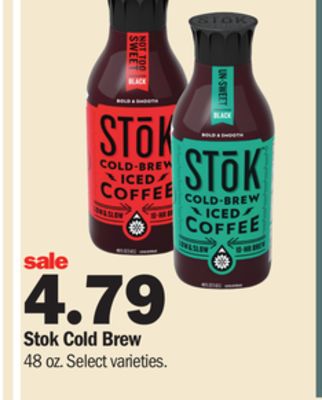 Stok Cold Brew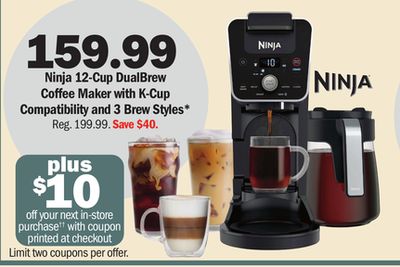 Ninja 12-Cup DualBrew Coffee Maker with K-Cup Compatibility and 3 Brew Styles*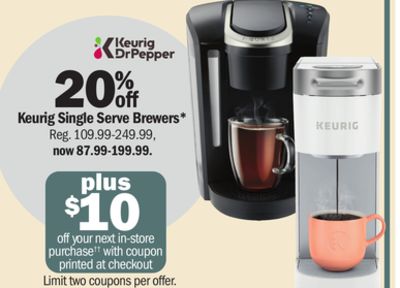 Keurig Single Serve Brewers*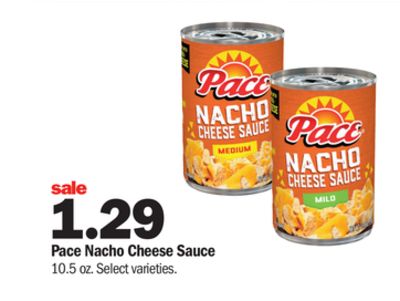 Pace Nacho Cheese Sauce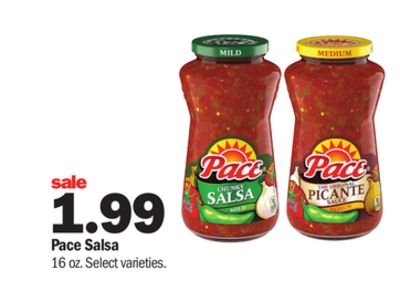 Pace Salsa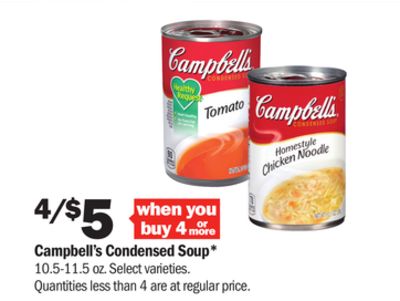 Campbell's Condensed Soup*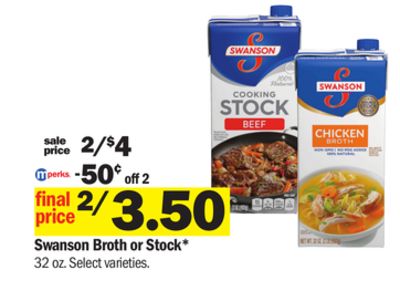 Swanson Broth or Stock*
Prego Pasta Sauce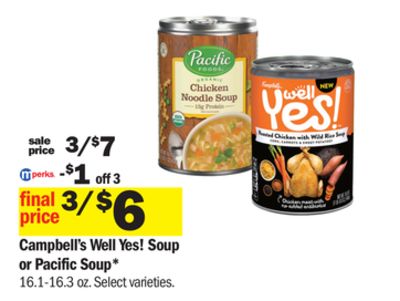 Campbell's Well Yes Soup or Pacific Soup*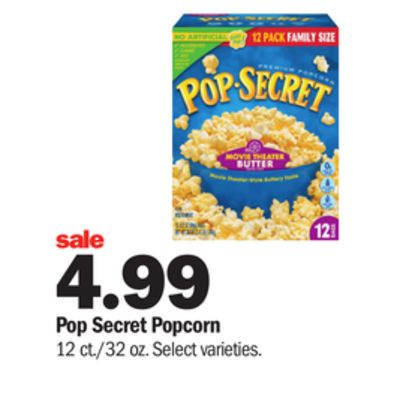 Pop Secret Popcorn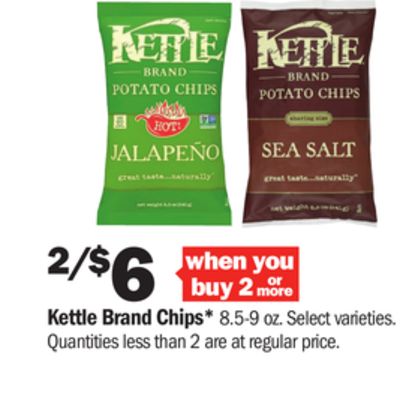 Kettle Brand Chips*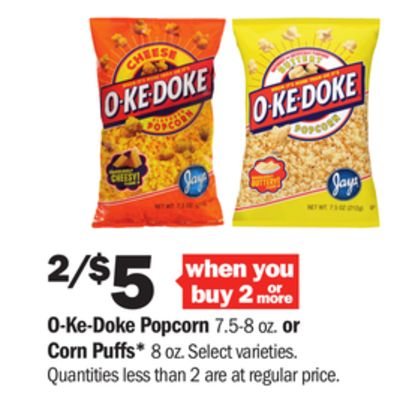 O-Ke Doke Popcorn 7.5-9 oz. or Corn Puffs* 8 oz.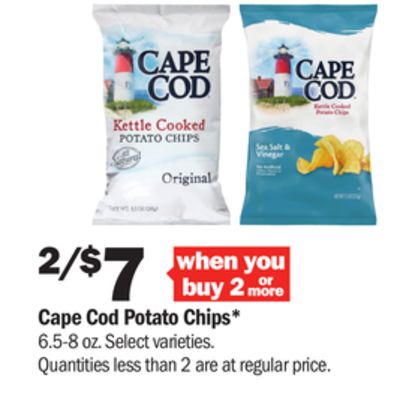 Cape Cod Potato Chips*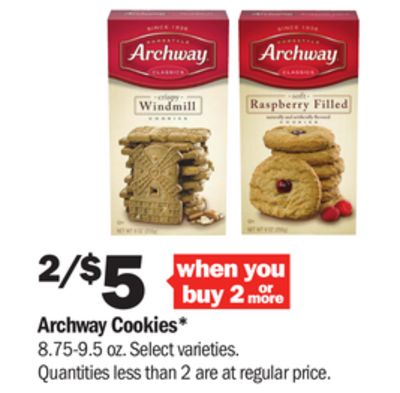 Archway Cookies*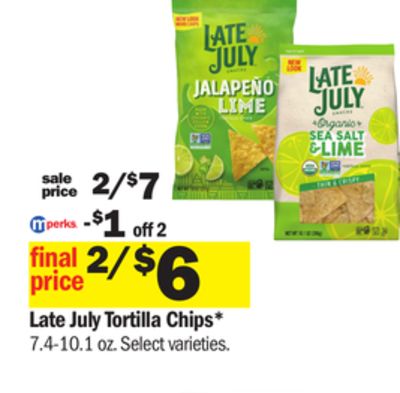 Late July Tortilla Chips*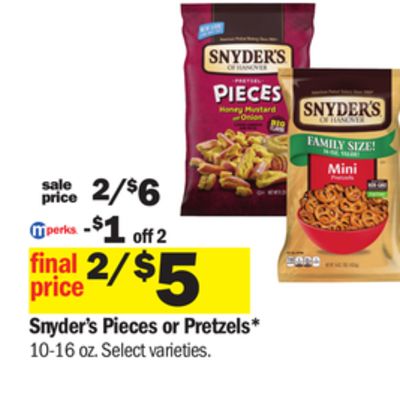 Snyder's Pieces or Pretzels*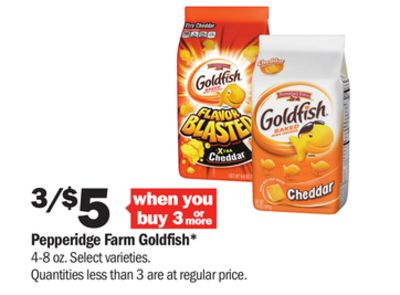 Pepperidge Farm Goldfish*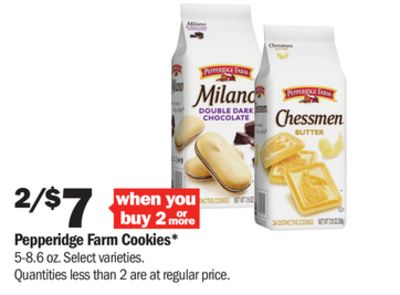 Pepperidge Farm Cookies*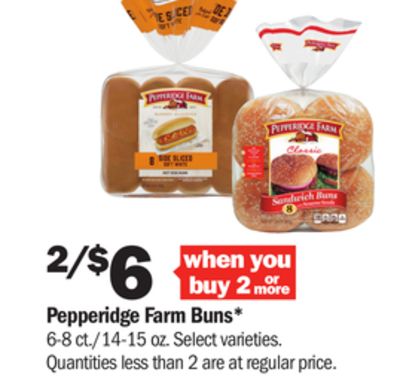 Pepperidge Farm Buns*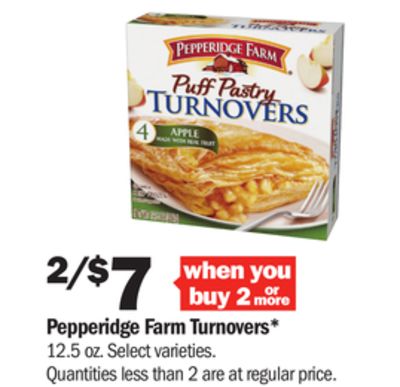 Pepperidge Farm Turnovers*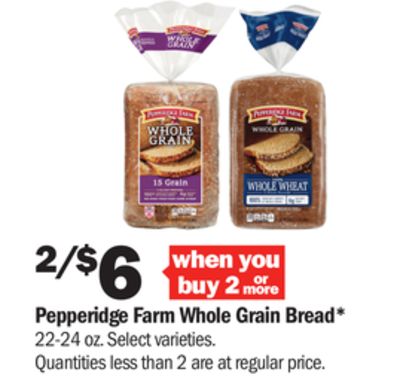 Pepperidge Farm Whole Grain Bread*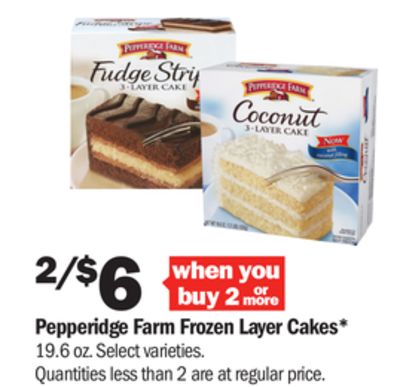 Pepperidge Farm Frozen Layer Cakes*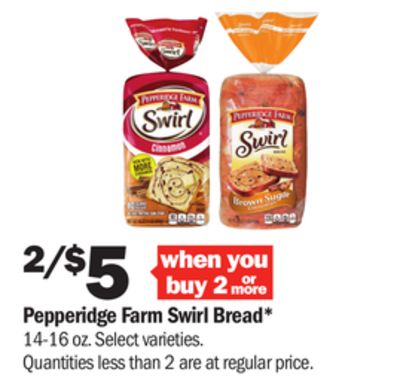 Pepperidge Farm Swirl Bread*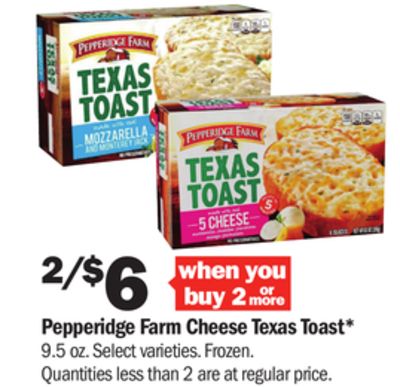 Pepperidge Farm Cheese Texas Toast*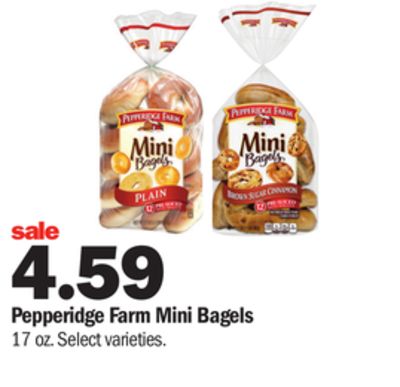 Pepperidge Farm Mini Bagels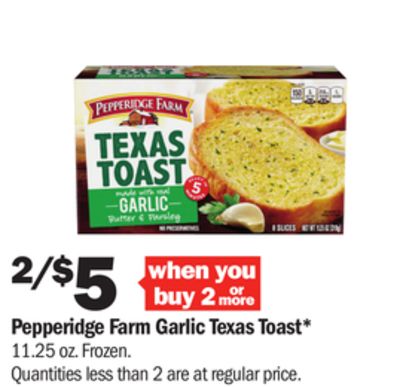 Pepperidge Farm Garlic Texas Toast*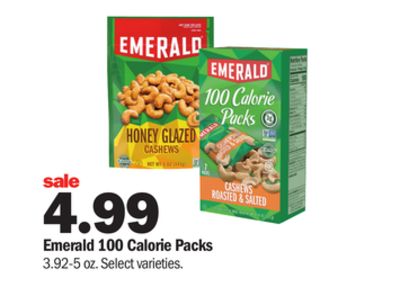 Emerald 100 Calorie Packs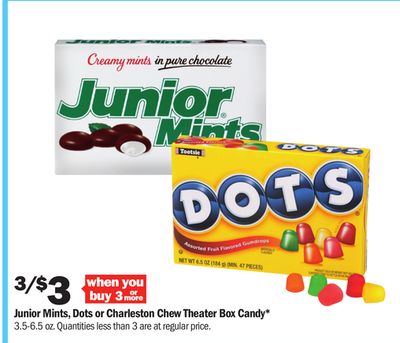 Junior Mints, Dots or Charleston Chew Theater Box Candy*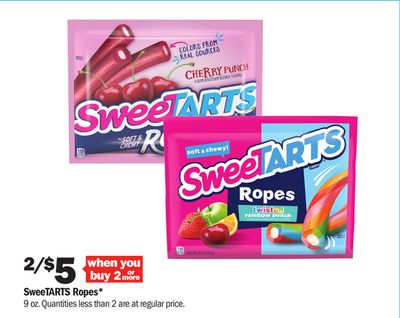 SweeTARTS Ropes*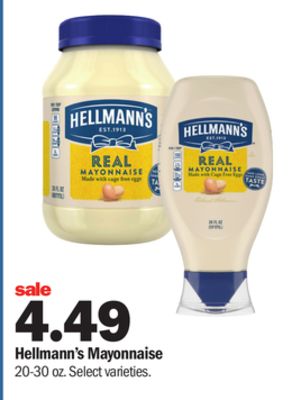 Hellmann's Mayonnaise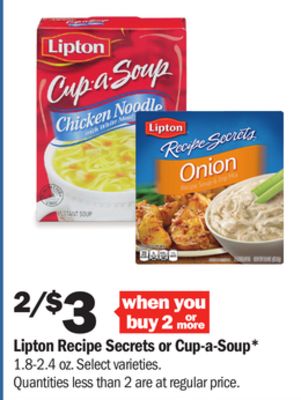 Lipton Recipe Secrets or Cup-a-Soup*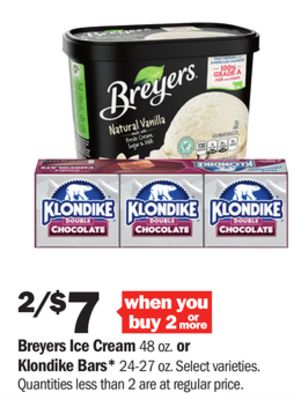 Breyers Ice Cream 48 oz. or londike Bars* 24-27 oz.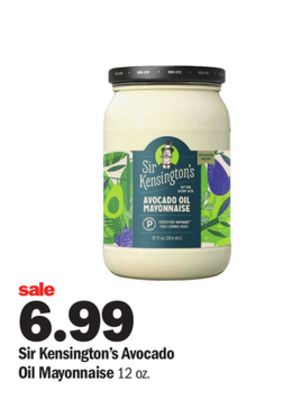 Sir Kensington's Avocado Oil Mayonnaise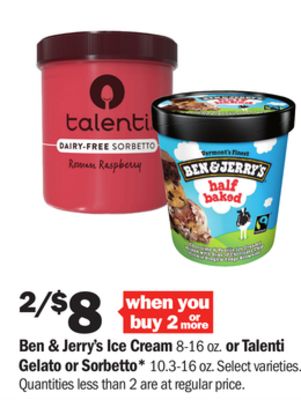 Ben & Jerry's Ice Cream 8-16 oz. or Talenti Gelato or Sorbetto* 10.3-16 oz.
Knorr Pasta or Rice Sides*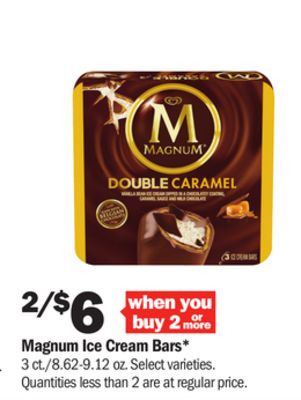 Magnum Ice Cream Bars*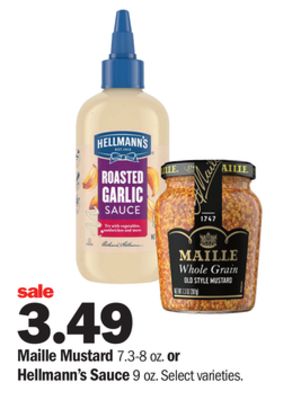 Maille Mustard 7.3-8 oz. or Hellmann's Sauce 9 oz.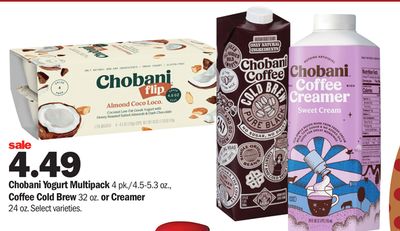 Chobani Yogurt Multipack 4 pk./4.5-5.3 oz., Coffee Cold Brew 32 oz. or Creamer 24 oz.
Coffee mate Creamer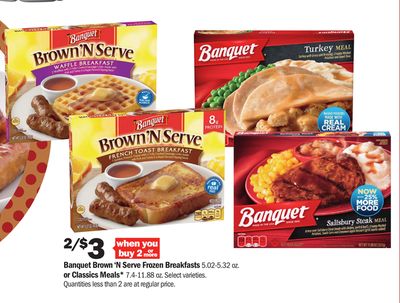 Banquet Brown 'N Serve Frozen Breakfast 5.02-5.32 oz. or Classic Meals* 7.4-11.88 oz.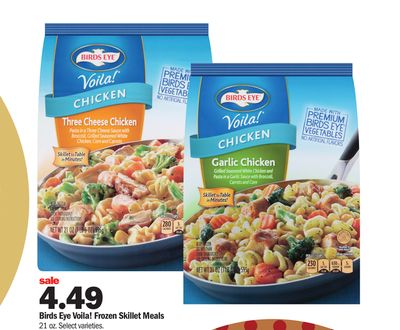 Birds Eye Voila! Frozen Skillet Meals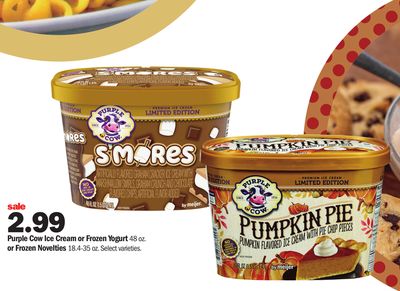 Purple Cow Ice Cream or Frozen Yogurt 48 oz. or Frozen Novelties 18.4-35 oz.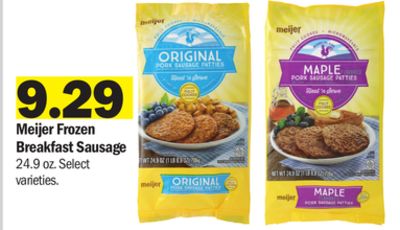 Meijer Frozen Breakfast Sausage
Meijer Greek Yogurt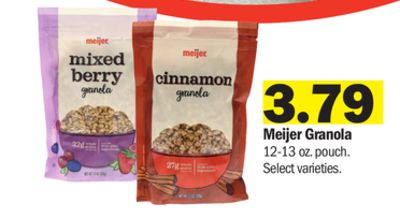 Meijer Granola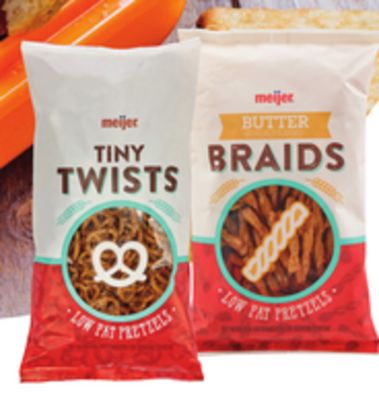 Meijer Pretzels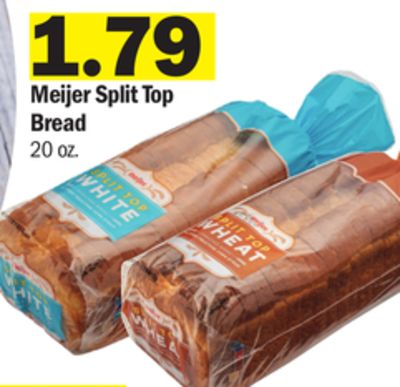 Meijer Split Top Bread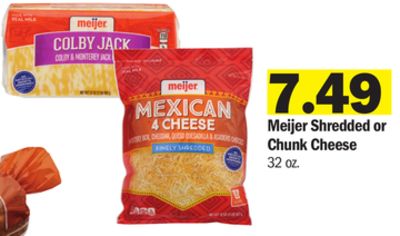 Meijer Shredded or Chunk Cheese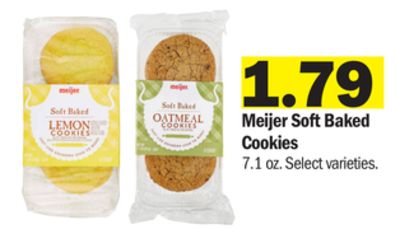 Meijer Soft Baked Cookies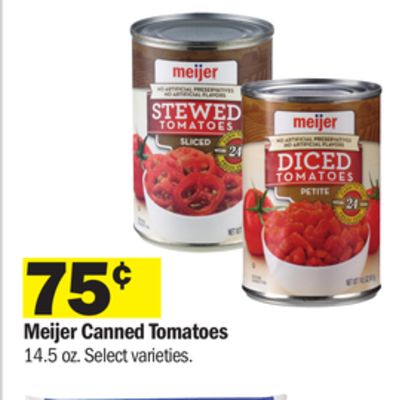 Meijer Canned Tomatoes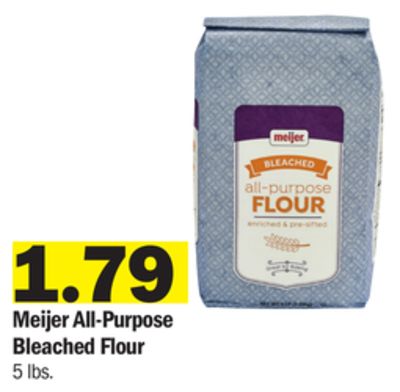 Meijer All-Purpose Bleached Flour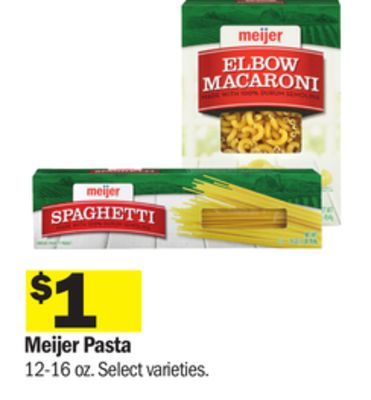 Meijer Pasta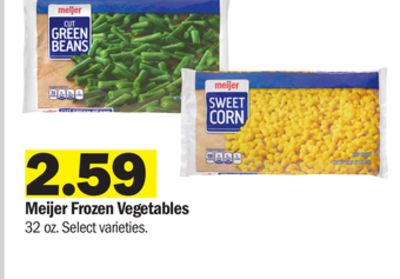 Meijer Frozen Vegetables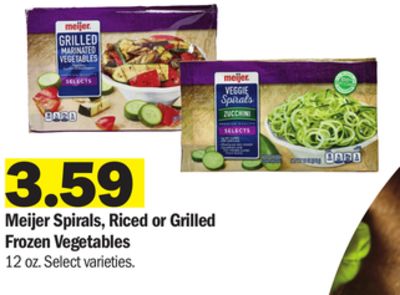 Meijer Spirals, Riced or Grilled Frozen Vegetables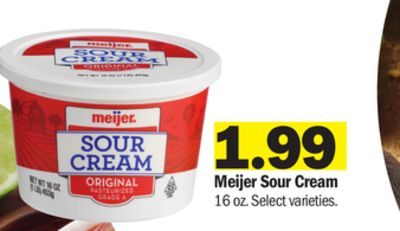 Meijer Sour Cream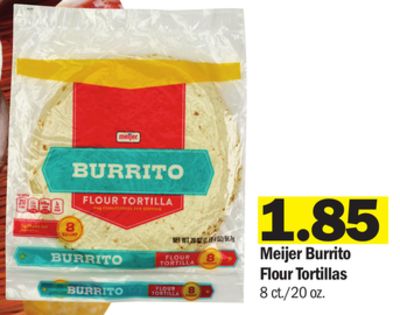 Meijer Burrito Flour Tortillas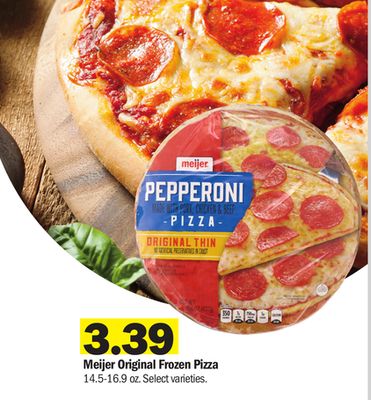 Meijer Original Frozen Pizza

Meijer Frozen Waffles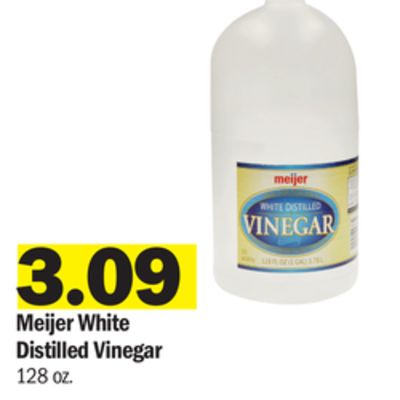 Meijer White Distilled Vinegar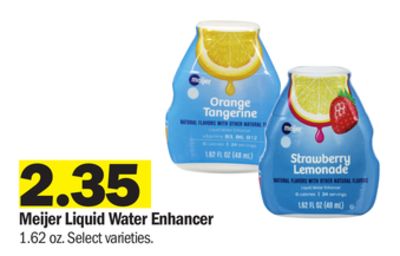 Meijer Liquid Water Enhancer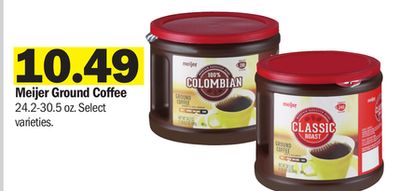 Meijer Ground Coffee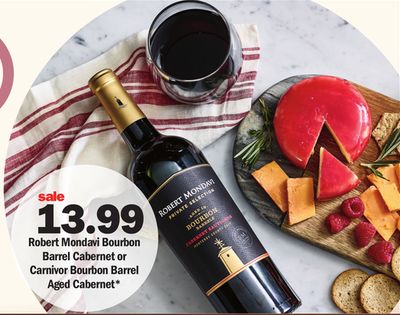 Robert Mondavi Bourbon Barrel Cabernet or Carnivor Bourbon Barrel Aged Cabernet*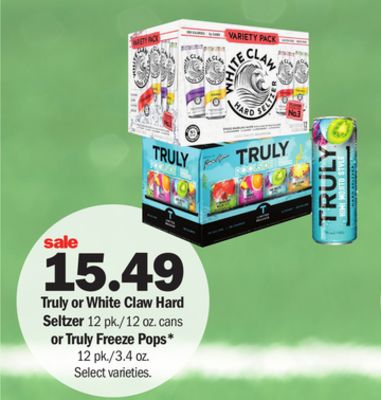 Truly or White Claw Hard Seltzer 12 pk./12 oz. cans or Truly Freeze Pops* 12 pk./3.4 oz.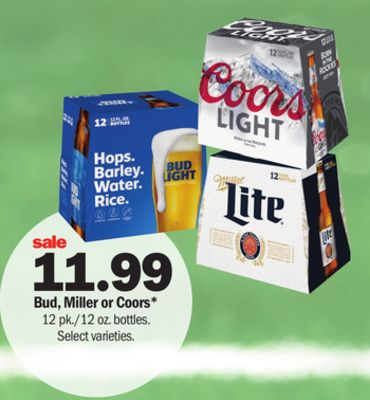 Bud, Miller or Coors*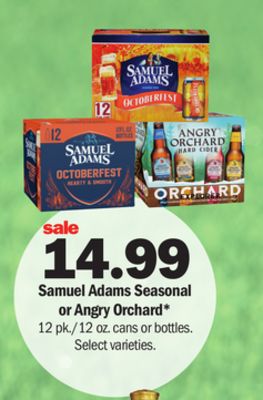 Samuel Adams Seasonal or Angry Orchard*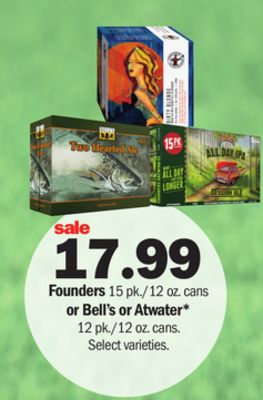 Founders 15 pk./12 oz. cans or Bell's or Atwater* 12 pk./12 oz. cans.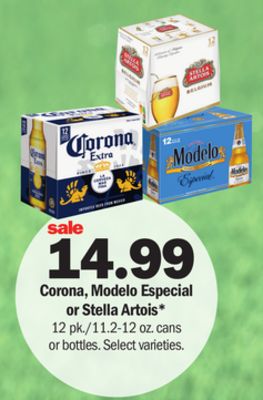 Corona, Modelo Especial or Stella Artois*
Bota Box Cabernet Sauvignon or Pinot Grigio*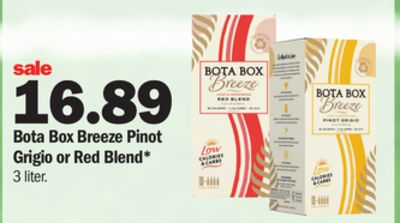 Bota Box Breeze Pinot Grigio or Red Blend*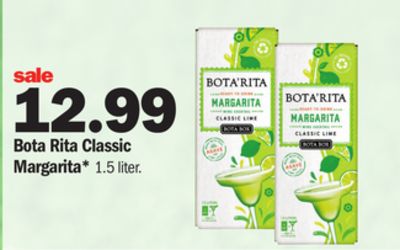 Bota Rita Classic Margarita*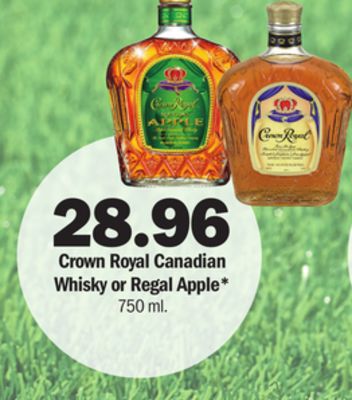 Crown Royal Canadian Whisky or Regal Apple*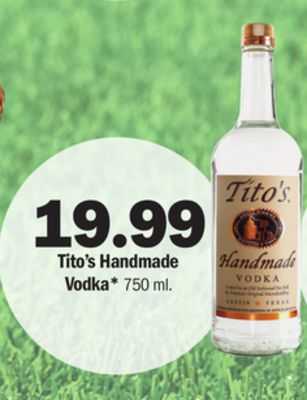 Tito's Handmade Vodka*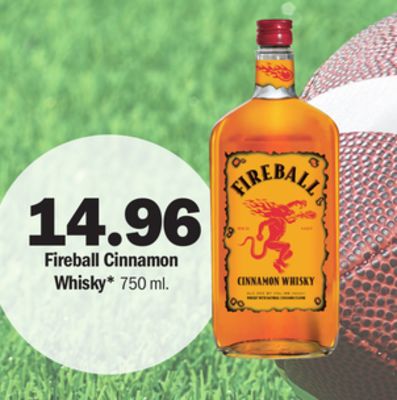 Fireball Cinnamon Whiskey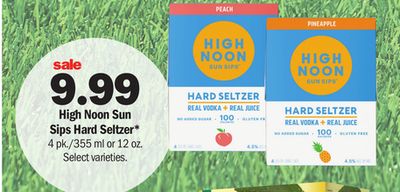 High Noon Sun Sips Hard Seltzer*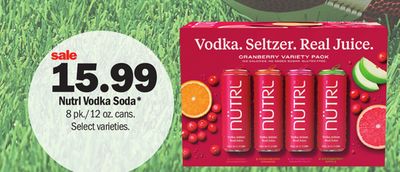 Nutrl Vodka Soda*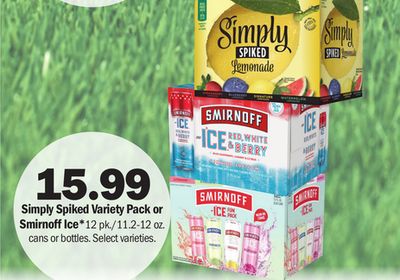 Simply Spiked Variety Pack or Smirnoff Ice*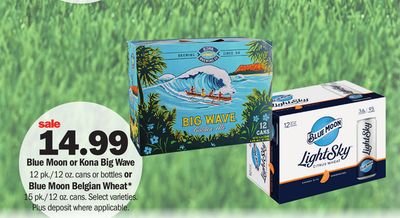 Blue Moon or Kona Big Wave 12 pk./12 oz. cans or bottles or Blue Moon Belgian Wheat* 15 pk./12 oz. cans.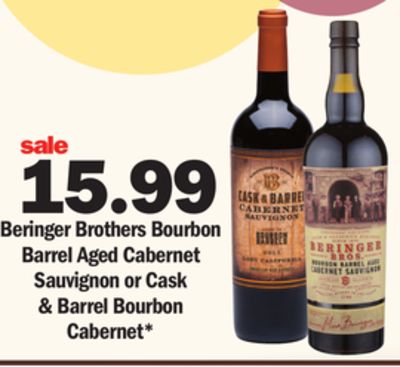 Beringer Brothers Bourbon Barrel Aged Cabernet Sauvignon or Cask & Barrel Bourbon Cabernet*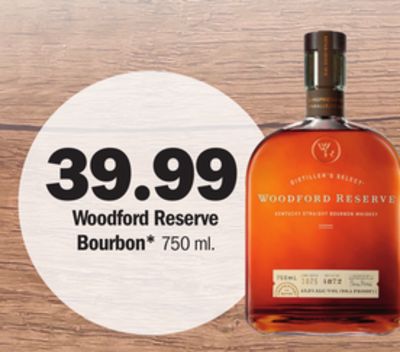 Woodford Reserve Bourbon*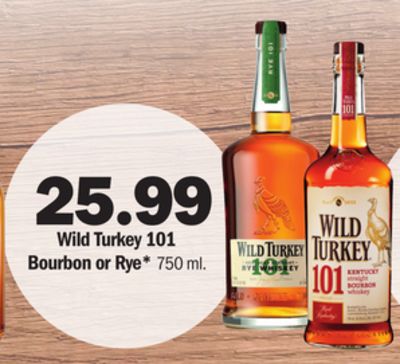 Wild Turkey 101 Bourbon or Rye*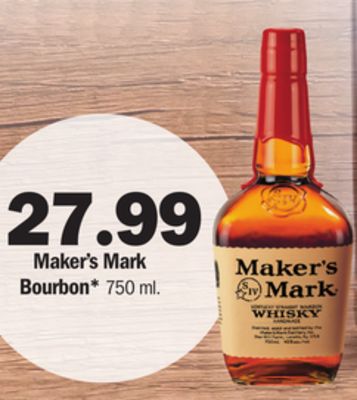 Maker's Mark Bourbon*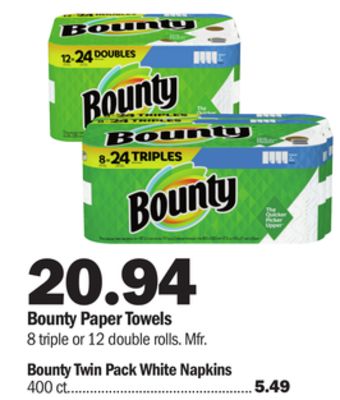 Bounty Paper Towels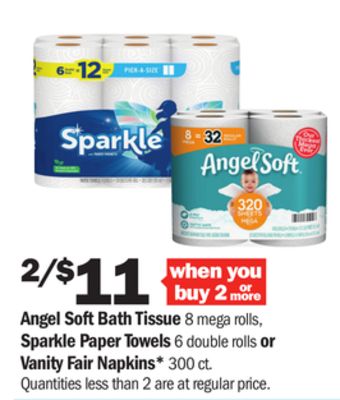 Angel Soft Bath Tissue 8 mega rolls., Sparkle Paper Towels 6 double rolls or Vanity Fair Napkins* 300 ct.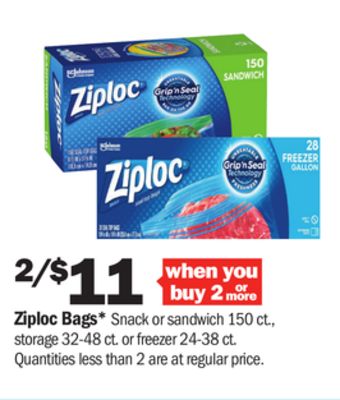 Ziploc Bags*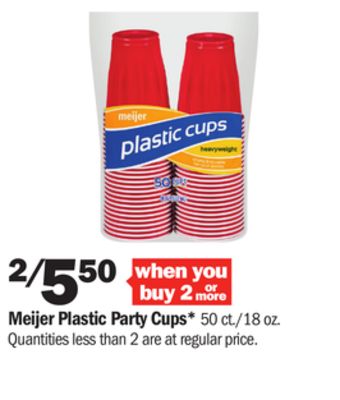 Meijer Plastic Party Cups*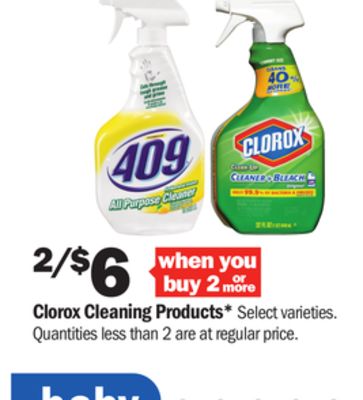 Clorox Cleaning Products*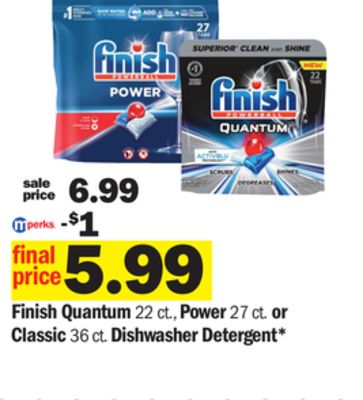 Finish Quantum 22 ct. Power 27 ct. or Classic 36 ct. Dishwasher Detergent*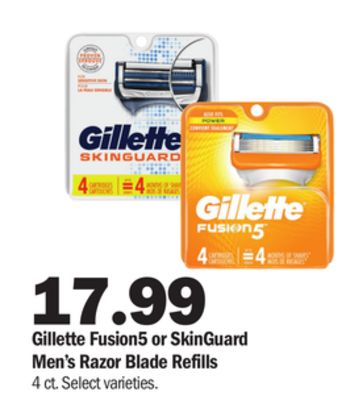 Gillette Fusions or SkinGuard Men's Razor Blade Refills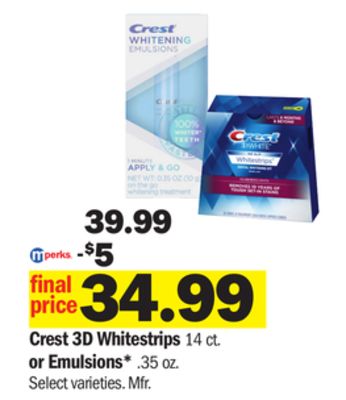 Crest 3D Whitestrips 14 ct. or Emulsions*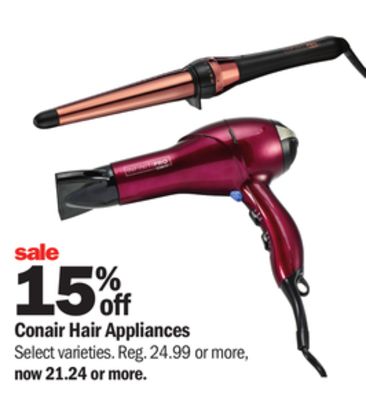 Conair Hair Appliances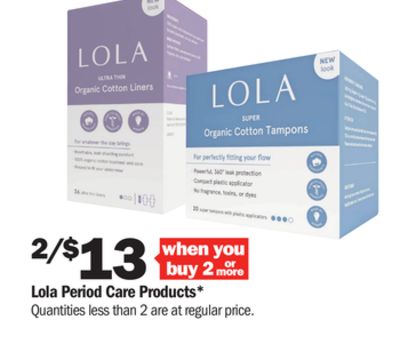 Lola Period Care Products

Bounce or Downy Dryer Sheets 160 ct., Bounce Pet or Wrinkle Guard Dryer Sheets 80 ct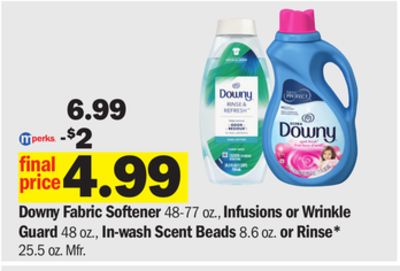 Downy Fabric Softener 48-77 oz., Infusions or Wrinkle Guard 48 oz., In-wash Scent Beads 8.6 oz., or Rinse* 25.5 oz. Mfr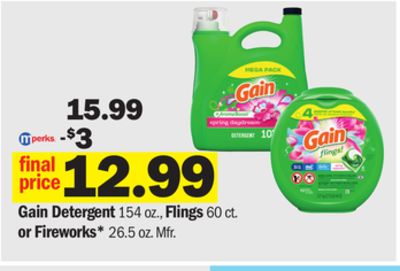 Gain Detergent 15.4 oz., Flings 60 ct. or Fireworks* 26.5 oz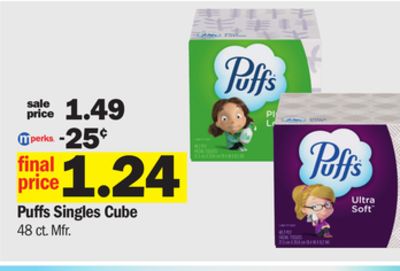 Puffs singles cube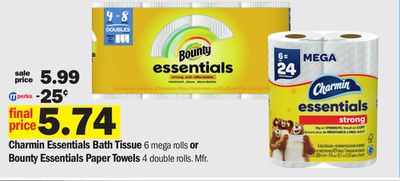 Charmin Essentials Bath Tissue mega rolls or Bounty Essentials Paper Towels 4 double rolls.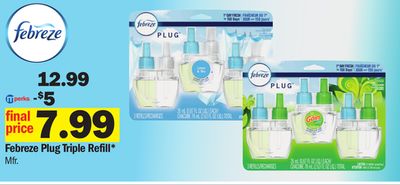 Febreze Plug Triple Refill*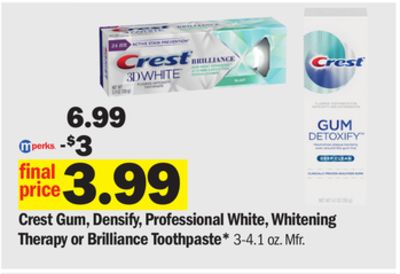 Crest Gum, Densify, Professional White, Whitening Therapy or Brilliance Toothpaste* 3-4.1 oz.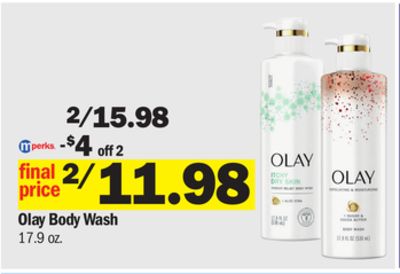 Olay Body Wash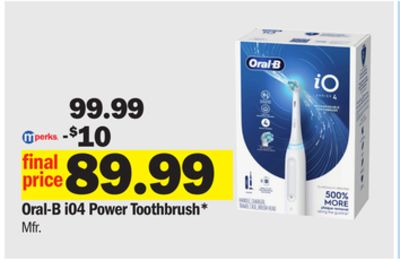 Oral-B i04 Power Toothbrush*

Secret Deodorant*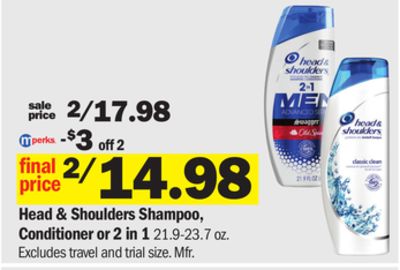 Head & Shoulders Shampoo, Conditioner or 2 in 1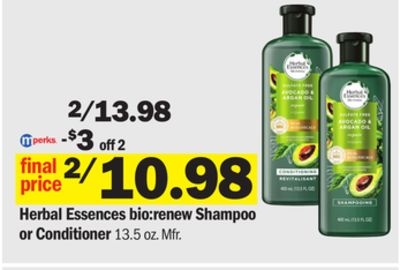 Herbal Essences bio:renew Shampoo or Conditioner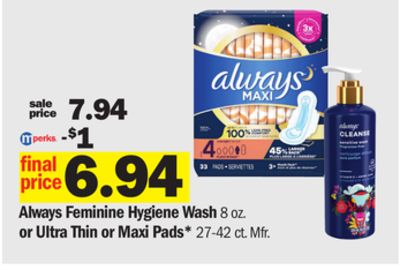 Always Feminine Hygiene Wash 8 oz. or Ultra Thin or Maxi Pads* 27-42 ct.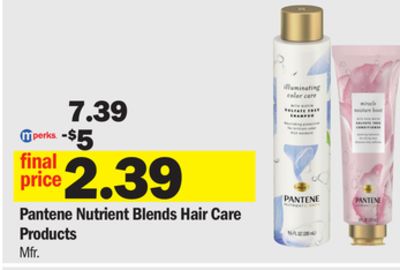 Pantene Nutrient Blends hair care products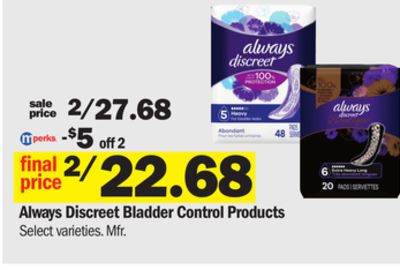 Always Discreet Bladder Control Products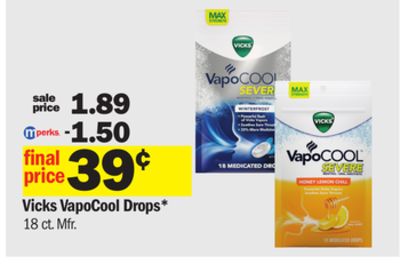 Vicks VapoCool Drops*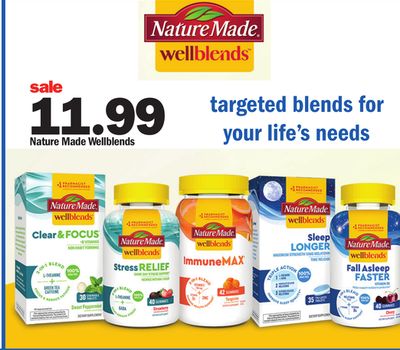 Nature Made Wellblends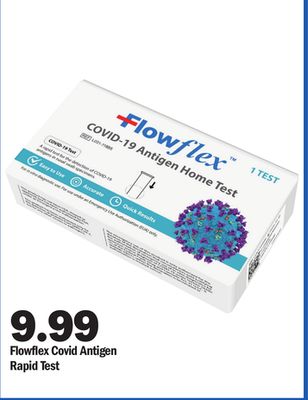 Flowflex Covid Antigen Rapid Test